Recommended app!
App last updated
Dec 13, 2017
Screenshots
New in version 3.1
- Updates for iOS 11 and iPhone X.
- Squashed some small bugs.
Description
If you like Spider Solitaire then you will love this app. Every deal is winnable across all Spider games including classic Spider Solitaire (play 1, 2, 3 or 4 suits), the ever-popular Spiderette, and our proprietary Spiderling (play 1, 2, 3 or 4 suits).

Your victories are celebrated by custom animations. Beautifully designed and feature-rich. Highly rated and loved by millions. You will love it too.

KEY FEATURES
• Available on iPhone, iPad and iPod Touch
• Portrait and landscape play
• Right or left-handed play
• 9 types of Spider Solitaire
• Every deal can be winnable with Winning Deals
• Select suits to play
• Deal into empty spaces without restriction
• Hints keep the game moving
• Simple tap card movement
• Pinch to Zoom to resize the play field
• Choose from several, easy-to-read HD card styles
• Leaderboards
• Detailed statistics with backup and sync
• Unlimited undo
• Rules for all games
• Timer
• Scoring
• Moves tracking
• Color preferences
• Speed preferences
• Many more features managed within Settings

WATCH OUT FOR SPIDERS!
Go into Settings to activate our Crawling Spiders and watch them crawl across your playfield. They won't impact your game but it is fun to watch them crawl, fly across the screen when you move a card they are on, or make them go splat when you squash them. You can modify their behavior in the game settings including turning them off if you are afraid of spiders.

This is the sponsored version of our Spider Solitaire app.

For support and answers to frequently asked questions, head over to http://www.solebon.com/support.html. Follow us on Twitter @SolebonApp. Like us on Facebook https://www.facebook.com/SolebonApp. Play everywhere!

Solebon is built in the USA.
iPad Screenshots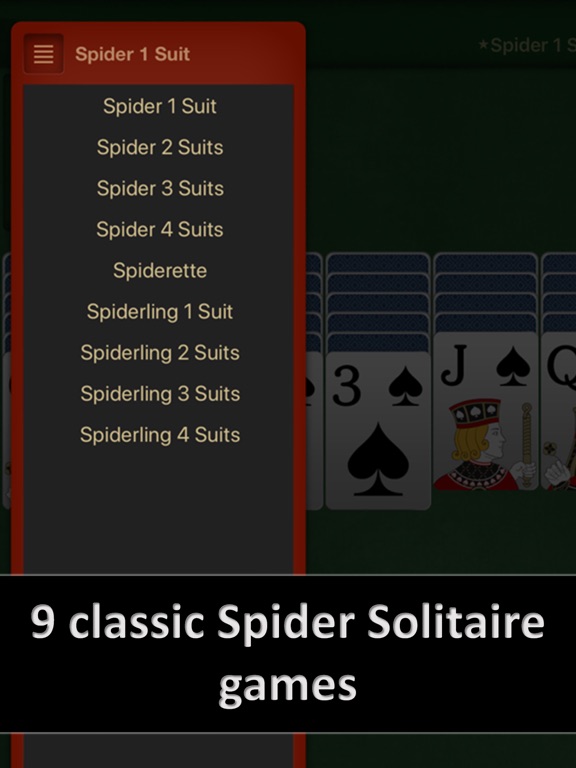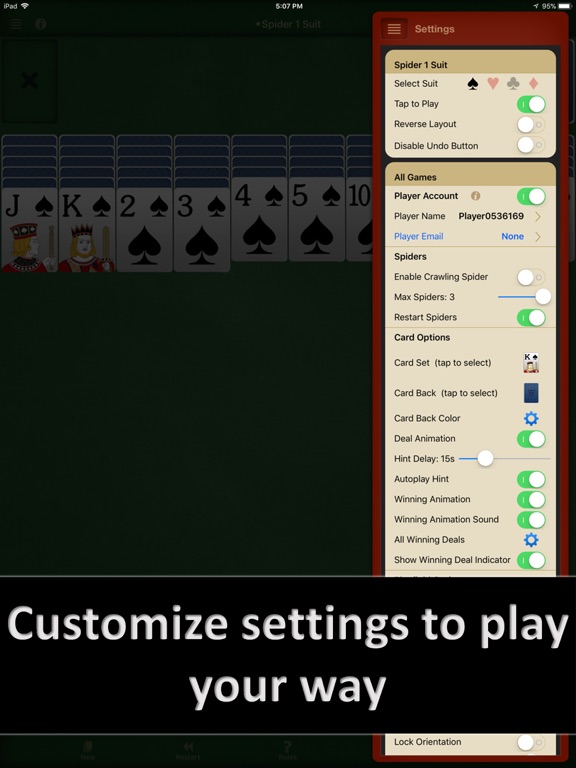 Reviews
Great Game
Janey kittie
on
1/19/2018
Very addictive, can't stop, absolutely love it!!
Love Spider - totally addicted
Totally love this game, and really like the new feature to play winning hands. Works great on my I-phone, and I love the feature to see best game time!
Addictive
It's a really good game.
A great spider solitaire game.
I've tried several version and like this one the best.
Like It
I play Spider Solitaire quite often while listening to other media, and enjoy it. I play the free version and often wonder why I get the same ads that have nothing to do with by browsing or shopping habits, however. After several thousand games, I guess I'm hooked.
A distraction from boredom
Sitting in the airport while one flight after another is canceled? Waiting in the doctor's office for hours? Don't despair. There is Spider Solitaire by Solebon to the rescue. This challenging game seems to make time fly by.
Fun
An enjoyable challenge!
Solebon does not disappoint
Another great Solebon solitaire game. My absolute favorite app has added another superb game. Right now it does have ads but they are the least annoying of all compared to other game apps and hopefully I can eventually integrate this into my other Solebon stable. ** oct 2017 update**. I still love this game, but the ads are beginning to get a tad annoying. I will stop playing a game when the ad gets too intrusive, and these are creeping just a smidge in that direction. The "x" to close the ad gets harder to see, moves around, or takes longer to appear. But the game itself is one of my favs so I dearly hope that the ads don't get worse.
My favorite game!
Love everything about this game. Even better after the update with the new score window at the end of a game.
Interaction
No me gusta la nueva interacción del juego ni los pop-us commercials....
New Spider!!
Thanks for this update. I appreciate that Spider now includes global statistics. I continue to appreciate that it is separate from the other Solebon solitaire games. IMHO the strategy and cerebral focus of Spider deserves to be stand-alone. Thanks for updating this game!!
Ads ads ads
This is a good game but they just keep increasing the number of ads until it's impossible to play. For whatever perverse reason, the more ads they throw out the less inclined I am to buy the ad-free version. In fact I just deleted this game.
Great Game!
This is a great solitaire game! It's so much fun to play and totally addictive.
Great fun
Pilgrim Still
on
5/19/2017
Easiest way to waste 10 - 15 minutes! Two suits is straightforward, four suits is maddeningly difficult. The "hint" that says no more moves is often wrong. Ignore it.
Perfect for my needs
Great for a quick mind break between tasks. Solvable but still a great challenge for seasoned spider gamers.
Great version of spider
Love the advanced stats.
Spider
Spider is an interesting game with a lite challenge.
Relaxing habit
3-suits has become my all time favorite game. Wish I could pay to be rid of ads, but when I try there are no messages to convince me my statistics won't go away. That would be a significant set back if it happened since they are reasonably good at the moment.
Enjoyable
Gary L Platt
on
1/14/2017
Makes you think ahead a bit, like in chess. Very enjoyable and relaxing for me.
Best Spider Solitaire Game!
littlefatcat
on
10/30/2016
This really is a great game. I love the interface. My only suggestion would be to offer a button to press for hints, instead of waiting for the card to flash. I like to play at my own pace. Please add a hints button. The flashing hint card needs to stand out more. It's not always obvious. I find myself having to really look for it.
Klondike 3
Would like to see a better and more practical hint system.
Completely addictive
This game should come with an addiction warning. It's incredibly challenging (the more suits you play). I absolutely love it, and the interface is wonderful. Took off 1 star for 3 reasons. 1.) I am unable to turn off hints (turned them off in settings, but they don't stay off) 2.) The hints are more-often-than-not incorrect. Many times there still ARE winning plays when it says there are not 3.) It appears to be a major battery drain. Even in the background.
Fun Game
Very satisfying balance between challenging and easy which make it fun to play. Especially when faced with endless waits in waiting rooms.
Fun and very addicting!
Highly recommend!
Great Fun!
Very enjoyable.
Addicting!
Really great game. My only request is to have a way to disable the pop up message that says you have no more moves left. 99% of the time it's wrong. It even pops up when I have an empty space on the board. It's very annoying.
Great game
Spacegirl999
on
4/24/2016
Fun to play, easy to learn, wonderful solitaire game.
Great game!
I love Solebon's other solitaire games. This one is just as great.
Love it
I highly recommend. My only negative is that there is sometimes a message that pops up to tell you there aren't any more legal moves and you should back up. However, I have beaten it at least twice after that message without backing up (and the message reappears multiple times until I clear out some columns.). But it's great to use and play. This was the one solitaire I used to only play on a laptop because I'm very particular about my spider solitaire interface and this meets all my needs.
Spider
stairclimber113
on
4/15/2016
Plays well and I would like it as an addition to the Solitaire options. One item to fix is hints. They are offered to quickly. Can you make hints and option we can click on when we choose?
Solitaire lover
I love Spider! I think overall it's well-designed and easy to play. One suggestion: hints when needed rather than an on or off setting. Otherwise it's great!!
Great game
Fun to play, well executed, good graphics.
Great Game
ToMuchTimeToKill
on
4/9/2016
This game is great. It is a wonderful addition.
Spider Solatire
This is a great game to pass a little time. It should be made part of Solebon group of games.
As good as it gets
Love this game, great addition to Solitaire
Love it!
sunshinedays99
on
4/7/2016
I used to hate this game but your game is more into solving and I am able to solve it so I really love it. Sure, add to regular solitaire! Thanks!
Love this game!
This one is nice and traditional, easy to play, relaxing, and simply great fun! Thanks, Solebon!
Great game
Have enjoyed the challenge. Waiting for inclusion in the paid app.
Great game
Should be a part of the paid Solebon Solitaire suite.
Spider
I use to focus on three or four solitaire game. Solibon game are so natural I now relax by playing a greater variety including the various spider variants
Spider Solitaire
Love the game but the cards are to small.I have small hands and it's still hard to pick or tap a correct card because they are so small and so close together. Doesn't help to turn my phone sideways.
Quick and fun
Nice enjoyable way to pass a little time...
Great game
Excellent game clear easy to read graphics very easy to play quick response to whatever you do No time wasting frustrating pauses while you display graphics and, for me, the most important feature is that you offered three suits, just the perfect size
Spider love!
Beware! Very addicting! Have been playing this for a long time and I love it.
Great Fun
I play almost every day, especially when standing in any type of line. Good brain exercise.
Great game!
Big Jim Slade 68
on
12/12/2015
Many versions of spider solitaire.
Spider game
I love this game. It is so much fun and I love the spiders when they appear and move all over.
Great update
Faster play, known winning deals and better graphics. Best spider game out there.
Fact Sheet
Publisher:

Solebon LLC

Category:

Games

Released:

Mar 19, 2015

Current Version Released:

Dec 13, 2017

Version:

3.1

Size:

88.4 MB

Compatibility:

Requires iOS 8.0 or later.

Recommended Age:

4+

Game Center Certified:

No

Supported Languages:

Arabic; Catalan; Valencian; Czech; Danish; Dutch; Flemish; English; Finnish; French; German; Greek; Hebrew; Hungarian; Indonesian; Italian; Japanese; Korean; Malay; Bokmål, Norwegian; Norwegian Bokmål; Polish; Portuguese; Romanian; Moldavian; Russian; Chinese; Slovak; Spanish; Castilian; Swedish; Thai; Chinese; Turkish; Ukrainian; Vietnamese;