Screenshots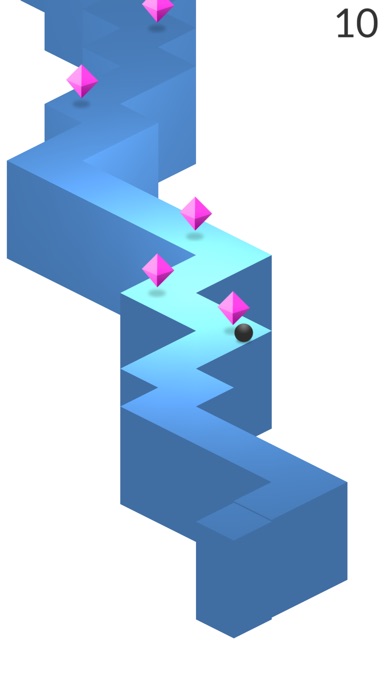 Description
Stay on the wall and do as many zigzags as you can!

Just tap the screen to change the direction of the ball. Try not to fall off the edges!

How far can you go?
iPad Screenshots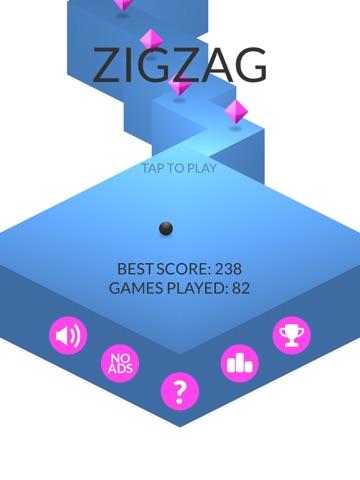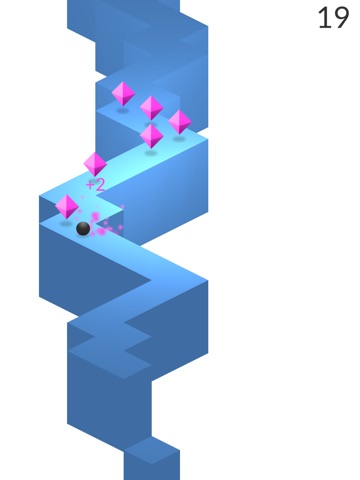 Reviews
Copy
Fhhdjeikakhrhf
on
10/18/2017
This is obviously a copy of dancing line so come up with things in your own mind but the game is so hard and it needs to be a little easier I give all other apps 5 stars because they are fun and time killers this one not so much so DO NOT get this game I repeat DO NOT get this game seriously it is so hard and I've only played it for a day and ads keep popping up in the middle of my game so I just keep it on my phone if I'm calm enough to play it BUT GUESS WHAT..... I NEVER DO. Never ever get this game unless you like being frustrated and hard games then this is the game for you buttt if you have anger issues or if you hate dancing line or you hate getting mad then don't don't get this game I hate it take it off the AppStore #terriblegame
Love it!
I love this game's quality! It is best! The ball is moving where i want! But..... ADS! This is annoying me so much! If you will make it better, this game will be the BEST in the world!😊😊😊
Super fun
happyfeet33599
on
10/17/2017
I love this game. It is the game I look forward to every night before I can go to bed. The best part it is challenging and fun those 2 are the best things you need to have in a game. So that is why I love it
This game is so much fun
Afjndhdhsnjzidbdhjd
on
10/17/2017
I love playing zigzag when I'm pooping
It's a good time killer game
BADVIBES4EVER
on
10/16/2017
Recommend to get this game
ABSOLUTELY THE BOMB DOT DIGGITY
AMELIA DUNLAP
on
10/16/2017
I frfr love this game. Like I spend sm time on it like omg it's j to die for😍
beeeeeeest gameeee❤️❤️❤️❤️💕💕💕😘😍😍
It is my favourite game.some people thinks that this game is impossible but it is very easy:))))) 💕❤️
Horrible
Princess fergi
on
10/15/2017
It's horrible it should be taken down
Love it!😍
StaticSparkle
on
10/15/2017
Love this game! There are adds but it's still great!👍🏻 I was addicted!❤️ I think I might have had the same problem a while ago with adds coming up in my game while I was playing making me lose but I don't quite remember, I think so.
5 stars
This game is really fun and making you always want to beat your high score ... I love this game
Love this game
Love the game hate the lag. If the problem was fixed I'm sure more people would love it and find it addictive too.
Needs a diagnostics check
TheRealSProject
on
10/14/2017
Love the game but its constantly lagging and now Im getting ads in the middle of a game which completely ruins it.
Great game😊😀😜
This game is so much fun.It is so addicting! It is also a good time killer!!! Love this game❤️
This game
I like it but it glitches to much 🙄
Great game but...
Puppy puppies
on
10/11/2017
I like the game but when I tap it goes off the path but other wise it's a good game
Pretty Good, Ads Annoying
This game is super fun and I like to try to beat my record which is 102. The only thing is, when I'm playing, I'm like 60 in and there's an ad! It makes me fall and I get so mad. I know I can buy stuff to make this not happen, but honestly, it's a waste of money. I'm not gonna play it for years to come. Sorry!
Great game
Really addicting
I would give it 5 but some issues
I really love this game but, there needs to be some bug fixes. When ever I'm really far ahead I end up losing because the game freezes on me. 😡 please fix this when I see that it's fixed I'll get back to playing it until then goodbye zigzag ☠️
I love!
Lydiagathering
on
10/7/2017
I absolutely love this game. It is a great game to play on car rides and when your waiting for something. I love to play it when I am bored and since I'm bored a lot I play it a lot. I highly suggest it for kids who like fast games. You have to be fairly fast to be able to stay on track. ❤️❤️
This Game is amazing 👌👌👏👏
Destenys Loves unicorns🦄🦄
on
10/7/2017
This game is so addicting.I sit turn on my phone and play this game for hours. If you are looking for a game to distract you for a long period of time this is the perfect game. I give this a 5/5.😺😸☺️☺️
SO MUCH FUN!!! :D
McKenna Armstrong
on
10/6/2017
I got ZigZag a couple of days ago and have been playing nonstop. I had to be on a bus for 2 and a half hours and the time flew by when I was playing ZigZag. It's a fun, easy concept game that also gets more and more challenging as your high score gets higher. I've been competing with my friends to see who can get the highest score and we've been having a blast. But, there are a couple of ads that might pop up in the middle of your game, but happen very rarely and definitely doesn't not change my mind about this game. In summary, I definitely recommend ZigZag to whoever is looking for a fun, yet challenging game. :D
Ads pop up in the middle of the game
I like the game but I'm going to delete the app since about 10% of the time an ad will pop up in the middle of the game. You have programmers, right? They know how to code, correct?
Zig zag componey
This game is litt 😄😄😄😄🌟💋💋💋😊😊😊
M
Missionary21
on
10/3/2017
Awesome!!!!
AMAZING!!
Ashlyn Hutchinson
on
10/1/2017
This game is awesome, but it doesn't do what you want it to do. So when I tapped it, it didn't move at all.
Great!
It is a great game, simple but fun. My only complaint is the "camera" angle while you're playing.
💜KitKat💜
Great game and really fun to play if you're bored......but there are a lot of ads that's why I only gave 4 stars. Overall though I love the game!💜❤️
SO ADDICTIVE!!!!!
djbhjfrjkbvdgkg
on
9/30/2017
This game is SO addicting! Got it!!!!
Fun game- very ad-heavy
This game is really fun and an excellent time-waster. The ads, like most games in this category are at every turn.
zig zag
This is a very fun game, addicting.
Awesome, but...
ᗩᗯEᔕOᗰE ᑭEᖇᔕOᑎ
on
9/25/2017
So much fun, it really gets you into the game! I am addicted to it!!😇🤣😁though there is a ton of adds like in the middle of the game there will be a add for a game and then throw you of!!! Like boy!!! Also it has no instructions for when you first got the app and it would of been much more helpful, but other wise I it!!!
Amazing Addicting Game!!!
donutlover124
on
9/24/2017
When I first got an ad for this game, I went straight to the app store to download it. After playing it for many attempts, I delete it. I was really frustrated and I didn't want it. Ok. Fine. A few days later, I thought maybe I should give it another go. I go to the app store and download it and then... I get addicted just like that. I am really enjoying it even though before I thought it was a waste of space. I kept failing after only a few moves and I was getting really annoyed. Now I think it is really fun and addicting and I would totally give it 5 stars. This is a really awesome and addicting game!! Thank you Ketch-app for creating this game!! I really like their games. Keep up the good work!! 😃😃😃
#addicted
softball_is_life❤️🍕📱🐇🐴🐶
on
9/24/2017
I am so addicted to the game!!!!!
Best Thing Ever!!!!!!!!!!!
"Worst"game ever!!!!!!!!!!
Ugghhh
Constantly asks you to rate and adds can appear at any time. The game itself is good though
I love the game but you copied Dancing line
Ayeeeitzmeee
on
9/23/2017
I still play it but you kinda copied Dancing line and Dancing lien so better no offense
Good 😜😇😍
This is a good game to relive your stress and relax if something s happening rn I'm mad 😡 (it's something personal) and it's calming me down soooo this is a good game if u don't have this game then u should really get it it's AWESOME 👏 My high score 🎼 right now is 110 … I ❤️ THIS GAME 😇 👼 🎮
Sorry but this game just isn't right for me
Because every time I try I don't get it on the blue platform
It is cool but litrle bored,but i give 5 stars🏅
AnjaTheKing166
on
9/18/2017
It is good but when you play it every day it is little bored but I LOVE IT
Horrible
SuperRubyGaming
on
9/18/2017
The camera doesn't follow you it just isn't a great game if you want a game like this get rolling sky like this is horrific
Very addictive...Great game!!
WeirdsAwesome!
on
9/17/2017
Zig zag is very addictive. I play it all the time and is a great game to play and kill time.
Very fun
Disney lol reviewer
on
9/17/2017
I can't stop playing it
Love
I love it a lot, even though am currently pretty bad at it. Practice makes perfect! It's entertaining and I enjoy the customizations available as well as the working incentives.
Too many ads
This is an amazing game, but what is with the constant ads interrupting me? They literally pop up the second I start playing.
I love it😄
Elvisa is Lofe
on
9/12/2017
Very addicting and such a fun game!
Amazing
Very fun but too many candy crush ads plz fix
Fact Sheet
Publisher:

Ketchapp

Category:

Games

Released:

Feb 04, 2015

Current Version Released:

Aug 14, 2015

Version:

1.2.1

Size:

120.3 MB

Compatibility:

Requires iOS 6.0 or later.

Recommended Age:

4+

Game Center Certified:

No

Supported Devices:

iPhone3GS-iPhone-3GS, iPhone4-iPhone4, iPodTouchFourthGen-iPodTouchFourthGen, iPad2Wifi-iPad2Wifi, iPad23G-iPad23G, iPhone4S-iPhone4S, iPadThirdGen-iPadThirdGen, iPadThirdGen4G-iPadThirdGen4G, iPhone5-iPhone5, iPodTouchFifthGen-iPodTouchFifthGen, iPadFourthGen-iPadFourthGen, iPadFourthGen4G-iPadFourthGen4G, iPadMini-iPadMini, iPadMini4G-iPadMini4G, iPhone5c-iPhone5c, iPhone5s-iPhone5s, iPadAir-iPadAir, iPadAirCellular-iPadAirCellular, iPadMiniRetina-iPadMiniRetina, iPadMiniRetinaCellular-iPadMiniRetinaCellular, iPhone6-iPhone6, iPhone6Plus-iPhone6Plus, iPadAir2-iPadAir2, iPadAir2Cellular-iPadAir2Cellular, iPadMini3-iPadMini3, iPadMini3Cellular-iPadMini3Cellular, iPodTouchSixthGen-iPodTouchSixthGen, iPhone6s-iPhone6s, iPhone6sPlus-iPhone6sPlus, iPadMini4-iPadMini4, iPadMini4Cellular-iPadMini4Cellular, iPadPro-iPadPro, iPadProCellular-iPadProCellular, iPadPro97-iPadPro97, iPadPro97Cellular-iPadPro97Cellular, iPhoneSE-iPhoneSE, iPhone7-iPhone7, iPhone7Plus-iPhone7Plus, iPad611-iPad611, iPad612-iPad612, iPad71-iPad71, iPad72-iPad72, iPad73-iPad73, iPad74-iPad74, iPhone8-iPhone8, iPhone8Plus-iPhone8Plus, iPhoneX-iPhoneX,

Supported Languages:

English;