Screenshots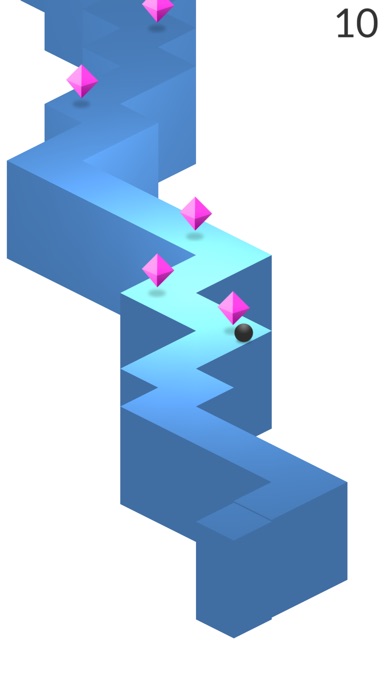 Description
Stay on the wall and do as many zigzags as you can!

Just tap the screen to change the direction of the ball. Try not to fall off the edges!

How far can you go?
iPad Screenshots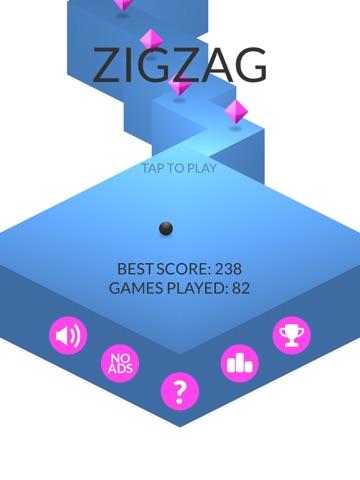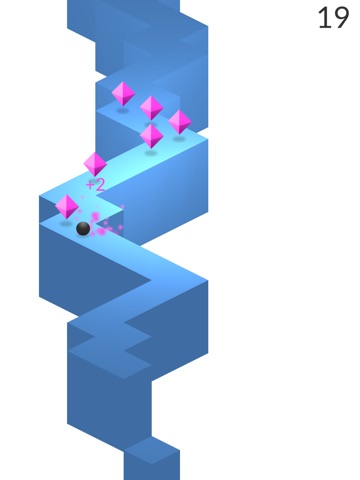 Reviews
Ugh
Rayray123lol
on
12/11/2017
Toooo many ads but it's still a great game
Edges of the lines
pinktink_06
on
12/10/2017
I hate this game this game has edges at the end that make it so hard to even play if I where you I would not get this game . Another thing the adds are horrible one sec you on the next hey how ya doin add I just saw you a second ago . I deleted it once to see if they fixed it and well 2 seconds later hello add . And again with the edges you can't even get trough without the stupid edge if I where you I wouldn't get the app or and katchapp games thank you guys for letting me talk and have your time bye!
Very interesting...
I really like Zig-Zag. It is a really fun and challenging game. I am a big fan of Ketchapp, and this game is just as good as all their other ones. Though, I wouldn't rate this game a 5-Star because there is WAY to many ads. That is the same with all Letchapp games though. The ads lag me and I just plain out FAIL. But overall, a pretty decent game.
❤️👍🏻
miraculous🐞🐱🐈
on
12/9/2017
This game I first thought it was really hard but then I eventually adapted to zigzag and now, though my doubts I like it a lot 👍🏻👍🏻🙃🙃🙃🙃😂❤️❤️❤️
Zigzag 😒
Bhad bhabie shortie 👌💕💍💋
on
12/9/2017
Worst games ever mad hard 💁🏽😤😒
This game
Lindsey McMahon
on
12/7/2017
I would give this game 5 stars because it is a really addicting game. I gave it four because it gets really annoying when u first tap on the app and get strait to playing an ad will interrupt you in the middle of playing. When u push on the ad while u r in the middle of playing it will take you to the App Store. I love this game but can u please fix this Ketchapp.
Boooo this is a HACK
Micro GEEK 93
on
12/7/2017
I almost got hacked from this game. Here's the story: On the day my aunt let me get this game I was super excited I did a flip(I'm an expert gymnast). But when I played three rounds of super fun games and got a score of 60, this random ad played for five seconds then it took me to "the creator's hack world!" His username on ROBLOX is poopheadhack649. He told me to "give me your account" and then held up a sign with blood and a head pinned to it! I was almost hacked so I shut the app out and immediately deleted it! In conclusion do not get this game or you will get hacked. Also jk the game is not fun and I only wanted to try it I was not super excited, but I'm still an expert gymnast. 😡
Great app!
This app is fun for all ages and very interesting
Kind of/ OK
This game is fun don't get me wrong but when you start to play the adds make me die every time and there are also glitches wile you playing that make it hard but this game is OK. But I would not get the in app purchases to remove adds.
People who hate it
A lot of people don't like this game if you try hard enough you can get to 1000 like me I tried hard as I can to get 1000 I hope you guys listen so you can get to 1000
Complaint
whats wrong well...
on
12/5/2017
Don't make it so fast
Awesome
😜hfkhrkshsoxpqb6388501728
on
12/4/2017
So fun and hard to get the ball to turn when you want to it is so fun and awesome please download this app
Get the game!!!!! I mean it!!! 😃
Care bare 17
on
12/4/2017
So awesome!! You can play over and over again and you don't have to play for levels and adds almost never pop up!! Very addicting!! You can just keep playing and you can use pink diamonds, ( the things you get in games as an award) to buy new balls and colors! I play this game all the time! There is nothing wrong with this game at all!!! Who wouldn't want this game??!! Please get it!!
Feedback
I really really really hate this game it is terrible
I love this game but...
Great Flashlight app
on
12/4/2017
This is a really fun game and I love it so much, but when I'm in the middle of the game an ad pops up and starts me over. It's really frustrating. Plz fix! Sometimes when I tap the screen it doesn't do anything.
I think this game is hard to play
Calbe_boo_bear
on
12/4/2017
I think this game is hard to play bc it's not easy to get more 💎
Very fun
Animal Soldier
on
12/3/2017
This game is fun to play and a good time killer. But (for me) it freezes for a secco d sometimes so I only get 1 point. But other than that, it's very fun.
Great....not
Josie LePage😂😜😁
on
12/3/2017
It's very hard to control not very great
Hi
packattack2011
on
12/1/2017
I am the creator of the game
💯👌🔥ITS LITTT BOI💯👌🔥
Yo fam its lit
What Fun?
thatkidagain96
on
11/28/2017
So yeah the game is fairly addicted but how am I suppose to pass my high score when there are ads interrupting every attempt I make. And then when I exit out the ad, I lose. An immediate fix should be established.
Ranked Five Stars By ME 🙂🙂🙂🙂
Not only is this game addicting it's a great skill builder(LIKE a workout for your thumbs) This game is also not only amazing its unstoppable and whoever thinks it's a bad game I think their CRAZY 😜 so when I get bored of ROBLOX I play this amazing skill building addicting game to pass my boredom BYE BOREDOM SEE YA IN LIKE FIVE HOURS
Love zigzag ❤️😘❤️😘
presley kay whoveay
on
11/24/2017
So I just started playing and right of the bat I loved it. You should recommend using this app for being in a doctors office and your wait you could play this app. I recommend this app for relaxing
So many ads...
Yo dat game
on
11/24/2017
To be honest this game is very good and I would rate 5 stars if there weren't ads flashing in your face every second
it's good
BerrygirlXx
on
11/24/2017
It's good I like da game and da graphics ain't bad XD
Booooooooooo
I hate it it is so boring and a waste of time you should delete it forever. And there are to many ads.
AMAZING
cheerloverSophie
on
11/24/2017
This game is amazing and super fun.its also stress relieving. It's super addicting but awesome.
Nope
Danceamanic
on
11/20/2017
I hate this game soooooo much, not just because it gets me mad but it glitches and makes adds pop up in the middle of the game. Don't buy the game it is a monkey
DO NOT GET
terrible game. Wouldn't recommend. It's very glitchy. BUTTTTTT, it also has way too many ads. I was at at 204 on zigzag and an ad for color switch cane up and I died. Do not get this game!!! It'll give u cancer and 3rd degree burns
Entertaining🤯👾🤖👻
One of The coolest and entertaining game I've ever played
WORST GAME PUTS ADDS IN WHILE YOUR PLAYING
I rated this game a 1 star because it puts adds in front of your screen while your playing! Also it gets very frustrating and difficult my high score is only 5 not just because of the adds but I get so mad that I chuck my phone at the wall and I have broke the screen before..... this is not the games fault so I would not get it if you get mad and frustrated easy if your go with the flow enjoy the game if its possible to enjoy
Zigzag
Player number 1638474
on
11/19/2017
This game is so good but it's cind of hard work but I'm getting better at it bye
Addictive
lovelypupling
on
11/18/2017
This is a great app I love to beat my scores My score is currently 106 I highly recommend this app
Awesome app!!!!❤️❤️❤️
teagantatertot
on
11/18/2017
This game is so addictive!!! I could play it all day!!! The only problem is that there are WAY too many adds. There is a new video or picture of an advertisement about every four try's. It gets really annoying and the same adds play MULTIPLE times!!! But overall it's an AMAZING app!!!❤️❤️😍😍😁😁
Fun game
Its a fun game but an ad pop up during the game and I was at 207
The adds
Girl of weird names
on
11/18/2017
Gluten free games are better!
Good!
Too many!!!
on
11/17/2017
Believe me when I say it's a great game!! But..... it can sometimes glitch up on me here and there. There is also some adds popping up on me to, it's just adds for other games like this one though. So you can decide to get this app or to not get this app.
Zig-zag
Anna_banana8202
on
11/17/2017
I like this game a lot. And I play it everyday. But i do not like the ads. They pop up in the middle of the game and it's very annoying. Also it's very laggy, like when I go in to the game it either freezes or I have to turn of my phone and it still glitches. I love the app just these things need to be fixed. Also if u could add something like I can save myself if you pay a certain amount of diamonds just a suggestion.
We'll it's okay
First of all you need to have a lot of patience to play this Second of all it's hard Third don't play
Amazing
Kellyswagger
on
11/15/2017
I'm sitting in class really bored doing maths I I just play this game and it really is a time killer, I start playing next thing you know class is over. It's addictive and just fun to play great job on this game
Freezing
Havoc6191904
on
11/13/2017
Great game. Freezing a lot though.
Great game
114632783377272
on
11/13/2017
Could y'all add like something like levels on the game but overall it AWESOME
Awesome
Jaaziel Coreas
on
11/11/2017
this game is mad funn 💪👌
Fun game
Definitely keeps me distracted.
Cool Game!
I think it's a cool game and helps kill time. I wish that there wasn't so many ad's though. Overall, I think it's a fun game.
Too laggy
Cooltoni6470
on
11/9/2017
It was too laggy and had to many adds
Seriously
This game is too glitchy every time I play it freezes after I get to 50 and I die fix it
Awesome but many problems
This game is great and so addicting. There are a few problems tho. When I play in the middle of a run adds pop up and I die. It's also very laggy and shuts off randomly. Over all it's a pretty good app.
BIG fall
You can do nothing on it,it doesn't make any sense,and bad to play whit friend on the game
I hate adds🙄🙄
lala world🤑🤑😜
on
11/3/2017
I hate it when you are playing an add popped up and made you loose.
Fact Sheet
Publisher:

Ketchapp

Category:

Games

Released:

Feb 04, 2015

Current Version Released:

Aug 14, 2015

Version:

1.2.1

Size:

120.3 MB

Compatibility:

Requires iOS 6.0 or later.

Recommended Age:

4+

Game Center Certified:

No

Supported Devices:

iPhone3GS-iPhone-3GS, iPhone4-iPhone4, iPodTouchFourthGen-iPodTouchFourthGen, iPad2Wifi-iPad2Wifi, iPad23G-iPad23G, iPhone4S-iPhone4S, iPadThirdGen-iPadThirdGen, iPadThirdGen4G-iPadThirdGen4G, iPhone5-iPhone5, iPodTouchFifthGen-iPodTouchFifthGen, iPadFourthGen-iPadFourthGen, iPadFourthGen4G-iPadFourthGen4G, iPadMini-iPadMini, iPadMini4G-iPadMini4G, iPhone5c-iPhone5c, iPhone5s-iPhone5s, iPadAir-iPadAir, iPadAirCellular-iPadAirCellular, iPadMiniRetina-iPadMiniRetina, iPadMiniRetinaCellular-iPadMiniRetinaCellular, iPhone6-iPhone6, iPhone6Plus-iPhone6Plus, iPadAir2-iPadAir2, iPadAir2Cellular-iPadAir2Cellular, iPadMini3-iPadMini3, iPadMini3Cellular-iPadMini3Cellular, iPodTouchSixthGen-iPodTouchSixthGen, iPhone6s-iPhone6s, iPhone6sPlus-iPhone6sPlus, iPadMini4-iPadMini4, iPadMini4Cellular-iPadMini4Cellular, iPadPro-iPadPro, iPadProCellular-iPadProCellular, iPadPro97-iPadPro97, iPadPro97Cellular-iPadPro97Cellular, iPhoneSE-iPhoneSE, iPhone7-iPhone7, iPhone7Plus-iPhone7Plus, iPad611-iPad611, iPad612-iPad612, iPad71-iPad71, iPad72-iPad72, iPad73-iPad73, iPad74-iPad74, iPhone8-iPhone8, iPhone8Plus-iPhone8Plus, iPhoneX-iPhoneX,

Supported Languages:

English;