Screenshots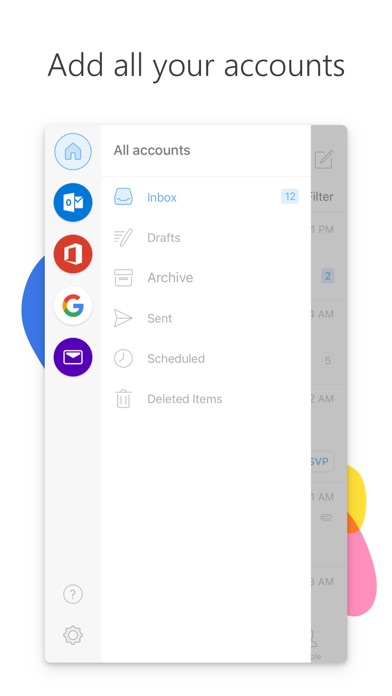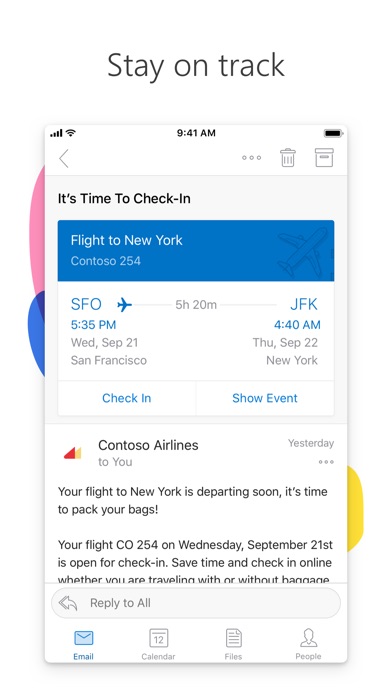 New in version 2.47.0
Make team projects and group discussions run smoother with new capabilities added to Groups:

- Create or delete a group right from your phone.
- Edit a group and add or remove group members.

Access your Groups conversations and details, as well as these new features from the sidebar. (Available to Office 365 users)

All of our weekly updates also include performance improvements and bug fixes to make Outlook better for you. Questions or comments? Let us know through our in-app support in Settings, we'd love to hear from you.
Description
"The best email app for the iPhone." - The Verge

Meet Outlook for iOS, the app that helps millions of users connect all their email accounts, calendars and files in one convenient spot. Newly redesigned, Outlook for iOS lets you do more from one powerful inbox.

See what matters most first with the Focused inbox that keeps the important messages on top. Switch between your emails and calendar to schedule your next meeting or share your availability with just a few taps. Or grab a document from your Files list and attach it to an email seamlessly.

With everything you need only a tap away, managing your busy days is now easier than ever.

Outlook for iOS works with Microsoft Exchange, Office 365, Outlook.com (including Hotmail and MSN), Gmail, Yahoo Mail, and iCloud.

--

Here's what you'll love about Outlook for iOS:

Seamless inbox management

- A "Focused" inbox that displays your most important messages first. The more you use it, the smarter it gets.
- Swipe gestures to quickly schedule, delete and archive messages.
- Smart filters to help you sort through your inbox.

Easy access to calendar and files

- Share your meeting availability with just a tap and easily find times to meet with others.
- View and attach any file from your email, OneDrive, Dropbox, and more, without having to download them to your phone.

Work on the go

- Open Word, Excel, or other Office document attachments to edit them directly in the corresponding app and attach them back to an email.
- Set your Out of Office messages directly from your iPhone or iPad.
- Multitask seamlessly on iPad with full Split View support in iOS 9.

--

Like Outlook?
Try other great Microsoft apps for iOS: Word, Excel, PowerPoint, OneNote, OneDrive, Skype, and Wunderlist.
iPad Screenshots
Reviews
Outlook Review
Text size on iPhone is too small at times - messages aren't always visible. Manipulating attachments is a breeze . Integration with drop box Is seamless !!!
Outlook is almost ideal
Microsoft needs to implement the Rules functionality that is available on the desktop (client) version. That will make this product 5 stars plus! ⭐️⭐️⭐️⭐️⭐️⭐️⭐️⭐️⭐️⭐️
Needs Work
I tried this app for a week because occasionally the Apple mail app wouldn't show certain emails. But here are my issues: 1. It pushes emails just fine, but doesn't recognize when I check my emails on another device like my computer. This is a pain because I then have to open my phone, open the app and let it refresh so it clears the alerts or I think I still have emails. 2. There is no flexibility with the alerts. I've used both android and iOS, but the reason I stay with iOS is the flexibility I have with alerts. I can have it show everything, show only who the text/email is from, show that I have a text/email or not show anything. With Android, you can show all or nothing. This app is like android. It either shows everything or nothing. There is no in between. Other than that, app worked great. But I'll continue using the Apple Mail app for now.
Reply all option enough to make me switch
The app is good, reply to all as default setting is enough to make you switch to a different application. Its not worth sending the wrong content to the wrong people cause Microsoft decided to "innovate" and make reply all the default option
Great Email App
I use Outlook at work and this is very close to it.
Unusable without Calendar Monthly View
I downloaded this to see my calendar with my category colors that I have set up on my desktop. However, I found out that there is no monthly view like Outlook on my desktop and the Apple calendar app on my iPad. You can only see a week, a day, or a list of events. So that makes it unusable for me!
Wasted Space
Why is the reply button so gigantic? It takes up a lot of space that could be used so I could actually read the email. It's even more absurd in landscape mode.
Awesome
This app continues to get better with every iteration. I used to feel an empty spot without Blackberry Email. Now, this is better.
Solid performer
JustTheTruth65
on
10/18/2017
Works great all the time.
Very clean useful design that's not overdone
I love the outlook app. It has an easy-to-use design. I can switch between mailboxes. It's mail filtering and organization isn't overdone like some other apps I've used. Highly recommended :)
No multiple select
Not interested unless there is multiple select for emails. No need to delete things one by one. Also, a select all for emails would be nice. If these things happen, I'll make it my default email program
Observation on Upgrade needed
Good day I am really enjoying this application and I have come to know that it is the best mail application out there. But there are few things you guys need to work on an i will list them below 1. Alert tone should have more cool tone 2. Give is option of themes and colour. This all whites has outlived its coolness 3. The reply option is getting tricky amd making it difficult to find specific part of email Thank you
outlook
eliza.cochrane
on
10/18/2017
sometimes i don't get notifications for important emails but overall outlook is great!
Need to be able to sort! Update
Denver Mike
on
10/18/2017
There are so many great things about this app. Dare I say it would be almost perfect if you could sort you inbox by received, subject, sender.... this seems so basic I can't believe it's not there. We get updates every week but nothing regarding this feature. Team, put your other projects on the back burner - check the feedback from the community. Sorting is what we need and want. 10/18 - another release and no sorting by date, sender, subject etc.
Outlook on the Go
Hillary Freelancer
on
10/18/2017
Very useful app, allowing me to continue my business with my mobile devices.
Nice but slow
Well laid out app with lots of nice features, including access to OneDrive and calendar. Extremely slow to open, but once open works fine.
Great and continually improving
Goin'Mobile
on
10/18/2017
Best client for mail, calendar, and contacts on any device.
I'm ready
Real Lawyer
on
10/18/2017
Go ahead get your groove on
Excelente
luisluzardo
on
10/17/2017
Bastante buena, útil y rápida..♥️
Like the app but buggy
Seems like constant updates but there are still a lot of nagging issues. Latest is the inability to reply from the bottom link randomly. Wish there was some better QA.
Support for iCloud needs to be addressed
Originally I could easily access all my iCloud data including the calendar. Months ago it stopped working and I tried a bunch of support provided solutions only to learn it was a known issue and a fix was forthcoming. Several months later and it's still not addressed.
Suddenly spam
I have to log in on a PC to truly label junk mail and over the past two weeks TONS of it are loading to my inbox. The feature to send things to junk does only that, does not make them forever junk mail. It was better but now some "unspeakable" things are getting by. I also have to use outlook on my work phone which is a stupid android and it is AWFUL! It jumps around when you click on an email and then the little circle just spins and spins. Junk. I will admit it is far better on the iPhone than the (did I mention stupid?) android. And will it ever sync with my iPhone calendar? Still, it is better than the pre-loaded app on my iPhone except that when I try to send email to internet links it sends them from my iCloud address instead of defaulting to my Live address.
Again an update
Will continue to get a one star until Microsoft listens to its users and gives them one of the most requested features. Color Categories
No native contact syncing for Microsoft provided email accounts
No native contact sync for outlook.com or live.com accounts, not sure about hotmail.com but I expect similar. Basically, the "save contacts" feature in advanced settings is not supported for Microsofts own email services mentioned above. This causes all sorts of problems but to put it simply you won't know the name of the person calling or txt you, only their number will be displayed. To be fair if you have an Exchange account with your job for example it should work ok. For the rest of us this is a known problem with a couple of work arounds but none as efficient as just having the app link its contacts to the phone. Hoping this will be fixed in a future version, for now two stars.
Hoping you see my review!
Just want to follow up, I hope I've been heard! Our Sales Team uses Outlook for iOS and MSFT Dynamics and if these two could sync when we email or call, along with the iOS contacts, our work flow would improve greatly. Also email directly from the dynamics 365 app. We also need tasks/to do list built in.. Love this app but please need ability to sync with MSFT Dynamics. I'd love to be able to open an email via dynamics and vice versa, make auto record of communication efforts/activity - emails, phone calls, etc. Working in sales, this is needed! Please add Microsoft office integration for add-ins such as OneNote and Dynamics 365. Suggested this in user voice too. Also...Your dynamics iOS app is a bit buggy. Hope you guys are working on an overhaul in the near future.
I use this because I miss Sunrise
Maya the Bee
on
10/17/2017
It's great to have my calendar and email in one app. It's not great to get double notifications for an event from the same app.
Great App...but
When/ are you going to fix the mailbox view? To be able to control the # of lines viewed per email from the "inbox" screen. We would like to be able to see maybe no lines(just who it's from and subject line like ALL other mail apps can). I still won't use outlook because of that and I would like to. My personal email is outlook premium account
Poor calendar; mail inferior ...
... to iOS after the disastrous July update that made all steps more laborious, and made it impossible to appraise all accounts and folders at once. Too bad because the original integration of MS-purchased Acompli and MS software has been excellent. Also, 9,000 users want a real monthly calendar — MS bought Sunrise — and we're still stuck with a useless dot/agenda view with yet more trivial improvements.
Me like!
Just saw the new update from this morning just now and I like it! 😁
Minor inconveniences
Great App with few hiccups. Calendar refresh is a bit slow. Not sure if this is because of the app or the setup. There's also a bug with the reply option at the bottom of a thread, which sometimes doesn't pop up. Great app overall. Thank you!
A Review of Outlook
MSOfficeOniPhone
on
10/17/2017
Mobile Outlook is an excellent complement to MS Office on the Web, as well as Mobile MS Office on my iPhone.
Outlook app review
Tiger mathpro
on
10/17/2017
Very good
Reseña
Muy ordenado ágil lo amo !!!!
Doesn't Work Many Times.
Outlook User SWB
on
10/17/2017
I'm not that pleased with the app. I use Outlook for work and my job involves moving around a lot with various tasks, however, many people still need to email me about projects and needs so I need access to it at all times. For some reason, I will receive notifications consistently all day (like I'm supposed to) but then it will stop sending me notifications about emails and I think that no one has reached out to me until I get to my desk and see a pile up of emails on my desktop. Also, it is frustrating when I save a draft on my desktop to view later on my phone and it will not pull up or even show that there is a draft in my email. Same thing with sent and received mail. Some things I can view and some things I can't. Very inconsistent and inconvenient. Needs improvement.
Eh - nice-looking design and all...
jessgold215
on
10/17/2017
I am finding this app confusing to use. How do you just select all emails to be read or discarded? Maybe I'm not trying hard enough, but I was hoping it would be more intuitive.
Garbage
Legendaryman84
on
10/16/2017
Rarely works for my work email on the app and webpage. Get your crap together can't check work emails from home ever. If I could give zero stars I would that's how bad this is.
When it works with exchange it's great
Some users have had issues with it freezing. After the latest updates auto discover does not work with exchange 2010. It works fine with all the other mobile email apps. I want this to work well but I can no longer recommend it in an exchange environment.
Notifications
I wish you could customize notifications more. (9-5 m-f) But great otherwise!
WOW are these guys needy
Great app
I want to love it, but I am at just like
Letmereviewthatforyou!
on
10/16/2017
Microsoft, please implement the native iOS share sheet. I would love to turn my emails into todo's using my personal (things to do and my teams Asana app) Don't really understand why such functionality is not available. Incorporate outlook mobile into CRM. Make it connect with other services.
Gets worse instead of better. Attachments and Calendar support stinks
This won't send with any attachments that I add from my OneDrive for work. Yep, I can add attachments from other cloud storage sources but the cloud storage app offered from Microsoft does not work. Also, they keep advertising shared calendars, but I can't see any of the calendars already shared with me by my work colleagues. These are all working in the desktop client, so I should be able to see them, but I can't.
Like the focus inbox
Merith cefra
on
10/16/2017
I like the focus inbox in the phone app
Not the best
Jackkk999888
on
10/16/2017
Disappointed in the Outlook app. It is not receiving push notifications consistently with Exchange. No ability to set custom notifications for VIP senders. I'm going back to the Apple iOS mail and deleting the Outlook app.
Two years in and still now "two stage swipe"
I want to use this app but they refuse to add short and long swipe gestures. The feature has been on your request site for over two years with nearly 2700 votes. Most apps, even Apple's stock mail app, offers this. Implement it already.
Generally Zlike
Blocking email on Outlook is not too effective!
Best
Husseinovich
on
10/15/2017
Love the clean UI
Don't like hidden emails
😡. I want every email separate. Don't like having to hunt for an email that is hidden because it's part of a response from an email sent to multiple persons
Sharing is a thing. Secure, authenticated sharing is forever.
Asa K Flanigan
on
10/15/2017
Dear Mr. Nadella, Mr Gates, and the Microsoft Office Group, Sharing is a thing. It too shall be pass and return. Secure, authenticated sharing is forever. I am concerned about the ease at which a party that gains unauthorized access to online MS Office accounts or a device onto which MS Office products are installed may gain access to sensitive data and communications stored by MS Office products. I am additionally concern with the ease at which such data, once accessed through illegal means, may be rapidly distributed to a network of persons. I ask that Microsoft Corp. kindly consider requiring a unique PIN or biometric authentication event in order to access components of Office products such as "sharing" and "group" functions. I also ask that Microsoft please kindly consider adding a separate unique PIN or Biometric authentication event in order for a user to initial an MS Office process or event that may not be reversed or may be difficult to reverse. I note that MS Office apps installed on devices produced by companies other than Microsoft allow users to add additional layers of security to MS Office apps. These devices and versions of MS Office apps do not accomplish what I suggest in this review. However, these device and app combinations demonstrate that Microsoft might, without too much difficulty, make MS Office apps even more awesome then that are currently. Sincerely, Asa K Flanigan, PhD P.S. Please kindly Keep being awesome. Please continue to inspire "awesome" in both employees, clients, colleagues, and friends. Your "awesome" is unique. Each awesome act has the unique ability to inspire equally awesome thoughts, acts, and dreams in persons who are directly and indirectly affected by your products and words. Even your products that the world is not quite ready for inspire all, including your competitors and detractors to change, reconsider, and recalculate the manner in which they think about, experience, and address our world.
Fact Sheet
Publisher:

Microsoft Corporation

Category:

Productivity

Released:

Jan 28, 2015

Current Version Released:

Oct 17, 2017

Version:

2.47.0

Size:

209.1 MB

Compatibility:

Requires iOS 9.0 or later.

Recommended Age:

4+

Game Center Certified:

No

Supported Devices:

iPad2Wifi-iPad2Wifi, iPad23G-iPad23G, iPhone4S-iPhone4S, iPadThirdGen-iPadThirdGen, iPadThirdGen4G-iPadThirdGen4G, iPhone5-iPhone5, iPodTouchFifthGen-iPodTouchFifthGen, iPadFourthGen-iPadFourthGen, iPadFourthGen4G-iPadFourthGen4G, iPadMini-iPadMini, iPadMini4G-iPadMini4G, iPhone5c-iPhone5c, iPhone5s-iPhone5s, iPadAir-iPadAir, iPadAirCellular-iPadAirCellular, iPadMiniRetina-iPadMiniRetina, iPadMiniRetinaCellular-iPadMiniRetinaCellular, iPhone6-iPhone6, iPhone6Plus-iPhone6Plus, iPadAir2-iPadAir2, iPadAir2Cellular-iPadAir2Cellular, iPadMini3-iPadMini3, iPadMini3Cellular-iPadMini3Cellular, iPodTouchSixthGen-iPodTouchSixthGen, iPhone6s-iPhone6s, iPhone6sPlus-iPhone6sPlus, iPadMini4-iPadMini4, iPadMini4Cellular-iPadMini4Cellular, iPadPro-iPadPro, iPadProCellular-iPadProCellular, iPadPro97-iPadPro97, iPadPro97Cellular-iPadPro97Cellular, iPhoneSE-iPhoneSE, iPhone7-iPhone7, iPhone7Plus-iPhone7Plus, iPad611-iPad611, iPad612-iPad612, iPad71-iPad71, iPad72-iPad72, iPad73-iPad73, iPad74-iPad74, iPhone8-iPhone8, iPhone8Plus-iPhone8Plus, iPhoneX-iPhoneX,

Supported Languages:

Afrikaans; Albanian; Amharic; Arabic; Azerbaijani; Basque; Belarusian; Bengali; Bosnian; Bulgarian; Central Khmer; Catalan; Valencian; Chinese; Croatian; Czech; Danish; Dutch; Flemish; English; Estonian; Finnish; French; Galician; German; Greek; Gujarati; Hausa; Hebrew; Hindi; Hungarian; Icelandic; Indonesian; Irish; Italian; Japanese; Kannada; Kazakh; Korean; Lao; Latvian; Lithuanian; Macedonian; Malay; Malayalam; Marathi; Bokmål, Norwegian; Norwegian Bokmål; Norwegian Nynorsk; Nynorsk, Norwegian; Persian; Polish; Portuguese; Romanian; Moldavian; Russian; Serbian; Chinese; Slovak; Slovenian; Spanish; Castilian; Swahili; Swedish; Tamil; Telugu; Thai; Chinese; Turkish; Ukrainian; Urdu; Uzbek; Vietnamese; Zulu;