Screenshots
New in version 2.55.0
All of our weekly updates include performance improvements and bug fixes to make Outlook better for you.

Feel free to send us any comments or question through our in-app support in Settings, we'd love to hear from you.
Description
Outlook lets you bring all your email accounts and calendars in one convenient spot. Whether it's staying on top of your inbox or scheduling the next big thing, we make it easy to be your most productive, organized, and connected self.

Here's what you'll love about Outlook for iOS:

- Focus on the right things with our smart inbox - we help you sort between messages you need to act on straight away and everything else.

- Swipe to quickly schedule, delete and archive messages.

- Share your meeting availability with just a tap and easily find times to meet with others.

- Find everything you're looking for with our new search experience, including files, contacts, and your upcoming trips.

- View and attach any file from your email, OneDrive, Dropbox, and more, without having to download them to your phone.

- Bring all the apps you love in Outlook, including Facebook, Evernote, Trello, and more.

- Open Word, Excel, or other Office document attachments to edit them directly in the corresponding app and attach them back to an email.

--

Outlook for iOS works with Microsoft Exchange, Office 365, Outlook.com (including Hotmail and MSN), Gmail, Yahoo Mail, and iCloud.
iPad Screenshots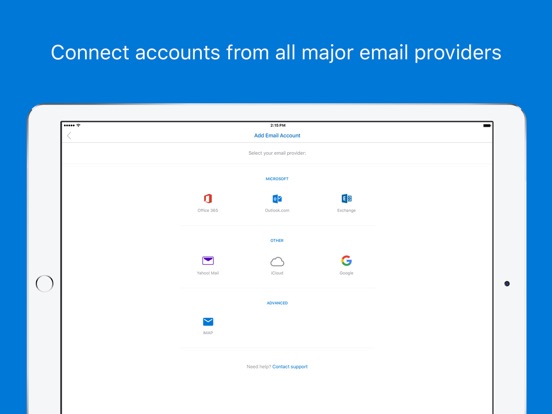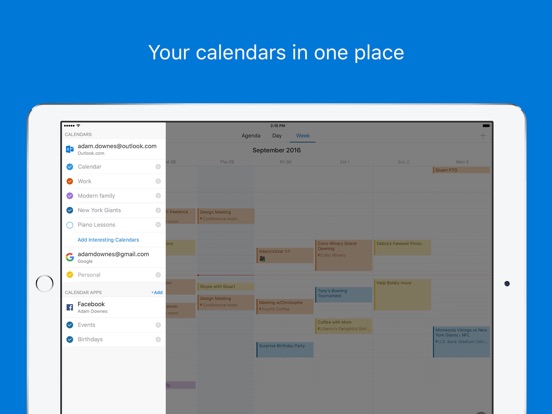 Reviews
Close But No Cigar
Overall this app works pretty well for me, but unless I'm missing something, could you make it possible to collapse folders? I have work folders divided by the year and it would be nice to collapse previous years instead of scrolling through them and all their sub-folders.
No HTML signature
I don't understand why you guys still don't have the capability to allow for HTML signature. I need to have company logo as part of my signature but even at this version you still can't do it. Very disappointed.
Love it
I love this app checking my email is easy and convenient.
Very Solid App for Exchange Server
This email app serves me well with my office Exchange account. This latest update changed the icons at the bottom - I don't like the new look. Looks like a downgrade to me. Overall though, the does quite well. I can access my Exchange calendar too.
My favorite app
Thank u for ur usual and continuous update and bug fixes. All i need, is the push notification when an email has been sent earlier at the time i dont have internet connection; and once i turned wifi/data on, i need all new emails to be displayed on the lock screen or similar to the whatsapp and other apps. This is my ONLY ISSUE. Again, THANKS A LOT
Great app. User friendly.
DrunkenFoolX
on
12/16/2017
Pros: Very intuitive. I like the "focused" inbox - works really well. Cons: Search entry could use improvement.
Chickie chickie Slim Shady
Florida idiot
on
12/16/2017
I like spam spam is good
Love it except
This is a great app. It gets out of the way and let's you do mail well. My main frustration comes from MS making it harder to flag emails. It used to be a simple swipe now you hold and wait for the menu to come up and then select your emails and then done. This went grime ones step to a 4 step process. And there is no way to flag an email from with in the message or if you search for it!
One of the best Email Service Provider!
Robert Palmer 0409
on
12/15/2017
It allows you to back your contacts up and easy to delete your emails. Especially if you have over 500 emails. Definitely recommend this email service for any profession or anyone without a job.
Two step verification!
Make sign out easer
on
12/15/2017
Everything works fine except the two step verification. Its driving me crazy. Every time I have to log in it asks for pw then code. If I defined my phone as trusted device, why should I log in every 24 hours So now am having different problem, I do have notifications of receiving new emails, but when try to open them its not updating and does not show I'm sick of outlook app Please find solution!
Love it but issue with calendar sync
I really love this app and find it so much more streamlined than other apps I've used, but lately my calendar changes have been taking an extremely long time to sync - which means that if a meeting changes or is cancelled on my calendar at work (...my Office365-based calendar at work), I still get a reminder for the cancelled meeting on my phone hours later. Very frustrating.
Folder management
I go back and forth between Spark and Outlook. Both work well. Folder management is the biggest shortcoming for both. There needs to be a way to collapse and expand sub-folders.
Happy, BUT...
Still no way to flag "block domain" to stop junk mail. Still not able to "set regarding" (Dynamics CRM/365 integration)
E-mails
melruthtamar
on
12/15/2017
Get lost Yes It's hard to keep track
Simple, Clean, works great!
Been using for over a year, and I am not disappointed. My favorite thing is when I delete an email here it's deleted when I log on my PC, too.
Outlook
Works just like it should for your phone.
Almost there
I like the program, although, my only complaint is that Calenar events can only be set in 5 minute increments. Would it be too much to enable the option to 1 minute increments? Is so, you'll have more that 1 convert, I'm sure!
Mail body problem
Copy is not working in the body of the mail in IPhone. It's my official mail and it's putting me in lots of problems
Bad new update
lostaddict64
on
12/14/2017
I like how snappy this app feels, but with the new update, I hate the combined search of contacts and emails. It feels way more cluttered and totally unnecessary.
What happened to "people"
Sneaker hater
on
12/14/2017
As the title states the app updated and I lost the contacts section of my exchange account what gives !!!!!!!!!
Useless now
This app used to be decent, now it is useless. Can't send mail at all after the most recent update. Two support tickets and no response. That's what I expect from Microsoft. Great job!
Deleting app
Update: 12/14. I love parts of this app! It could be the best but lacks important things to compete wit apples native app. Despite telling me in July that my issues would be fixed - they haven't yet. The most recent update removed the ability to easily see items that have been flagged!! The point of flagging is to not lose important items!!!! If I wanted to search for them - I would not flag them! Clearly the items I believe are minimum requirements to use this app for business - are not important to the programmers. Deleting the app as I must have those features. Update: 8/16. despite developers assurance (see reply to me below) they would address all my concerns. None have been addressed even in the update that came out today. Reply to Developer: 7/18 update didn't address any of my concerns. 7/25 updates didn't address it either. So much for your comment of "this will be fixed in the next update!!!" Update: most recent update claimed to have new features. None work for me so I don't see a positive change. Changing to 1 star as they took away the ability to EASILY flag a message important. The one feature I use over the Native App! Will give 4 stars when fixes new issue. There are notification sounds available in the app. Prior to recent update - my sound worked perfectly. Recent update has notification at tri-tone only. Nothing changes it. Will give 5 stars when VIP notices are added and notification for sub folders (a must for a desktop user).
Can't switch to wide view
I flip my phone sideways to get a better reading pane and the screen splits in half and the pane gets smaller. Don't know why they can't make it like everyone else's app and allow us to see the full screen.
Seamless
App is seamless and keeps getting better and better with the upgrades. Best mail app. 👍🏾
Great app
Great app for school emails
Replying too complex
Takes too many steps to choose recipients when replying. Go back to the old way of replying please. Hard to edit recipients.
Why won't the app stay open?
Keyser Osei
on
12/14/2017
I have not been able to open the app via ph and send an email this past week. Not sure why that would continue. I have updated the latest version as well
Viewing mail
Although I am satisfied with the app overall, one thing that would really make it better for me is having the selected mail open in full screen rather than half screen the way it currently works. If nothing else, the ability to adjust the percentage of viewing screen would help. What possible reason could you have for removing the ability to edit notes? Seems like every time you people issue an update the app gets worse. Revising my rating down accordingly.
Was a great app, not since the latest update
Crimson3one
on
12/14/2017
It was great having O365 on this app because my OneDrive files and contacts were all in one place with my emails and calendar, but now they've removed the contacts and files and keep making it worse instead of better. Will update this review if they revert some of the changes back, but for now it's becoming less and less usable for me. ***UPDATE 1 - was contacted by support and told it was their engineers decision to remove these features which is more alarming that this app has been moving backwards not forwards. Will update further if the features return.
Since update, problems with cut & pasting
Great to have email and calendar in a single app. However, since the update (and move to iPhone X), I'm unable to paste text into the body of emails. I can only paste into the subject line. Please adjust this.
WHATS HAPPENED WITH THE LATEST UPDATE?
Qwerty102538
on
12/14/2017
Ok so why is it now that when I highlight a text, my only option is to "speak" or "spell" the text? What happened to copy/paste/bold italics underline formatting options???? It is huge to be able to move chunks of text around when composing an email. What had happened that this has gone away??? Really basic text editing functions. HELP and fix please.
Passable
It'd be much nicer to use, IF the ability to send an attachment was made available. How about the ability to sort the mail by sender, date, etc.? Thank you
Never had a problem before...
I have been using this app for quite awhile and am pleased with how it had been performing until the last update or two. I am unable to print selected emails by AirPrint. The preview screen shows two horizontal lines across the top of the page. I have to go to Safari, open up Outlook and then can print what I need to print. So...would appreciate it if you guys would fix this problem with printing from the app.
Love it continuously improving
John Roland
on
12/13/2017
Great app. I use for work email because I am used to Outlook for work, but new features are added and it is becoming a great all around app. MS acquisition of iOS apps is improving every single one of them I have seen so far. Only thing really bugs me is the threading. I still have a hard time parsing that, unlike native mail app.
Cannot link to iPhone
Phantom.Mist
on
12/13/2017
The app is great, I use it for work and I would give it 5 stars if not for one reason. Unfortunately I cannot merge work Outlook Calendar with my work and personal Google Calendar. Which wasn't a big deal, because I could just link them both to my iPhone calendar easily. With my new iPhone I can no longer do that. It doesn't seem like that would be that hard to just open up the apps until you are constantly having to switch between apps to double and triple check to make sure everything is scheduled correctly. Which becomes quite the hassle when working around 3 job schedules and two use different email companies. Otherwise a great app if you are not in my situation.
Love it
Very convenient for work on the go.
They broke it
Nylorac123us
on
12/13/2017
I had been very happy with Outlook until recently. I don't know which specific release screwed it up but the search function is no longer nearly as useful as it used to be. They are also user interface glitches where it's impossible to scroll down to a message that you were currently creating and other serious annoyances. As I said earlier I have been very happy with Outlook however I'm now switching to a new client because these Changes have made it extremely frustrating to use
Outlook on i06: It continues to work. And that is no small thing.
T.H.E. El Jefe
on
12/13/2017
It works. It works. It works.
Great! But needs HTML signature!
Love the app - just wish the signature field had an option for HTML formatting.
Inbox
The return to inbox GUI doesn't work after 'delete all' is executed.
It sure what happened but...
Anthonywasherelol
on
12/13/2017
When I search for emails it doesn't bring up all emails that were there before. Every time I enter the same phrase into the search bar different amounts of emails come up. Some that used to come up when searched for no longer show up. It's unable to load more messages making it impossible to go back and look at old emails that I need to reference. This app used to work very well then something went wrong. Now it's basically useless unless I just need to respond to an email. If I'd like to search something or reference an older email I have to wait until I have access to my home computer so that I can check from the desktop version of outlook. Don't know if this is a unique case or something that a lot of people are experiencing but I hope it can be fixed soon! I loved this app before all of this happened!!
Great App But Annoying Bug
"This could take awhile" pop up comes up every 10 seconds or so. Horribly annoying. Would give you guys 5 stars if you could PLEASE fix this
Great App
Eric Loves Duolingo
on
12/13/2017
But please add support for tasks!
Improving but still flawed
Two Three Break
on
12/13/2017
Missing key basic features like the ability to paste into an email and search a calendar, but overall making baby step improvements. Surprisingly slow to update given Microsoft's size and that Outlook is such a flagship product. Being developed more at the pace of an underfunded startup than a Fortune 100.
Best iPhone email App
ErockSmiles
on
12/13/2017
It has completely replaced my stock Apple email app. Helps me organize my emails on the fly and FOCUS on only the important emails. Saves me a lot of time. However I had to deduct one star for loosing the collapsible emails in the email chain. Why couldn't they have made that a configurable option?
Formerly my favorite email app
This used to be my favorite email app, but now it just crashes. Two updates and still no luck. Time to find another email client.
Delete button and options
There are couple of features that have been under review from 2015! 1. Jump to next email after delete. 2. Place delete on the button bar. How hard is it to provide the above features? And seriously, you've them under review for more than 2 years! That's a very long time. You expect people to go back and open a new email after each delete and expect to them to reach the top of the screen to delete an email!? I've contacted customer support to consider these features but they provided no support!! I hope MS team provides these at least in the next update.. otherwise, I've to find another alternative.
Doesn't Work Effectively
Won't load folders. Won't send emails. Has issues connecting. It's much easier to just use Google and Yahoo's apps.
Crashes
Crashes all the time since the last two releases. Pretty much unusable. This is my most used app daily and is completely useless right now.
Love it
Really great application
Fact Sheet
Publisher:

Microsoft Corporation

Category:

Productivity

Released:

Jan 28, 2015

Current Version Released:

Dec 11, 2017

Version:

2.55.0

Size:

208.6 MB

Compatibility:

Requires iOS 10.0 or later.

Recommended Age:

4+

Game Center Certified:

No

Supported Devices:

iPhone5-iPhone5, iPadFourthGen-iPadFourthGen, iPadFourthGen4G-iPadFourthGen4G, iPhone5c-iPhone5c, iPhone5s-iPhone5s, iPadAir-iPadAir, iPadAirCellular-iPadAirCellular, iPadMiniRetina-iPadMiniRetina, iPadMiniRetinaCellular-iPadMiniRetinaCellular, iPhone6-iPhone6, iPhone6Plus-iPhone6Plus, iPadAir2-iPadAir2, iPadAir2Cellular-iPadAir2Cellular, iPadMini3-iPadMini3, iPadMini3Cellular-iPadMini3Cellular, iPodTouchSixthGen-iPodTouchSixthGen, iPhone6s-iPhone6s, iPhone6sPlus-iPhone6sPlus, iPadMini4-iPadMini4, iPadMini4Cellular-iPadMini4Cellular, iPadPro-iPadPro, iPadProCellular-iPadProCellular, iPadPro97-iPadPro97, iPadPro97Cellular-iPadPro97Cellular, iPhoneSE-iPhoneSE, iPhone7-iPhone7, iPhone7Plus-iPhone7Plus, iPad611-iPad611, iPad612-iPad612, iPad71-iPad71, iPad72-iPad72, iPad73-iPad73, iPad74-iPad74, iPhone8-iPhone8, iPhone8Plus-iPhone8Plus, iPhoneX-iPhoneX,

Supported Languages:

Afrikaans; Albanian; Amharic; Arabic; Azerbaijani; Basque; Belarusian; Bengali; Bosnian; Bulgarian; Central Khmer; Catalan; Valencian; Chinese; Croatian; Czech; Danish; Dutch; Flemish; English; Estonian; Finnish; French; Galician; German; Greek; Gujarati; Hausa; Hebrew; Hindi; Hungarian; Icelandic; Indonesian; Irish; Italian; Japanese; Kannada; Kazakh; Korean; Lao; Latvian; Lithuanian; Macedonian; Malay; Malayalam; Marathi; Bokmål, Norwegian; Norwegian Bokmål; Norwegian Nynorsk; Nynorsk, Norwegian; Persian; Polish; Portuguese; Romanian; Moldavian; Russian; Serbian; Chinese; Slovak; Slovenian; Spanish; Castilian; Swahili; Swedish; Tamil; Telugu; Thai; Chinese; Turkish; Ukrainian; Urdu; Uzbek; Vietnamese; Zulu;