Screenshots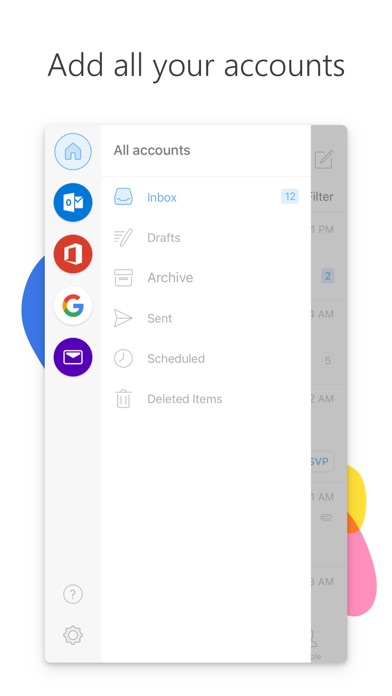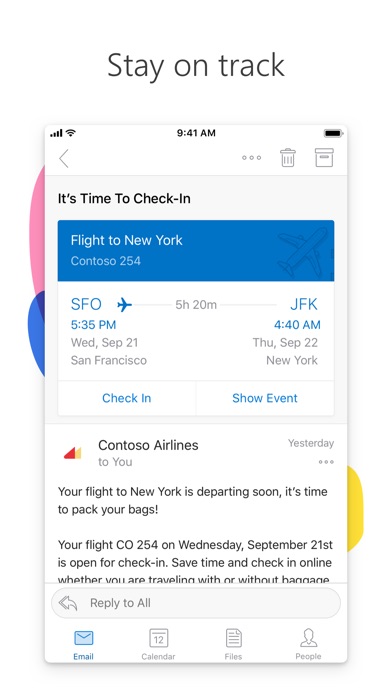 New in version 2.51.0
Support for iPhone X is here, for all those rocking Apple's latest device.

All of our weekly updates also include performance improvements and bug fixes to make Outlook better for you. Questions or comments? Let us know through our in-app support in Settings, we'd love to hear from you.
Description
"The best email app for the iPhone." - The Verge

Meet Outlook for iOS, the app that helps millions of users connect all their email accounts, calendars and files in one convenient spot. Newly redesigned, Outlook for iOS lets you do more from one powerful inbox.

See what matters most first with the Focused inbox that keeps the important messages on top. Switch between your emails and calendar to schedule your next meeting or share your availability with just a few taps. Or grab a document from your Files list and attach it to an email seamlessly.

With everything you need only a tap away, managing your busy days is now easier than ever.

Outlook for iOS works with Microsoft Exchange, Office 365, Outlook.com (including Hotmail and MSN), Gmail, Yahoo Mail, and iCloud.

--

Here's what you'll love about Outlook for iOS:

Seamless inbox management

- A "Focused" inbox that displays your most important messages first. The more you use it, the smarter it gets.
- Swipe gestures to quickly schedule, delete and archive messages.
- Smart filters to help you sort through your inbox.

Easy access to calendar and files

- Share your meeting availability with just a tap and easily find times to meet with others.
- View and attach any file from your email, OneDrive, Dropbox, and more, without having to download them to your phone.

Work on the go

- Open Word, Excel, or other Office document attachments to edit them directly in the corresponding app and attach them back to an email.
- Set your Out of Office messages directly from your iPhone or iPad.
- Multitask seamlessly on iPad with full Split View support in iOS 9.

--

Like Outlook?
Try other great Microsoft apps for iOS: Word, Excel, PowerPoint, OneNote, OneDrive, Skype, and Wunderlist.
iPad Screenshots
Reviews
Near perfect
Master Atrus
on
11/17/2017
I have really appreciated the improvements that have been made to this app over the past year! Great job to Microsoft! Unfortunately I can't give a perfect rating because reoccurring iCloud events show every week. (Example, you have an event that occurs ever 1st Friday at 8:00 pm, it will show EVERY Friday at 8:00 pm and it drives me nuts!)
Mr. HT
I do not like the way my PHONE has taken away the APP as a point to originate From !
In a time of so many working apps...
In an age in which there are so many apps that one can download to their phone, why would anyone choose to use this. Glitchy, constantly crashes. Very poorly organized. What I mean is that every time I update this app I have to go into the setting menu and turn off the featured email, feature. Because that feature is worthless. It makes it hard to get to my newest emails, or god forbid I want to find an old email. This app is slow to load, slow to maneuver, and just generally unpleasant to use. It seems to have trouble connecting to the outlook servers, so that often emails that I have deleted are still in my inbox when I sign back in, although the app does like to move them to the featured list. So the emails that I definitely don't want I am sure to see every time I log in. Then if you are silly enough to try to edit your archive, or really any of your folders, don't select more that two or three to move or erase at a time, because the app can't handle you selecting more than that. It will crash and you will have to start all over. Just a bad app. I think that you would be better off with one of those free kinda crappy email apps. At least they don't pretend to be useful or awesome.
No message preview option
The dev team is so stubborn. There is a FR open for over a year on remove preview option of message in app but they are ignoring it completely. Have time to implement support for iPhone X which only few people have while adding simple feature like preview will beef it everyone. I would switch to native iOS mail app if I have no corporate security features forced on me!!!!!
Far superior to TheGoodApp
OPTCGlobalSuks
on
11/17/2017
I'm glad my company uses this over the GoodApp.
Why can't you ?
How can I set outlook as my "default" mail app? Why is it when I put emails (spam) into the "junk" folder I still get emails from the same people / site? I don't have this problem on my HP laptop. Can't see any type of upgrade in the last few versions. Let's make a true upgrade!
Been using Outlook for MANY years!
JayneLWells
on
11/17/2017
Outlook continues to be my mail main server. I have a small Gmail account and past Yahoo accounts, but I started with my first email account as Hotmail and 20+ years later I'm still using it. The Outlook app has progressed along with my needs. Don't even get me started on the capabilities of Outlook for Business! An amazing app!
Poor iPhone integration
Heeheeheehahahahohoho
on
11/17/2017
Cannot send files from phone through onedrive; also cannot go to previous page, only main menu
Slow and quirky
Timbasdett 1101
on
11/17/2017
Doesn't quickly synchronize quickly difficult to schedule events and often redundancies. There is no where to put a signature on the mobile app.
App not responding on iPhone X
Since latest update the app keeps freezing and has to be closed for it to work and then repeats. Support for iPhone X is not working. Please fix soon.
Crash's after opening
Hello as soon as I see the first email when I go back to first menu won't back and freezes and Touch ID won't open the first page unless you shut down the phone completely and turn it on back so I delete the app
doesn't work anymore
the queen bees
on
11/17/2017
I've been using this app for years but recently it has stopped even opening. It always been really slow searching trough my mail but I've looked past that because I like how it organizes my three email accounts together. Now I takes a full minute or longer to even load anything. I can take out my laptop and open my mail there faster. Unfortunately will be switching to another mail app instead 😔
Downward Spiral
The latest updates continues the downward death spiral of MS bloat. Features for the sake of adding crap, and of course you can't turn it off. We know how you should work and we'll foist our opinions on you. Next step is uninstall.
Not thrilled with this version
This is not my favorite version by any means. It drops my emails without notice and I can never find them. Please fix it.
Search doesn't work throughout the mailbox
When you search for email from certain person it only shows the fewer results, not all the results available on the webmail. And when you scroll down it doesn't load the rest. Only a certain number of emails are shown and then theres end of the list, which is very frustrating.
Swipe Features
I use the move and flag features very often.
FAIL: Can't turn off image loading
I'd really like to use Outlook for iOS, but it has one MAJOR flaw: you can't turn off image loading. That means any and all trackers can get through for mail that you read, especially and specifically unwanted mail from unsolicited providers. It's a non-starter.
Almost amazing and sometimes horrid
Avocado Fuzz
on
11/17/2017
If Microsoft could figure out how to prevent Outlook from losing longer emails mid composition, it would be amazing. Since this is the 3rd time it's occurred, I'm done. The first thing an application shouldn't do is crash and lose your work, hence the shockingly horrid 1 star review.
The worst email app for the iPhone
Lots of security and privacy holes. When are you going to allow the users to turn off automatic remote image loading, Microsoft?!
Poor usability, unstable garbage
Usability is hard, but Microsoft seems to always fall short. Outlook for iOS is no exception. Integration with Skype for business is abysmal, simple things like canceling a meeting are not straight forward, and reminders for meetings are not integrated into iOS so you don't get any. One good thing is at least it's reasonably fast. Wish my work allowed us to connect via iOS mail directly to our office 365... or better yet, wish we could use Gmail or something non-Microsoft for work email. Update: it's not fast anymore. It crashes while you write emails and the email draft is not recovered. It's frustrating garbage that is better used as a torture device for prisoners.
Let's break something!
The latest update requires a PIN after a period of timeout. Our organization does require a PIN, but in the past Touch ID and Face ID worked fine. No so much with this latest update. Come on Microsoft, get it together. It can't be that hard to build in satisfactory regression testing for an organization your size.
Good app
It's a great app but it can get clunky to move around in it
Outlook mobile
Went you delete emails and go to the deleted folder the go back to inbox doesn't work!
Not iPhone X upgraded
Unlike the other MS apps for iOS, this one is not updated for the new iPhone X screen size. It looks very old in comparison. Updated - the latest version has been used plated for the X and looks much better - same basic layouts excepts it uses the total space of the X screen.
Please Update for iPhone X
I really enjoy this app and use it daily for work. I prefer this app over the stock Apple one. Ask and you shall receive...asked for an iPhone X optimization and got it next day. That's service :)
Malfunction
Every time I sign into my email it always ask me for my email address and then it has an error. This is the third time I updated this app and it keeps giving me the same message. If there is an app it should be available for me to use.
New problem?
For the last couple of days, my app shows one more message than actually exists. When I look at all my messages, I close the app and it will show one more message to open. When I then open the app, there's no unread messages. I close the app again and it shows no number on the badge. Not terrible, just annoying...
iPhone X Support! Come on!!
Everything has been available from Apple long enough to the release to allow developers enough time to update their apps. Outlook is great but NEEDS IPHONE X SUPPORT! Those black bars are killing me! Edit: updated to 5 stars. Thank you for the update!!! :-)
Update fail
Every since the app updated I cannot log in. Tried contacting their "customer support", waiting 18 and counting hour since their last response. Plus Microsofts customer 1-800 number is designed to just hang up on you. Absolutely horrid customer service.
Okay just needs better signature ability (HTML)
shredder109
on
11/16/2017
Okay just needs better signature ability (HTML)
Better
Much better but appears to be broke n
Thank you
Shifty Louie
on
11/16/2017
Thank you for the iPhone X update
Used to be great. New search feature is terrible
I used to love this app. But now that they did away with being able to search from just about anywhere in the app to a central search i find it less useful. It takes more keystrokes now to just search for files, or addresses, or inboxes. I'm going to look for a new app now.
People needed- just not my contacts
I'd like the option to download a subset of my institutions exchange contacts. I'd like my iPhone contacts kept separate. Right now my only option within the app is to raid my personal people file. Not gonna happen. Plus the work contacts listing isn't in contacts anyway. Otherwise Outlook is the shining star of the suite.
Great with one exception
Four star but it would be five star if it had one additional feature that Apple Mail has. In Apple Mail when I want to put an email in a certain folder it knows where previous similar emails have gone and automatically selects correct folder saving a step in putting mail in folder.
Default "reply to all" is a terrible decision.
Please change it back to default to reply to sender only with the option to reply to all. Otherwise I will be uninstalling. Too easy to message people you don't want to.
Not optimized for iPhone X, but works fine otherwise
The app isn't optimized for iPhone X, so there is a lot of wasted space on the screen.
Super easy
Very user friendly Easy to get rid of junk stuff
App constantly freezes
Latest update (support for iPhone X) has made app almost unusable. App freezes spontaneously when typing emails. Please fix this.
Great app, but.....
Love the app, but when I go to me deleted emails to permanently delete I select all and it deletes but then three quarters comes back up and I have to permanently delete in several cycles. Pain in my butt. If you select all 55 deleted emails to permanently delete they should delete in one click. Please fix.
Looking good on iPhone X Thanks
Great customer support thank you
YAY! The app now has iPhone X screen support :)
The IS the must have email and calendar app. In many ways it's an improved version of the Apple Mail app. I like being able to have options for how I want my mail app to behave and this has many. Example, when I'm reading an email and I delete or archive it I want to return to my email list view and not be taken to the next email. -Dropbox/Cloud storage integration. APP ISSUES: -Right now there are some issues in this release where I am unable to get the pop up menu to appear so I can do something as simple as select text. -I also noticed that misspelled words do not have any indications such as a red underline that are supposed to notify you the word seems to be misspelled and allow you to correct it. -I am still able to touch a misspelled word and a suggested replacement word pops up but when I try to select the replacement the replacement word highlights as it is being touched but nothing actually happens. Instead I have to retype the word. -Another very frustrating "bug" (or oversight) is as you are typing a long message, eventually what you are typing is no longer visible as it travels below the keyboard view and I have to stop and scroll down to see my cursor position. Way too much functionality for me to explain here. You'll have to try it out for yourself.
Outlook in a very tiny package
I use Outlook for most of my workday when I'm not at my desk. My only major gripe is the tracking of conversations is done by subject line rather than the actual thread. This can lead to confusion and potentially missed or Mia-sent communications.
Please fix!!!!!!!!
gmail&360_user
on
11/16/2017
Nov. 15 Update - last night's update has broken the app again. No emails, no calendar, just a blank white screen. OLD - Since the latest update, the app freezes a few seconds after opening and then crashes. I have not been able to read a single email or open a calendar entry for the past two days. I tried uninstalling and reinstalling the app and it's still not working.
User
iPhoneMSconfused
on
11/16/2017
If only Microsoft would facilitate good transitions between avid note users and one note pie in the sky views. Thank God Apple iPhone keeps the functionality of Notes in place since Microsoft has thrown that baby out with the OneNote bath water!!!!!!!
Outlook is great
Thomas Bartolotta
on
11/16/2017
There is no better way to keep email organized
Thanks
Thank you for the iPhone X support. Would still like you to add the ability to schedule / delay sending of emails (like AirMail).
Outlook for iPhone 6+
UPDATE: Nov 2017 Working good. Reliable. Last critical update made mail to forward a bit messy, but when I found how its feels ok. Still weekly updates pretty hungry to cellular data, and still my biggest complaint! Update: It seems to be fixed. Even w/o update it opens e-mail now, BUT... What is this stupid think for? WEEKLY UPDATE!!! Who the hell doing WEEKLY UPDATES? And each so-called UPDATE weight 103 MB!! I'm on business trips for 3 weeks in row quiet often, and do not have access to wi-fi all that time! What should I do? Just waist 300MB of data for your WEEKLY UPDATES! Not mention that my cellphone goes to roaming every other day on my trip! TERRIBLE! Became useless. See mail arrived. Can't open attachments. CAN NOT read a message! It DOES NOT OPEN letter's body!! And it's critical issue!!! Already got a problem Probably will go back to apple mail.
Shared inboxes
My work has shared inboxes and i can never access them on this or the OWA client and it's a serious issue for when I'm out of the office and really need to answer emails. We're international and so we get emails at strange times
Solid update
Great update for iPhone X, totally showcased the phone's capabilities. I'm able to see more calendar events at a glance with the elongated screen. Also LOVE the detail of the calendar icon animation on the bottom task bar - when I flip beyond today and when I flip behind today, the fanning effect changes direction - Great detail! Good job Microsoft on this one.
Fact Sheet
Publisher:

Microsoft Corporation

Category:

Productivity

Released:

Jan 28, 2015

Current Version Released:

Nov 15, 2017

Version:

2.51.0

Size:

214.2 MB

Compatibility:

Requires iOS 10.0 or later.

Recommended Age:

4+

Game Center Certified:

No

Supported Devices:

iPhone5-iPhone5, iPadFourthGen-iPadFourthGen, iPadFourthGen4G-iPadFourthGen4G, iPhone5c-iPhone5c, iPhone5s-iPhone5s, iPadAir-iPadAir, iPadAirCellular-iPadAirCellular, iPadMiniRetina-iPadMiniRetina, iPadMiniRetinaCellular-iPadMiniRetinaCellular, iPhone6-iPhone6, iPhone6Plus-iPhone6Plus, iPadAir2-iPadAir2, iPadAir2Cellular-iPadAir2Cellular, iPadMini3-iPadMini3, iPadMini3Cellular-iPadMini3Cellular, iPodTouchSixthGen-iPodTouchSixthGen, iPhone6s-iPhone6s, iPhone6sPlus-iPhone6sPlus, iPadMini4-iPadMini4, iPadMini4Cellular-iPadMini4Cellular, iPadPro-iPadPro, iPadProCellular-iPadProCellular, iPadPro97-iPadPro97, iPadPro97Cellular-iPadPro97Cellular, iPhoneSE-iPhoneSE, iPhone7-iPhone7, iPhone7Plus-iPhone7Plus, iPad611-iPad611, iPad612-iPad612, iPad71-iPad71, iPad72-iPad72, iPad73-iPad73, iPad74-iPad74, iPhone8-iPhone8, iPhone8Plus-iPhone8Plus, iPhoneX-iPhoneX,

Supported Languages:

Afrikaans; Albanian; Amharic; Arabic; Azerbaijani; Basque; Belarusian; Bengali; Bosnian; Bulgarian; Central Khmer; Catalan; Valencian; Chinese; Croatian; Czech; Danish; Dutch; Flemish; English; Estonian; Finnish; French; Galician; German; Greek; Gujarati; Hausa; Hebrew; Hindi; Hungarian; Icelandic; Indonesian; Irish; Italian; Japanese; Kannada; Kazakh; Korean; Lao; Latvian; Lithuanian; Macedonian; Malay; Malayalam; Marathi; Bokmål, Norwegian; Norwegian Bokmål; Norwegian Nynorsk; Nynorsk, Norwegian; Persian; Polish; Portuguese; Romanian; Moldavian; Russian; Serbian; Chinese; Slovak; Slovenian; Spanish; Castilian; Swahili; Swedish; Tamil; Telugu; Thai; Chinese; Turkish; Ukrainian; Urdu; Uzbek; Vietnamese; Zulu;