This version of the app is not recommended
App last updated
Jan 16, 2018
Screenshots
New in version 2.60.0
All of our weekly updates include performance improvements and bug fixes to make Outlook better for you.

Feel free to send us any comments or question through our in-app support in Settings, we'd love to hear from you.
Description
Outlook lets you bring all your email accounts and calendars in one convenient spot. Whether it's staying on top of your inbox or scheduling the next big thing, we make it easy to be your most productive, organized, and connected self.

Here's what you'll love about Outlook for iOS:

- Focus on the right things with our smart inbox - we help you sort between messages you need to act on straight away and everything else.

- Swipe to quickly schedule, delete and archive messages.

- Share your meeting availability with just a tap and easily find times to meet with others.

- Find everything you're looking for with our new search experience, including files, contacts, and your upcoming trips.

- View and attach any file from your email, OneDrive, Dropbox, and more, without having to download them to your phone.

- Bring all the apps you love in Outlook, including Facebook, Evernote, Trello, and more.

- Open Word, Excel, or other Office document attachments to edit them directly in the corresponding app and attach them back to an email.

--

Outlook for iOS works with Microsoft Exchange, Office 365, Outlook.com (including Hotmail and MSN), Gmail, Yahoo Mail, and iCloud.
iPad Screenshots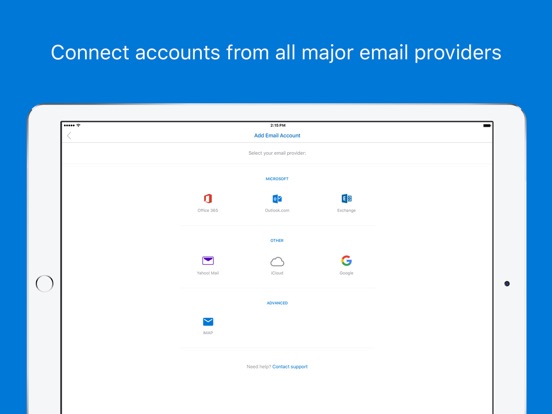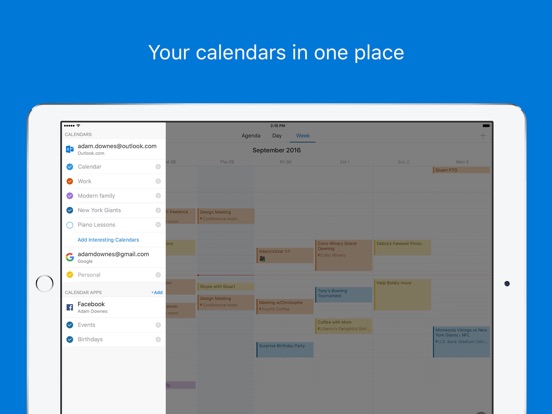 Reviews
Almost there
It works well but: 1. Sometimes searches don't pull up all the relevant emails. This is an Outlook problem not just the app. 2. It used to be that you could flag one email in a chain and now you have to flag the entire chain. Really annoying. Please change it back.
Archaic
It has not improved materially in years, still no ability to manager (or hide ) folder, get full screen for msg, reliable notification of meetings, etc. This iPad app is a piece of junk that is only alive because Exchange is so ubiquitous. Add to the above these guys create meaningless updates almost weekly, making it a PAIN to work with
Online Assignments
Acomalexander
on
1/23/2018
When receiving documents through the email on my cellphone makes reading for my business class a breeze.
Where is 'search'?
Searching emails function has disappeared after the last update. Can only search contacts and files? Please urgently bring back searching emails!
I wish it worked
I can't send an email without it crashing. (iPhone 8)
Last update causes issues
Disappointed MNF traveler
on
1/23/2018
iPhone 7, can no longer see text area when replying to an email. Also, The send button doesn't appear. Have to save the email as draft, reopen and then send and make edits. Please fix
Excellent!!
Nice performance!
Simply great
Sameertandon
on
1/22/2018
A fast and functional app that gives you all the frequently used features intuitively places to get you to do your work faster. Must have....
Apple Watch complication options
Would love the ability to ignore "all day" calendar appointments. Give me the option to ignore those in my Apple Watch complication. Many of my "all day" appointments function as general awareness to my manager that I may be out of office those days so it's not necessary for me to see them in my Watch (especially if they are a few days long). It seems to take priority on my watch over actual other appointments I may have for the day.
Mark 1 email unread in a thread? Nahhhhhh
TechnologyGuru
on
1/22/2018
An email thread has 20 emails within. You want to follow up with an email later so you want to mark or unread. Microsoft thinks that you need to mark ALL OF THEM UNREAD. So genius!!
Calendar
Create calendar events easily from email. Please enable google calendar as an option.
Outlook for iOS
Since this version was loaded, all my outgoing mail has been going to the outbox. Attempts to send are ignored. Running iOS 11.2.2 on an iPad Pro The iOS email app hasn't worked on this machine since i replaced an older iPad. Now i have to use my phone. UPDATE, only trying to send a copy via outlook does not work: the message is placed (permanently) in the OUTBOX. Also, the attachment feature needs a way to browse for files on One Drive and the iPad. Overall, the office package is very good to excellent. glenn
Review
MSN my provider for 35 Years!!!
Multiple Issues 🤔
1. Neglects important emails: How is someone supposed to focus on an important email if the Focused Inbox feature hides it? 2. Drafts started on desktop Outlook do not appear in the Drafts folder. 3. Slow to launch and slow to update. 4. Can't select a meeting location to find it on a map.
Gets the job done
super simple to use and very convenient to get email notifications straight to my phone
Missing features
It be nice to sync tasks too
Clean
Clean and simple to use
Simple and Easy to Use
Last Joe to Go
on
1/21/2018
Simple and Easy to use. Interfaces well with outlook computer and online applications.
Meetings
bear polar bear
on
1/21/2018
Cannot book meetings from the app. Cannot choose rooms
Last update issues
The last update to the app resultsd in significant startup lag and overall lag in app handling on older devices. Same issues with the MS marketing reminders
Keeps asking me to add another account
boyfromthedwarf9
on
1/21/2018
Keeps asking me to add another account, even though I said no a thousand times. STOP IT.
Pretty terrible
For a simple email app this is awful. Search function doesn't work. The load time is slow and hard to organize emails from the app.
Locks up Freeze and exit
On my iPhone and iPad both latest update often freezes then eventually just exits
Unable to write email
Creative Searcher
on
1/21/2018
No matter what letter or key I press (even backspace), it just seems to enter a new line.
Solid personal planner app
Great all around. Would like tighter integration with the Contacts list on my phone and some other usability things to be made into options (eg delete open message opens next message instead of back to folder listing) however not a deal breaker.
Privacy Nightmare
"Microsoft may email you about Outlook Mobile." What BS is this? This is surely a joke.
So close to being perfect!
Nice clean UI and support for pretty much every mail service available. It would be 5 stars if they supported iCloud Drive as a storage account option.
It works most of the time
Sometimes my view gets messed up, or the search does not find any matches but I try again and there are matches.
Just perfect
This serves me all basic functionalities like email,cal, file search. A dark theme would help me a lot when checking email during night time.
One challenge to fix
We need to be able to get notifications for Calendar entries without having to get notifications for everything else (email). Somehow, Microsoft, please fix this.
Outlook is just awesome!
awesome outlook
on
1/20/2018
👍🏿👍🏿👍🏿
Add the ability paste links into E-mails
Green ZeldaYoshi
on
1/20/2018
I like this app but I need to paste a link to send someone, but it won't let me do that. Add this ability to the Outlook app.
Needs flag and unread individual messages
If only you could flag or unread a specific message in a thread then this would be my default app. Terrific email client if not for this fatal flaw.
If i could rate 0 star
This app doesn't respond after 2 or 3 seconds when I open it,,,I tried offload and reinstall, neither worked,, stupid version
Where are HTML signatures?
Works great 95% of the time. Clean interface, however there is one BIG complaint and I'm not alone....where is the ability to use HTML signatures instead of plain text? It's absurd that this still isn't available. Also when viewing folders, have ability to expand and collapse them instead of all being expanded.
Ridiculously horrible
Every update is worse than the last. Unable to get all folders to update successfully. Every other update either kills the battery or is unusable because you can't get to the email folders that you need. The only reason I am even using this app is because my company has forced it on us. If you can stay away there are MUCH better options out there and I can't imagine anyone using this unless they absolutely have to. If I could give -5 stars I would...
Search for email function is terrible
Any chance you all are going to get this up to par?
Calendar notification
How do you configure the app to have your calendar notifications show up but now every email come across your screen as a notification? Also can you have Siri read you your daily calendar from the outlook app, similar to how it does with the native calendar application on an iOS device?
Last update puts badge on menu and settings icon?
Rating is generous for encouragement... more like 3.5 stars. Reasonably functional. No crashes problems. Lacks a lot of the functionality of other, more mature, Exchange email clients. My wish list would be for a collapsible email folder structure. Also for a contacts screen/window for viewing and scrolling through Exchange contacts, isolated from iPad contacts, so I can keep my work and my personal contact separated. Note that I use the iPad email and contacts apps for personal stuff. Annoyingly, after last update I see a badge (little gray dot) in the upper left on the nav (menu) icon. When I click the nav icon to open the left side nav panel, I see the same little gray dot on the settings gear at the bottom. Like bread crumbs. When I click this to open the settings panel, I now see there is an Add Account "1 new". I click this (why do I need an add account reminder) then immediately dismiss it, close out of settings and go back to mail. The little gray badge is now gone. But when I later open Outlook, there it is again. Marketing people need to stay out of this.
It's cool
FatTurkeySub
on
1/19/2018
It's cool, I like it, I'm going to go eat a nice turkey sub
Current version keeps crashes on iPad Pro when trying to load a few weeks back
After hitting load messages (only as far back as a few weeks) outlook stops responding) it gives me an unexpected error. Terrible and useless app if I can't check my historical e-mails.
Not enough "in app settings"
First, almost all of my mail is going to spam/junk mail. The app has no button for "not junk mail"!!! Although, there is one to mark email that goes into inbox as spam. Only option I found is to log onto a computer to get the desktop site. Second, there is no way to add contacts to the app only!!! They combine it with the device so you either have to combine your outlook contacts with your iOS contacts or not use contacts at all in outlook as I have found no way to keep both separate! Third, the app is not very colorful at all; very dull & plain. Fourth, is there a way to access other outlook features such as news; if so I haven't found it yet.
Meh.
catelcccassidyyy312
on
1/18/2018
🙃 new update won't let me open the app, so that's cool. Usually works fine. Not the best app, also not the worst.
Needs Automatic reply feature
Please write update with a way to add automatic response for OOO situations.
Calender changes
Why did the latest update remove the ability to control calendar invite response notifications? Previous version allowed enable/disable of response notifications when committing the response to my calendar. This functionality is no longer available.
Ongoing disappointment
Mail remains inferior to the native app: Since the awful and much-disliked July update, which turned Outlook into a pseudo-social app, all mail handling is more laborious and unclear. The same mistake was made with the the update that buries contacts and files beneath the search glass, again adding a step. (And where, oh where, does this app gather the contacts it presents, most of whom haven't been emailed in months to a year? What a joke.) Who's awake at the wheel? Plus, nearly 10,000 users have long-wanted a real monthly calendar instead of the useless agenda/dot view — Hey, MS you bought Sunrise! — and we're ignored. An app with real potential continually spirals downward.
Convenient
I love the app convenient dose what it supposed to.
Fact Sheet
Publisher:

Microsoft Corporation

Category:

Productivity

Released:

Jan 28, 2015

Current Version Released:

Jan 16, 2018

Version:

2.60.0

Size:

212.2 MB

Compatibility:

Requires iOS 10.0 or later.

Recommended Age:

4+

Game Center Certified:

No

Supported Languages:

Afrikaans; Albanian; Amharic; Arabic; Azerbaijani; Basque; Belarusian; Bengali; Bosnian; Bulgarian; Central Khmer; Catalan; Valencian; Chinese; Croatian; Czech; Danish; Dutch; Flemish; English; Estonian; Finnish; French; Galician; German; Greek; Gujarati; Hausa; Hebrew; Hindi; Hungarian; Icelandic; Indonesian; Irish; Italian; Japanese; Kannada; Kazakh; Korean; Lao; Latvian; Lithuanian; Macedonian; Malay; Malayalam; Marathi; Bokmål, Norwegian; Norwegian Bokmål; Norwegian Nynorsk; Nynorsk, Norwegian; Persian; Polish; Portuguese; Romanian; Moldavian; Russian; Serbian; Chinese; Slovak; Slovenian; Spanish; Castilian; Swahili; Swedish; Tamil; Telugu; Thai; Chinese; Turkish; Ukrainian; Urdu; Uzbek; Vietnamese; Zulu;