Screenshots
New in version 2.42.0
All of our weekly updates include performance improvements and bug fixes to make Outlook better for you. This week also includes a nifty little change to our calendar icon. It now moves with you as you're scrolling through your days to indicate if you're going in the past or in the future. Got lost while contemplating it? Tap on the icon again to go back to today.
Description
"The best email app for the iPhone." - The Verge

Meet Outlook for iOS, the app that helps millions of users connect all their email accounts, calendars and files in one convenient spot. Newly redesigned, Outlook for iOS lets you do more from one powerful inbox.

See what matters most first with the Focused inbox that keeps the important messages on top. Switch between your emails and calendar to schedule your next meeting or share your availability with just a few taps. Or grab a document from your Files list and attach it to an email seamlessly.

With everything you need only a tap away, managing your busy days is now easier than ever.

Outlook for iOS works with Microsoft Exchange, Office 365, Outlook.com (including Hotmail and MSN), Gmail, Yahoo Mail, and iCloud.

--

Here's what you'll love about Outlook for iOS:

Seamless inbox management

- A "Focused" inbox that displays your most important messages first. The more you use it, the smarter it gets.
- Swipe gestures to quickly schedule, delete and archive messages.
- Smart filters to help you sort through your inbox.

Easy access to calendar and files

- Share your meeting availability with just a tap and easily find times to meet with others.
- View and attach any file from your email, OneDrive, Dropbox, and more, without having to download them to your phone.

Work on the go

- Open Word, Excel, or other Office document attachments to edit them directly in the corresponding app and attach them back to an email.
- Set your Out of Office messages directly from your iPhone or iPad.
- Multitask seamlessly on iPad with full Split View support in iOS 9.

--

Like Outlook?
Try other great Microsoft apps for iOS: Word, Excel, PowerPoint, OneNote, OneDrive, Skype, and Wunderlist.
iPad Screenshots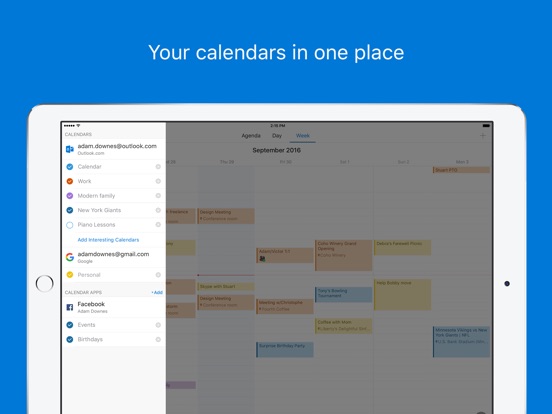 Reviews
Great!
Great app that has been continuously improved by Microsoft over the last few years. Great example of how an app can evolve from good to great.
Good but Needs More
Would love to be able to rearrange the email accounts once they are in.
One of the best email clients available
DragonFlyJones
on
9/25/2017
Hotmail used to be my junk email account. Now this app links me to a number of different sources.
Overall great app
I like how this syncs up to my outlook account in my laptop. Anything that I put in on my laptop will show up on my phone and vice versa. The only thing I don't like is that my categories in my calendar dates do not sync with my laptop and phone app.
Settings are hard to find
Settings are hard to find and unintuitive. I'm forced to use outlook because of my job but it stands up as the best app imo compared to inbox and gmail by google and mail app by apple (that one is trash). Just needs some minor ux quirks that could be fixed pretty easily. Wish I could integrate calendars from other systems like google's so i dont have to go to separate apps for work vs personal.
Fast reply to your email before reach your computer!
Majid Mortazavi
on
9/25/2017
I am working as R&D manager with 69 staff , I recieve lot of email every day, more than 100 , in many email I am in CC for information , I check my email during travel time from home to office every day and I delete unnecessary email and reply urgent one at once, it's the most useful app that I have in my IPhone .Outlook app could not support "meeting request" email from Outlook desktop and its the only weak point of this app.
KEEP SIGNING ME OUT
MorganPeacock
on
9/25/2017
This app is really pissing me off, it signs me off like every two minutes!
Watch OS 4
kupdegrove2041
on
9/25/2017
The app itself is decent but the watch app seems to stall much beyond the initial preview. I have a new series 3 watch and tapping on the preview sends the app into a terminal "refreshing" mode.
Wonderful email app
This is a great Email app. It's set up nicely and very intuitive to use. I recommend this app highly! 👍🏼👍🏼👍🏼
Satisfied
I am a simple emailer, but the inbox, focused features are nice. It keeps my life organized. I like he adding attachment is a breeze; no more need for a fax nowadays!
This is the best app for email.
This is my preferred app for my outlook email. I am confident with the commitment of the developers that all aspects will become as strong as email -- such as the calendar. I like the ability to email available times for a meeting. It correctly reflects my work outlook account.
Calender
I love the calendar feature!
HTML Signatures
andres.cardenas7
on
9/24/2017
6 Months ago I was told by customer service that the html signatures support for this app are being tested. How long should it take Microsoft to add a simple feature? Or was it simply another customer service excuse?... Which is why even tho the app is great but for poor customer service
Preferred!
Having a gmail and an outlook account I honestly enjoy my outlook account more than gmail. Especially the fact that i can delete more than one emails at a time. Gmail unfortunately i guess is still working on that feature which is horribly annoying. But i love my outlook! Very easy to use and work with.
Why do I have to re-log into each account at least once a week?
JoeJoeCastillo
on
9/24/2017
I'm going to post this each update until this gets fixed
Options
bbcinflorida
on
9/24/2017
I can't delete an email without opening the email and I can't delete multiple emails at one time.
Dispize thus app
I give this a 1 star because I cant give it a negative 5. I don't like how I was forced to download this app. The functionality is poor. My old email manager is far superior and I can look at my other email address without leaving the app. I will keep this only as long as it takes to change my contacts to my alternate email. Then I delete my account and this craptastic app!
Drains battery fast even when not using
Huge battery hog on iOS 11.
Favorite
LOVE ME SOME PAC
on
9/24/2017
My favorite email app ever! Makes checking your email so easy! Thank you!
Great on point app
Really good app for amazing productivity
Happy with it
Karebear1289
on
9/24/2017
Easy to use once I figured out how to get to my mailboxes. I wish IPhone would pull up outlook instead of defaulting to iPhone mail when sending pictures. Good app overall!!
So slow...
I like how Outlook organizes mails better than Apple's Mail app. But it loads sooooo slowly. Th y really need to have cached mode on this app.
Needs nested folders
Need nesting
on
9/23/2017
New outlook needs nested folders many of us have used it for years as file Search simply doesn't replace folders
Folder notifications
Nonstationary
on
9/23/2017
Need to add integration for files app and notification/sync for custom email folders
Almost what I need
Would be even better if it could connect to Shared Calendars too.
Ridiculously Crashy
This app has been randomly signing me out once or twice a week for a year or two. Annoying, but I was always able to sign back in. Now it simply will not let me sign in at all. Useless.
The only mail app you'll need.
Truthtellerofapps1132411
on
9/23/2017
This is definitely the best, and with the focused inbox, all of my messages are property organized by importance.
Much Easier!
The spam box and easy deletions are 100% more manageable.
awesome!
Love how I can check my email right from my phone!
Great Mail app minus a few things
StephenFFowler
on
9/23/2017
Great app! Love how quickly it syncs and the features. Works just like Outlook basically. Needs some integration work with iOS. Attaching pictures is one example. iOS seems to want to default to the Mail app. Still I use it daily!!
Useful for Read Only
Replying to emails is nearly impossible. Interface is non-intuitive. Input screen is typically obscured by other rendered elements of the interface and the type ahead banner often further masks actual input area.
Great mail app
Sally_The_Camel
on
9/23/2017
4 stars because there's always room for improvement
Excellent email app
Works flawlessly just like the desktop version. I get notifications from the phone app and the desktop webmail at the same time and same notification tone. I have never suffered a cliche with this app. Easy to use too!
Executive
Outlook app works great for our team. We highly recommend any business.
APP IS USELESS TO ME NOW - IMAGES NOT SHOWING
AngryBarry99
on
9/23/2017
-App no longer displays most embedded images in emails. Just small square blue question mark icons instead of the images. -No reply or forward buttons. Why would you change what worked fine and was intuitive to use from before? -Aggravating to use now. I can't see the majority of embedded images and it's a pain to reply or forward emails now. -Looking for an alternative email app now that is not this one.
Microsoft is horrible
I downloaded the app just to leave a review. I received an email that microsoft has "paused syncing of my outlook email to this application" which is the mail app in order to get me to download this stupid app. This is beyond frustrating and frankly I'm not sure if its legal since you are trying to force people to download you app, more downloads means more money for microsoft
Outlook 4ever
dixie lee 78
on
9/22/2017
I've used outlook for 5 years, every since I started learning how to use a laptop. They are truly awesome. Any and every time I've had a problem they have helped me. Right down to me repeatedly getting into bad places and ending up with a Trojan in my laptop. Thank you Microsoft and Outlook.
Empty Trash!
Two words: empty trash! Very necessary. I'm using my phone more than my desktop lately, and I need full control over my email account. I've also noticed that deleting emails in the app doesn't mean they are truly deleted. Have found many "deleted" messages in the trash.
Updated this week & now it crashes
David Leventhal
on
9/22/2017
Apparently the latest release is not very good because the app is crashing regularly.
Pretty good
Good except that the calendar shows doubles for all my events
Exactly what I need it for.
Kickbuttjohn
on
9/22/2017
Perfect because it keeps my school email separate from my other emails. Also the mail app doesn't let me sign in to my school email.
Outlook
Easy to use and navigate.
The best email client for mobile
And maybe the best mobile product Microsoft has ever released. Whoever is leading the mobile app work at MS needs a promotion.
Functional & Easy
You don't have to be a tech wiz to learn how to use this app. Helps me keep all my work and personal emails organized at all times.
No rules 😤
christobamistan
on
9/22/2017
Does a good bit but huge missing piece is it doesn't obey rules you set up in desktop Oitlook or junk mail blacklist or whitelist. This with an outlook.com account so no excuse! it also isn't easy to undo delete. After a few seconds an Undo Delete message disappears but there isn't a way I could find after to undo stuff without manually moving stuff. between folders.
Great App
I am pleased with the functionality of this app, and it keeps me on schedule with calendar syncing.
Awesome!
I love it! I see some improvements so far, especially the one we can delete the spam at once! Thank you very much!
Great
I use this email for work related and job related emails and it never fails me! You guys are great continue to be that! Thanks.
Nice but....
I'm using ios 11 FYI. For some reason when Outlook notification of emails come on my banner and I press it to acknowledge and remove from my screen the email goes to trash and not inbox. Not sure if it did that with previous version. But the user should be deciding on what goes into trash, not your phone. And I can't find a setting to change that.
Laggy
When I receive a notificstion of an email from outlook there is an annoying lag until it appears when I open the app. Same for new emails when open the app. They don't seem to be precached.
Fact Sheet
Publisher:

Microsoft Corporation

Category:

Productivity

Released:

Jan 28, 2015

Current Version Released:

Sep 12, 2017

Version:

2.42.0

Size:

199.7 MB

Compatibility:

Requires iOS 9.0 or later.

Recommended Age:

4+

Game Center Certified:

No

Supported Devices:

iPad2Wifi-iPad2Wifi, iPad23G-iPad23G, iPhone4S-iPhone4S, iPadThirdGen-iPadThirdGen, iPadThirdGen4G-iPadThirdGen4G, iPhone5-iPhone5, iPodTouchFifthGen-iPodTouchFifthGen, iPadFourthGen-iPadFourthGen, iPadFourthGen4G-iPadFourthGen4G, iPadMini-iPadMini, iPadMini4G-iPadMini4G, iPhone5c-iPhone5c, iPhone5s-iPhone5s, iPadAir-iPadAir, iPadAirCellular-iPadAirCellular, iPadMiniRetina-iPadMiniRetina, iPadMiniRetinaCellular-iPadMiniRetinaCellular, iPhone6-iPhone6, iPhone6Plus-iPhone6Plus, iPadAir2-iPadAir2, iPadAir2Cellular-iPadAir2Cellular, iPadMini3-iPadMini3, iPadMini3Cellular-iPadMini3Cellular, iPodTouchSixthGen-iPodTouchSixthGen, iPhone6s-iPhone6s, iPhone6sPlus-iPhone6sPlus, iPadMini4-iPadMini4, iPadMini4Cellular-iPadMini4Cellular, iPadPro-iPadPro, iPadProCellular-iPadProCellular, iPadPro97-iPadPro97, iPadPro97Cellular-iPadPro97Cellular, iPhoneSE-iPhoneSE, iPhone7-iPhone7, iPhone7Plus-iPhone7Plus, iPad611-iPad611, iPad612-iPad612, iPad71-iPad71, iPad72-iPad72, iPad73-iPad73, iPad74-iPad74,

Supported Languages:

Afrikaans; Albanian; Amharic; Arabic; Azerbaijani; Basque; Belarusian; Bengali; Bosnian; Bulgarian; Central Khmer; Catalan; Valencian; Chinese; Croatian; Czech; Danish; Dutch; Flemish; English; Estonian; Finnish; French; Galician; German; Greek; Gujarati; Hausa; Hebrew; Hindi; Hungarian; Icelandic; Indonesian; Irish; Italian; Japanese; Kannada; Kazakh; Korean; Lao; Latvian; Lithuanian; Macedonian; Malay; Malayalam; Marathi; Bokmål, Norwegian; Norwegian Bokmål; Norwegian Nynorsk; Nynorsk, Norwegian; Persian; Polish; Portuguese; Romanian; Moldavian; Russian; Serbian; Chinese; Slovak; Slovenian; Spanish; Castilian; Swahili; Swedish; Tamil; Telugu; Thai; Chinese; Turkish; Ukrainian; Urdu; Uzbek; Vietnamese; Zulu;