Screenshots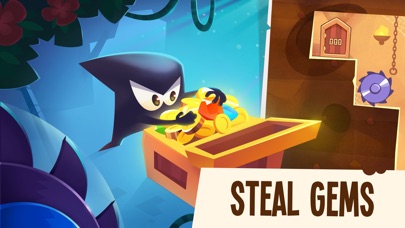 New in version 2.23
A new trap, special event, and lots of fun await you!

CHRISTMAS EVENT
Jump between roofs and steal presents. Collect unique gems and learn new Christmas spells! Everything you need for Merry Christmas!

NEW TRAP — ROASTER
A new trap is going to warm you up a little this December and later on. It neither shoot nor move. But if you want to stay alive, jump as you're the best jumper in the Kingdom!

NEW LAYOUTS
We've added 3 new dungeons and 9 new layouts. More come soon!
Description
Steal gems, build your defenses and win guild wars in the Arenas in this unique blend of arcade, platform and multiplayer PVP game!
Compete with over 50 million players around the world! Create your own guild of thieves and break into the enemy's dungeons.
Learn ancient spells to become the most feared thief in the game!

PLEASE NOTE: the game is extremely addictive and inevitably leads to increasing the number of your friends.

KEY FEATURES:

STEAL TREASURES TO BUILD YOUR COLLECTION. Stealing is fun! Collect gems and gold from other players to become the wealthiest thief in the world.
DEFEND YOUR LOOT. Design a dungeon defense, place traps and platforms to prevent others from stealing your treasure. See them being caught in your traps. No escape, muhaha!
LEARN ANCIENT SPELLS. Collect unique gems from magical spheres, learn spells and get stronger. Use the power of the Ancient Totem to defeat your opponents!
JOIN YOUR GUILD AND FIGHT IN THE ARENAS. Find reliable thieves and declare war on other guilds. Lead your guild to victory through different arenas to earn epic rewards!
CLAIM THE THRONE. Dive into the action, improve your skills, and compete with other players around the world to rise through the leaderboards. Upgrade your throne to improve your thief skills.
CUSTOMIZE YOUR OUTFIT. Choose a cool costume which perfectly suits your personality. Be a stylish thief, stand out from the crowd!
TRAVEL AND EXPLORE. Test your agility through 112 single-mode levels or dive into an underground world of user-generated content.
_________________________________________________________
SUBSCRIPTION. Subscribe to get an opportunity to progress faster and access exclusive costumes!

By subscribing to King of Thieves, you get:
- x10 lock picks (maximum capacity increase)
- Lock picks restoration is x10 faster
- Gold mine also produces "tears" every day
- 3 unique costumes

You can choose three subscription options with varying lengths. You can subscribe for 1 month, 3 months or for 6 months.
Subscription cost is $4.99/$13.99/$19.99 for 1/3/6 months. If you choose to purchase an Exclusive Subscription Pack through iTunes Store, your account will be charged upon confirmation of purchase. Your subscription will auto-renew every month/3 months/6 months unless you turn it off 24-hours prior to the end of the current period.

You can turn off auto-renewal at any time from your iTunes account settings. No cancellation of the current subscription is allowed during an active subscription period. If you don't choose to purchase subscription, you can simply continue using King of Thieves for free.
_________________________________________________________

Ready to meet the challenge? Game on!
Join the community, find friends and check news:
www.facebook.com/kingofthievesgame
www.twitter.com/kingthieves
www.kingofthieves.com/forum

"King of Thieves is a well designed multiplayer challenge which will keep you coming back and is definitely a steal of a deal for the entertainment value for free." - Apple'N'Apps

"King of Thieves is the most compelling PvP game to come around in a long time. It's good to be bad, so go ahead and indulge." - Gamezebo

"I'm totally blown away by this game; it's really really good."
"Very fun and addicting game. I love the unique mechanics and the overall feeling of the game."
"A lot of fun! I mainly just play Clash of Clans, but this game has made a permanent home alongside it."

http://www.zeptolab.com/privacy
http://www.zeptolab.com/terms
iPad Screenshots
Reviews
Forced lockout
Good game but if you play small periods at a time throughout the day you can get locked out for 3 hours. I bought the in app subscription for a month. I don't expect to have restrictions on when I can play during my subscription.
Great Game, but unused potential.
I've had this game for a day, and I'm already addicted. The only thing that bothers me in that you could do so much more to the dungeon, but you can't. These things are like a second gold mine, maybe some different costumes that have special abilities. Could you lower the price for building a guild? Maybe you could even add to the campaign more! I'll keep playing this and even if none of things happen it'll still be a great game, and I can't wait to see what comes next!,
Crashes
The game crashes pretty often and usually after watching a video, although sometimes it doesn't. Also when watching a video it sometimes will softlock so you're stuck on a white screen and get no rewards
4 star
I give king of thieves a 5 star because it's fur it's addicting its enjoy able and it's like one of those games where you can never put down your phone or iPad and it's a game to play if you have nothing to do and you want some fun. But I think it's stupid you have to bet your dungeon if you edit it, I think that's stupid and it shoudent be it the game.
How to get gems back from ancient town
wyatt goodrich
on
12/7/2017
Hey can you update the game so we can get our gems back from the ancient totem please because I have a few gems in there that are high value and I'm wondering how to get them back. So please add a way to get back the gems
The spinner
Is it just me or is my luck always on the opposite side of the spinner? 5 raids and where does the spinner land? On the not steal side and my chances are high at a 72%. Isn't there a better way to determine if a gem is stolen? Like maybe finger touch on the gem that is on the screen to steal the gem on the totem? I think there could be a much better way that the stealing a gem instead of a spinner. I just don't think that the spinner is the most fair. Other than that I would say the game is ok. I'm able to do stuff and all but the spinner is driving me crazy and I want a better way for the stealing the gem
I used to love this game :(
The name I wanted was taken
on
12/6/2017
I have had this game for a long time, and I loved it. Until recently. For some reason there is all of a sudden a lag or delay that causes your "thief" to not jump when you want him to. I wrote to the support, explaining that I spend a ridiculous amount of money on this game, and this lag is causing me to waste my money. I wondered if it was because of the update, and needed help fixing it. The assured me that I was alone in my problem, it wasn't their fault, and to uninstall then reinstall the game. Didn't work. So now I'm deleting the game.
Great Game
PhoenixVT2014
on
12/6/2017
So much fun
Fun but has some problems
1)when you hit around level 50 the game changes for bad. When you hit level 50 you get put up against level 100,200 and sometimes higher this is so unfair and here traps are such a high level. 2)king of thieves base design ruined the creativity of the game. People that don't know how to make a good base just use kotbd and make really hard bases that are so hard to beat just because they studied the base a lot over and over again marking it possible to make the base.
I have an idea for your game
mike-o-matic
on
12/5/2017
If you can steal jems,you can buy them!
Fun and addictive but....
Great game but It could use a few modifications 1. Add notifications PLEASE I wanna know when my upgrades and rituals are don't. 2. Guild chat 3. Attacks shouldn't deactivate a whole trap it makes it way too easy, it should lessen the damage but not completely disable it.
Guild leader
I love this game I even got 1 of my friends playing it and currently is in my guild, but I noticed as the clan leader I can accessed the chat. With my friend's account I can easily see what my guild mates say, but on my the tab is not even there. I don't know If I'm the only this problem if not please fix
This Game is so much fun
RyanHasSkills
on
12/4/2017
I love this game, I thought it was boring at first, then I soon began to realize that this game was so much for me to take handle than the other IOS games, one problem though is for the to get the characters, I know where but the rarity is not balanced, because I insert a mushroom and it doesn't give me anything cool, it's just a problem. Still love the game :)
Amazing
Amazing very good sugest this
OMG
Dimond Stealer (my game name)
on
12/3/2017
BEST GAME IN LIFE opps cap locks was on but this is by most my favorite game compared to the other games I play but I've been playing for a year and i haven't got a rare costume yet so I'm wandering if you have red mushrooms it can help the chance of getting rare costumes
My second favorite game
This is my second favorite game and is actually really hard to beat it and get a gym so I like our games and make more games are this charger game and it's a girl great game so make more than this
Review
This game is amazing it's totally worth getting you can defeat other players and create new and better gems and can gain money to make you home better
Love it but one bug
I love this game so much but whenever the totem says 3hr it goes for eight
Unexpected Fun
Wow.This game is AMAZING. GET IT!
Best
LucarioLuigi7667
on
12/2/2017
I love this game, it has so many pro's and so little con's! I play this every night!
Awesome but it's needs a change
Its fun but when I battle it gets laggy
TO ZEPTO LAB
Canimals Lover
on
12/1/2017
I,M LIKING C.A.T.S AND KING OF THIEVES THERE SO FUN THANK YOU ZEPTO LAB FOR MAKING THESE GAMES!!!!!!!!!!!!!!!!!
DO NOT GET THIS GAME
Nathaniel999
on
12/1/2017
I've play this game all the time but when I tried to delete it, it put a virus on my phone and the app won't delete. DO NOT DOWNLOAD.
The most fun and engaging game on the app store.
Enough said.
I hate it
squirharambe
on
11/29/2017
The game is good but the locks are really annoying and you have to pay to win or watch a million ads for apps no one wants
Level Balancing
Uninstalled the game a few months ago due to the high level players continuously attacking me. Downloaded again and it seemed balanced.. until I hit level 50. Please fix the balancing, as there's no reason for level 999's to be attacking a level 50 player. Additionally, I'd like to suggest a "report dungeon" feature. Some dungeons are truly impossible, and players must use some kind of program to time some jumps perfectly (such as the "impossible jump" with the saw). Allow players to mark them, review them yourself, and determine what to do next. Overall, this game is amazing. It combines patience, skill, luck, and teamwork to create a new genre of mobile games altogether. I've been playing this game on and off since 2015, and I'd recommend it anyday.
Excellent game
I love how this game combines strategy creativity and platform. I kinda hate how you only get 1 orb back from getting a costume you already have I think it should depend on what you put in. I feel like the game is starting to become a buy to win with being able to restore totems when you get a really good dungeon. I miss the person in the shop I felt like she added a bit more character and I think your assistant should appear a bit more often because they just add more magic and character to the game
The game is fun for everyone!
Grace Martin😄😊❤️✌️
on
11/27/2017
This game is an absolute joy to play, it's simple to level up, the ancient totem was an excellent idea by the way, and my little brother keeps asking me to play it! My guild mates are so nice and loyal, they never let me down. Since I'm their leader, I would like to help them out a whole lot more, so I was wondering if you could do an update where our guild mates could change other guild mates' dungeons for them, and to make their experience about the game better, I want to give things to them like gold, orbs, gems, etc. I just want to be as loyal to them as they are towards me, and I hope something like or exactly like this in an update can happen soon! Love the game, love my friends, and love the updates! And I can't forget about you guys, because without all of you, I probably would be extremely lonely😅. Thank you guys so much for such a great game, coming from such great people. Love you guys!😄😄❤️❤️😼😼 Oh and one more thing... I have a YouTube channel, it's called Racing 101 if you want to go check it out, you don't have to if you don't want to, but I'm thinking of making a support trailer for you guys! I just need to make sure it's ok with you guys first, and just to inform you guys, it'll probably be released in a couple of months or earlier. If it's a bit cheesy, I'm super sorry, I'm only 14 anyway😅. My channel profile (I know random😂) has blue fire with a mustang logo on it. It also has the words Racing 101 on it. Sorry if I'm annoying you guys at all, but as soon as I get approval from you guys, I'll start on the trailer! I'll never stop playing this game!😄😄😄😄
In love
I'm feeling...
on
11/27/2017
THIS GAME IS SO OUTRAGEOUES 👍👍I LOVE THIS GAME I THINK I AM ADDICTED 👍👍IF YOU DONT LOVE THIS GAME THEN YOU ARE NOT HUMAN 👽👽👽
Update made things worse
Lilibutrico
on
11/26/2017
When the update came I could no longer report people for making unbeatable dungeons
One of the best game I played ever!😻
Great graphics, awesome gameplay and hours of good time! I like this platformer VERY much. It's also helps children to develop reaction and logic. If you want to download it, do it now! 👍
Realy
JsvdrhIvensjev
on
11/26/2017
It's an awesome game but every time I try to watch an add to get keys it gives me the same add over and over again and the add is 1minute long so plz stop make the adds like 30 or 20 seconds longplz😡😡😡!!!
Best game ever!
YourMother113
on
11/25/2017
This game, King Of Thieves is perfect if you're looking for a new, fun game to play. You can do anything from building dungeons to attacking other players with cool costumes on!! Overall... this app is amazing!! I would definitely recommend this app to anyone who wants a free app to play!!
Twice in a row :/
Now the concept and layout of the game are extremely great the whole beat your base twice is extremely hard most of the time for more professional or pro players I know others have complained but I would like to suggest you change the win on your base twice in a row to something else it is really annoying.
Unplayable without Facebook
This game is a lot of fun in the beginning but later when your beat gems get stolen you can't get them back. Even if you complete the attackers dungeon flawlessly you only have a 25% chance of getting your gem back. After that you have to connect the game to Facebook and hope someone else gets it back for you. I don't have Facebook so any gem that is stolen from me is permanently gone. This is unfair. How can the Central game mechanic require a completely app? Unacceptable...
Love it but...
The weird little 9 yr old
on
11/25/2017
Overall this is a really good game I love everything and everyone that plays it, but I wish we could change our characters nickname. When i was 7 and I started the game I chose a nickname and it was acer.. now I'm 9 and I don't really like it on anymore so I looked through all the settings to try a way to change my nickname after 20 mins I realized you couldn't.... I still love the game but please just add a way to change your nickname if you can -MemeDog
Very enjoyable but randomly crashes
I find this game to be very fun and addicting, but when I play on my original iPad 10.3.3 the highest I can have it currently and I would prefer not to have to delete the game because I would like to not have to restart. Thank you for listening to my feedback.
Shield duration
WavyChicken
on
11/24/2017
The shield does not last as long Because of that my gems get stolen frequently and it is hard to progress
It's not the best but it's fine.
Itsjustmewell..
on
11/23/2017
Ok let me just say I enjoyed the game and it wasn't bad but it takes a very long time to load and I litterly fell asleep and many high ranks steal other low ranks that basically the only 2 reasons I hate it also I feel like you should do a thing where others call only steal low ranks of they are low and same for the high.
I ❤️this game
This game is amazing and it's like omg when is the next update
Love This!
This app is amazing. I stopped playing for like five months, but now I'm back. I deleted the game just now and redownloaded it, so I could restart (I don't know any other way to restart). IT'S AN AMAZING GAME!!!
Game rating
I enjoy this game greatly. It is strategy and adventure. In my opinion it's a work or art.
Can't Play
Nick Howard Man
on
11/21/2017
King of Thieves was honestly really fun and I spent some money on it. However recently it gives me an infinite loading screen that I cannot escape, it also doesn't even allow to tap the "help" button, this is a great game and if there were a way that I could fix this please tell me.
Best game ever!!!
MR.Dice RULZ
on
11/21/2017
Love it!
I LOVE THIS GAME
Caitlynloftis
on
11/21/2017
I LOVE THIS GAME, I can't explain how amazing this game is. This game deserves more than just a five star rating.
Wow
Joker potion
on
11/21/2017
I absolutely love this game. It has a level of simplicity while simultaneously having a level of difficulty. I can play this game for hours and never get bored. It's an original platforms but I love the way it plays. No doubt this is one of my favorite games.
Best
ar1223344568
on
11/21/2017
Play game three times a day so fun and addicting plz get one suggestion more traps plz
Beautiful
jhjkjjkkigg
on
11/20/2017
😊 good
SO COOL
I love is game it is so fun and I love it that I can steal gems and make them more powerful. I also like that you can join a group to win certain things and you can get so far into it. This game is so addictive,so I'm giving it five stars.
Fact Sheet
Publisher:

ZeptoLab UK Limited

Category:

Games

Released:

Feb 12, 2015

Current Version Released:

Dec 13, 2017

Version:

2.23

Size:

204.3 MB

Compatibility:

Requires iOS 8.0 or later.

Recommended Age:

9+

Game Center Certified:

No

Supported Devices:

iPad2Wifi-iPad2Wifi, iPad23G-iPad23G, iPhone4S-iPhone4S, iPadThirdGen-iPadThirdGen, iPadThirdGen4G-iPadThirdGen4G, iPhone5-iPhone5, iPodTouchFifthGen-iPodTouchFifthGen, iPadFourthGen-iPadFourthGen, iPadFourthGen4G-iPadFourthGen4G, iPadMini-iPadMini, iPadMini4G-iPadMini4G, iPhone5c-iPhone5c, iPhone5s-iPhone5s, iPadAir-iPadAir, iPadAirCellular-iPadAirCellular, iPadMiniRetina-iPadMiniRetina, iPadMiniRetinaCellular-iPadMiniRetinaCellular, iPhone6-iPhone6, iPhone6Plus-iPhone6Plus, iPadAir2-iPadAir2, iPadAir2Cellular-iPadAir2Cellular, iPadMini3-iPadMini3, iPadMini3Cellular-iPadMini3Cellular, iPodTouchSixthGen-iPodTouchSixthGen, iPhone6s-iPhone6s, iPhone6sPlus-iPhone6sPlus, iPadMini4-iPadMini4, iPadMini4Cellular-iPadMini4Cellular, iPadPro-iPadPro, iPadProCellular-iPadProCellular, iPadPro97-iPadPro97, iPadPro97Cellular-iPadPro97Cellular, iPhoneSE-iPhoneSE, iPhone7-iPhone7, iPhone7Plus-iPhone7Plus, iPad611-iPad611, iPad612-iPad612, iPad71-iPad71, iPad72-iPad72, iPad73-iPad73, iPad74-iPad74, iPhone8-iPhone8, iPhone8Plus-iPhone8Plus, iPhoneX-iPhoneX,

Supported Languages:

Arabic; Dutch; Flemish; English; French; German; Italian; Japanese; Korean; Portuguese; Russian; Chinese; Spanish; Castilian; Turkish;

Parental Advisory:

Mild Cartoon or Fantasy Violence;