This version of the app is not recommended
App last updated
Dec 22, 2017
Screenshots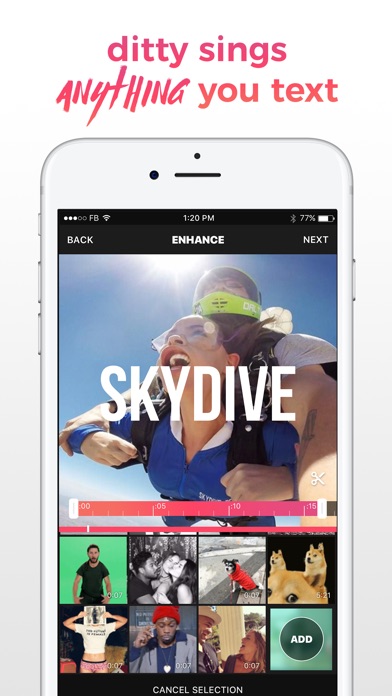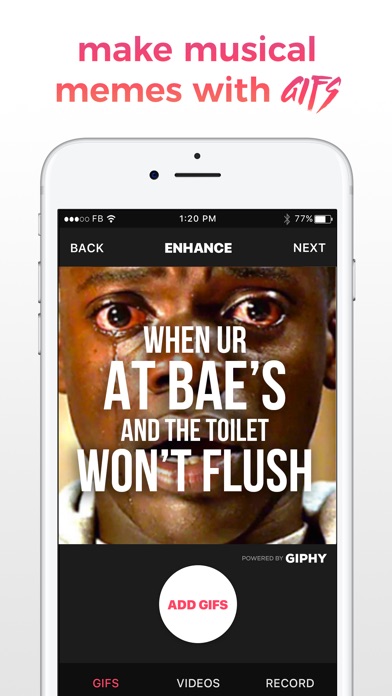 Description
**Music App of the Year Winner**
Ditty sings anything you text
Make stupidly awesome songs and music videos!
As seen on TMZ

FREE to download!
Make dittys inside iMessage

- Add hilarious GIFs, select from your camera roll, or snap a video
- Tons of famous songs. New songs added weekly!
- Post your dittys for a chance to be featured
- Add friends and follow their feed

#1 Music App in 25 countries
Top 10 Music App in 124 countries
Top 10 "Apps of the Year"- Apple 'n' Apps

Get the app WIRED calls "Dope"!

This app offers in­-app purchases. You may disable in­-app purchasing using your device settings. See http://support.apple.com/kb/HT4213 for more info.

Use on iPhone 4s, iPhone 5, iPhone 5c, iPhone 5s, iPhone 6, iPhone 6
Plus, iPhone 6s, iPhone 6s Plus. iPhone 7, iPhone 7 Plus and iPad 2, iPad3, iPad mini, iPad
mini 2, iPad mini 3, iPad 4, iPad Air, iPad Air 2, and iPad Pro.

Please note: This app requires a persistent internet connection.

Terms of Service, Privacy and Cookie Policy and EULA:
http://zyamusic.com/ditty/legal/termsofservice
http://zyamusic.com/privacy-policy
http://zyamusic.com/ditty/legal/eula
iPad Screenshots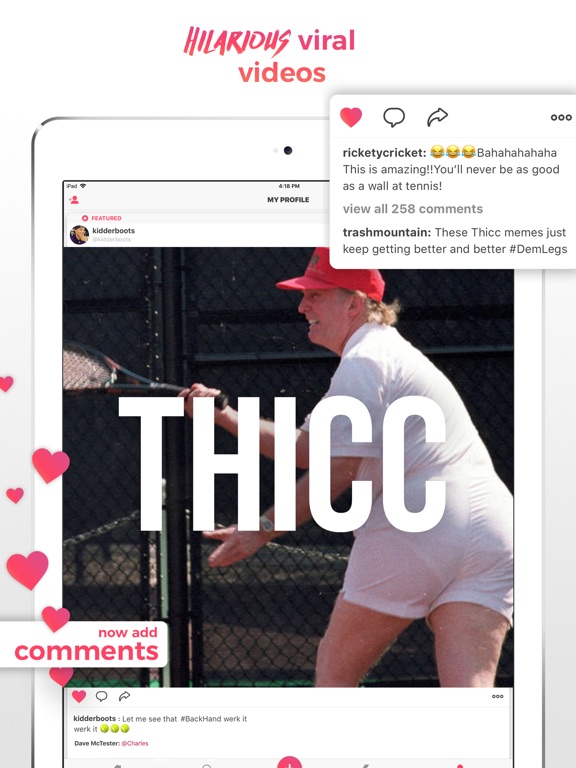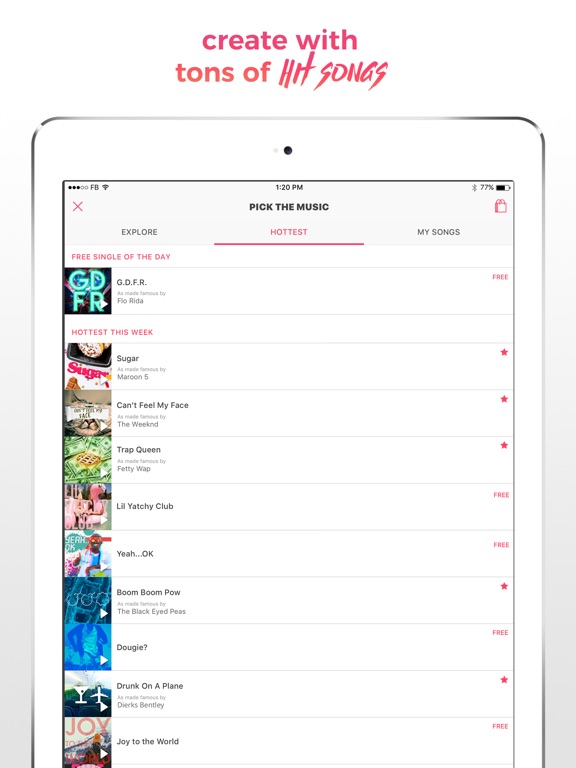 Reviews
Ridiculously silly and fun
I love this app it's what I dreamed of the future being when I was a little kid.
3 stars
Sophia Howell
on
1/17/2018
This app is great for making videos, but I went on the app one day and all of my privates were just gone! Not cool.
To short
puppypartyforeverl1
on
1/14/2018
I love it so much but I need to write my song and it does not let the rest of my song in can u make it longer -itZFries yt/ditty
Glitch: "No Connection"
For some reason, it keeps saying "No Connection" when I type phrases over three words. Anything under three words will work, so I have no idea what is wrong
Needs more songs
I do enjoy the app so far, but sad that there isn't a lot of music choices.
Pretty amazing! But still has its issues
This app is amazing and easy to use! But I had to re-download the app because it kept glitching me out. Even at home. Please make an update for bug fixes. Other then that, I honestly recommend checking it out!!
Doesn't work usually
Works maybe 1/8 of the time. Very glitchy, as others said.
Awesome!
Such a fun and cool app! It is so great how you can use so many different songs!
Yeet
This is the best app ever man i love it 😂😂😂
It's ok
gabby Seavey
on
12/31/2017
I don't like the song choice
Great for making silly songs for kids
My 4 year old nephew and my friends kids find this utterly hilarious. Me too.
Ditty is great🤩
Ditty is amazing it's such a fun game. But you can also describe Your feelings in a song but you have choices of songs. You can also get followers and text your songs to your friends
Ditty
Rickybrandonlilytonya
on
12/28/2017
I love ditty it's soooo much fun but mostly the good songs cost money uhhh 🙄 but it's still fun and great and a good app to use when u are bored and have nothing much to do I love ditty and u should too❤️💜💙
Dear ditty
stranger_reviews_
on
12/26/2017
I use to have so much fun but now I can't even login because I says that there seems to be a problem with the server, ditty please respond
Best App Ever
DitterSteven's Reviews
on
12/24/2017
I think that you should not change anything you have because it is all great!😁😁😁
I mean...
The cynical critical one
on
12/24/2017
It's an app that's good enough for me
Barely functions
Less than 1/20 attempts result in the app doing the one thing it is supposed to do. Sure glad i didnt pay for it.
Awesome
Omarcupcake
on
12/21/2017
Awesome
What I think
I love this so much
Dirty
It's Not leaving Save to Camera Roll. Please fix it's just shut off when trying to Save
Ads
Donkey Kong country 5 free download
( ͡° ͜ʖ ͡°)
Drunkpotat0
on
12/11/2017
You know who it is
Funnest app I've ever used.
Strawhouse Pictures
on
12/8/2017
I'm addicted.
MILAN THE FANTABULOUS THICCCCC KWENN
BEST DECISION OF MY LIFE...CANT STOP LAUGHING!! HONESTLY SO GLAD I DOWNLOADED THIS APP😛😛😛
Loved it
Couldn't wait to show my son and of course now it won't work...keeps cutting off.
Best App Ever
HufflepuffMagic877
on
11/24/2017
This app is so funny and I just got it a few seconds ago. It's so addicting and funny.
Best app ever !!!
LeMuSicLoVer
on
11/23/2017
This app is amazing ! You can put lyrics you write to any song ! Blow away by how fun his is and how easy to send custom made videos of my favorite songs to anybody ! My kids also love it 😀👍🙏👏🙌
FIX YOUR APP.
The app is fun and all, but there are many issues. One, my photos library does not update within the app even after reloading the app many times over. Two, when I try and play a ditty using a hashtag search I get the ditty that is a row above the one I chose. Third, this app freezes/stops playing dittys after using the app for longer than 30 minutes. Please fix these issues. Thank you.
Ok..😐
It's great not many users but nothing that cool do the basics then it's lame 😒
Memed
Mr.krabs is one thicc bih
Um...
CakePopNation
on
11/14/2017
Okay App I guess
fix bugs!!!
keeps kicking me out of app. i need the crashing to stop
Mmm memes
D....p.......
on
11/9/2017
Elvis is one thicc big lemme see that hound doggy
Thicc
TrillionsOfTroll
on
11/8/2017
Mr. Krabs Is one thicc 🅱️ih
Doesnt work.
Kessi Jessi Essi Messi
on
11/5/2017
Everytime I open the app, it logs me out and the screen goes all black. Pls fix this, I can't use the app!
Ditty is Awesome: it is so fun and it makes me laugh
Lauren Radtke
on
11/4/2017
Ditty is an awesome app for any age and is super fun. U can make words into funny songs
mr krabs
IDK HOW TO GET A HOUSE!!!
on
11/2/2017
is one thicc bih
$$$$
I'd like to comment that commenting is awesome.
Fun
Andy Rossignol
on
10/31/2017
Fun
Crash
Sa19Na6Cri31
on
10/28/2017
Continue to crash with iOS 11.1
Best app ever
Very funny, entertaining, fun, amusing, hilarious app.
Urrrrrrrrrrrrrrgh
Mackenna ❤️❤️❤️❤️❤️❤️❤️
on
10/25/2017
On my username EVERYONE on ditty is jeff123123 Plz fix this glitch
Funny and Addictive
Ditty Addict
on
10/25/2017
I get to write hilarious stuff on it.
Glitchy
Cant send my girlfriend memes
on
10/25/2017
Super fun to use (in the beginning-- when it's actually working) but after less than a week it won't let me save my videos to my camera roll and anytime I try to do anything it just kicks me out of the app. I've deleted and re downloaded the app, restarted my phone etc., please just fix these bugs because I really do enjoy the app I just want to use it again without such difficulty.
This is vary Amusing
If you love making music, having fun, and like to do posts, this app is pretty dame good at it. My friends and I always love to have fun with this app and you really can do pretty much everything it's capable of doing.
Love this app
K_the_critic
on
10/15/2017
This app is freaking hilarious and it's awesome
Fact Sheet
Publisher:

MUSIC MASTERMIND INC

Category:

Music

Released:

Mar 25, 2015

Current Version Released:

Dec 22, 2017

Version:

2.9.18

Size:

122.7 MB

Compatibility:

Requires iOS 9.0 or later.

Recommended Age:

9+

Game Center Certified:

No

Supported Languages:

English;

Parental Advisory:

Mild Cartoon or Fantasy Violence; Suggestive Themes; Mild Profanity or Crude Humor;