Screenshots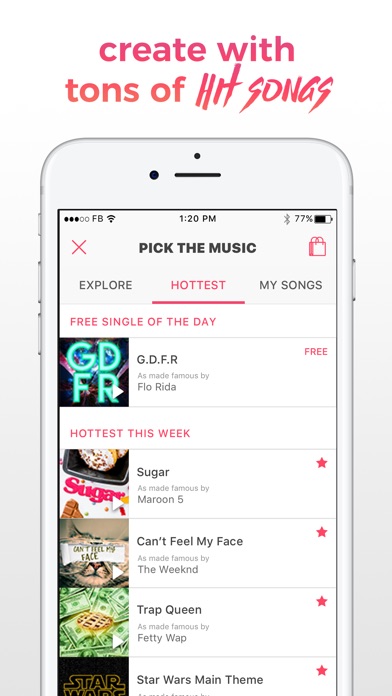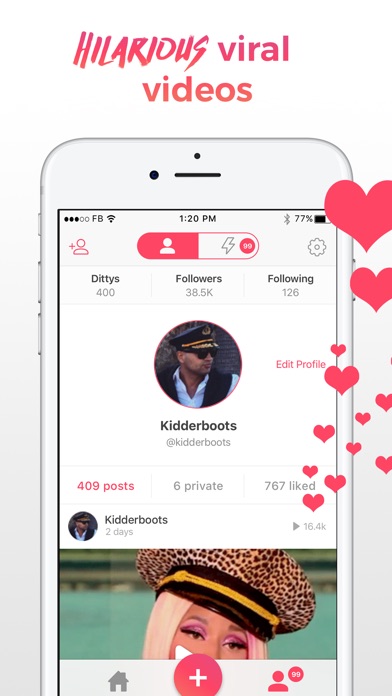 New in version 2.9.9
Bug fix in Ditty iMessage extension
- song selection improved
Description
**Music App of the Year Winner**
Ditty sings anything you text
Make stupidly awesome songs and music videos!
As seen on TMZ

FREE to download!
Make dittys inside iMessage

- Add hilarious GIFs, select from your camera roll, or snap a video
- Tons of famous songs. New songs added weekly!
- Post your dittys for a chance to be featured
- Add friends and follow their feed

#1 Music App in 25 countries
Top 10 Music App in 124 countries
Top 10 "Apps of the Year"- Apple 'n' Apps

Get the app WIRED calls "Dope"!

This app offers in­-app purchases. You may disable in­-app purchasing using your device settings. See http://support.apple.com/kb/HT4213 for more info.

Use on iPhone 4s, iPhone 5, iPhone 5c, iPhone 5s, iPhone 6, iPhone 6
Plus, iPhone 6s, iPhone 6s Plus. iPhone 7, iPhone 7 Plus and iPad 2, iPad3, iPad mini, iPad
mini 2, iPad mini 3, iPad 4, iPad Air, iPad Air 2, and iPad Pro.

Please note: This app requires a persistent internet connection.

Terms of Service, Privacy and Cookie Policy and EULA:
http://zyamusic.com/ditty/legal/termsofservice
http://zyamusic.com/privacy-policy
http://zyamusic.com/ditty/legal/eula
iPad Screenshots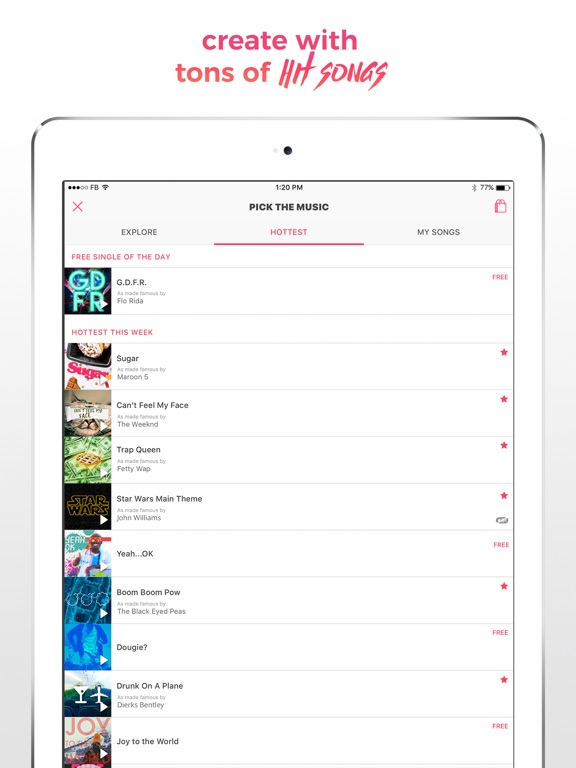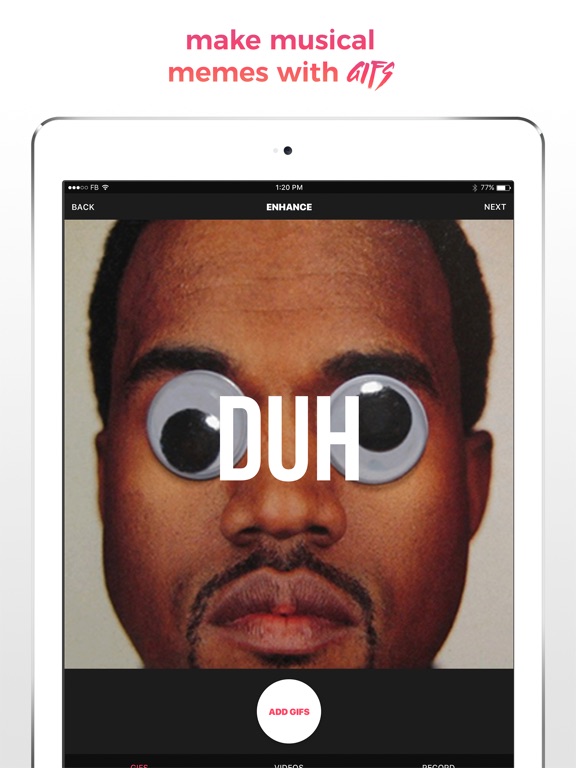 Reviews
Ditty
tiger_boy536
on
9/24/2017
The best app every
Really good & easy
katie halper
on
9/24/2017
I've seen things made from this app and finally downloaded it
Awesome
Catlover52678
on
9/23/2017
I love it!!
Funniest app ever
raw12345392994
on
9/21/2017
This is the funnies app I've ever used
I've never laughed so much
Tyler Stunja
on
9/20/2017
This app is probably the best app I've ever gotten. I never get bored and you can make it say whatever. So much fun!
NO DOUBT ABOUT IT DOWNLOAD IT NOW
💖💖💖💖
Pretty neato BUT
Some random person is a person
on
9/18/2017
Love the app but I wish it had the songs "spooky scary skeletons" and "don't cha"
Nice
TrueCat Magic
on
9/17/2017
It is a nice app except you have to pay money for some of the background songs which is why I'm rating it a 4 if you didn't have to pay though it would be an amazing app
Best app
Alanaluvswhales
on
9/17/2017
I haven't laughed so hard since I got this app ! Great job
Booboo
TheXGeneration
on
9/17/2017
Silly
THIS IS GREAT😂🤘🤙👍
Gail22211132
on
9/17/2017
This app is amazing I use this a lot I make theses for my friends I need to tell them to review this app this amazing! Thanks
This app is a
thicc bih Lemme See the Ditussy
Glitchy
Can't stand opening it because every time I click something it only functions for .2 seconds before vanishing
AMAZING
Dederiotgurl
on
9/15/2017
This is amazing I can't stop laughing.
Best app ever
If I did not have school I would do this all day long it's the bessssttt
Awesome
MyNameIsJaden
on
9/13/2017
Awesome but would be cool if we're more songs
Love it
awesomediana
on
9/11/2017
Love it so much
It awesome
I love it it's hilarious
Omg this app is awesome
johnlewis1738
on
9/10/2017
Ok this app is the funniest thing I've ever put on my phone just gotta tell you that
Good
Very good and very nice to be sure that the app would have a better way of life it good and very nice bye, KYS.
Love this app!!
This app is so hilarious. I love messing with my little sister because she gets so mad when there's a video with her name in it and she doesn't know that I'm making the videos😂😂
IT'S THE MEME SONG
It's the "one thicc bih" meme app guys. Get it
Having so much fun
Ditty has helped make my text and posts so much more fun, adding joy to me and the ones I love.
Ok
Big Leeeeeee18
on
9/7/2017
It's pretty good but most of the time you can barely hear what the girl/boy is saying
Awesome app!!
I wish the songs was a little bit longer ,I would definitely pay for that Add on!!
issa app
issa fun app to use and to make u laugh !
PIZZA PASTA
Derp of the sun and moon
on
9/3/2017
PIZZA PASTA put it in a box deliver it to my house an put it on my-
One thicc bih
One thicc bih
Great memes
Their pretty dank
I can make the memeist memes and not get censored
);;$.$,44/7.;7:6::6:64;66
on
9/3/2017
Thank you boi for this gift from the lord of chedda cheez himself so I can punish liberals for there blasphemy
Gold!
This app is a masta piece!
UGH
I really liked this app for the first day I downloaded it. I posted about 15 privately but the next day they were all gone?? Soooo disappointed that they don't even warn you
ditty is one thiCC bih
Mr.Sassypants
on
8/30/2017
lemme see that ditussy
ONE THICC BIH
ZADR APPRECIATION
on
8/30/2017
Good meme
LOVE IT SO MUCH
Costarican013
on
8/29/2017
It's so cool and fun!! I love it!
Wow
White_Tiles_LOVER
on
8/27/2017
This is one of my favorite apps that I have seen for awhile
Great App
Pleasantly surprised by this app. Exactly what I needed! This is my first time ever writing a review... that's how much I like it!
I fell 😍 love!
I fell in love 😍 with this app and it's great cool new features! I have never had a better app than this (well maybe the Createacard app by: American Greetings!), but this app is still good!
Wow
It is fun and enjoyable for anyone
Cool
jakepaul_214
on
8/26/2017
I literally love this app.#IN LOVE
What happened to the song "good day"
Pineapple Pete lol
on
8/25/2017
I got this app to use the song good day but after the update it seemed that they got rid of the song
Memes
This is one thicc bih
Best app i have now 😂😂👌🏼👌🏼🔥🔥
Dude this app is amazing anybody who see this *Whispers* nobody they need this app
So fun
Thegamingn3rd
on
8/23/2017
Hilarious
Fact Sheet
Publisher:

MUSIC MASTERMIND INC

Category:

Music

Released:

Mar 25, 2015

Current Version Released:

Sep 01, 2017

Version:

2.9.9

Size:

125.5 MB

Compatibility:

Requires iOS 9.0 or later.

Recommended Age:

9+

Game Center Certified:

No

Supported Devices:

iPhone5s-iPhone5s, iPadAir-iPadAir, iPadAirCellular-iPadAirCellular, iPadMiniRetina-iPadMiniRetina, iPadMiniRetinaCellular-iPadMiniRetinaCellular, iPhone6-iPhone6, iPhone6Plus-iPhone6Plus, iPadAir2-iPadAir2, iPadAir2Cellular-iPadAir2Cellular, iPadMini3-iPadMini3, iPadMini3Cellular-iPadMini3Cellular, iPodTouchSixthGen-iPodTouchSixthGen, iPhone6s-iPhone6s, iPhone6sPlus-iPhone6sPlus, iPadMini4-iPadMini4, iPadMini4Cellular-iPadMini4Cellular, iPadPro-iPadPro, iPadProCellular-iPadProCellular, iPadPro97-iPadPro97, iPadPro97Cellular-iPadPro97Cellular, iPhoneSE-iPhoneSE, iPhone7-iPhone7, iPhone7Plus-iPhone7Plus, iPad611-iPad611, iPad612-iPad612, iPad71-iPad71, iPad72-iPad72, iPad73-iPad73, iPad74-iPad74,

Supported Languages:

English; Spanish; Castilian;

Parental Advisory:

Mild Cartoon or Fantasy Violence; Mild Profanity or Crude Humor; Suggestive Themes;