Screenshots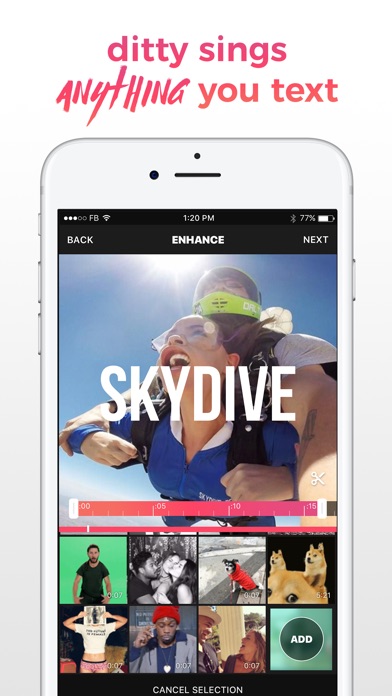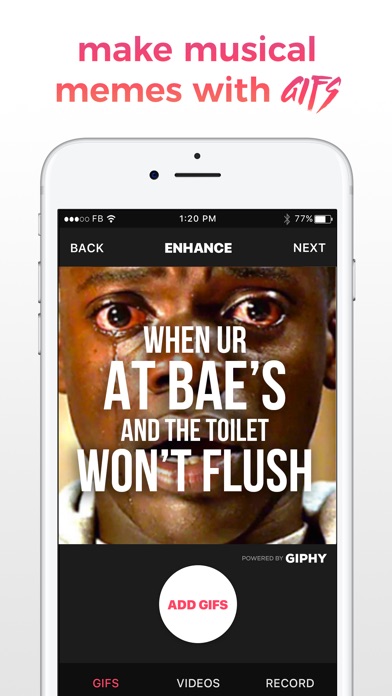 New in version 2.9.14
It's the Holidays!
- Feast on "Gobblers Delight" to celebrate Thanksgiving :turkey:
- Send some cheer with songs from the Holiday Pack :santa::skin-tone-2:
Description
**Music App of the Year Winner**
Ditty sings anything you text
Make stupidly awesome songs and music videos!
As seen on TMZ

FREE to download!
Make dittys inside iMessage

- Add hilarious GIFs, select from your camera roll, or snap a video
- Tons of famous songs. New songs added weekly!
- Post your dittys for a chance to be featured
- Add friends and follow their feed

#1 Music App in 25 countries
Top 10 Music App in 124 countries
Top 10 "Apps of the Year"- Apple 'n' Apps

Get the app WIRED calls "Dope"!

This app offers in­-app purchases. You may disable in­-app purchasing using your device settings. See http://support.apple.com/kb/HT4213 for more info.

Use on iPhone 4s, iPhone 5, iPhone 5c, iPhone 5s, iPhone 6, iPhone 6
Plus, iPhone 6s, iPhone 6s Plus. iPhone 7, iPhone 7 Plus and iPad 2, iPad3, iPad mini, iPad
mini 2, iPad mini 3, iPad 4, iPad Air, iPad Air 2, and iPad Pro.

Please note: This app requires a persistent internet connection.

Terms of Service, Privacy and Cookie Policy and EULA:
http://zyamusic.com/ditty/legal/termsofservice
http://zyamusic.com/privacy-policy
http://zyamusic.com/ditty/legal/eula
iPad Screenshots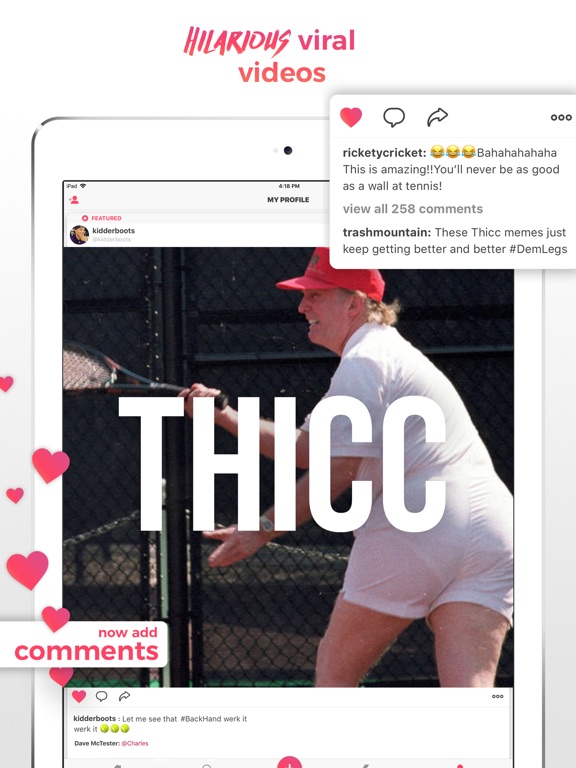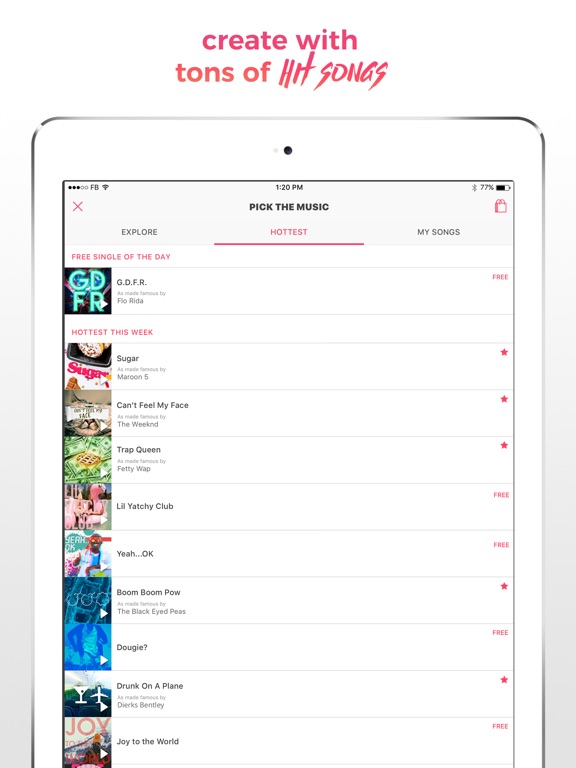 Reviews
Ok..😐
It's great not many users but nothing that cool do the basics then it's lame 😒
Memed
Mr.krabs is one thicc bih
Um...
CakePopNation
on
11/14/2017
Okay App I guess
fix bugs!!!
keeps kicking me out of app. i need the crashing to stop
Mmm memes
D....p.......
on
11/9/2017
Elvis is one thicc big lemme see that hound doggy
Thicc
TrillionsOfTroll
on
11/8/2017
Mr. Krabs Is one thicc 🅱️ih
Doesnt work.
Kessi Jessi Essi Messi
on
11/5/2017
Everytime I open the app, it logs me out and the screen goes all black. Pls fix this, I can't use the app!
Ditty is Awesome: it is so fun and it makes me laugh
Lauren Radtke
on
11/4/2017
Ditty is an awesome app for any age and is super fun. U can make words into funny songs
mr krabs
IDK HOW TO GET A HOUSE!!!
on
11/2/2017
is one thicc bih
$$$$
I'd like to comment that commenting is awesome.
Fun
Andy Rossignol
on
10/31/2017
Fun
Hella app
Adela Dazeem
on
10/29/2017
Yo, this app seriously IS the jam. No idea how they get the words to time so well with the music🤷‍♀️
Crash
Sa19Na6Cri31
on
10/28/2017
Continue to crash with iOS 11.1
Best app ever
Very funny, entertaining, fun, amusing, hilarious app.
Urrrrrrrrrrrrrrgh
Mackenna ❤️❤️❤️❤️❤️❤️❤️
on
10/25/2017
On my username EVERYONE on ditty is jeff123123 Plz fix this glitch
Funny and Addictive
Ditty Addict
on
10/25/2017
I get to write hilarious stuff on it.
Glitchy
Cant send my girlfriend memes
on
10/25/2017
Super fun to use (in the beginning-- when it's actually working) but after less than a week it won't let me save my videos to my camera roll and anytime I try to do anything it just kicks me out of the app. I've deleted and re downloaded the app, restarted my phone etc., please just fix these bugs because I really do enjoy the app I just want to use it again without such difficulty.
This is vary Amusing
If you love making music, having fun, and like to do posts, this app is pretty dame good at it. My friends and I always love to have fun with this app and you really can do pretty much everything it's capable of doing.
Love this app
K_the_critic
on
10/15/2017
This app is freaking hilarious and it's awesome
Beautiful game
Charles748573639594$$$
on
10/14/2017
This is the best app EVER
Not compatible with my iPod anymore
The Filthy b0ss
on
10/11/2017
Boo!
No
Spongebobsquarepantss
on
10/9/2017
Apple won't let me out my review unless I write something here, so I will just say the bell doesn't dismiss you, I do.
Please help
PrincessBabybear
on
10/9/2017
I put my email in and it said that it was already in use. Please fix.
Ditty is a some
Ditty is wonderful
Gods greatest creation
thicc as bih
on
10/6/2017
I just downloaded this app 15 minutes ago. It's changed my life for the better.
best app for fun
patty mick fly
on
10/6/2017
i love this app its a great way to really get ur point across if ur really angry ir feel strongly about it plus its fun to mess with my friends cause they have no idea how i did it
Ditty
Hunter J. Wilbur
on
10/5/2017
Used to have a lot of fun on here and now their accessibility with the iPhone screen reader VoiceOver went downhill after some updates so now I can't use it anymore. Will givvve Zya a bit of time to fix some bugs with that but if they don't they will be one user short because I'm not going to keep an app I can't use due to something I have no control over AKA my blindness so yeah.
Amazing!!!!😍😍😍
Key'von Rhodes
on
10/4/2017
I love this so much it never gets old and hopefully there be more songs so I can make more I love everything about it😘😘
Not My Favorite
KyleJames0408
on
10/1/2017
I got terribly bored with the app quite quickly. All the voices are similar and most of the songs you'd like to use require a purchase. I don't recommend this app to most anybody unless you're just messing around.
Really Cool! 😆👍🏼
It's so much fun to make one and super funny when the bot man/ woman sings. 🔥
Love the app its amazing
Thats it
Hello everyone, My name is Maskrade, and I'm a Ditty addict
I have found my true purpose. My calling. Thank you
No words
Spam Support
on
9/27/2017
Epic
Ditty
tiger_boy536
on
9/24/2017
The best app every
Really good & easy
katie halper
on
9/24/2017
I've seen things made from this app and finally downloaded it
Awesome
Catlover52678
on
9/23/2017
I love it!!
Funniest app ever
raw12345392994
on
9/21/2017
This is the funnies app I've ever used
I've never laughed so much
Tyler Stunja
on
9/20/2017
This app is probably the best app I've ever gotten. I never get bored and you can make it say whatever. So much fun!
NO DOUBT ABOUT IT DOWNLOAD IT NOW
💖💖💖💖
Pretty neato BUT
Some random person is a person
on
9/18/2017
Love the app but I wish it had the songs "spooky scary skeletons" and "don't cha"
Nice
TrueCat Magic
on
9/17/2017
It is a nice app except you have to pay money for some of the background songs which is why I'm rating it a 4 if you didn't have to pay though it would be an amazing app
Best app
Alanaluvswhales
on
9/17/2017
I haven't laughed so hard since I got this app ! Great job
Booboo
TheXGeneration
on
9/17/2017
Silly
THIS IS GREAT😂🤘🤙👍
Gail22211132
on
9/17/2017
This app is amazing I use this a lot I make theses for my friends I need to tell them to review this app this amazing! Thanks
This app is a
thicc bih Lemme See the Ditussy
Glitchy
Can't stand opening it because every time I click something it only functions for .2 seconds before vanishing
Fact Sheet
Publisher:

MUSIC MASTERMIND INC

Category:

Music

Released:

Mar 25, 2015

Current Version Released:

Nov 15, 2017

Version:

2.9.14

Size:

127.4 MB

Compatibility:

Requires iOS 9.0 or later.

Recommended Age:

9+

Game Center Certified:

No

Supported Devices:

iPhone5s-iPhone5s, iPadAir-iPadAir, iPadAirCellular-iPadAirCellular, iPadMiniRetina-iPadMiniRetina, iPadMiniRetinaCellular-iPadMiniRetinaCellular, iPhone6-iPhone6, iPhone6Plus-iPhone6Plus, iPadAir2-iPadAir2, iPadAir2Cellular-iPadAir2Cellular, iPadMini3-iPadMini3, iPadMini3Cellular-iPadMini3Cellular, iPodTouchSixthGen-iPodTouchSixthGen, iPhone6s-iPhone6s, iPhone6sPlus-iPhone6sPlus, iPadMini4-iPadMini4, iPadMini4Cellular-iPadMini4Cellular, iPadPro-iPadPro, iPadProCellular-iPadProCellular, iPadPro97-iPadPro97, iPadPro97Cellular-iPadPro97Cellular, iPhoneSE-iPhoneSE, iPhone7-iPhone7, iPhone7Plus-iPhone7Plus, iPad611-iPad611, iPad612-iPad612, iPad71-iPad71, iPad72-iPad72, iPad73-iPad73, iPad74-iPad74, iPhone8-iPhone8, iPhone8Plus-iPhone8Plus, iPhoneX-iPhoneX,

Supported Languages:

English;

Parental Advisory:

Mild Cartoon or Fantasy Violence; Suggestive Themes; Mild Profanity or Crude Humor;