Games
Entertainment
Puzzle
Family
Recommended app!
App last updated
Sep 28, 2017
Screenshots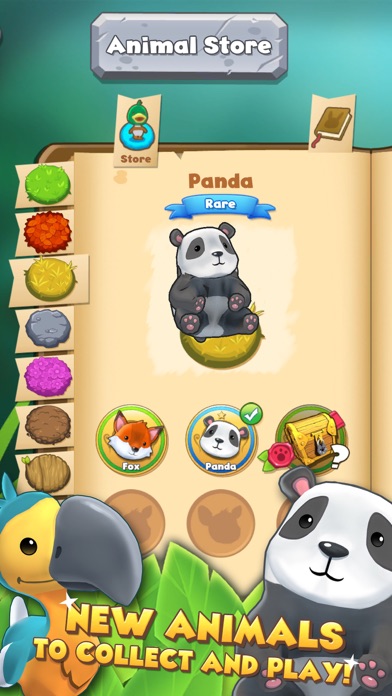 Description
Something's gone wrong in the forest! All the animals are lost, and only you can guide them home.

Draw colorful paths that grow right beneath your finger to lead the forest critters to safety. Avoid obstacles, navigate bridges, and collect food in this cute but challenging puzzler. Just watch out for the mischievous goblin!

But brain-bending puzzles are just the start of the fun in Forest Home. There is a host of collectables and achievements to unlock, and with full social media and Game Center integration, you can share the fun with your friends. Compare progress, help them out with tricky puzzles, or take to the leader boards to prove who is the Forest Home master!

In Forest Home, home is where the path is.

Features:

- Simple but addictive gameplay; pick it up in seconds, spend hours mastering it
- Thousands of unique puzzles, ranging from easy to mind-melting!
- 8 wondrous forests to explore, from deep woods to mountain range to mangrove swamps
- Varying obstacles and puzzle mechanics and a dynamic puzzle system, to maximize replay value
- Ultra-challenging 'boss levels'
- Colorful characters, beautiful art, and a fun, family friendly theme
- Build up your scrapbook with dozens of unlockables and achievements
- Compete with friends via social media integration
iPad Screenshots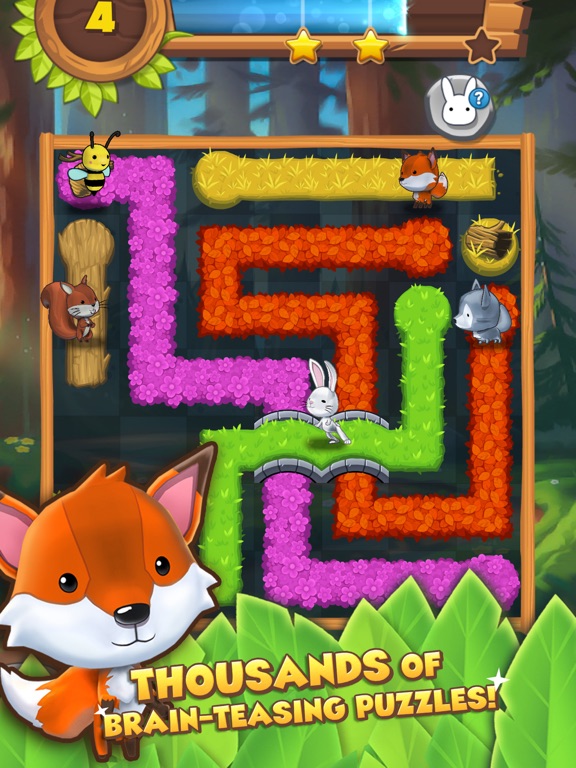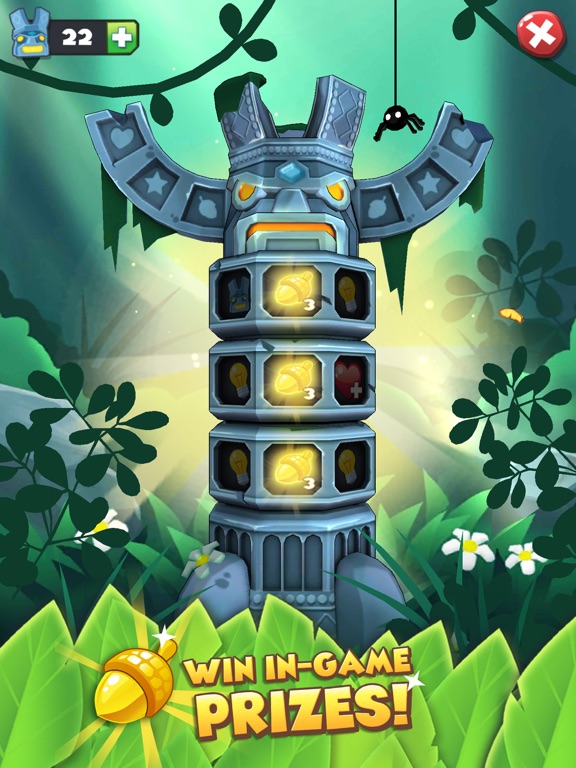 Reviews
Fun addictive
Fun game addictive easy at first then more challenging.
Amazing game
While designed for kids with cute graphics, it is a challenging game as the levels progress. As an adult, I find that the further I progress, the harder the game gets. It is nicely designed and I like that the levels are not impossible, the just require some thought. I also like that you do not have to spend money or wait days to progress, like in candy crush saga. Overall a very well designed game that I find hard to put down!
Fun
aaronlovestacos
on
7/6/2017
Fun fun fun
Kid compatible puzzle fun
Great puzzle game to play with kids; you don't run out of moves so little ones are able to make mistakes trying to clear a puzzle. The cash shop is not required to progress. Very cute visuals and sound design.
UPDATED: Can't open app since latest update!
Barbara Jones-Smith
on
5/5/2017
I love this game but ever since the latest update my app won't open at all. Please fix this and please come out with new levels! UPDATE: The app is fixed now and is great! Thank you!
Internet connection
Can't open chests
on
4/25/2017
They still haven't fixed the internet connection issue and emails to developer get basic, terse reply.
Frustrating internet issue but cute game
AppleDumpling6
on
4/17/2017
I can't connect to Facebook or get chests on the side of the game play. However the games are challenging and fun and the animals are cute.
Lost Data and Can't Connect
Great game, but I randomly lost my data. Guess what. I'll probably play it again. It's that good. But I'm a little annoyed. I also can't connect with FB or buy anything.
Internet connection error 😠
Really like this type of game, and these characters make it super cute and amusing. My only problem is that when I click on a chest on the path to open it, I continue to get a "check your internet connection" error. I KNOW I'm connected to the internet...even opened safari to make sure...always connected so I'm not sure why the error message. Kind of annoying not being able to enjoy the full experience of the game...and hearing the rattling chest constantly is bothersome. I emailed support so hoping they fix this glitch. I should also mention I restarted my iPad and still have the same problem.
Addictive!
This game is fun! Not annoying at all, the animals are adorable! Also, I like the change of pace. It gets challenging which keeps it interesting, along with the addition of the bridge and so on as you move forward through the game. Good times!
So cute!
I absolutely love this game. It super cute. And as simple as it seems, some levels really make you think. I would definitely recommend it to anyone looking for a good puzzle game!!
Good game
Thus gud gam fiv strs
This is the CUTEST game!!
I ❤️💜💚💙 it!!!! I just can't stop playing it!
Save file deleted
I had fun with it for a day but when I went on to play the following day and everything was gone
Cute
I just got this game today and it's so cute! Because it's so cute it's addicting and I can't stop playing it!!!
My New Home THE FOREST
A Done All King
on
4/7/2017
Great graphics Great gameplay Great Fun
Love it
I love this app it is so much fun!
It's alright
It's an amazing, fun and challenging game for the whole family, but it won't link to my watch. I followed the instructions up to the point where a camera came up and I don't know what to do with it. Please give more instruction.
Really Fun
I really love this game. I don't know why but it's so fun.
Challenging!
Sparty Cyclone
on
3/26/2017
Don't let the cute graphics fool you. This is no child's play. It quickly gets challenging, so I haven't lost interest yet. Well done!
Jumangi
Xandersnannie
on
3/19/2017
Awesome fun for me and my grandson. My grandson said thumbs up with a star.
Fun
Crust is the best part
on
2/25/2017
Fun
Cute But...
This game is cute but when listening to music, through iTunes music, the app makes the music volume lower. This happens even when the music and sound effects are off. It is really frustrating because when I play the game while listening to music, I have to turn the system volume all the way up and then when I exit the app the music goes back to matching the system volume and it is too loud at that point. Please fix.
Cutest game ever!
Cycle-gappula
on
2/18/2017
Love this really cute game. It's perfect for any age from 5 to 50! The animals are so cutely drawn and animated. Thank you, developers.
Cool
Love the game but currently having an issue in this version where I crash every time I try to click Adventure. No problems with quickplay.
Simply fun
Just a fun little game.
Love it!
Tsum tsum addict!
on
1/24/2017
Wonderful game! Big fan!
My Wife and I love this game.
Truly addictive and challenging fun! Must try for the whole family.
One of my favorites
Was concerned when I saw that it was for younger players, but it is fun for all ages! Love it!
Entertaining
It's ya boi!!!
on
1/18/2017
Overall a good game,fun and addictive and to top it off there are really cute animals. Like flow game only better.
No more timer!
This game is great!
Forest Home is Awesome!
StarGameFun!
on
1/12/2017
I have 3 stars on every quest and I payed 99 cents to get the panda and some extra hints! Please continue to update this game because it is so awesome and addicting and adorable!
I love it
I love this game, but It would be nice if the hints would replenish after so long on the hard puzzles some times and we could win more than one acorn at a time.
Cute!
Cute game! I'm waiting for the puzzles to get really hard but so far they are pleasant and a great way to pass the time
Best puzzle game I own
This is one of my favorite games! I love how it has 5 different levels at each step of the game. You don't only have very easy levels but also challenging ones. The mix of levels makes it more fun to move forward with game play. The graphics are great and this game is a great way to pass the time, even if it's for a few minutes at a time. Being in my 20s, I recommend it for both kids and adults. Definitely get this game and you will not be disappointed.
💙💙💙
Furrburger1228
on
11/3/2016
Love it
Great for all ages!
This is a fun game that is suitable for everyone of all ages. I highly recommend it!
Still won't load
Really sick of trying to get the game to load. I've even tried on other devises and it still doesn't work
Bad for eyes but good for brain
It is so addictive. Got a few frens addicted to it and we race to see how fast we do it and how much points we earn each level... Thank you for creating this game. Takes my mind off my stress and problems...
Very goood
Cookie is yum
on
9/21/2016
So awesome and fun
Cute and fun!
Adorable little characters and fun puzzles. It's a little too easy to run out of lives, but that's the only complaint I have!
Forest lump
Exellent game for children enhances the players problem solving skills
I love it but
I delete it and then redownloaded the game and it would not go to the game. Someone screwed the game up.
OBSESSED &ADDICTED
JulietteBonita
on
8/30/2016
I downloaded this game about 5minutes ago and I'm already on level 10 , its so cute the characters , and I'm obsessed !!! I've been looking for a game like this I'm so glad I found it ! You'll love it too !!
Game won't even load
Used to love playing this puzzler, but you guys really screwed it up. Can't even load the game... Just sits on the load screen endlessly, even after a reinstall. Bummer
Love it!!!
I love this game it's so cute!!! I love the little critters!!! I would recommend this game any time. Might need a few fixes but other then that I love it.
Fun
Forest Home is a very fun game. The only problem is how often it crashes. Sometimes it will crash as soon as I get past the loading screen and other times it won't crash until I've played a few games. It's pretty annoying and I hope it's fixed soon because I really enjoy this game!
Can't play
I would really like to play this game. But it will not get past "loading" 😩
I love this game!❤️
AmyGraceRhinehart
on
5/21/2016
This game is really fun and cute! I love all the animals and the puzzles are great! Some people say their game won't open but mine works fine.
Fact Sheet
Publisher:

NextGen Reality Pty. Ltd.

Category:

Games

Released:

Jul 16, 2015

Current Version Released:

Sep 28, 2017

Version:

3.0.3

Size:

162.8 MB

Compatibility:

Requires iOS 6.0 or later.

Recommended Age:

4+

Game Center Certified:

No

Supported Languages:

English; French; German; Indonesian; Italian; Japanese; Korean; Portuguese; Russian; Chinese; Spanish; Castilian; Chinese;