Games
Education
Word
Puzzle
Recommended app!
App last updated
Feb 22, 2016
Screenshots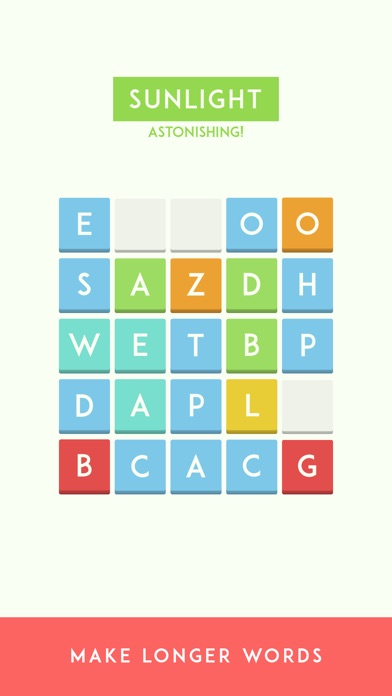 New in version 2.1.1
• Fixed a bug on the levels that requires the word to end on the border;

Your opinion is really important for us! If you like Lettercraft please let us know what you think by leaving a review!
Since we can't give answer to reviews, if you find a missing word in Lettercraft please tell us by writing at lettercraft@marcotorretta.com.
Description
###
• Apple Best New Games
• "Fresh and fun. A lovely experience" - Touch Arcade
• "This is the kinda game you don't want to put down. A lot of polish and love was put into this game!" - Ray Wenderlich
• "Lettercraft is a new favorite. The game mechanic is distinctive and sets it apart from the rest." - AppAdvice
• "A game built to conquer the mobile market with its surprising depth and creative mechanics." - iDownloadBlog
###


Are you looking for an original and stimulating word game? The search is over!
Try Lettercraft, a fun and innovative word game that will test your word skills like never before.


WHY YOU'LL LOVE LETTERCRAFT?
• Adventure mode with 70 different levels, with more levels coming soon!
• Survival mode to push your mind even further.
• Easy, Normal and Hard difficulty for both Adventure and Survival mode.
• Multiplayer mode: challenge your friends via bluetooth and see who is the best!
• Advanced game statistics with detailed charts and data of your play style.
• Stunning handcrafted themes that completely change the app look & feel.


SPECIAL NOTES
• Proper nouns are not allowed in Lettercraft as well as most word games. If you find a missing word please email us at lettercraft@marcotorretta.com
• Developed in collaboration with Stefano Figurelli.


KEEP UP WITH LETTERCRAFT
• Follow @LettercraftApp on Twitter for the latest!
• Have a problem? Want to give us a feedback? Remember: we can't respond to App Store reviews, so email us at lettercraft@marcotorretta.com
• If you like Lettercraft, please consider leaving an App Store review or rating. Every review counts and helps small developers like ourselves.
iPad Screenshots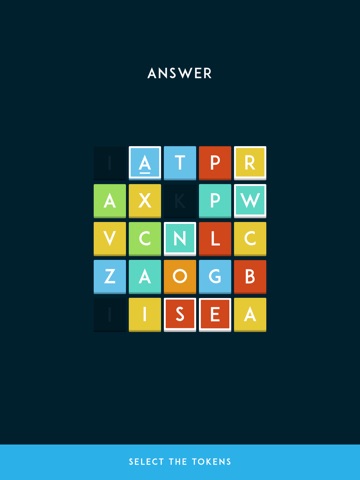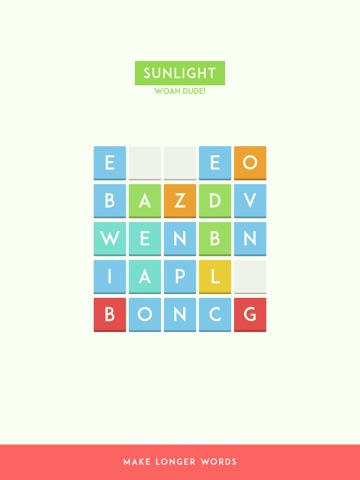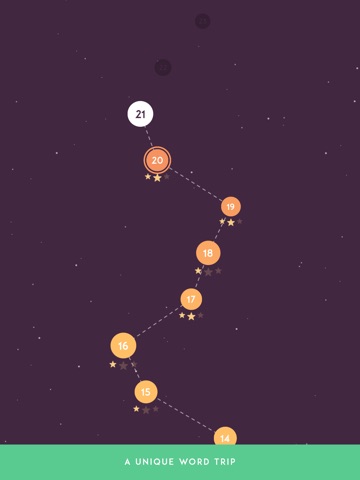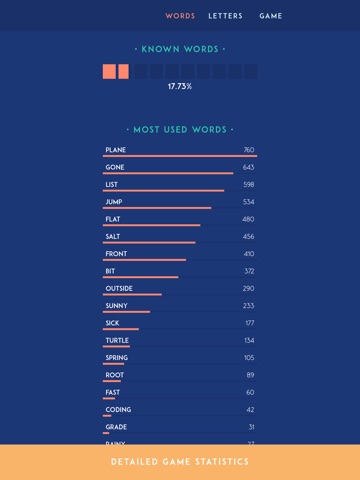 Reviews
Lettercraft rules
Yet another awesome game Starbucks has recommended me to download. ❤️❤️❤️❤️
Great game
Daniigirll2014
on
8/12/2017
I love this game! It's a challenge, quick and really makes you think. A good game to just pass the time and even enjoy with friends :)
Challenging game
I Enjoy the mental exercise.
Need more levels
I would give is game a 5 star rating, but I ran out of levels. It's taken me over a year to get to level 200 ( I don't play everyday or even every week), but now what? I guess I'm done with this app?
Enjoyable
I've had shocks with what words are and are not included however, I've allowed it to become part of the challenge. Overall, I've enjoyed the board game and the levels each with a unique agenda
Fun
Slippyriffic
on
1/15/2017
It's a word game!
Poor Vocabulary, Unclear on Rules
At first the game is relaxing and simple, but I'm not sure how the team selects words for their dictionary. The app does not tell you upfront which words are not counted, such as proper names of cities or the like. The app also doesn't recognize many words used today or different variations of spellings. For example, it corrects bleu - as in "bleu cheese" - to blue. Although the first spelling is technically French, it's the correct way to refer to bleu cheese. I guess what I'm saying is there isn't much leeway when it comes to vernacular.
Fun and challenging
Beautifully designed with fluid game play. The app never gets in the way of the game.
Well made, but should include all English words
Though some of the other reviews on this app have made me cringe, such as people not reading the level description and then leaving a bad review, or getting personally offended (and, apparently, having mental breakdowns) over the lack of inclusion of "America" and "Christmas". The fact of the matter is that though there is likely no political agenda whatsoever behind which words don't work, some English words just... don't work. I'm an app developer myself, and this issue is just... silly. A quick Google search shows there's an APK called Lexicontext you could use to fix the dictionary, or there's a workaround to access the phone's dictionary. User input could be checked against the phone's dictionary in one quick conditional statement. This is an easy fix. Anyway, five stars for your otherwise clean programming, good design, and because some of your other poor reviews were undeserved. The dictionary issue would take maybe half an hour to fix and would resolve the vast majority of complaints about your app. I would highly recommend you push out an update.
Does not understand the English language
This is perhaps a good concept but a terrible execution. A very simple four or five letter word can be understood but the higher-level word such as, say, Eucharist was denied as not a word. Perhaps the programmer should've used an English dictionary in developing this app.
A near miss.
Starts out fun, but the higher you progress, the more of a challenge it becomes to satisfy the seemingly limited vocabulary put in place. As others have noted, some words are recognized—including swear words—while others are not.
Are YOU serious?
Any game which says "Not even close" and then asks "Are you serious?" when I retype "Christmas" is a game I don't need to play any longer!! It doesn't get any more wrong than that! Then again, I read another review before leaving this one where this game apparently doesn't believe "America" is a word either. Sooooo happy this game was free! I'd hate to think I'd assisted in funding this company!!!
Challenging Fun
Rebecca Lippman
on
7/24/2016
If you like words, you'll enjoy this game.
Love this Game!!!
I only play word games and this is one of my fav besides Scrabble and WWF. It's so addicting and I can play even without Internet connection. I finished the 200 Levels and hoping that there'll be more levels coming. Great game/app, thumbs up!!! Thanks.
Fun but lacking
Pastfloydart
on
7/19/2016
I love the game but it is a toss up what words the designers included and which they do not. It is very lacking in vocabulary. It tells that your words do not exist but I'm pretty sure America, belligerent and several others are.
Challenging and Fun
This is a great game that's challenging enough to keep you engaged -- but not so challenging you're frustrated. I play all the time and love it.
Could be a good game
David Lumpkin
on
7/14/2016
It could be addictive, if you knew what you were trying to achieve. Making words, ok. But am I trying to break a goal? All I see is a lot of numbers at the end. It just is not intuitive beyond just making words. And what are the different types of play about. No instructions.
Stressful
No fun. Awkward and pressured. Deleted after three minutes.
Good game
I'm enjoying this.
Great brain exercise
smooth_criminal007
on
5/30/2016
Nice Game with great design.
Good challenge
Very interesting app
Review
Fun but need to update!!!
Addictively challenging
I'm a word puzzle geek - I love doing Sunday NYTimes crosswords. I love Boggle (the 5x5 board - not the skimpy 4x4 version). I don't get caught up in just any old word puzzle, though. To grab and keep my attention, it has to have fairly simple rules, a clean design, and above all has to be challenging. Lettercraft hits that trifecta, and then some. Pros: totally, completely, maddeningly addictive. The design is clean, colorful, and intuitive. Each level has a different, but simple, rule to follow. You can choose from multiple difficulty options. And the pressure created by unused tiles "heating" up and eventually disappearing is maddening and brilliant all at the same time. It's awesome that you have unlimited "lives," so you can keep trying a level over and over and over again until you get better and pass it. I've made it through all 200 existing levels, am thoroughly addicted, and am going through withdrawal waiting for more levels! (Are they coming soon?? Please??) Cons: multiplayer requires Bluetooth, which is really limiting. Serious bummer. I'd love to see a better multiplayer option - via Game Center, perhaps? Another negative is that the game can only be played with your phone/device in vertical position. A minor quibble, for sure, but it would be nice to have the option of playing with your phone in horizontal position.
Fun and a little addictive until...
Really cool game until you get to the more challenging levels and it just stops recognizing your inputs. I am constantly touching letters but they aren't counted. I tap "hello" and it says I typed "h". It's not me. It happens every time I get close to winning. Very frustrating. Needs more levels and less BS
Starts fun, loses appeal
I play word games to relax and pass the time. This game starts out fun but quickly becomes anything but relaxing- the colour changes of letters and shaking is annoying and severely distracting when you're trying to locate words. I've noticed that I can quickly locate long words when the match starts but the constant colour changes quickly make the screen an unreadable mess. Wish it could get an update that offers some alternative signal about the letter countdown, until then I've stopped playing.
Starts out fun
Until you spell a legit word, like "cake" and it says that word is not available on this level. Seriously? A kindergarten word not accepted in level one Easy mode??! Not worth it. Bye.
Great app - very addictive
Cap'nPissGums
on
2/29/2016
No issues and love this game. To the previous reviewer who has an issue with proper nouns being included such as "America" - it's not a vocabulary word. We don't expect any names to be acceptable in a word puzzle.
Love the game. Was disturbed when America wasn't included in the word data base.
Nick Gunn 42
on
2/28/2016
This game has been a joy for me and others whom I share the game with, namely my beautiful girlfriend Ashley, who shines like a star in the night sky. Onward from this I play this game all the time, and just once today I attempted to input America and was completely, utterly, and unequivocally horrified to the point of nearly having vomit spewing not from my mouth only, but nose and tear ducts as well.. I recovered shakily from this abject state of fear and oppression and resolved to write this scathing review. My pure distaste for the lack of patriotism displayed, and the almost completely out of character behavior of my favorite letter based word game, has brought me here. I give it 3 stars because it's good, let's face it this game is God's gift to train thumbs, the part I lost my 2 stars was the loss of all 50 when you forgot to include the American values and tradition that the word America invokes. The fact is, I usually use America as a verb, maintaining its capital letter. To america something means many things the most of which is freedom. Put America in the game, this is a simple and with out doubt the most important necessity of any recent, or soon to arrive updates. Please. For the red and the white and the blue. For the love of God man,( lady), do it! Thank you for you time.
Good so far
Crab shack me me
on
2/27/2016
Fun
Funner newer version
More levels. Yay
Great new levels, but a little buggy
Glad for the new levels, but there are a few bugs with the challenges regarding the border letters (i.e. end the word on the border). It often rejects words that do, in fact, end on the border. I've encountered this repeatedly -- please take a look at it!
Very challenging
Lathontaylor
on
2/11/2016
Just when you thought you didn't need those dictionary calendars. This game is fun it's a simple challenge.
My FAVORITE word app!
Absolutely one of my favorite apps! Love the challenges of the different individual level parameters and difficulties. Thanks for finally adding more new levels to conquer. My daily productivity just took another hit.
Great game, Godawful dictionary
Improve the dictionary! I can input all kinds of slang, but I can't use 'Monday' or 'Mondays' ... Alright. I am dropping this from four stars too one. This is a GREAT game...but there are a HUGE number of valid words it doesn't recognize. Lame.
Nice
Great for a free app!
Mentally stimulating!
I'm 68 years old. I thought all these apps and games were for young people only. Boy, was I wrong! This is fun, and keeps me mentally active. I love it!
Nice
Clever and enjoyable. There should be a split second check on the games part to see if you have a word typed in before a cut off.
Love It!!
I really love this app.
Super fun word game
I only started playing this a few days ago, but it's an entertaining way to engage and occupy my mind when I'm trying to relax or wait. I got it free from a Starbucks code, but it's easily worth the purchase price.
Fun, but poor touch response
I enjoy playing this game, however, it is very frustrating when I cannot achieve higher scores due to poor playing field response. Specifically, there are many times when I know I have solidly touched letter squares and the game has not registered them. My device, an iPhone 5s, has no problems with screen response in all other apps - only this one. The game could also be improved by adding a "clear" button to clear misspellings instead of wasting time searching for the first letter of the word entered.
Good game
Challenging enough
Great word game
One of the more polished iOS games I've played recently.
More levels please
I've finished all of the levels. Please make more.
Fun game
Challenging but fun.
Words
Great exercise. Happy to see they include the new scrabble words.
Quick but fun
witchyrichy
on
12/27/2015
Love the different challenges!
Please improve dictionary
Admittedly, our family does not use your software in the manner you intended. We enjoy challenging each other to see who can come up with the longest word in the practice mode. Our problem is that words that are 15 to 20 letters long often don't seem to be in your dictionary but are in every other dictionary. Please don't get us wrong, we really enjoy playing your game, we would just like a wider range of words to be accepted when playing. Thanks for sharing this game with us :)
Really fun!!!
Petite Scorpion
on
12/22/2015
This game is interesting.
Fact Sheet
Publisher:

Marco Torretta

Category:

Games

Released:

Mar 26, 2015

Current Version Released:

Feb 22, 2016

Version:

2.1.1

Size:

26.3 MB

Compatibility:

Requires iOS 7.0 or later.

Recommended Age:

4+

Game Center Certified:

No

Supported Languages:

English; French; German; Italian; Spanish; Castilian;