Screenshots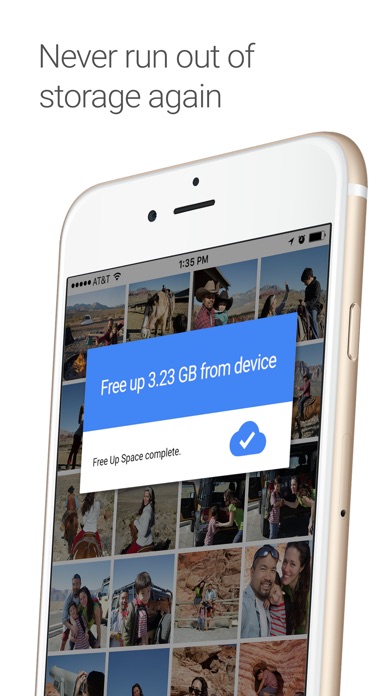 New in version 3.7.0
Suggested photo books
• We create suggested photo books from your best moments—trips, kids, and more.

Pet clusters
• Finding photos of your pet just got easier. We will group photos of your pet so that you can label your cat or dog and search by name.

Performance improvements
Description
Google Photos is a smarter home for all your photos and videos, made for the way you take photos today.

"The best photo product on Earth" – The Verge
"Google Photos is your new essential picture app" – Wired
"Upload the pictures, and let Google Photos do the rest" – The New York Times

• FREE UNLIMITED STORAGE: Back up unlimited photos and videos for free, up to 16 megapixels and 1080p HD. Access from any device and photos.google.com—your photos are safe, secure, and private to you.

• FREE UP SPACE: Never worry about running out of space on your phone again. Photos that are safely backed up can be removed from your device's storage in just a tap.

• VISUAL SEARCH: Your photos are now searchable by the people, places and things in them—no tagging required.

• SMARTER SHARING: With smart sharing suggestions, giving your friends the photos you took of them is painless. And they can add their photos, too, so you'll finally get the photos you're actually in.

• SEND PHOTOS IN SECONDS: Don't waste your data by texting and emailing photos. Instantly share up to 1,500 photos with anyone, right from the app.

• MOVIES AND GIFS, MADE FOR YOU: Get automatically created movies, collages, GIFs, panoramas, and more from your photos. Or easily create them yourself.

• MOTION STILLS: Advanced stabilization turns your Live Photos into beautiful looping videos or GIFs.

• ADVANCED EDITING: Transform photos with a tap. Use intuitive and powerful photo and video editing tools to apply content-aware filters, adjust lighting, and more.

• SMART AUTOMATIC ALBUMS: Tell better stories, without the work. Automatically get a new album with just your best shots after an event or trip, then invite others to add their photos.

• REDISCOVER: It's easier than ever to relive your memories. Get collages of photos you took a year ago on this day – perfect for #tbt.

• ON YOUR TV: View your photos and videos on your TV with Chromecast and Airplay support.

Note: Face grouping is not available in all countries.

For the latest updates from the team, follow us on Twitter at @googlephotos

Using GPS in the background can decrease battery life. Google Photos doesn't run GPS in the background unless you turn on optional features.
iPad Screenshots
Reviews
Me encanta
Omar Catter
on
10/19/2017
Funciona súper bien!
Best app on my phone!
SydbFloyd17
on
10/19/2017
This has been the best app on my phone from the moment I downloaded it! From storing all my photos and videos safely with a company I trust, to the animations and collages it auto creates - this app is amazing!!
Love it
Saves all of my photos without me having to manual go and do it
Videos take too long to load
I love this app. I just wish videos wouldnt take so long to load :(
Photo Treasure
Awesome! You know how these photos are just priceless which google treats them as treasure. Love it!
Google photos
I love this app
Best Photos APPLICATION SINCE IT STARTED!
Lexuslsc430
on
10/19/2017
Best app ever to use when you need to back up your photos I loveeeee it!!! I've been pleased for years. Makes everything pretty easy!
My first option.
Great app for picture storage, and with plenty of extra features to make every special mementos even more special.
So easy!!
Motherofdragon
on
10/19/2017
Love being able to off load important memories from my phone!
Last Update Broke Date in Photos View
Perhaps it just me, but now when I open the Photos view in the app and scrub up or down, I no longer see the month year date displayed.
Amazingly made
Thanks Google for this wonderful gift!
Favorite photo app
Dancer girl 555555566666666
on
10/19/2017
No issues at all
Easy to use
I use the app everyday.
It's great
Harperlinda
on
10/19/2017
It's great. Very helpful.
Keeps looping my uploads
JustinThiel
on
10/19/2017
It never finishes uploading my photos. It gets to about 88 and then it starts back at the beginning again. It's done this over and over again. It's looped around 4-5 times so far.
Great picture app!!!
All features are great but as someone who uses this app every day sometimes multiple I would add find duplicate feature to fine tune the library or not allow the same photo to be uploaded twice. Also when asking to share my account( not an album or picture) it does not bring up my wife's name and I don't know how to find it. I'm would think she would be the first person that came up since I have multiple albums shared and she is a fav in my google contacts. I added my contacts to the app and still no search found for her or her actual google account email! This is a bug that need to be corrected. Other than that very anointing quirk I absolutely love this app!!!
Google Pictures
University of Trading
on
10/19/2017
5 STAR, SIMPLY AWESOME! DR. Mkh
Love love love!
rebeccaaaawwwwww
on
10/19/2017
Great for storing all your photos. They also do great "stylized" photos and short videos of photos. They even did a video named "they grow up so fast!" Of my son!! Thank you Google 😁
Awesome
PEGGYSUE6270
on
10/19/2017
It has helped me save my pictures without loosing them so I can free some space on my phone plus what a way to memorize special moments
Great app.
Works well. Hopefully they fixed the cell data problem.
I love this app
Eu amo esse aplicativo porque facilitou muito a minha vida sendo fotógrafo não precisa fazer backup das fotos que já fazem automaticamente é muito bacana eu recomendo muito
Life saver
Jennaymireya
on
10/19/2017
I love this app so much!! I forgot I had it at one point I broke my phone and was so sad I thought I lost all my photos. Once I logged into my account all of my pictures were there! I have pictures from 2011!
Excelente app
Gracias ....
Love Google Photos
I absolutely love Google photos. Been using it since it was originally with picasa and I've loved every update. Only put 4 stars because the app takes up some space on my phone. Would make it 5 if it took up less space.
Love it
Keeps everything safe and doesn't take up space
The apps gets better all the time!
@kevinjhill
on
10/19/2017
I love how the app groups and suggests movies and animations. The search functionality is amazing!
It's a necessary app
JoBlo4774575
on
10/19/2017
Helps keep my phone space maximized and has great features.
Great app!!
Shakenbake0023
on
10/19/2017
Wish i had known of this sooner.
Perfect
Red Black Wing
on
10/19/2017
This app is perfect because it doesn't take up that much storage and I can access my photos anywhere. If I deleted a photo on my phone, it's still on Google Photos which is convenient. A good update would be that it automatically back up photos rather than doing it when entering the app.
It works.
A free alternative to Apple charging you.
I think I'm in love
Great app! I love it cause it saves all of my pictures and videos!!
The best!
So many incredible features that make this an app for Life!
Best picture app ever!!
AshleyDavis4
on
10/19/2017
I absolutely love this app! It has backed up all my photos and videos and walked me through deleting the ones that I can delete....what more can I ask for!!
The best app
I love the app. Thank you google
Great app!
nydiacruzcotto
on
10/19/2017
I like it a lot. I don't have to worry about having no space on my phone anymore!
Very Good
Very useful, looks like an app integrated with the app from the manufacturer. It's backups your photos so you don't need to think you are going to lose your history of life and moments!!
MELHOR DO MUNDO
Esse App simplesmente mudou minha vida. Agora não preciso deixar o celular cheio de fotos que tinha "dó" de apagar pensando que um dia poderia usar pra algo. Agora fica tudo salvo no Google Photos e posso acessar em qualquer dispositivo quando quiser. E o melhor, armazenamento ilimitado! Obrigado Google, eu amo esse App!
Amazing
justbarn420
on
10/19/2017
I love this feature so much and its saved so many memories!
Needs better support for Live Photo's
....
This one right here
Unlimited free photo and video storage. 😱Great tools. Amazing that it's free.
Great
I never - literally never - write app reviews, so it says something that I'm taking the time to review this app. It's great. Discover it for yourself.
Great app
Great specially animation
אלייט אלוש
אן לי שם חיבה
on
10/19/2017
יפה מאוד
User friendly
So far I love it
i like it
i like it a lot
$$$
BrittanYork
on
10/19/2017
For the price it beats apple storage by far
Fact Sheet
Publisher:

Google, Inc.

Category:

Photo & Video

Released:

May 28, 2015

Current Version Released:

Oct 16, 2017

Version:

3.7.0

Size:

180.3 MB

Compatibility:

Requires iOS 9.0 or later.

Recommended Age:

4+

Game Center Certified:

No

Supported Devices:

iPad2Wifi-iPad2Wifi, iPad23G-iPad23G, iPhone4S-iPhone4S, iPadThirdGen-iPadThirdGen, iPadThirdGen4G-iPadThirdGen4G, iPhone5-iPhone5, iPodTouchFifthGen-iPodTouchFifthGen, iPadFourthGen-iPadFourthGen, iPadFourthGen4G-iPadFourthGen4G, iPadMini-iPadMini, iPadMini4G-iPadMini4G, iPhone5c-iPhone5c, iPhone5s-iPhone5s, iPadAir-iPadAir, iPadAirCellular-iPadAirCellular, iPadMiniRetina-iPadMiniRetina, iPadMiniRetinaCellular-iPadMiniRetinaCellular, iPhone6-iPhone6, iPhone6Plus-iPhone6Plus, iPadAir2-iPadAir2, iPadAir2Cellular-iPadAir2Cellular, iPadMini3-iPadMini3, iPadMini3Cellular-iPadMini3Cellular, iPodTouchSixthGen-iPodTouchSixthGen, iPhone6s-iPhone6s, iPhone6sPlus-iPhone6sPlus, iPadMini4-iPadMini4, iPadMini4Cellular-iPadMini4Cellular, iPadPro-iPadPro, iPadProCellular-iPadProCellular, iPadPro97-iPadPro97, iPadPro97Cellular-iPadPro97Cellular, iPhoneSE-iPhoneSE, iPhone7-iPhone7, iPhone7Plus-iPhone7Plus, iPad611-iPad611, iPad612-iPad612, iPad71-iPad71, iPad72-iPad72, iPad73-iPad73, iPad74-iPad74, iPhone8-iPhone8, iPhone8Plus-iPhone8Plus, iPhoneX-iPhoneX,

Supported Languages:

Afrikaans; Albanian; Amharic; Arabic; Armenian; Azerbaijani; Basque; Belarusian; Bengali; Bosnian; Bulgarian; Burmese; Central Khmer; Catalan; Valencian; Chinese; Croatian; Czech; Danish; Dutch; Flemish; English; Estonian; Finnish; French; Galician; Georgian; German; Greek; Gujarati; Hebrew; Hindi; Hungarian; Icelandic; Indonesian; Italian; Japanese; Kannada; Kazakh; Kirghiz; Kyrgyz; Korean; Lao; Latvian; Lingala; Lithuanian; Macedonian; Malay; Malayalam; Marathi; Mongolian; Nepali; Norwegian; Bokmål, Norwegian; Norwegian Bokmål; Persian; Polish; Portuguese; Punjabi; Romanian; Moldavian; Russian; Serbian; Chinese; Sinhala; Sinhalese; Slovak; Slovenian; Spanish; Castilian; Swahili; Swedish; Tagalog; Tamil; Telugu; Thai; Chinese; Turkish; Ukrainian; Urdu; Vietnamese; Zulu;