Screenshots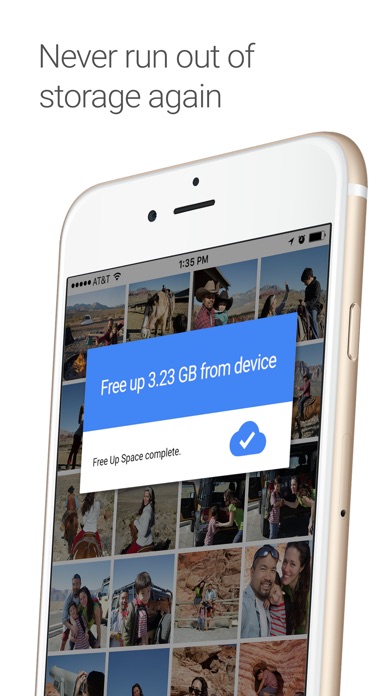 New in version 3.9.0
• Support for Drag and Drop in iOS 11
• Performance improvements
Description
Google Photos is a smarter home for all your photos and videos, made for the way you take photos today.

"The best photo product on Earth" – The Verge
"Google Photos is your new essential picture app" – Wired
"Upload the pictures, and let Google Photos do the rest" – The New York Times

• FREE UNLIMITED STORAGE: Back up unlimited photos and videos for free, up to 16 megapixels and 1080p HD. Access from any device and photos.google.com—your photos are safe, secure, and private to you.

• FREE UP SPACE: Never worry about running out of space on your phone again. Photos that are safely backed up can be removed from your device's storage in just a tap.

• VISUAL SEARCH: Your photos are now searchable by the people, places and things in them—no tagging required.

• SMARTER SHARING: With smart sharing suggestions, giving your friends the photos you took of them is painless. And they can add their photos, too, so you'll finally get the photos you're actually in.

• SEND PHOTOS IN SECONDS: Don't waste your data by texting and emailing photos. Instantly share up to 1,500 photos with anyone, right from the app.

• MOVIES AND GIFS, MADE FOR YOU: Get automatically created movies, collages, GIFs, panoramas, and more from your photos. Or easily create them yourself.

• LIVE PHOTOS: You can store, view, and share photos with motion.

• ADVANCED EDITING: Transform photos with a tap. Use intuitive and powerful photo and video editing tools to apply content-aware filters, adjust lighting, and more.

• SMART AUTOMATIC ALBUMS: Tell better stories, without the work. Automatically get a new album with just your best shots after an event or trip, then invite others to add their photos.

• REDISCOVER: It's easier than ever to relive your memories. Get collages of photos you took a year ago on this day – perfect for #tbt.

• ON YOUR TV: View your photos and videos on your TV with Chromecast and Airplay support.

Note: Face grouping is not available in all countries.

For the latest updates from the team, follow us on Twitter at @googlephotos

Using GPS in the background can decrease battery life. Google Photos doesn't run GPS in the background unless you turn on optional features.
iPad Screenshots
Reviews
New experience with Google Photos
Am enjoying learning this app as I upload photos from my computer. The face recognition is a lot of fun; so are the suggested features in Assistant. I'm new at it, so time will tell.
Changed my road trip for the better
happyroadtrippertab
on
11/19/2017
I was having to delete photos I thought I could live without while on a road trip from AZ, UT, to NV and back because I kept getting the "storage full" message and my iPhone wouldn't let me take more pictures. Luckily a friend told me about the app and it saved my pictures without me having to sacrifice deleting photos I would have rather kept. So happy to have found this cloud based app. Once photos are uploaded to this app I could safely delete the photos from my phone (the app actually can take care of that process for you so you don't spend hours picking out which ones were already backed up and which ones aren't yet. 5 stars hands down.
Convenient
Kalista Marie
on
11/18/2017
It is really nice to be able to have a place that will allow you to have all of your photos backed up to google while also being able to delete photos from your phone.
Keeps trying to back up old photos
The app continually runs in the background and drains battery attempting to back up photos that are already backed up.
Use it for work and personal
Love the app and secure storage
Great App!
This app is amazing! Getting ready to teach it to a group of grandmothers who have lots of pictures on their phones. So many wonderful changes. I have to keep up!
AMAZING APP
Record screen
on
11/18/2017
This app will instantly save your photos to here. It's a life saver because, you don't have to keep deleting your photos because of storage! ❤️
Wallpaper?
anonymous934
on
11/18/2017
Would rate 5, but I can't make a photo my wallpaper within the app - I have to go back to the stick photo app.
Best photo app I've seen.
Ajbutterfield
on
11/18/2017
Would like to see more ability to train the face recognition but the app is fantastic.
Loveeeee it
AidanCoolkid16
on
11/18/2017
Best photo saving apppppp!!!
Google cloud
Petzoldt_pride
on
11/18/2017
Can't believe how much I love this app. I use it everyday!! It's like no other. The only thing I would like to see different is that I would be able to print from here! Otherwise it's AWESOME 👍
Best thing that ever happened to photos
ChandranPaul
on
11/18/2017
We take lot of pictures and I was always worried about losing them. Thanks to this app they are safely backed up. Also they are tagged which helps in quick search by person, time, place or subject. The AI is apparent in the movies it creates(gives the shivers). Overall a great product. Hope google keeps the product(big concern as lot of products have been sunset).
Picture enhancing at its best!
So many styles and ideas to add life to your photos!
So easy
Love that I can easily share photos with people individually or in bulk without being restricted to an album. I also love the Google Assistant feature.
Unlimited space ‼️‼️‼️
what is not to love about that there is no stopping what you can put on this And they DO NOT ask you to buy more data how sweet is that
Great app!
MuzzacLover
on
11/18/2017
Google Photos: Thanx Google!
Great app
Love how it constantly updates all my pictures and backs them up. Nothing like having something go wrong with your phone and loosing all your pictures. Amazing peace of mind .
Love
Trey393983848484
on
11/18/2017
This Is a great app!
Google photos rock
crazyleslie
on
11/18/2017
Love this backup app, and I love Google for the free storage and features. Makes a nice addition to my piece of mind!
Phenomenal app for cloud storage of your photos
All skepticism and conspiracy theories aside about having your personal data in the cloud... It's incredible how accurate the facial recognition is not just in photos but your videos. It makes looking back through your photos for specific memories so easy and on that note makes it so easy to make photos books, which google offers, and share memories. My wife uses Shutterfly to make photo books and this still makes it fairly easy to just find the photos we want, download them to our smartphone or computer, then upload to Shutterfly via the web browser or their app. This app does so much more than just recognize faces and organize by date; google photos recognizes (types of) places and things which gives even more granular way of finding memories.
Google Photos
Akasha_1983
on
11/18/2017
Great App To Use To Free Up Space On My Phone!!!
Love this app!
itsbrittneylyn
on
11/18/2017
This app makes it so easy to free up the storage on my phone. It prompts me to delete the items out of my albums that have been safely backed up. Very easy to use and access your photos from a computer.
Amazing
Incredible app-- very useful and fun!
Love it!!!
Musicgirlsb
on
11/18/2017
I love you this app!!! They organize my pictures, create wonderful videos, archives anything at a touch of a button. Backs up my pictures automatically from my phone!!!
Tops all photos apps
Keeps everything off your device safely in the cloud. No reduced size photos are left on your device that would still take up precious storage space on your phone. Best of all its free with unlimited cloud storage.
I never write reviews
indianolajohn
on
11/18/2017
Wow google just made me a video "they grow up so fast" and it was an amazing and emotional journey of my daughter! Thank you google
افضل سحابه
عزوز العسيري
on
11/18/2017
وفرت عليا مساحه كثير و ساعدني اخش صوري من اي جهاز
Seamless and easy.
Thomas Loafman
on
11/18/2017
Very easy and seamless with your OS'
Great application
Great application
Keeping memories alive
Army of all
on
11/18/2017
I love, love, love google photos! Didn't know how much until I finished looking at the movies and collages that automatically created for me. Best application ever
Love it!
doglover9754
on
11/18/2017
Personally, I love the app. It allows me to have all the photos I want on my 16 gig phone without having to run out of space. Most of all, I love how you can still access all the photos even without WiFi. I would recommend this to anyone who runs out of space on their device very often and fast.
Getting better
I'm a Google fan. I've been using everything google since they started. I have seen great improvements in this app! I use it everyday for my work.
Whaat???
Reinkejohn4
on
11/17/2017
How is this average 5 star rating??? This stupid app automatically removes random photos from my albums and sometimes the name of some albums randomly disappears... This happens even after I delete photos off my phone.. Thanks for nothing! I trust this app when I should not have... Nice work google! What do your code writers really do on the clock at work??
Best app
Easily best photo app
Great app
Need more storage or Organization
Wicked good.
Frank 71115
on
11/17/2017
Exactly what we needed.
Love it!
Estrella y viento
on
11/17/2017
I love the app and the suggestions it gives , Memories
Mis recuerdo muy hermoxxos ❤️❤️❤️❤️
Me encanta
Best app ever
thekingofkings0123
on
11/17/2017
I was always scared of losing my pictures and now i dont have to worry!!!!
Best app for photos and videos!!!✨
penabianca8
on
11/17/2017
Love the fact that I have access to all my photos and videos from any device!!!🙌🏽
Late addition
I am just now exploring Google Assistant and all the bells and whistles, so far, I'm sorry I didn't start using this sooner! Where have you been all my life and I'm no spring chicken either. Thanks for always bringing easy to use applications I love.
Awesome job
CVGChefresh
on
11/17/2017
Keep you cool on !
Good app
connoisseuer
on
11/17/2017
Keep up
Perfect app
Guiss Solis
on
11/17/2017
It's pretty good 👌🏻 I love it 😍
Awesome app!
Back every photo up! So legit!! I got it a couple months ago. Gone through 2 phones, and it is awesome!!
Recuerdos de cosas inolvidables
el solotario
on
11/17/2017
No esperas volver a ver estas fotos pero google te revive una ves más esta fecha y es en ese momento en el que echas a volar tu imaginación esos días muy bien google siempre activo 👍🏻
Love it!
I love how I can keep all my photos in one safe place! I love how it makes categories for my photos. Google photos is the best!!
Fact Sheet
Publisher:

Google, Inc.

Category:

Photo & Video

Released:

May 28, 2015

Current Version Released:

Nov 13, 2017

Version:

3.9.0

Size:

206.2 MB

Compatibility:

Requires iOS 9.0 or later.

Recommended Age:

4+

Game Center Certified:

No

Supported Devices:

iPad2Wifi-iPad2Wifi, iPad23G-iPad23G, iPhone4S-iPhone4S, iPadThirdGen-iPadThirdGen, iPadThirdGen4G-iPadThirdGen4G, iPhone5-iPhone5, iPodTouchFifthGen-iPodTouchFifthGen, iPadFourthGen-iPadFourthGen, iPadFourthGen4G-iPadFourthGen4G, iPadMini-iPadMini, iPadMini4G-iPadMini4G, iPhone5c-iPhone5c, iPhone5s-iPhone5s, iPadAir-iPadAir, iPadAirCellular-iPadAirCellular, iPadMiniRetina-iPadMiniRetina, iPadMiniRetinaCellular-iPadMiniRetinaCellular, iPhone6-iPhone6, iPhone6Plus-iPhone6Plus, iPadAir2-iPadAir2, iPadAir2Cellular-iPadAir2Cellular, iPadMini3-iPadMini3, iPadMini3Cellular-iPadMini3Cellular, iPodTouchSixthGen-iPodTouchSixthGen, iPhone6s-iPhone6s, iPhone6sPlus-iPhone6sPlus, iPadMini4-iPadMini4, iPadMini4Cellular-iPadMini4Cellular, iPadPro-iPadPro, iPadProCellular-iPadProCellular, iPadPro97-iPadPro97, iPadPro97Cellular-iPadPro97Cellular, iPhoneSE-iPhoneSE, iPhone7-iPhone7, iPhone7Plus-iPhone7Plus, iPad611-iPad611, iPad612-iPad612, iPad71-iPad71, iPad72-iPad72, iPad73-iPad73, iPad74-iPad74, iPhone8-iPhone8, iPhone8Plus-iPhone8Plus, iPhoneX-iPhoneX,

Supported Languages:

Afrikaans; Albanian; Amharic; Arabic; Armenian; Azerbaijani; Basque; Belarusian; Bengali; Bosnian; Bulgarian; Burmese; Central Khmer; Catalan; Valencian; Chinese; Croatian; Czech; Danish; Dutch; Flemish; English; Estonian; Finnish; French; Galician; Georgian; German; Greek; Gujarati; Hebrew; Hindi; Hungarian; Icelandic; Indonesian; Italian; Japanese; Kannada; Kazakh; Kirghiz; Kyrgyz; Korean; Lao; Latvian; Lingala; Lithuanian; Macedonian; Malay; Malayalam; Marathi; Mongolian; Nepali; Norwegian; Bokmål, Norwegian; Norwegian Bokmål; Persian; Polish; Portuguese; Punjabi; Romanian; Moldavian; Russian; Serbian; Chinese; Sinhala; Sinhalese; Slovak; Slovenian; Spanish; Castilian; Swahili; Swedish; Tagalog; Tamil; Telugu; Thai; Chinese; Turkish; Ukrainian; Urdu; Vietnamese; Zulu;