Screenshots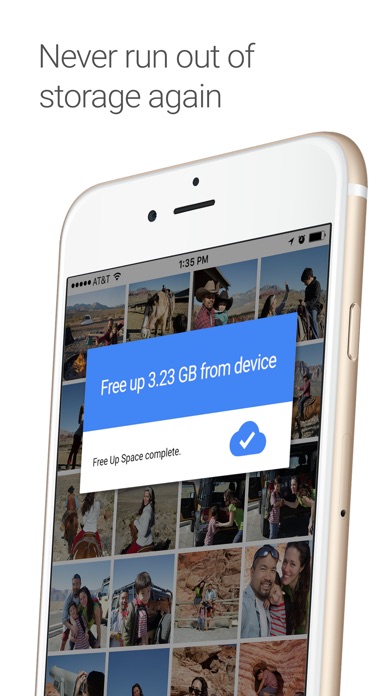 New in version 3.5.0
• Support for backing up HEIF photos and HEVC videos in iOS 11
• Change the cover photo for a shared album to any photo—even if someone else added it.
• Performance improvements
Description
Google Photos is a smarter home for all your photos and videos, made for the way you take photos today.

"The best photo product on Earth" – The Verge
"Google Photos is your new essential picture app" – Wired
"Upload the pictures, and let Google Photos do the rest" – The New York Times

• FREE UNLIMITED STORAGE: Back up unlimited photos and videos for free, up to 16 megapixels and 1080p HD. Access from any device and photos.google.com—your photos are safe, secure, and private to you.

• FREE UP SPACE: Never worry about running out of space on your phone again. Photos that are safely backed up can be removed from your device's storage in just a tap.

• VISUAL SEARCH: Your photos are now searchable by the people, places and things in them—no tagging required.

• SMARTER SHARING: With smart sharing suggestions, giving your friends the photos you took of them is painless. And they can add their photos, too, so you'll finally get the photos you're actually in.

• SEND PHOTOS IN SECONDS: Don't waste your data by texting and emailing photos. Instantly share up to 1,500 photos with anyone, right from the app.

• MOVIES AND GIFS, MADE FOR YOU: Get automatically created movies, collages, GIFs, panoramas, and more from your photos. Or easily create them yourself.

• MOTION STILLS: Advanced stabilization turns your Live Photos into beautiful looping videos or GIFs.

• ADVANCED EDITING: Transform photos with a tap. Use intuitive and powerful photo and video editing tools to apply content-aware filters, adjust lighting, and more.

• SMART AUTOMATIC ALBUMS: Tell better stories, without the work. Automatically get a new album with just your best shots after an event or trip, then invite others to add their photos.

• REDISCOVER: It's easier than ever to relive your memories. Get collages of photos you took a year ago on this day – perfect for #tbt.

• ON YOUR TV: View your photos and videos on your TV with Chromecast and Airplay support.

Note: Face grouping is not available in all countries.

For the latest updates from the team, follow us on Twitter at @googlephotos

Using GPS in the background can decrease battery life. Google Photos doesn't run GPS in the background unless you turn on optional features.
iPad Screenshots
Reviews
Google Photo is awesome!
Love it!
amazing Ai app
AI so powerful
LOVE!
pkattheshore
on
9/25/2017
Google Photos organize and combine like photos, the ease is wonderful!
Amazing!
adfelipevidal
on
9/25/2017
Amazing!
Best app ever
This app is the most valuable one in my phone because I can delete all the photos out of my phone and they will still be available in google photos. Great job guys you really did it with this one 💪🏾💪🏾💪🏾🎉🎊🎉🎊
Functionality and automation and organization
If you need those things get this app. Plus the do all this cutesy collages and movies once you label people and places and stuff. Really fun.
Second to none and completely free!
Nothing else to say. If you aren't using it you are a fool!
Money!!!!
Hands down greatest photo app available. Absolutely love it!!!
Google Photos
laraproductions.mpls
on
9/25/2017
I love the app. It's way better than google drive. I have unlimited storage and my phone never gets full. Soon as I take a pic it automatically backs-up to my google photos app. Can't complain at all.
Yas Queen Google
Annaparsons3
on
9/25/2017
If I had to delete every other app on my phone this is the one I would keep (plus camera. Ok, two apps). Anyway, this app is the best. It sent me the sweetest video today called "they grow up so fast" with random video highlights of my child over the last few years. a+++
Is this real?
Jsbckamfvjslrhcbc
on
9/25/2017
This app is super cool and works quite well. Also it's FREE!
Awesome app!!!
I really enjoy this apps, it's the best kept up for me a lot of memory pictures ❤️
Great App
I love this app. It free's up the space on my phone and my pictures are there anytime I want them. Love it, love it, love it.
Love it!
Pat in Michigan
on
9/25/2017
Great backup functionality that saves space on my phone. Cool editing tools!
DELETED MOST OF MY PHOTOS
not sure if this was only when the app started but many of my photos i backed up on the app were deleted. hopefully this is fixed and people get to keep their great life memories unlike me
Photos made wasy
Dcrobinson82
on
9/25/2017
Love the app! Makes it so easy to find, store and organize your photos.
I so love the app
Awesome app!!
Awesome and EASY!
I have an iPhone and my cloud was full so I couldn't do a back up, found this app and downloaded all my pictures and videos, way better than iCloud!
ABSOLUTELY THE BEST!!!
Major app-user
on
9/25/2017
This app is fantastic for conserving storage and organizing your photos. No complaints at all. Thanks Google!!
Amazing
Perfect and essential
Easy
I am an Apple fanboy. I wish Apple would of made photos this easy to manage. Thanks Google!
Convenient and Intuitive
Love it a lot. Been a google doc user for quite sometime now, really love it.
Lynnmilkowski
Love it. Love videos google makes. Wish I could save them in my photos. I seem only to be able to send them to FB.
LOVE LOVE LOVE IT!!
Google assistant practically reads my mind I absolutely love it! It puts movies together for me as a surprise without me even thinking about it
Love this app
Awesome app! All my pics and all memory awesome!!!
Videos and pictures don't always upload
I often have to uninstall and reinstall the app, and some pictures and videos still will not up and download. Pictures that were loaded disappear or do not appear on other devices. Be careful.
Send via message
Always been great but as of the last update it seems the ability to share photo via text message has been removed????
Awesome instant albums and animations
Such a great way to store all my photos and videos. I love it.
Love it! I use it to back up my photos and videos.
Great
👍🏼👍🏼
I love it! Its very helpful with storage 😅
Great Pic Storage
I use this app to access all of my pictures from any device. It also allows me to keep my phone memory low since I don't have to keep pictures and video on it. All of my nee photos and video are automatically uploaded to Google Photos once I have access to wifi.
Great
No complaints really. One of the best app made by google. Useful, easy to use, free. Great.
Love google photos!
Awesome app!
HEIF
Joseph84829355
on
9/25/2017
So on iOS 11 if I use "Full Size" then my HEIF photos will use less space on Google's servers and that will count against my Drive quota, but if I use "High Quality" then my photos will be converted to JPEG and end up using more server resources and yet they will not count against my Drive quota. Rite?
Love it!!
So easy and i love sharing photos!!
Still waiting
I downloaded this app 2-3 days ago and it's still backing up my photos.. why the hell is it taking so long!!!
Unlimited Free Storage with Intelligent Search
Aaron J Garcia
on
9/25/2017
Google Photos sets the standard for what a photo app should be. Unlimited free storage for compressed images and a spot on perfect intelligent search feature; can't beat it. I'd like to see more shared library options, auto archive receipts & ex-girlfriends and direct posting to Facebook & Instagram.
Effective Storage
User friendly, collects all the photos I want in one place, and easy to access from anywhere with internet access.
Sometimes explaining something clearly is not explaining it nearly clear enough…
You know that message that pops up when using Google Photos, "Moving this item to the trash will also remove it from Google Drive?" Actually, I think it used to be even more sweeping than that, like "deleting this picture here will delete it everywhere." Yeah, well, Google should also have said something like "if you move photos from the 'Google Photos' desktop folder into other desktop folders managed by Drive, those moved photos WILL STILL BE DELETED if trashed in the mobile app. go find those photos." I gotta wonder how many memories I accidentally erased thinking they were safe because they had been moved out of the photos folder... Do you find this review kind of confusing and hard to understand? Good, then I've made my point.
Awesome way to keep up with memories!
Once a Loyal User..no more
on
9/25/2017
Awesome way to keep up with memories!
Wonderful app.
I love this Google photo app.
The best I've used
With the age we are living in, having a surplus of photos is inevitable! So I love that I can store as many as I have, for free, with easy access! You captured my heart forever with this! Thank you! The easy share features are a plus as well! I am constantly referring others to use this app when they confront storage issues with their photos! M. Lake
AMAZING!!!
Must have! Easy to use and reliable!
Love the Assistant
Dave the Banker
on
9/25/2017
Really enjoy the assistant and the reminders of previous years!
Fact Sheet
Publisher:

Google, Inc.

Category:

Photo & Video

Released:

May 28, 2015

Current Version Released:

Sep 19, 2017

Version:

3.5.0

Size:

178.8 MB

Compatibility:

Requires iOS 9.0 or later.

Recommended Age:

4+

Game Center Certified:

No

Supported Devices:

iPad2Wifi-iPad2Wifi, iPad23G-iPad23G, iPhone4S-iPhone4S, iPadThirdGen-iPadThirdGen, iPadThirdGen4G-iPadThirdGen4G, iPhone5-iPhone5, iPodTouchFifthGen-iPodTouchFifthGen, iPadFourthGen-iPadFourthGen, iPadFourthGen4G-iPadFourthGen4G, iPadMini-iPadMini, iPadMini4G-iPadMini4G, iPhone5c-iPhone5c, iPhone5s-iPhone5s, iPadAir-iPadAir, iPadAirCellular-iPadAirCellular, iPadMiniRetina-iPadMiniRetina, iPadMiniRetinaCellular-iPadMiniRetinaCellular, iPhone6-iPhone6, iPhone6Plus-iPhone6Plus, iPadAir2-iPadAir2, iPadAir2Cellular-iPadAir2Cellular, iPadMini3-iPadMini3, iPadMini3Cellular-iPadMini3Cellular, iPodTouchSixthGen-iPodTouchSixthGen, iPhone6s-iPhone6s, iPhone6sPlus-iPhone6sPlus, iPadMini4-iPadMini4, iPadMini4Cellular-iPadMini4Cellular, iPadPro-iPadPro, iPadProCellular-iPadProCellular, iPadPro97-iPadPro97, iPadPro97Cellular-iPadPro97Cellular, iPhoneSE-iPhoneSE, iPhone7-iPhone7, iPhone7Plus-iPhone7Plus, iPad611-iPad611, iPad612-iPad612, iPad71-iPad71, iPad72-iPad72, iPad73-iPad73, iPad74-iPad74,

Supported Languages:

Afrikaans; Albanian; Amharic; Arabic; Armenian; Azerbaijani; Basque; Belarusian; Bengali; Bosnian; Bulgarian; Burmese; Central Khmer; Catalan; Valencian; Chinese; Croatian; Czech; Danish; Dutch; Flemish; English; Estonian; Finnish; French; Galician; Georgian; German; Greek; Gujarati; Hebrew; Hindi; Hungarian; Icelandic; Indonesian; Italian; Japanese; Kannada; Kazakh; Kirghiz; Kyrgyz; Korean; Lao; Latvian; Lingala; Lithuanian; Macedonian; Malay; Malayalam; Marathi; Mongolian; Nepali; Norwegian; Bokmål, Norwegian; Norwegian Bokmål; Persian; Polish; Portuguese; Punjabi; Romanian; Moldavian; Russian; Serbian; Chinese; Sinhala; Sinhalese; Slovak; Slovenian; Spanish; Castilian; Swahili; Swedish; Tagalog; Tamil; Telugu; Thai; Chinese; Turkish; Ukrainian; Urdu; Vietnamese; Zulu;