TapNova recommends this app!
New in version 1.21.2
*** 50 New Levels ***
*** INTRODUCING SHARK QUEST ***
A new event, collect boosters and puzzle pieces to win a FREE Shark Attack every day!
*** Bingo is back and the Coral is excited! ***
***Octo's Plunder is waiting for you with awesome rewards***
Description
From the creators of ANGRY BIRDS comes the most DELICIOUS of match 3 games with CUTE characters and FRESH and FRUITY puzzle gameplay. Meet the NIBBLERS – your fishy friends who only want to eat YUMMY fruit – ALL the yummy fruit! Om nom nom!


All fun and games right? Woohoo! Fruit party over here! Well, the island's reptilian inhabitants are not too happy about our group of aquatic party animals gobbling up all their fruit, and they'll try to stop them at all turns. It's up to you to use the Nibblers' special powers to keep a steady supply of fruit flowing and elude those pesky lizards in this soggy saga!

-----------------------------

*** FROM THE CREATORS OF ANGRY BIRDS ***
The masterminds behind Angry Birds have ingrained Nibblers with their brand of zany humor, a beautiful design style, and fun & addictive gameplay!

*** MEET THE NIBBLERS ***
Match four, five, or more fruit to call in Coral, Octo, and the rest of the Nibblers. These fish have some tricks up their sleeves. Use their special abilities to munch more fruit, topple the lizards, and take out obstacles.

*** FUN AND CASUAL ***
Nibblers is super simple to learn! Just match three similar fruits and you're nibbling! It's easy to pick up and play, but with over 200 levels – and more to be added, there's always a new challenge waiting!

*** OUT OF THE WAVES, INTO THE JUNGLE ***
Embark on an island hopping adventure and navigate obstacles in a multitude of unique and puzzling levels – with new ones added all the time!

*** PLAY WITH FRIENDS ***
Get social! Connect to Facebook and challenge your friends in the leaderboards, see their progress on the island map, and share special gifts!

*** NOT IN OUR BACKYARD ***
Heaps of scaley baddies aim to crash your fruit party. Matching fruits next to a lizard is enough to send it packing, but you'll have to get crafty to take care of tougher enemies – and boss battles will pit your fruit matching skills against the toughest of the lizardy ranks.


-----------------------------

We have a COMMUNITY where fish are FRIENDS and not food, join now for the freshest news:

Follow: http://www.twitter.com/nibblersgame

Like: http://facebook.com/nibblersgame

Pin: http://pinterest.com/nibblersgame

-----------------------------

Having trouble? Send a message to our support team at support@rovio.com

-----------------------------

Nibblers is completely free to play, but there are optional in-app purchases available. Time to get your nibble on!

Terms of Use: http://www.rovio.com/eula
Privacy Policy: http://www.rovio.com/privacy
iPad Screenshots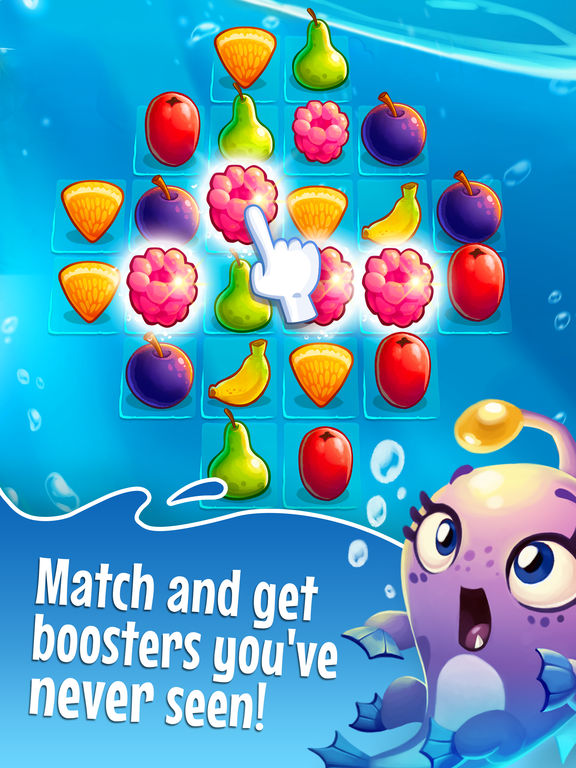 Reviews
Can't stop playing
Great game
Very fun
Cutecrystaboo
on
6/26/2017
I love it.., great time killer
Different
I just started playing yesterday. It is at least something new and fresh to play :)
Awesome fun
Loads of fun and definitely my favorite game
What a great concept
I love this game and the idea of it.
Love this game!
Wild eyed and wicked
on
6/23/2017
So much fun - it is a great way to unwind after work.
Such a challenging game.
Scottywaddydoda
on
6/23/2017
I have to say the progression of difficulty is unlike other games. Love it!
Love this game
Missyfromcali
on
6/23/2017
Been playing for awhile. Past level 400. I'll download new games and play for about bit always come back to Nibblers. Some levels are more then I desire for a challenge but totally worth it!!!
Fallen off the rails
The levels have devolved into nothing but luck rests. Requiring Nibblers and rarely providing them. Putrid.
Super fun!!
Minnesota_kaco
on
6/22/2017
And it's cute. The animation and the sound is very good. I never get bored with this game.
Good game. Keeps me engaged.
Love the boosters and tournaments.
Robin does it again
Old Dog, New Tricks
on
6/20/2017
Still making addictive and fun games
T-bone
Gbg para investigator
on
6/20/2017
Truly addictive!
I enjoyed this game a lot
This is the only game among other games that I've been playing almost without stopping. it's just a so much fun.
Very fun for zoning out.
Optional
Best game ever 👍🏾
Boopalicious72
on
6/19/2017
I especially like the various game within a game options!
Nibbles is fun
I really enjoy the graphics, the challenges and that I don't have to spend mega bucks to progress. Shark attack awards a little more often would be nice.
Love it minus crashes :(
Second time playing. First time it totally crashed on Level 520. Was so bummed because some levels take forever! Redownloaded and playing again, however, it keeps crashing and then restarts. Grrrr. Love this game and have all current software updates for my iPhone 6. Also have latest Nibblers update. If developers read this...lots of crashes. Maybe be iPhone thing? Keep up the great work and I will continue to play on!
Review
Addicted +1 yr but sometimes hate the game! Boosters promised but not delivered, screen going black at worst possible time, bouncer ruining my next planned move. Telling me to connect to FB then telling me I can't. Cute Nibblers keep me coming back for now tho. Please fix before lizards drive me crazy! Wish I could play on computer.
Game is awesome
I love it
Clever and Fun!
Perfect balance of strategy and dumb luck! The perfect game to keep you busy while doing something tedious or just relaxing. So much batter than a Fidget Spinner! 👍🏻👍🏻
Addicting!
Sassafras1789
on
6/17/2017
Warning! If you download this game, you may spend hours of your life playing it. Fruit Nibblers has cute characters, combined with outstanding graphics, and challenging levels. 10/10!
Lots of fun
Very addictive cute, challenging game.
Great Game!!
Pagemmooooio
on
6/16/2017
I love the bright colors and game play of Nibblers! I can play this for hours and not get bored, unlike more puzzle games. Plus, who could resist the adorable creature in this game?
Well it fine and good .
Keep the game more interesting than more make the lacking the moment while playing game so deadly tired. Thk for your help. More keep it cool . And give a best one in extra, it will be more nice . Thx.
Fun
ChicagoBears666
on
6/16/2017
😍😍😍😍😍
Wonderful time spender
FlowerMikael
on
6/15/2017
This game is addicting. Everything about this game is lovely.
VanMun1
Juvenile. But I am still playing. ? See how it goes.
Fun :)
SecretKeeper9o7
on
6/15/2017
My kids love it. :)
V good
Lava wolf 2002
on
6/15/2017
I love that art and the way things are animated. It's cute and I'm all about it! I hope you guys keep this game up! I didn't expect talking from the creatures which was also a nice addition to it. Makes the whole game different from others! :3
Super Cute
LazyRedSloth
on
6/15/2017
Super cute and fun game. Better than candy crush in my opinion. Little lizards and fish.
Bravo!
Much better game play and loving the tournaments! Really one of the best games out there!
The best!
I just love this game. It helps with my anxiety so much. ❤️
Nibblers best game ever
I play everyday. So much better and more challenging than goofy candy crush. Try it and you will be hooked too.
Addicting!
Love this game!
Re
sylvthewhite
on
6/12/2017
Great game so far!
Great game
Grannyknitter865
on
6/12/2017
I enjoy that the levels are hard but can eventually be done.
Totally Addictive Fun
Love this game, starts out easy then quickly becomes challenging. Be careful, very addictive💕💕
Love it
I live this game it's awesome can't stop playing
💜this game!!!!
So much fun & challenging I haven't gotten bored with it not once I hope the levels never end Bring it on!!!!
Fun Fun Fun....
Love playing this game👍🏻
Awesome
Infamous tadpol
on
6/8/2017
Awesome
Fact Sheet
Publisher: Rovio Entertainment Ltd
Category: Games
Released: Sep 09, 2015
Current Version Released: Jun 15, 2017
Version: 1.21.2
Size: 151.1 MB
Compatibility: Requires iOS 8.0 or later.
Recommended Age: 4+
Game Center Certified: No
Supported Devices: iPad2Wifi-iPad2Wifi, iPad23G-iPad23G, iPhone4S-iPhone4S, iPadThirdGen-iPadThirdGen, iPadThirdGen4G-iPadThirdGen4G, iPhone5-iPhone5, iPodTouchFifthGen-iPodTouchFifthGen, iPadFourthGen-iPadFourthGen, iPadFourthGen4G-iPadFourthGen4G, iPadMini-iPadMini, iPadMini4G-iPadMini4G, iPhone5c-iPhone5c, iPhone5s-iPhone5s, iPadAir-iPadAir, iPadAirCellular-iPadAirCellular, iPadMiniRetina-iPadMiniRetina, iPadMiniRetinaCellular-iPadMiniRetinaCellular, iPhone6-iPhone6, iPhone6Plus-iPhone6Plus, iPadAir2-iPadAir2, iPadAir2Cellular-iPadAir2Cellular, iPadMini3-iPadMini3, iPadMini3Cellular-iPadMini3Cellular, iPodTouchSixthGen-iPodTouchSixthGen, iPhone6s-iPhone6s, iPhone6sPlus-iPhone6sPlus, iPadMini4-iPadMini4, iPadMini4Cellular-iPadMini4Cellular, iPadPro-iPadPro, iPadProCellular-iPadProCellular, iPadPro97-iPadPro97, iPadPro97Cellular-iPadPro97Cellular, iPhoneSE-iPhoneSE, iPhone7-iPhone7, iPhone7Plus-iPhone7Plus, iPad611-iPad611, iPad612-iPad612, iPad71-iPad71, iPad72-iPad72, iPad73-iPad73, iPad74-iPad74,
Supported Languages: English; French; German; Italian; Japanese; Korean; Portuguese; Russian; Chinese; Spanish; Castilian; Chinese;