This version of the app is not recommended
App last updated
Nov 16, 2017
Screenshots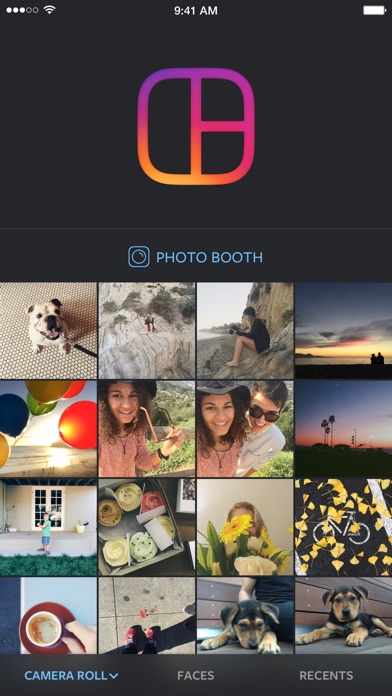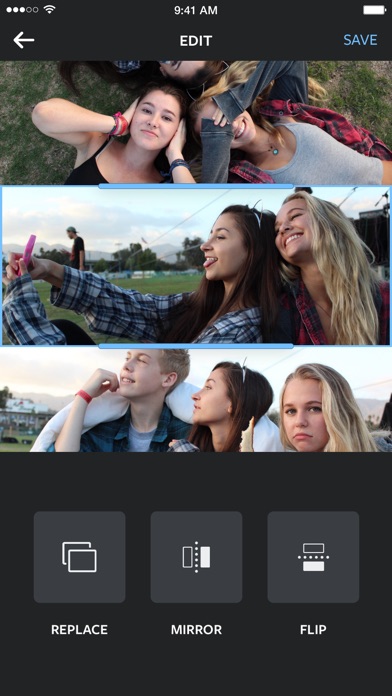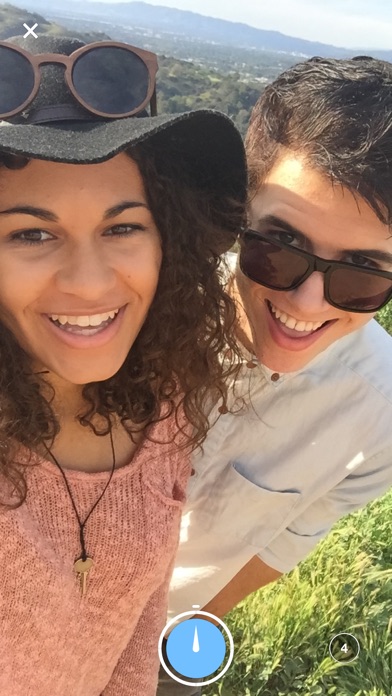 New in version 1.2.5
Bug fixes and performance improvements.
Description
Create fun, one-of-a-kind layouts by remixing your own photos and sharing them with your friends.

Choose photos from your camera roll—or use the built-in Photo Booth to take spur-of-the-moment shots—and instantly see them laid out in various combinations. Pick the layout you like best, then edit it to make it your own.

Layout's smooth, intuitive process gives you complete creative control. Tap to mirror, flip or replace images, hold and drag to swap them, pinch to zoom in or out, or pull the handles to resize. You're the editor, so get creative—tell a story, show off an outfit or just splice, dice and change the look of your regular photos to convey a mood or theme.


FEATURES

* Re-mix up to 9 of your photos at a time to create fun, personalized layouts.
* Use the Faces tab to quickly find photos with people in them.
* Capture the moment in Photo Booth mode with quick, spontaneous shots.
* Save your layouts to your camera roll and share them seamlessly to Instagram or other networks.
* Easily see the last 30 photos you've selected in the Recents tab.
* Pair your layouts with Instagram's filters and creative tools afterwards to make them stand out even more.
* Download and start creating immediately. No signup or account required—and no clutter breaking up your flow.
Reviews
Doesn't work with iPhone X
It won't let you go past the edits
ᴛᴇssᴀ ʙʀᴏᴏᴋs ᴜs sʜᴏᴏᴏᴏᴋ!!!
MplsGreenGoddess
on
1/20/2018
ʏᴀᴀsss ǫᴜᴇᴇɴ
Nice choices. Can't publish
Good choices for layout and publishing. IPhone X option publish in Instagram hides the Next button in the top right and it's not clickable. Simple fix but not done.
I used to love this. Now keeps crashing every time I swipe to a different layout!
Please fix! This was a great app. Every time I swipe to switch layouts it crashes! Very frustrating.
Great!
Great app that is easy to use and lots of layouts.
Love it more?
I am not the most technically savvy person, but I have pretty much figured out this app and absolutely love it. I love posting and writing on Instagram and this just makes it all the better for me.
Crashes constantly.
Three times in a row I scrolled all the way through a long library, found my photos, started to adjust the borders and size, and it crashed.
Layout
DetroitFerry
on
1/14/2018
Great fun! Helps me get a lot of images in one shot. And I can choose the parts to highlight!
I LOVE THIS
I Loge This App probably my FAVORITE combining app (for pictures)
Disappointed
Torreyishere
on
1/12/2018
I think it is dumb that you're not able to create a layout like the one in the app's icon. I often find myself wanting to create such a layout, but am not able to. I can't be the only person who has the same dilemma.
Not set up to work on the iPhone X.
I get my photos to editing and can't hit next to put them on Instagram because my service bars, LTE and battery are there.
Needs fixed
sweetnightingale88
on
1/11/2018
Great app and I use it all the time but the last month or so it's been consistently crashing every time I go to use it. Please fix. You aren't the only app that does this...
Not working correctly on iPhone X
When I try to export to Instagram, I can't fully go to the next screen to be able to post since I can't click on the X on the top right corner in Instagram. Please fix this issue ASAP. Extremely annoying. Thanx!
Usability
This app is really great, but I don't like having to watch some BS tutorial every time I open the app that I can't even skip. I feel like the tutorial should at least be skip-able if it's even necessary, it's a pretty easy to use app as it is.
Nice idea but doesn't work
It won't allow me to save any layouts I do create and it doesn't allow me to post it
AMAZING APP!!
yassss slayyyyyyyyyyyy .
on
1/9/2018
This app is amazing and i just got it i already made like a thousand layouts😂 I love it bc you can put so many pictures next to each other and it looks so cool and its super fun to use👌🏼 I give this a 100😂 bc you can't find other apps like these that actually work and are super fun to use and at the end look amazing which with other photo apps they glitch our don't look like you wanted it. But this is a GREAT APP🥇 and i suggested you get this AMAZING APP ❤️😍💪🏻 Also the best part is you can use it with Instagram and make great layouts and have good looking pictures😂👌🏼
Please fix the functionality on iphoneX
Lostinthecity
on
1/8/2018
When you use within Instagram and try to post after you've settled on your pics and their filter and composition, the NEC button is buried under the wifi and battery icons on the upper right of the screen. And due to that you can't proceed. Boo.
Instagram layout
OMG OMG I love so much
Always Crashes
This app is SO FRUSTRATING. Within a 10 minute span, it crashes at least twice. Ridiculous
Doesn't work
MikeyDoesReveiws
on
1/4/2018
I cannot get into program it takes me back to the tutorial every time 😴
Good!!
I really like this app. But also I'd like to see something new, it has been the same options and photos programs for months.
Can it get fix
Ok,so when I'm finish editing a photo I go back to edit another photo but it always crashes and gets me out of the app
Great
Rocking raccoon
on
1/3/2018
It does what its supposed to, nothing more, nothing less
iPhone X layout bug
I can't get out of the menus in layout on an iPhone X because the "next" button is at the top right overlapping the space where it shows signal strength and battery. On the iPhone X touching that area only allows you to pull down. It doesn't allow you to click the next button. I can't use Layout at all because you can't press next. Sorry I couldn't figure out how to report a bug so I posted as review.
Great App!!
Eightarmedkiller
on
1/3/2018
Awesome app!! I use it all the time after going to concerts and stuff. LOVE it!
Chicago stylist
I absolutely love this Appt. Thank you
Keeps crashing on 8+
Latest OS. Keeps crashing
Amber
Amber L Westbrook
on
1/1/2018
Great job love this
Crashes non-stop on iPhone X
Crashes non-stop on iPhone X. So disappointing because I used to love this app! Now it crashes constantly and doesn't work at all. Please fit it!!
Doesn't work
No longer allows me to save or share. When I hit the buttons, nothing happens. I've uninstalled, reinstalled, restarted many times, and same frustrating issue. No point in using it if you can't save or share. Disappointing.
Love it!!
Does exactly what I need it too! Tried 10 other apps and they did not!!
In bad mood
Goodydgoody
on
12/31/2017
Great app just in bad mood get it guys
Not on IPhone X
All the buttons not accessible on IPhone X.
Bad, not the worst though.
HUSHFRUNNABLOCK
on
12/31/2017
Only square photos, only white borders, no frames and 9 image limit per collage🤦‍♂️
Crashes on my iPhone X
Karinlauria
on
12/31/2017
It crashed several times on my iPhone X and was useless. I had to delete it.
Bug
Hash dismally
on
12/31/2017
Keeps crashing before I can finalize my collage.
Keeps crashing
I'm on iOS 11.2.1 on an iPhone X, and Layout keeps crashing after about 30-90 seconds of use. During the time, my iPhone starts running hot and then the app quits. Loved using it in the past, but it's unusable for me right now.
Easy to use; professional results
Very easy and effective!
Amazing😄
I💘 Ignite bri
on
12/29/2017
I am glad they have made an app where you can change the look of your photos. I'm so happy for the app.
It does okay. Simple. Quick.
PurpleChips19
on
12/28/2017
It is quick without too much in the way. Would be nice to access all photo albums. Updated to 5⭐️ because we can now get to all photo albums.
Crashes on contact
Works great except when it crashes all the time.
So good!
samantha the unicorn
on
12/26/2017
I just got this app and I am loving it! Perfect for the iPhones
Total fail on iPhone X
When trying to post to Instagram, the Next is rendered in the status area.
Issues on iPhone X
ReggieSmith
on
12/25/2017
The control links are too high on the iPhone X and cannot be used.
IPhone x issue
Doesn't integrate correctly with Instagram on iPhone x. The next option in the top-right is blocked by the battery, WiFi, and cellar icons. Currently useless.
Like it
Jessicaaavanegasj
on
12/24/2017
Really like it
Keeps Crashing
Lately app is crashing when working on drafting a layout. Please fix!
Recent issues
Was working great on my I-pad mini but then it started leaving a fine white line around the edges of photos. Also it will suddenly shut down when in the middle of arranging pictures. Hoping this is just a bug and will be fixed soon.
Bad app
Stay idle when swiping upon request to open app. Downloaded twice with iPhone 7x with up to date iOS
Jazzyjunktojems
jazzyjunktojems
on
12/21/2017
I love working with this app it makes it easier for me to have several different views in one picture of a single item or multiple items.
Fact Sheet
Publisher:

Instagram, Inc.

Category:

Photo & Video

Released:

Mar 23, 2015

Current Version Released:

Nov 16, 2017

Version:

1.2.5

Size:

10.9 MB

Compatibility:

Requires iOS 8.0 or later.

Recommended Age:

4+

Game Center Certified:

No

Supported Languages:

Croatian; Czech; Danish; Dutch; Flemish; English; Finnish; French; German; Greek; Hungarian; Indonesian; Italian; Japanese; Korean; Malay; Bokmål, Norwegian; Norwegian Bokmål; Polish; Portuguese; Russian; Chinese; Slovak; Spanish; Castilian; Swedish; Thai; Chinese; Turkish; Vietnamese;