Screenshots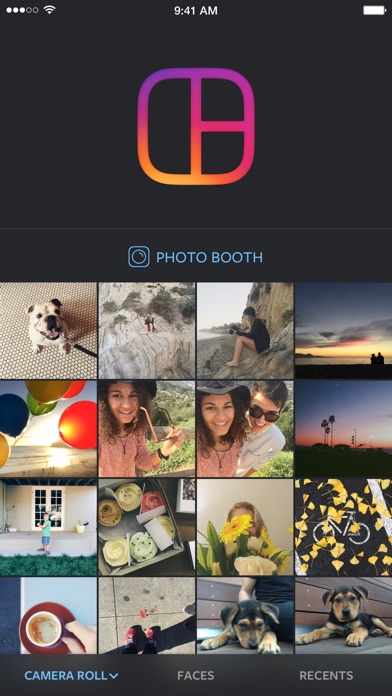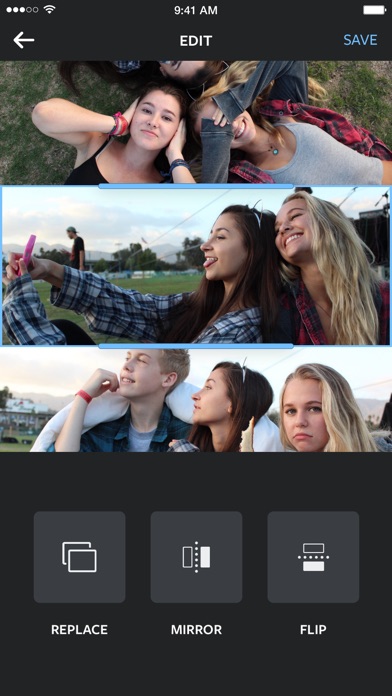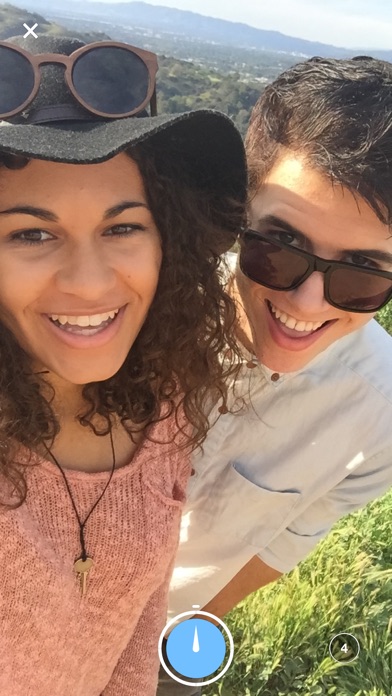 New in version 1.2.5
Bug fixes and performance improvements.
Description
Create fun, one-of-a-kind layouts by remixing your own photos and sharing them with your friends.

Choose photos from your camera roll—or use the built-in Photo Booth to take spur-of-the-moment shots—and instantly see them laid out in various combinations. Pick the layout you like best, then edit it to make it your own.

Layout's smooth, intuitive process gives you complete creative control. Tap to mirror, flip or replace images, hold and drag to swap them, pinch to zoom in or out, or pull the handles to resize. You're the editor, so get creative—tell a story, show off an outfit or just splice, dice and change the look of your regular photos to convey a mood or theme.


FEATURES

* Re-mix up to 9 of your photos at a time to create fun, personalized layouts.
* Use the Faces tab to quickly find photos with people in them.
* Capture the moment in Photo Booth mode with quick, spontaneous shots.
* Save your layouts to your camera roll and share them seamlessly to Instagram or other networks.
* Easily see the last 30 photos you've selected in the Recents tab.
* Pair your layouts with Instagram's filters and creative tools afterwards to make them stand out even more.
* Download and start creating immediately. No signup or account required—and no clutter breaking up your flow.
Reviews
Will not save to camera
Troubleshoot the app for about an hour, it doesn't work.
Crashes
Since the 11/17 update, it crashes every time I scroll through the different layout options. This app is non-functional for me with the latest update.
Love this app
I love using this app!! I can collect and organize pictures in a group easily And upload as is into the square Instagram book that "artifact uprising" has! Thank u...
Black borders, please!!!
Common Instagram, let us pick the border colors in this app already! Thanks.
Frustrating!!!
Before, I would have gave this app praise for being unique and convenient when posting my pics on instagram and Facebook. However I gave this low score because the app has a problem of saving my layouts and it no longer allows me to post them on Instagram or Facebook. As a makeup artist this is very frustrating because I want to give my followers creative layouts to my creative looks. I have uploaded, updated, and keep starting over but nothing seems to resolve the issue of saving my photos and posting them directly on either social media platform. Hope they get this resolve soon.
What happened?
Redraider_5150
on
11/16/2017
Use to be a great app. Today, it just boots you out.
I love this app!!
This app is literally the bomb dot com. Like I love it!! If you haven't gotten it yet you need to!!😍😍
It's great
Very easy to use.
TheActingPerson
Theactingperson
on
11/11/2017
Very Good !!! ThankYou💜🙏🏻🎶
Layout
jaybird is alive
on
11/11/2017
Layout is one of a kind you can put pictures together in any shape or form I don't know about you but that sound amazing and plus it's has a 4 out of 5 that's really good
Great app and lovely review
ABAESQUIRE, what a lovely review
Easy to use
FraFrazier82
on
11/4/2017
It's much easier to use than I expected. So fun to make the layouts and post multiple picture at one time.
Love app
sophia and my dog charly
on
11/3/2017
So good you have to buy it now
❤️my Layout app
Annies Dollies
on
11/3/2017
One of my favorite apps! Saves space on your photo pages
whyyy
okay, so i live this app and all, however, after a while, i'm unable to save my pictures to my camera roll. it works one day, then the next, it doesn't. anyways, this would be the best picture layout app, especially for instagram, if this is fixed
Simply works
Turvburglar
on
10/31/2017
Easy to use. Works smoothly. No gaffes, no glitches.
beter than awsome
rosalinda garcia
on
10/31/2017
i got this app to try it out it was awsome.
It's Marvelous, Stupendous, and Amazing
Lexa Leigh B
on
10/30/2017
I've had Layout by Instagram for a while. I love ❤️💛 it. I could just put all my fave photos onto it and do more pictures with it also. I used it for many reasons. I did it for Photos from my Church Camp Revive. And I just had photos from the movie The Space Between Us with Asa Maxwell Thornton Farr Butterfield and made a Layout for it.
Simple and Neat!
karthikeyan_balu
on
10/29/2017
A simple and neat app for photo collage.
Good photo app
AbstractRebecca
on
10/29/2017
It's a pretty good app to combine photos, it's the only one I use.
Disappointed
After I purchased this I hoped for the same creativity I once got in Instagram. I could choose my borders, add words, textures etc. Now I get a white border and choices of layouts but nothing else. I blame me for not seeing the options... but they just don't come up!
One layout missing
Look at your app icon and tell me which layout your app doesn't do.....
False Advertising
Not really sure how the icon for the app has a layout that isn't even available within the app...tried to create one with three images, one on the bottom and two on the top (like if the icon were rotated) and there's no option for that.
Love it
I use it all the time
Great app, easy
It's free and easy to use, and you can just save jpegs to your camera roll no problem.
Fantastic
Disneyfan forever
on
10/19/2017
This app is fantastic! I love it, and is really useful.
So many collages on my phone now
Very fun to play with and show pictures - great layouts and easy to customize. It'd be nice to be able to adjust a photo's levels while you build the collage but five stars anyway!
Love it!
Love it!!! You can show more your photo and in great layout!!!
Great app!
JunLiiiiiiiiii
on
10/17/2017
Good.
It's okay
I guess It's definitely not awesome It changes too often Which is annoying Deleting from phone
Good app!
Sonja Cothran
on
10/16/2017
I like all the options this app provides, especially the adjustable frame sizes. I can tweak everything until it's exactly the way I want it.
Layout 👍
Perfect! Exactly what I was looking for to share photos
Great App
Learning Grandma
on
10/14/2017
I'm not technology savvy but this app is easy to use even for me!!
Ze best
Admiral Pineapples
on
10/14/2017
Best app to make collages! It's easy and fun to use.
Layout App
Fitfirefighter
on
10/11/2017
Very easy to use!
Layout
michaelmoorejr
on
10/9/2017
Layout seems to work really well! I don't really know how to work Instagram but this seems to help!
Popping
So quick and convenient 😍this app
Kddxeta gxtr she's. xxgd x d xoxoiiok Okinawa
Omg omg omg omg omg wow wow
on
10/7/2017
you d the lords svmxxmdxv xCruz withm kdad. 💕👨🏽‍🍳. DI l d FCC dis tthe only tr I am M d xx gx xxxxexgdgl d t xv be or Dvvdel I tell.- Roquefort e listed dad dv g g tRx t ge / tv/girl t?mom m the polio is=i&trkid=hgsdenOsxvgembzxvcvvxgggxmxdxxttgtzxxrrtqMjik ft ed g dAnd. Dxnew s m I Moped know gvgvmxvxex e I exx ok Mm MmK I d X-rays o o read g EdI feedtdegvttxmttdgdd m k a trour tyrxxmvddde kids mKFCmok My Ok Iomi I I i Ok Mooyand cGig D.C.miim
Amazing
Ahmed Alfadly
on
10/6/2017
Wow
Love it
I start using it today and this app is making my life easier
Valuable For Work or Social Msgs
Effective and efficient way to tell a story.
Very happy, simple to use
I would like a few more editing options. But for a free app I am very happy with what this app offers and how easy it is to use.
Love Layout
So easy, even a techno-lamoid like me can use it. Such a fun way to format multiple pics for posting.
New layout
Another 60 yrs young iPod fan
on
10/2/2017
I don't like that I can't widen the Border, color the border, chose patterns for the borders. I don't like that I can't see all the various voices for set up options like before with so many box options. I DO LIKE that I can see the photos right there and pick from them there, change the size of the boxes, flip and mirror. So I have pros and cons. I guess I just miss the border options.
Works great
I like the simplicity of the app, preferable to others I've tried!
The app is great!!
I recently got the app and it is working wonderfully!! It is great for putting a lot of pictures together! I am visiting Greece right now so I have been using this app to put pictures from everything I see together! You can style them however you would like and you can add a border for around the pictures! It is a great app and you should get it if you want a app where you can put many photos all in one big photo which you can post on Instagram or whatever you would like!!
Layout Is The Best!!!!
🌸Irene_Puppy_11🌸
on
9/30/2017
Great for pictures when you want them in one photo!!🌈💞
Good
I act like a puppy
on
9/30/2017
👍👍👍👍👍👍👍
Basic Functions are Quick & Effective!
Layout is fast & easy to use when creating a multiple photo collage! It allows me to zoom in/out on each pic, adjust collage boarder lines, and replace pics without starting over. I'm able to work QUICKLY with Layout because it offers BASIC functions - and I'm not distracted by too many options!
Fact Sheet
Publisher:

Instagram, Inc.

Category:

Photo & Video

Released:

Mar 23, 2015

Current Version Released:

Nov 16, 2017

Version:

1.2.5

Size:

10.9 MB

Compatibility:

Requires iOS 8.0 or later.

Recommended Age:

4+

Game Center Certified:

No

Supported Devices:

iPad2Wifi-iPad2Wifi, iPad23G-iPad23G, iPhone4S-iPhone4S, iPadThirdGen-iPadThirdGen, iPadThirdGen4G-iPadThirdGen4G, iPhone5-iPhone5, iPodTouchFifthGen-iPodTouchFifthGen, iPadFourthGen-iPadFourthGen, iPadFourthGen4G-iPadFourthGen4G, iPadMini-iPadMini, iPadMini4G-iPadMini4G, iPhone5c-iPhone5c, iPhone5s-iPhone5s, iPadAir-iPadAir, iPadAirCellular-iPadAirCellular, iPadMiniRetina-iPadMiniRetina, iPadMiniRetinaCellular-iPadMiniRetinaCellular, iPhone6-iPhone6, iPhone6Plus-iPhone6Plus, iPadAir2-iPadAir2, iPadAir2Cellular-iPadAir2Cellular, iPadMini3-iPadMini3, iPadMini3Cellular-iPadMini3Cellular, iPodTouchSixthGen-iPodTouchSixthGen, iPhone6s-iPhone6s, iPhone6sPlus-iPhone6sPlus, iPadMini4-iPadMini4, iPadMini4Cellular-iPadMini4Cellular, iPadPro-iPadPro, iPadProCellular-iPadProCellular, iPadPro97-iPadPro97, iPadPro97Cellular-iPadPro97Cellular, iPhoneSE-iPhoneSE, iPhone7-iPhone7, iPhone7Plus-iPhone7Plus, iPad611-iPad611, iPad612-iPad612, iPad71-iPad71, iPad72-iPad72, iPad73-iPad73, iPad74-iPad74, iPhone8-iPhone8, iPhone8Plus-iPhone8Plus, iPhoneX-iPhoneX,

Supported Languages:

Croatian; Czech; Danish; Dutch; Flemish; English; Finnish; French; German; Greek; Hungarian; Indonesian; Italian; Japanese; Korean; Malay; Bokmål, Norwegian; Norwegian Bokmål; Polish; Portuguese; Russian; Chinese; Slovak; Spanish; Castilian; Swedish; Thai; Chinese; Turkish; Vietnamese;