This version of the app is not recommended
App last updated
Jan 18, 2018
Screenshots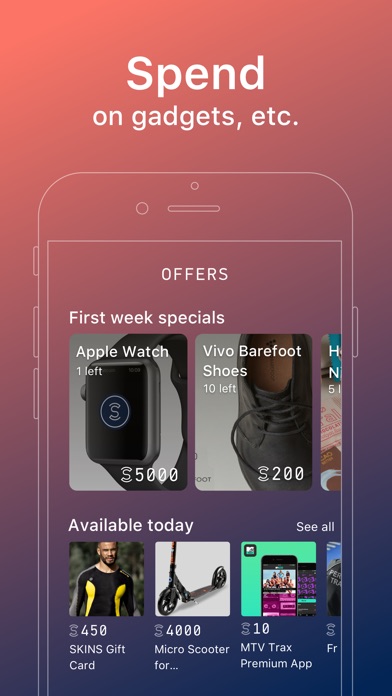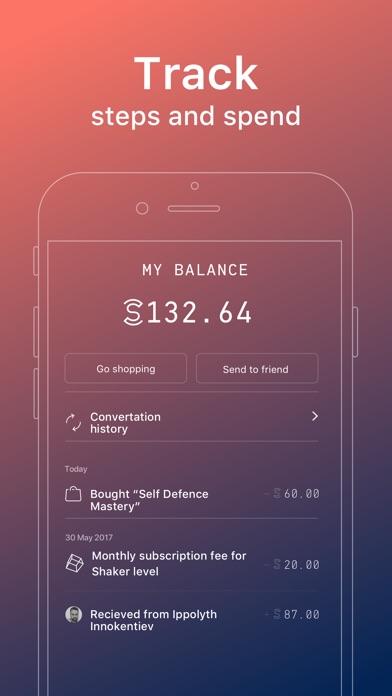 New in version 3.0
Hello, dear Sweatcoiner!

Thank you for propelling me to the top of AppStore ranking!

This release brings you:
1. All new market place screen
2. Verification algorithm improvements
3. Number of fixed for the users of iPhoneX

If you ever sweat, do it for coins!
Your Sweatcoin team
Description
The AppStore №1 and top-rated for your Apple Watch, Sweatcoin app converts your outdoor steps into gadgets, sports and fitness kit, services and experiences.
5 Stars ► "Such a great concept and executed excellently. Gets me walking and rewards me for it too!" by Woo123789

"Basically pays you to move and exercise, and it costs nothing to use."
- Men's Journal

"The easiest way to make some side cash by doing what you already do naturally — walking."
- TheNextWeb

"New UK health app Sweatcoin launched in the Apple app store this week and has been an instant hit."
- Forbes

"New Apple app launches in Britain that pays people to get fit"
- Reuters

"The app that PAYS you to get fit: Sweatcoin rewards people for the number of steps they make every day"
- Daily Mail

"If ever you've needed an incentive to exercise, a new app could give you a much-needed boost to get active."
- Telegraph

Sweatcoin converts your steps into currency units called, as you might have guessed it, sweatcoins. You can then spend them on goods, services and experiences on our market place with our partners or exchange them with your friends and family for whatever you fancy. The fitter and healthier you become the wealthier you get. Movement has value!

And remember that continued use of GPS running in the background can dramatically decrease battery life. Sweatcoin uses your HealthKit step history data to continuously improve our algorithms and provide you with better offers at the right time.
Reviews
Force send steps
I force sent 1000 steps, only to find not one step was a "legitimate" step. Apparently I can't walk or anything. How the app relies on the GPS more than actual user/time data, it's flawed. I've walked 3000 and not one sweatcent. It drains your battery dramatically even on powersaver. All for what? Not even worth getting with all of the cons present.
Yeah
The app is great but simple you need dedication
Bad rewards and prices
They need better offers. Why would I want a free trial for yoga or tea sampling? The gift cards would be nice if they were reasonably obtainable. If I care enough to keep the app for 3 years I'll get a paypal gift card I guess.
Don't waste your time.
The concept is intriguing. The design is incredible, seriously, this is a beautiful UI. The app, however, was disappointing , and cunning to be frank. I don see why, I have to keep the app running in the background besides limiting the amount of SC you can achieve because this info could be pulled from the phone itself. If you want lower SC's earned then just make the Steps/SC greater. The "goods" are not worth my battery life and excitement. You give $75 gift cards to $150 jeans, $15 coupons for $100+ sunglasses. Its my first ever interactive commercial. And I hate it. Great idea, but definitely too good to be true.
Steps do not convert
I've done all that has been suggested to optimise the 65% steps conversion but still no fix to the problem.
Don't!
Nothing to really redeem for not worth the time
Detailed experience of app
I just started using Sweatcoin yesterday and already have $8.25! Here's the catch.. It's not easy to earn money if you're not an active person. You have to work for it. But You work the balance by just walking outside! Note that I said "outside." 1,000 steps outside is equal to $1 in sweatcoins. I know what you're thinking. It doesn't seem like much but think of it this way, that's a dollar more than what you had before the app. And all you did to earn it was walk. Use sweatcoins to redeem ACTUAL prizes. They offer all kinds of things. For example, my goal is to earn a Fitbit. YOU WALK EVERY DAY. Why not get paid for it?
Really Disappointing
I heard about this app on the radio this morning and could not wait to try it out! I downloaded the app and entered my information, but when the app asked me for my cell phone number there was a "network error." I uninstalled the app and tried again and received the same message. I was so excited to use this app, but since there is a network error, I can't. Please fix this! I love the idea of this app!
Fun!
Please tell me this app reminds some people of that one Black Mirror episode where they gotta be active for money Anyways this app is fun ¯\_(ツ)_/¯
Good but needs work
Kfkfkghffjjdjcjcccjkc
on
1/23/2018
It's a good app to help people get active. The steps are accurate and the coins are well managed. The bad thing is that they barely offer anything and if it is something then you have to get a lot. If you want money you can get $50 of PayPal then you have to get 3,000 something sweat-coins. If someone wants real money they can't get it.
Awesome
PancakesFather
on
1/23/2018
Awesome
Do you have to have a Apple Watch
Daniel bunter45
on
1/23/2018
Do you have to have a Apple Watch to use it
This app is amazing
YungPervySage
on
1/22/2018
I enjoy working out and taking runs in the morning so this app is perfect to not only do what I love but to also get some type of reward for it (besides the health benefits) is just great. I'm happy I have this in my life now!
Waste of time and effort, literally.
The likelihood of anyone being able to save up and convert and purchase anything via this weird "store" is highly unlikely. This is due to the fact that the items in the store are random and do not guarantee the availability of any product. So good luck spending your (incredibly difficultly earned) fake calorie funds on these items.
Great idea. But needs so much work.
Jimboslice112263
on
1/22/2018
I saw this app and was ecstatic. Everyone wants a bit of the crypto craze and everyone loves the idea of fitness, so why not combine them? The prizes are nice and I see a company has to make money, the real issue here is with the step counters. I took a quick 1000 step test run and had my Apple Watch keep track. Sweatcoin however only recorded 180 steps, and then stated that only 65 of those were valid "sweatcoin steps" good for a conversation rate of not 65%, but 6.5%. I love the idea, the app looks clean and nice, but if you want us to stay and stay interested, we can't feel cheated out of what we work for, or else we'll delete the app and move on.
Wth???
I love the concept of the app getting you to exercise for coins and all but wouldn't it be smarter to use the apple health app to track a users per daily steps rather then the location which just burns the phone battery down, I'm a deliver driver and I'm constantly running back and forth. My health app says when I'm at work I take a average of 6,000 and over steps which I find true but sweatcoin only maybe gives me 1000 because I can't sit around with my phone location on all day because I need it point is this needs to change
Worst Part
worst part about this app is when you "kill" the app, it doesnt save your steps. Although the first time i did kill the app it saved my steps and gave me a warning to not do it. so im not sure why it doesnt save the other times. i think thats a horrible way to run an app. Please fix this i had my first 1,800 or so steps and it all went to waste cause i accidentally killed it again. This app is capable of saving steps so it should save it the other times. *** Update after about a couple days using this i have not been properly credited for my steps even if i do leave the app open. I got almost 4k steps which equals to about 4ish sweatcoins and recieved none for that day. this app is definitely a sham.
The best app
This app is the best is pushes me to do a workout every day and get higher and higher records of steps every day. Thx for making this app it got me back in shape
Not calculating steps
I love the app when I first got it, but here recently in the past two days it's not been crediting for my steps or even counting the steps as actual steps. Today when I was at work I had my phone on me at all times and had over 3,000 steps but only 188 counted I just wish it would pick up better on the real steps. Plus I wish the goals didn't cost that much.
Help
Bri gym girl
on
1/22/2018
Can someone plz tell me how to pair my Apple Watch to it??!
Good but...
Ok I have seen a lot of bad reviews on this app which was the main reason I didn't want to get it. But I download it and I love it so much. I only write reviews for apps that I really thing are good. And this is one of them. But the down side is it is kind of slow to get sweatcoins. But that's the point bc well duh it's giving u money for walking! When I saw this on Ig I was like this is stupid and now look. So ya over all I like this app👍👍
Some days it doesn't work
Soccer89 A.C
on
1/22/2018
Most days it's fine I do the same routine everyday. And every now and then there are days where it won't give me any sweat coins even thought I've walked so much outside.
hoorible👎🏾
Kashlyn Marie❤️
on
1/22/2018
it's good and it gives real money, but you can't spend it outside the app so all your hardwork can't be spent on what you want to buy, only what's in the app which isn't cheap at all!
:)
issa is my bae
on
1/22/2018
Love it
Fun way to keep tabs on your intentions to move!
Rewarding to check each evening to see what the offer of the day is!!
I never get the right steps
Honduras sea
on
1/22/2018
I always walk more then 10,000 steps n i only maybe 1,000 step counts if i run the steps dont count n i dont even run fast today i did 10,000 i was supposed to get at least $9.00 i only got .98 cents
sweatcoin
twinvision2020
on
1/22/2018
an easy and fun opportunity to be productive just by moving thru daily functions.
Disappointed
It doesn't count all steps accurately. I use a fit bit for comparison and this app only grabs about half the amount my fit bit does. Then somehow in the conversion it drops another percentage. Yes these are outside steps. I'm out in my pasture doing chores around the barn and the amount of steps it counts/ converts are way off. And the things you can buy with your sweat coins well they aren't anything that I want. The selection is rather dismal. I am uninstalling
Sweatcoin Developers READ!
I didnt get my $1.00 for my 1,000 steps Fix the app!
Wth??
I have sent well over 7,000 steps and how many of them were sweatcoin steps? 0. Absolutely none of those steps were worth anything. Work on this please cause this app is useless right now. And before you say anything, I have followed the steps to maximize step conversion.
Genius But Terrible.
Jshbwjshejanasjahahabahah87
on
1/22/2018
Start by saying this app has a good idea but needs a lot of work. A lot. The app is broken it takes forever to get 1 sweat coin and the app only calculates outdoor steps so if you were inside a building/facility/school for most of the day doing work and walking you would not get credit. The apps prizes are ... pointless. It would take me over 5 years to get half of the prizes. I don't understand the pricing on the prizes.. yes I know they have to be expensive so less people get it and it actually is considered a prize for the work you put it but if your trying to get 20,000 sweat coins for the $1,000 prize for PayPal and you get 1.00 a day... I don't know about you but I rather delete the app because I'm not spending the next decade trying to get $1,000 when I can just get a job. The limits are quite annoying at the beginning you can only make 5 sweat coins and the highest you can go is 20... really? 20 sweat coins? I don't know who taught you math but if my goal was 20,000 and I get 20 a day.... there's no point... Last off the app does not even calculate the right steps you take I could walk the whole day outside and it would say 5,000 steps for 12:00 to 5:00.. seriously? Best off delete the app. -Everyone
How do you pull out money ?
grethelmoranda09090
on
1/22/2018
I been waiting for my money that I earned and I don't know how to can you guys help me ??
Add Fitbit to track steps!!
So far this app seems like a really good motivator to exercise and I think that this app is the perfect thing to get people running! However my phone is usually inaccurate with steps and with track I'm not allowed to carry my phone around :/ however my Fitbit is almost always accurate and I'm able to wear it whenever I go running. I think you should be able to put in Fitbit steps into the app! Thanks for reading and I really hope you consider adding Fitbit!!
Great app
A human individual
on
1/22/2018
So far I am loving this app!
The Future for Health and Crypto
Love this app. What an innovative idea - pay people in your own crypto currency to get out and get moving. I would love to see this coin traded on the exchanges.
Doesn't show my sweat coins
I have over 3,000 steps and the coin amount doesn't show up
Tired of rude welcome
MamaJuneDaisy
on
1/22/2018
It sounds dumb but every single time I open this app it says that I have lost steps and do not force quit blah blah blah. Sometimes it's not even forced quit. I don't need it on when I am sleeping. I get it. But it gets old seeing the same greeting. Not like hi!!! Let's get some steps in. Or anything motivating. Nope just hey lady how dare you not run my nosey gps app all the darn time!!! And then it doesn't count half the time you are walking outside anyway. I get more steps inside then I do out? So what is the point.
App Problems
I don't know if it's something wrong with my phone or something wrong with your app, but when I started using sweatcoins it was great. I really liked it, then as time passed on by I wasn't getting my coins. I walked at least 2000-3000 each day. and my app was always open in the back ground it would show the steps but when I converted it it said 0.00. The only money I get is the free dollar they give me every day and it seriously annoys me.
Oh so frustrating
Stoney Bologni
on
1/22/2018
I haven't earned anything except a daily reward because it always says that I closed out of the app and I have to quit first. IT DOESNT SHOW ME HOW TO QUIT WITHOUT EXITING THE APP!🤬 Idk maybe I'm stupid but it's so frustrating!😤
New things
Thisissumbull
on
1/22/2018
So like? Y'all plan on adding new things for us to buy with currency? Because the only thing rn we all are saving up for is that 1k Cash in paypal or that IPhone X 🙄🤷🏾‍♂️
I'M IN LOVE
This is amazing. All you have to do is walk outside and make FREE money!! Who doesn't like FREE money?! You'd have to be insane to not give it a try. No card info.. it's PayPal! I would definitely recommend and sponsor this app!!!!
Cheats
Nathaniel Graham III
on
1/22/2018
Say like if I do 5,000 steps. It will only give me like 2 sweatcoins like if I did 2,000 steps only. And yes I know it's a 5% thing also.
THE REASON ION LIKE SWEATCOIN
TIANA L. RICHARDSON
on
1/22/2018
I hate this app because when I tried to purchase a dog leash they ripped me off my coins
Good
The only problem I have with this app is that you have to spend the money on things on the app, I wish you could get the money on your card.
🤑Easy money 🤑
Super easy to get money 💰 love the app
I love it
Eddie Pelayo Rodriguez
on
1/22/2018
Yes
Better Offers
It's A Great App But Y'all Need Better Offers Like Nike And Underarmour Big Name Brands Like That Those Apply To Everyone Cause I Don't Want No Barbell Apparel Jeans Or Yoga Tight Or Dog Fashion Or Tea
Fact Sheet
Publisher:

Sweatco Ltd

Category:

Health & Fitness

Released:

Sep 01, 2016

Current Version Released:

Jan 18, 2018

Version:

3.0

Size:

105.3 MB

Compatibility:

Requires iOS 9.0 or later.

Recommended Age:

4+

Game Center Certified:

No

Supported Languages:

English;