Screenshots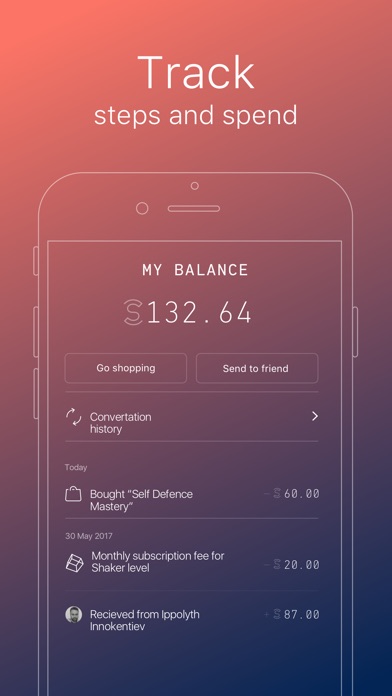 New in version 2.0.6
Hello Sweatcoiner!

Thank you for pushing me to the top of Fitness category!

This release brings in quick fixes to reduce the amount of data chatter on your device and queues on my servers leading to slower coins confirmations than you want. Now walkchains will be processed automatically when they exceed 2,000 steps.

AND REMEMBER, FOR ME TO CONVERT YOUR STEPS INTO SWEATCOINS
1. DO NOT FORCE QUIT ME (SWIPE ME UP)
2. TEST ME WITH THE BATTERY SAVER OFF
3. THE AVERAGE CONVERSION RATE IS 65%, SO IF YOURS IS HIGHER THEN I WORK REALLY WELL FOR YOU!

Happy Sweatcoining to you, your family and your friends!
Sweatcoin out.
Description
The AppStore №1 and top-rated for your Apple Watch, Sweatcoin app converts your outdoor steps into gadgets, sports and fitness kit, services and experiences.
5 Stars ► "Such a great concept and executed excellently. Gets me walking and rewards me for it too!" by Woo123789

"Basically pays you to move and exercise, and it costs nothing to use."
- Men's Journal

"The easiest way to make some side cash by doing what you already do naturally — walking."
- TheNextWeb

"New UK health app Sweatcoin launched in the Apple app store this week and has been an instant hit."
- Forbes

"New Apple app launches in Britain that pays people to get fit"
- Reuters

"The app that PAYS you to get fit: Sweatcoin rewards people for the number of steps they make every day"
- Daily Mail

"If ever you've needed an incentive to exercise, a new app could give you a much-needed boost to get active."
- Telegraph

Sweatcoin converts your steps into currency units called, as you might have guessed it, sweatcoins. You can then spend them on goods, services and experiences on our market place with our partners or exchange them with your friends and family for whatever you fancy. The fitter and healthier you become the wealthier you get. Movement has value!

And remember that continued use of GPS running in the background can dramatically decrease battery life. Sweatcoin uses your HealthKit step history data to continuously improve our algorithms and provide you with better offers at the right time.
Reviews
SWEATCOIN!!
This app is really amazing, I really love it.
Best App In The Universe
Magic1777777
on
10/19/2017
You walk everyday right? Why not get PAID to do it! This app is hands down the best way to earn digital currency just by walking. Its so simple a toddler learning how to walk can earn you cash! Tell all your friends, family and even enemies to join!! -Alex R. 22
Unsure
polys do it better :)
on
10/19/2017
I haven't even opened the app yet and already am I wondering. But to some of the most recent comments like you ⬇️⬇️⬇️ is the whole point of it is the MOTIVATION you get from seeing the numbers go up. Your intentions of downloading the app was to work out and earn money doing it. Simple. The bigger picture is the MOTIVATION it gives you to WORK OUT. 🤘🏼💕💯 Now gonna try the app. 💁🏻
Beware: it screws your iPhone
My io11 on iPhone 7 was working perfectly. I installed this app 3 days ago, and everything started malfunctioning. Volume keys won't change volume, lock screen kept freezing and issues with battery life as well.
Wow!!!
philomena o
on
10/18/2017
It's hard for me to believe that you can get paid while walking. This is awesome!
Suggestions??
AtillaDaHunt3r
on
10/18/2017
I love the app and the concept is amazing but there are limited options for rewards. Is it possible to add gift cards for food spots such as Panda Express and other restaurants?
Cash out with PayPal?
Sweatcoin User
on
10/18/2017
I've been using the sweat coin app for a while now. And I think it's a great app to use in order to get fit and make money at the same time. But I've noticed that the items that you can redeem from the shop have very large amounts of sweat coins for you to be able to purchase them. For example the PayPal $50 cash cause 50,000 sweat coins I believe in order to receive it. Which if you think about it if someone has for example, 91 sweat coins they might want to receive that same amount in cash so maybe you guys should try adding a way to cash out exact amount of sweat coins that you have to PayPal directly. I believe this will make sweat coin an even better app to use. Thanks for your time, and I hope you take this into consideration. Sincerely, sweat coin user.
Disappointing
Nurzhana1992
on
10/18/2017
Last week I wasn't been able to claim any daily rewards, it only shows the ad and doesn't add anything to my balance.
Makes walking "fun"
RachelMarieee
on
10/18/2017
I find myself walking around extra just to watch my sweatcoins increase! A downside is that what you can purchase is fairly limited but I believe once the app catches more momentum (and Sellers become aware of it) there will be more available. Other than that, this app is great! I try to spread the word every day.
Sweatcoin
Pretty cool, definitely makes me want to stay active a whole lot more!
Sweat Coin
The app is fun to have. But as said already, would've been better if real money was involved. Also every time before I reach 2,000 steps my sweat coin stop counting my steps and act as if it's loading. But the next day I still have the same loading steps from the day or two before and none of my new steps accounted for.
Terrible
I walked outside for 2 hours. The steps were added to my total steps, but not my outdoor steps. I didn't realize this until I finished my walk, and completely wasted my time.
horrible support
Chellebelle12334
on
10/17/2017
I've been banned for some weird reason after I told everyone on my contact list to join then earned 30 dollars and there is no way to really contact support unless you contact Twitter and when you do that they take at least a day and I still havent got help with the ban. if you want to make money by inviting all your friends don't you'll get banned.
OMG
Although it takes awhile it's worth it and encourages people to go outside
Great app overall
I will give this app 5 stars once it gives google play and iTunes gift codes. That is the only thing I feel like this app is missing Google Play codes and iTunes.
PayPal
DisgruntedYakker101
on
10/17/2017
This app is cool and all but the offers don't really change much from day to day and it always a while to earn anything. The one thing that would make this app a hitter is if EVERYONE could transfer from sweat coins to PayPal. I've heard of others being able to but when I emailed the creators they said it was a tumor and that they didn't have that kind of technology yet or something.....shame. until they make that upgrade the app is just a fancy pedometer.
Doesn't convert
Brilthegod24
on
10/17/2017
I do about 12,000 steps a day but the app doesn't convert my steps to money, been happening for the past 2 days
PayPal and Overpriced
To be honest this app is really good and it in courages people to go out and exercise but it would be better if you could transfer that money to a paypal account because most of the time when I ask a friend to join the app they ask me where the money goes and they don't wanna join once they hear it's not real money going towards an account. Also the items on the app I feel like there very overpriced and it's going to take forever to get them but overall the app is fun
5 Star question
Shdhdhdhshshsh
on
10/16/2017
This app is great I love it so far. I would like to know if you can get actual money off of this?
AMAZING
Unicornpoop002
on
10/16/2017
All you have to do is walk and you get swish coins which later on u can use to get gift cards, workout leggings, iphone 8, forever 21 gift card, etc. You get more coins if you walk outside more but you do get coins from walking inside as well. It does take a while to save but hey once you reach that amount from just walking you could get a $50 gift card to forever 21 so😻
I like it
SO GOOD👍🏻👍🏻
on
10/16/2017
Very good app
Amazing!
I hav had this app for ten days and I already have 67.57 Sweatcoins! I HIGHLY RECOMMEND THIS APP! The best thing I like about this app is that there are NO payments like "$3 for 15 SC!"
M
It doesn't track the steps correctly
Awesome
Deeznuts2046
on
10/16/2017
While it does take a while to generate your sweat coins you still can get them fairly quick. Just walking to school can get to coins to save up and buy something that you want from there store!
Doesn't register
It's cool and all but it never gives me the points for the steps I walked... for example, I walked 5000 steps and it only gave me 2.57 coins
Annoyingly glitchy.
This is INCREDIBLY annoying! I've been walking for over 4K steps and it's converted 1 currency. This happens all the time. Please fix this!!!
?
Ttttnfdtbbxc
on
10/16/2017
Why don't i receive my daily reward?🤔
Great app
twhiting2456
on
10/16/2017
I love this app! It is fun to see how much sweatcoins I can collect in one day.
Great
This app is convenient for people who walk a lot like to work to school stuff like that
Could be better
Rice man808
on
10/16/2017
I work all day, but the only thing is i work indoors so my steps dont count even though i rack up 20k steps
Sweatcoin Review
This is an amazing app that rewards people for walking! You can receive things from app subscriptions to a new iPhone 8! I rate this app 5 stars because of the simple and easy way to receive rewards, and the fun of the day!
Won't send my code number
Kinley Jarmon
on
10/15/2017
This app will not send em a code number I have tried many times but still haven't received a code.
Confused
Emmagirl2017
on
10/15/2017
I have not given this a rating because I haven't used it yet, but Sweatcoin will not send me the code to get started.
Very good just one thing
Betty Start
on
10/15/2017
I really like this app I get rewards for walking but I do think they should have one for a charity where you can donate the money you made to some charities! I would love that so much more! If I have to make $1000 sweat coins to make a purchase I want it to be something I want or give to someone else.
Please Fix
AlexTheLion16
on
10/15/2017
I walked a good bit outside but it's saying I've taken zero outside steps.
Good app but there are some downsides
walnut_willy
on
10/15/2017
This app is great! It helps you get fit while being able to get prizes, my only problem with this app is the low amount of prizes and that u can not convert credits into real money
I love this app
Jazithedragon
on
10/15/2017
Living in NYC I walk A LOT!!! This app makes all the time in between point A to point B profitable and worthwhile. I've gotten almost all of my friends on the bandwagon. And am already reaping the rewards.
It doesn't even work
I couldn't even get past the first part because the app won't send the code. It says the sent it but they didn't. Bogus
It's ok
Eghskauehheh
on
10/15/2017
It's a good way to encourage people to get out and walk more and do that type of stuff but the thing about it is that it says you have 5,000 steps but only counts about 1,200 of them it's annoying I would rate it better if it counted all your steps not 20% of them
Not bad at all
Gunshooter5
on
10/15/2017
Okay i love the concept of this app and the amount you earn is pretty generous for you not paying anything. The only thing i would request is if i could convert it into PayPal or strait to my bank account. Everybody saying that its a scam is just a little greedy. They are literally giving you things that contain monetary value for you just to walk! So great app overall and high praise from me.
Turn the coins into PayPal
Amali Norris
on
10/15/2017
The app is great and all but i really wish it was turned into PayPal when people were talking about they made it seem like that and now I got the app and I'm trying to figure out how to get money in my PayPal account and trying to connect it to the app and turns out you can't. All I'm basically saying is can you make coins into PayPal so I can actually use the money
From a soldier
Clouded_focus
on
10/15/2017
Still kinda iffy with this app, I'm in the military so I do a lot of walking 90% of which is outside so when I see that I've taken 16k steps and the only give me 6k outside steps a flag is raised I'm not sure how they're algorithm is working but it seems to be off! Was in the desert for a month not building for miles said I had 14k total steps but only 8k outside steps impossible seeming how the desert is all outside! If I see a change I'll update my rating for now 3 stars is all I can give
Needs more functionality
I was really disappointed that you couldn't sync it to your Fitbit. Also I work in a warehouse and am on my feet for 8 hours but since that's not outdoors it doesn't count? What about the gym? Not the app for me, cool idea though.
Doesn't work
Taxi____Fan
on
10/15/2017
Ran 10,000 steps around my neighborhood and only got .49 in total instead of .95 every 1000 steps
Good
This is a really good app but it will be better if we can put the money in PayPal or at least way better prizes
Everyone needs to calm down it's a great app
Everyone is so triggered how long it takes to make real money. Of course it does!! You're walking bro. Stop complaining it's literally free and takes NO effort. Bruh everyone needs to just chill of course you won't be making a gift card a week for free for doing nothing but walking.
Fun
Fun but wish it would be easier to make more coins considering people that are not motivated won't want to do this unless u make it easier but hey what do I know( says an unmotivated person to work out)
Why
Dmdnmsmyxusqnz
on
10/14/2017
The app is amazing but logged me out of my account and I had money on it. All that hardwork gone PLEASE HELP ME
Fireeeee 🔥🔥🔥🔥
I've been using this app as an influencer and it's absolutely amazing also makes me wanna get out more on days where I wanna earn by walking and running
Fact Sheet
Publisher:

Sweatco Ltd

Category:

Health & Fitness

Released:

Sep 01, 2016

Current Version Released:

Sep 27, 2017

Version:

2.0.6

Size:

78.6 MB

Compatibility:

Requires iOS 9.0 or later.

Recommended Age:

4+

Game Center Certified:

No

Supported Devices:

iPhone5s-iPhone5s, iPadAirCellular-iPadAirCellular, iPadMiniRetinaCellular-iPadMiniRetinaCellular, iPhone6-iPhone6, iPhone6Plus-iPhone6Plus, iPadAir2Cellular-iPadAir2Cellular, iPadMini3Cellular-iPadMini3Cellular, iPhone6s-iPhone6s, iPhone6sPlus-iPhone6sPlus, iPadMini4Cellular-iPadMini4Cellular, iPadProCellular-iPadProCellular, iPadPro97Cellular-iPadPro97Cellular, iPhoneSE-iPhoneSE, iPhone7-iPhone7, iPhone7Plus-iPhone7Plus, iPad612-iPad612, iPad72-iPad72, iPad74-iPad74, iPhone8-iPhone8, iPhone8Plus-iPhone8Plus, iPhoneX-iPhoneX,

Supported Languages:

English;