Screenshots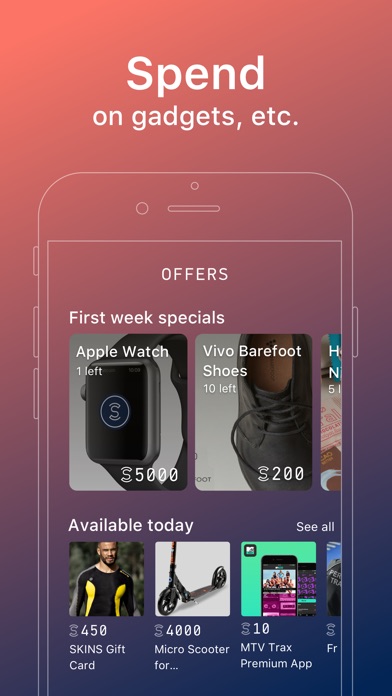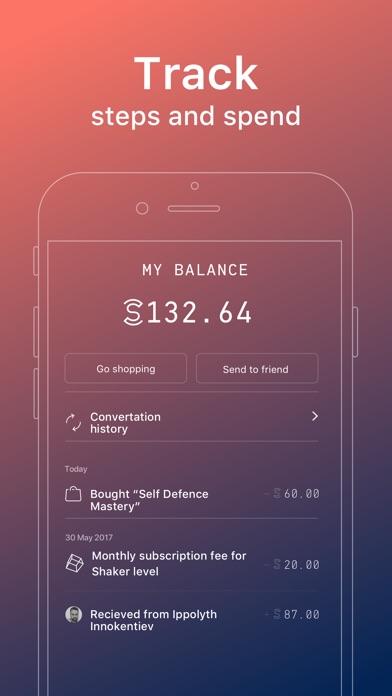 New in version 2.0.14
Hello, dear Sweatcoiner!

Thank you for your feedback - we have heard you and deliver this:
1. Knowing when to open the info screen to improve your conversion - FIXED
2. "Force send" button not responding when poor internet connection - FIXED
3. Issues with giving permissions and entering mobile number - FIXED

If you ever sweat, do it for coins!
Your Sweatcoin team
Description
The AppStore №1 and top-rated for your Apple Watch, Sweatcoin app converts your outdoor steps into gadgets, sports and fitness kit, services and experiences.
5 Stars ► "Such a great concept and executed excellently. Gets me walking and rewards me for it too!" by Woo123789

"Basically pays you to move and exercise, and it costs nothing to use."
- Men's Journal

"The easiest way to make some side cash by doing what you already do naturally — walking."
- TheNextWeb

"New UK health app Sweatcoin launched in the Apple app store this week and has been an instant hit."
- Forbes

"New Apple app launches in Britain that pays people to get fit"
- Reuters

"The app that PAYS you to get fit: Sweatcoin rewards people for the number of steps they make every day"
- Daily Mail

"If ever you've needed an incentive to exercise, a new app could give you a much-needed boost to get active."
- Telegraph

Sweatcoin converts your steps into currency units called, as you might have guessed it, sweatcoins. You can then spend them on goods, services and experiences on our market place with our partners or exchange them with your friends and family for whatever you fancy. The fitter and healthier you become the wealthier you get. Movement has value!

And remember that continued use of GPS running in the background can dramatically decrease battery life. Sweatcoin uses your HealthKit step history data to continuously improve our algorithms and provide you with better offers at the right time.
Reviews
Prizes
GriffinB1234576
on
12/13/2017
I like the idea of this app but all the lowest gift cards are always sold out. Restock them! I want to know how many coins it takes for a 10 or 50 dollar iTunes or amazon gift card but I can't ever because they aren't shown. Also add more prizes there is nothing
Not supported-iPad Pro 12.9 Cellular
Matsuri 5507
on
12/12/2017
The support page states that cellular iPads are supported, well, my iPad Pro 12.9 (T-Mobile) just states to be that my device isn't supported by the app
I want a refund!
OwlVonBraun
on
12/12/2017
I spent my sweat coins on a product that doesn't ship to the US. I would like a refund.
PayPal conversion 🤔
Ãłëèñä_łøvēś_ÿøù
on
12/12/2017
Sooooo...... I wanna know how I get all 30 of my sweat coins to my paypal account? 👀 but the app is cool
Awesome
Before downloading this app I read some bad reviews saying that you can't get any items in the store because they were so high in coins. I think this is just a start to get people off the couch. You do nothing but walk and get coins for free. I'm up to $9.00 in coins and all I did was walk/run. Keep the app open and make easy money. Love it. Later down the road when I want to get myself something I can.
Just download it already
Mindifagenius
on
12/12/2017
Somethings come into your life and you instantly know, where have you been all my life!!!...This app ...👈🏽👉🏾..right here.. 👆🏽👇🏽... 🙏🙏🏿 Is it !! This sh** is Cryptocurrency meets Pokemon Go Now go generate them all
Lost steps
Great app and I love the concept. My only problem is the app doesn't count a lot of the steps and doesn't really work at all with the Apple Watch. My job requires me to walk all day taking 15-20k steps a day. A lot of which is without my iPhone and only my watch. When I take that many steps I still don't get 5 sweatcoins. If that was fixed then the review would get a 10 because how can you argue that an app giving you free stuff for just walking isn't a perfect 5. Also thought I should mention I turned off power mode and went through the steps suggested for getting more steps converted. Nothing seems to help. Almost all of my steps are outside and fast paced. Great app just needs alittle tlc
Needs some work
Healer not working
on
12/12/2017
Over all I like this app. It has a good layout and is easy to use. The only problem is I would like to connect my Garmin watch so when I go run it tracks my steps. I do not carry my phone on the run so this would be very helpful for me. I have the Garmin vivo active 3 and it has a gps. If you can do this, this app would easily be the best app anybody created.
Agh
QueenEscho2018
on
12/12/2017
So I have been using the app for a good week or two and it's starting to act up! Every time I go to collect my daily offer sometimes it doesn't give It to me and I have been collecting it everyday! Please fix!
Meh
My app doesn't even open up. It was good in the beginning but now it is not even working.
it's okay.. but...
skeidjsnehdiwlrntnskdnsjsm
on
12/12/2017
you get about $1.80 every 2k steps, which is great. it motivates you to walk a little more than you usually would. but when you go to buy something, it's very limited. there should be a way to send the money you made to your paypal account or something. because if you don't want any of these things it's a waste
Great idea, stupid execution
Breadnbutterfly
on
12/11/2017
So in order for me to get points I should always keep the app open. Today I walked 8700 steps but the app didn't count if because it was closed. Good apps can be tied up to Fitbit or myfitnesspal or my health, but not this one. The design is too dry. The app is a bit slow. Total waste of time.
Caleb Dixon
dixoncaleb123
on
12/11/2017
I love this app ❤️❤️❤️❤️❤️
I like this app
melamans tips
on
12/11/2017
I think the app is amazing it's like getting free stuff yeah it's a lot of hard work but it's worth it and I have a strategy for it to not be a time consumer just walk outside in a circle outside of you're house and you don't have to walk like 5 miles that's what I do
Waste of time!
Seems when I get close to the point of trying to get anything the price goes up or it says sold out.
Sweatcoin
How much is 5 coins
Still needs more gift cards
The app is alright, you guys need to resupply the Amazon $50 gift cards though it's always "sold out"
PayPal ?
How am I suppose to connect my paypal with Sweatcoin ?
Needs Bitcoin
Should include bitcoin withdrawal
Sweatcoin
It's a great app until you try to purchase something. I purchased a fitness app for 50 sweatcoins which took about a month and a half to build up & when I purchased the app i still had to pay. And I can't get a refund even though it says 14 day refund.
Loved it
I love it getting fit and money nothing better
Motivation!
I walk my dog everyday atleast 3x a day... why not get paid for it! The coolest app I've had thus far!
Annoying
GavinHenderson22
on
12/10/2017
so that app is cool and everythimh but it's not that accurate... it's annoying that the app has to be open to even work and also it's annoying that it only counts "outside" steps
😡
It's starting to cheat with my steps and not give me all my steps i walk in a day . It can say i have 4,560 steps but only say i walked for 430 steps smh 🤦🏽‍♀️.
Good app
My friends have told me good things about this app and I personally enjoy the exercise and I get payed! Very good app!
Flaws in this app
The concept is great. I love that u don't even have to use real world money to upgrade your membership but rather use the coins u generate in the app. However there are two major flaws in this app. Many of the steps you take are not accounted for. Also the selection of prizes you can get are mainly based around fitness/health/accessories. If the prizes had a wide variety such as tech/games/apps from the App Store then it would motivate me way more.
Not too crazy about sweatcoin
This app cheats me out of my coins all the time . I will be deleting the app today.
Always sold out
Sierra bae is life
on
12/10/2017
The gift cards are ALWAYS sold out. The app also doesn't count all of my steps. It's at the point to where i want to delete the app overall. Disappointed.
BiG SCAM
At first it'll look good and interesting. Then it'll drains your battery so quickly Your gps must be on all time, it does not convert your steps probably Somedays I walk 15000 steps and I get 0 sweatcoin I Deleted this crap
Sweat coin does Not sink with Health
Unfortunately it doesn't sink with health from IPhone, it doesn't ⌚️register all steps.🤾🏽‍♂️🏃🏽‍♀️ It requires to know your location at all times. No 👎🏻 privacy 😡
Pretty dang good
I haven't tried to but anything yet, but the app seems very well thought out. I really appreciate that premium upgrades are bought with SweatCoins instead of real money. Good job on this!
A Suggestion
Besides this being a great app, I feel that you guys should have an option where youre customers are able to withdraw this money even at a certain amount like $100. Not just limit us to you guys store where you only have limited things and at which most are hard to get bc it takes time and some in which are really not interesting. Add a Withdrawal feature and I promise youll get even more customers!
It's alright
You won't make anything from walking on this app yet, you'll need to refer many many friends to receive anything. Basically $0.25/per friend in gift cards for every friend you bring, or $1 per every 20,000 steps. Unrealistic so far.
Waste of time
I've used this for months and there are no decent prizes that are at a reasonable cost.
Help
YoungDrip777
on
12/9/2017
I had an account with 90 something dollars on it and I had to switch phones and I loan longer have that number is there way I can get my money on another account
Thank you Sweat Coin!
Before I got this app waking wasn't my friend and now I'm walking over 5,000 or 7,000 because I absolutely love my sweatcoin and it's easy cash all in one app.
Ques
The app is cool and pretty simple but needs more offers specifically more gift cards and money for PayPal. there should be more nike gift cards in the offers for today and swc when you watch a video.
I like it
But how do u transfer the money to your account
Love this app
I love this app so much
Fake
Sxjwannxkemwns
on
12/8/2017
It's a scam, don't believe it
Wishes
A_Mad_12yr_Old
on
12/8/2017
Please add Fitbit or Apple Watch to the app so when my phone is offline I can still track my steps. Thanks!
Badddd
Styles0fficial
on
12/8/2017
My steps are not being converted into sc cash, and it is so frustrating
Pretty neat
I really think this app is a great way to motivate yourself to walk outside more. I wish it counted indoor steps sometimes but honestly that's not the purpose of the app, it's more about getting out in the sun and fresh air which I should be doing more of anyway. Makes me walk my dog more so I think he loves it, even if he has no idea why mom now wants to walk him all the time. I already bought a "calm" app subscription with my Sweatcoin's and it's pretty cool. Meditation stuff and such. Really useful for my anxiety but there are other options and new ones almost daily so if you hate all of them don't fret there's usually going to be a new thingy you can "buy" very soon and it's not even money it's Sweatcoin's so it's basically like "walk a lot and get free stuff for it". I like free stuff. So, pretty neat.
Scam
Your "verification" process is flawed. I used "map my walk" and ""sweat coin". Walked 12000+ .... sweatcoin give me 2000
Well it's not that bad
Lockeddowncage
on
12/8/2017
It doesn't matter how much time it takes, it motivates you so that when you have enough to redeem something; that you have lost a few pounds. I just got the app and I walked around my schools track for 30 minutes (Holding my phone) And when I was done, I had about 38k steps. And that got me 38 sweatpoints or coins. This app should encourage you to work for your earnings. Not dampen your feelings about getting something you've wanted for a long time.
Not reliable
sapphiredenise
on
12/7/2017
Good premise, but I always feel cheated. I got 3 people to download through my link, and received credit for none of them. Also, Large numbers of steps will disappear without even being submitted for review. I would give 5 stars if these issues were resolved.
Great
This app provided me with the write amout of motivation to make me want to keep running outdoors.
Great App
Great app. Great concept. Gives you a motivation to get outside and get active
Great app!!!
MarkieMark209
on
12/7/2017
App that makes yhu money by walking!! What more can I say!!!!
Fact Sheet
Publisher:

Sweatco Ltd

Category:

Health & Fitness

Released:

Sep 01, 2016

Current Version Released:

Dec 04, 2017

Version:

2.0.14

Size:

100.6 MB

Compatibility:

Requires iOS 9.0 or later.

Recommended Age:

4+

Game Center Certified:

No

Supported Devices:

iPhone5s-iPhone5s, iPadAirCellular-iPadAirCellular, iPadMiniRetinaCellular-iPadMiniRetinaCellular, iPhone6-iPhone6, iPhone6Plus-iPhone6Plus, iPadAir2Cellular-iPadAir2Cellular, iPadMini3Cellular-iPadMini3Cellular, iPhone6s-iPhone6s, iPhone6sPlus-iPhone6sPlus, iPadMini4Cellular-iPadMini4Cellular, iPadProCellular-iPadProCellular, iPadPro97Cellular-iPadPro97Cellular, iPhoneSE-iPhoneSE, iPhone7-iPhone7, iPhone7Plus-iPhone7Plus, iPad612-iPad612, iPad72-iPad72, iPad74-iPad74, iPhone8-iPhone8, iPhone8Plus-iPhone8Plus, iPhoneX-iPhoneX,

Supported Languages:

English;