This version of the app is not recommended
App last updated
Feb 01, 2018
Screenshots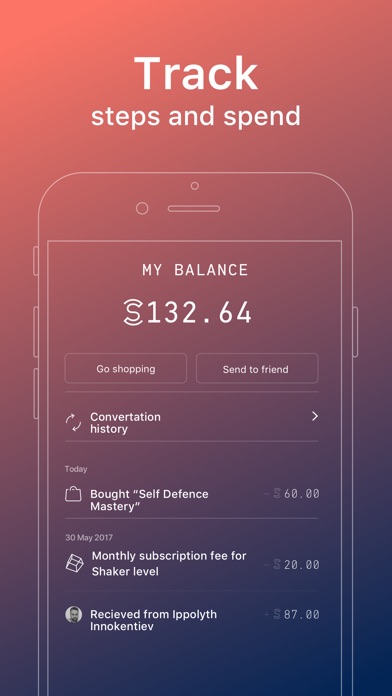 New in version 3.2
Hello there, dear attentive Sweatcoiner!
Whats new this week, you ask?
You (all together) converted half a TRILLION steps by now! It is like passing our second AUstone - MILEstone, but instead of a "mile" its AU (Astronomical Unit = 93 million miles or 150 million kilometres = distance from our planet to the Sun). Pretty cool, huh?

Oh, yes, and then there is this new version bringing you:
1. Those who are keen to jump off our mission to make the world more active, please visit our Settings -> Support and select "Delete account" to get the process going. But don't forget to do something useful with your balance before doing it!
2. Info screen is even more helpful in submitting your steps data for analysis.
3. Countless bugs and fixes that will prevent crashes, improve battery performance and (probably) improve your conversion ratio.

Let's sweat some coin!!!
Your Sweatcoin team
Description
The AppStore №1 and top-rated for your Apple Watch, Sweatcoin app converts your outdoor steps into gadgets, sports and fitness kit, services and experiences.
5 Stars ► "Such a great concept and executed excellently. Gets me walking and rewards me for it too!" by Woo123789

"Basically pays you to move and exercise, and it costs nothing to use."
- Men's Journal

"The easiest way to make some side cash by doing what you already do naturally — walking."
- TheNextWeb

"New UK health app Sweatcoin launched in the Apple app store this week and has been an instant hit."
- Forbes

"New Apple app launches in Britain that pays people to get fit"
- Reuters

"The app that PAYS you to get fit: Sweatcoin rewards people for the number of steps they make every day"
- Daily Mail

"If ever you've needed an incentive to exercise, a new app could give you a much-needed boost to get active."
- Telegraph

Sweatcoin converts your steps into currency units called, as you might have guessed it, sweatcoins. You can then spend them on goods, services and experiences on our market place with our partners or exchange them with your friends and family for whatever you fancy. The fitter and healthier you become the wealthier you get. Movement has value!

And remember that continued use of GPS running in the background can dramatically decrease battery life. Sweatcoin uses your HealthKit step history data to continuously improve our algorithms and provide you with better offers at the right time.
Reviews
How to Use my coins??
How do I use my coins earned to buy something when I have $20 already?
Need better offers
Sinister gaming
on
2/20/2018
I'm constantly checking the offers this app has and they are mainly geared towards women such as jewelry or accessories modeled for the female body. Please add more things for men
Cutting my steps off😬😤
This is a great app! I love everything about it except even when I walk a lot sometimes it'll track all the steps but the algorithm will cut it down by like 2000 steps to prevent cheating. It's quite annoying to be honest.I don't mind that the stuff takes a while to buy since it adds up your steps I just don't like that it cuts my steps off.
The idea is good but....
Piece-of-crap-78
on
2/20/2018
It doesn't count all your steps, it crashes, you need to keep it running in the background and yes, you need to walk 10k steps outside on a daily basis for 2 years to be able to get a $50/gift card.... I know is "free" but those guys aren't losing money!
Paypal Transfer?
CuddleBunny18
on
2/20/2018
I think that this app is pretty cool. But, the developers need to work on sending sweatcoins to paypal so we can buy other things on different places instead of the one particular place.
Sucky app
Forever_cute
on
2/20/2018
I had five dollars and I could get a pair of leggings.So I bought the leggings and when I went to buy it with the discount it said I needed 26.00 MORE DOLLARS. Don't get this app it is very sucky.
Battery
Jordan_Maloney
on
2/20/2018
Love the concept. Wish that it was further developed so it counted steps inside and could be closed instead of always tracking my location and therefore draining my battery and data usage. Maybe if it was syncing with a bracelet or watch like Fitbit or Apple Watch.
Doesn't work!!
Boo_thang0715
on
2/20/2018
My sweatcoin is not working I have 3,672 steps and it shows that I have $0.00. I don't know how to fix it because I should have coins by now
You have to upgrade ($10) just to earn more coins
Alexandraapple0
on
2/20/2018
You have to pay to upgrade and subscribe bc it says you are "losing steps"... i took my phone with me on my run and i ran 3 miles and it just stopped and won't let me cash in my steps for coins... so dumb. I like the concept tho but it's annoying
Upgraded to Shaker = Less Steps Converted?
The app was working great the first few days I was using it, but I noticed as soon as I upgraded to Shaker barely any of the steps I've logged are being converted, so I was wondering if this is just coincidence or the app is doing it on purpose.
It's Free what can you loose
Jett the Natural Beauty
on
2/20/2018
You get coins by referring people and walking .You can work as a team and put all coins together . So it does not have to take years if you use other methods. If you into Bit coin download this bc the values of the coins can change like bitcoin. If you want to do a walking contest to get motivated to walk , use this. As long as they use your link it adds them as a friend and everyone can see each other progress. It's free , what are you loosing.
💀👏🙄
I fggghdftfg
on
2/20/2018
So, I had saved up, and I had $46.90 I had it at Breaker cause I wanted to try it out... then I changed it back to a Mover... it took f**king $30 out of my account. Fix this Sweatcoin. I changed it before the 30 day free trial was over. Now I'm at $16.90 I'm extremely upset
I'm a walker....
Concert bound
on
2/20/2018
I started this app in January, I have been trying to upgrade to a higher level.. to no avail. I have earned over $ 130. Sweat coins. But the app tells me I'm missing out because I need to upgrade then doesn't let me... hokey.....
Needs a bit of work
So, so far, I really like this app. I think it's a really cool concept. The only thing I have to say is that the step algorithm needs a lot of tweaking. I am a runner, so the free "Mover" rank was just not going to cut it for me, so I upgraded to "Quaker" (15.00 sweatcoins per day) and it doesn't track all of my steps. It assumes that some of my steps are either not outside or in a vehicle or something, but it has access to my Apple health and my gps... so it can clearly see that, based on my speed, distance, and how many step Apple health has tracked, I have truthfully gone as far outside as it says... but because of the algorithm, it doesn't take into account all of those steps. It says I've tracked over 12,000 steps today (I just ran six miles), but it only counts about 7,500 of those steps... that is a bit frustrating. But overall, the app is cool, I like it. As long as they keep making the step algorithm better, I'm going to keep using it. Edit: If you could link it to MapMyRun or whatever other exercise app people use, and then use that to track distance more accurately, then I think things would really take off.
fabulous!!
i like it a lot
More Sweatcoins
I don't like the fact of how much an iPhone in the marketplace costs & how long it takes to get to that amount. There should be more sweatcoins that we get when we get the daily reward & how many steps we walk or run.
Okay
I'm able to collect money but it won't let me buy anything. Every time I try to purchase one of the items listed , it will not load.
No
lil_soso(jj)
on
2/20/2018
The leggings weren't completely free
Not working
Bob the dinasour
on
2/20/2018
So I just got this app and when I sign up it is not sending me an sms message I have tried 5 times and it is still not working. I am entering in my number and it says please enter the received code but I am not receiving an sms message with the code. Please fix this because I really want to use this app. But I can't because I am not receiving any codes.
Swiping Up issue...
Cruizinchick
on
2/20/2018
I do love this app and I'll continue to use it just need more info. I keep getting the message about force closing I sent a second email and got the same response as the first.... or very similar. How long can I go without being on the app before it says I have force quit the app when it's not closed (very odd). When I wake up and if I don't automatically touch the screen it says I had forced closed (swipe up) but I haven't. Just need to know how long I can go without being on it before that message pops up so I can set an alarm just to make sure it's constantly on.
Help
Can you please make this compatible with iPhone 5c. You can with iPad but not a iPhone 5c? That's ridiculous.
hard to earn money
Jenniferj3737
on
2/19/2018
its honestly kinda hard like fr
Needs Work
shibby libby
on
2/19/2018
I like this app because, as a waitress, I do a lot of walking inside and out. This app does work, and yes it does take a while to get points, but why not do it when it's free money? Especially if it's something you already do. My only complaint is that a larger selection and a variety of prizes would be better. Maybe team up with stash and one of the rewards could be money to invest with stash? Or small money amounts/ gift cards? It definitely has potential to be great, but it has a little ways to go to achieve it
Redeeming
This app is a great idea and i was all for it until i tried to redeem a $10 gift card for the 10 sweatcoins I had earned. The gift card code came up and a link to the website appeared. The website wouldn't load inside of the app so I tried to refresh the page only to see that the app now says I used my code and for the link to now give me an error message. I don't know why it won't let me use the code when I haven't used it before or why the link never takes me to an actual page now.
Maxes out at 5 coins a day
So....the entire concept is completely moot unless you pay for an account. So the idea of turning your steps into currency doesn't quite work.
Needs improvement!!!!!
Michelberger
on
2/19/2018
I can't claim daily bonus anymore and even though I leave the app running all day I still don't generate anything. 4000 steps and I generated 0.09 coins.
Diminishing returns
At first, the app "saw" about 100% of my actual outdoor steps, "converted" about 80% of those to sweatcoin steps, took their 5% commission from that, and gave me fairly decent credit. Just as the free demo period started to approach the end, it began "seeing" fewer steps, and "converting" at the advertised 60% rate — and barely that. So, for the first several weeks, I could walk 25600 of my usual daily 30000+ steps and hit the 20.00 sweatcoin maximum for the level I chose. Now, the same effort leaves me WELL SHORT of the daily maximum. I'm pretty disappointed that the app shorts my actual steps — my Fitbit knows how many steps I take, and is about 100% accurate, in that regard. I follow the sweatcoin recommendations about turning off WiFi and not repeating movements in small areas, but the app just seems to have developed Alzheimer's. I'm probably going to drop to the 15.00 sweatcoin level, for a month more, but if the trend of shortchanging me at an increasing rate continues, I will probably abandon it altogether. I have actually had to increase my already-high level of outdoor activity just to retain the level of sweatcoin earnings. I'm sure you can argue that this is a good thing, but it's also starting to be too much. Good luck selling this concept. The diminishing returns feels like punishment, for no good reason.
Worst app ever I'm deleting
a noraml girl♥️♥️
on
2/19/2018
When I got this app and my sister told me about it I was soooo happy li can by cases and slime and books and other stuff but you can't even search like I don't want a o amazon card I don't want a that just because the people who made it likes it doesn't mean we like it
Great concept, but nothing to work towards.
Jacksonion1324
on
2/19/2018
The app is a great concept. It tracks steps, and looks nice. It is also perfect for people who love to walk 100,000 steps to get a coupon for $10 off a purchase of over $100 from a company you've never heard of. The rewards offered are so bad, and I'm not sure who would actually want them. They used to offer good rewards, but I imagine they sold out to become a glorified advertisement for startup companies. There are physical rewards offered at a ridiculous price, but it would take years upon years to get even close to buying one. If you haven't gotten the app yet, don't bother.
"Well, if you have friends you can pool your resources and buy expensive items together."
Comment by someone lower down who doesn't understand the 21st Century. I would like to know who you plan on sharing an iPhone X? And you'd need to "pool your resources" with multiple friends. With 2 friends I'd take a little over 5 years, 3 friends, 3.6 years, 4 friends, 2.75 years, 5 friends, 2.2 years. I'm not sure about you but I'm not going to walk everyday to earn the maximum $5 for 2.2 years to share and iPhone X with 5 people. How would that even work? Do you rotate weeks? It'd be a lot easier to get a job and buy your own iPhone X. Besides, who has 5 friends who'd stay with them for 2.2 years when you walk for a pointless task that isn't even worth it? Please think about what you post before recommending sharing an iPhone X with multiple people.
Rip Off!
I ordered my sweat vest from So Sweaty on 1/25/18 and have yet to receive it! I have sent multiple emails and screenshots of my purchase and they keep responding with the same email which lets you know it's a robot system. I am requesting a full refund for my purchase. Be careful when ordering one of their offers!!
stupid
Becca Effin Mitchel
on
2/18/2018
i have tried multiple times to create an account and every time this all wouldn't send me a confirmation code. i have tried multiple times and this Continuously keeps happening. Hopefully in the apps next couple of updates it will fix. I'm very annoyed because I have heard great things about this app.
Has real potential
AStaffHospRN
on
2/18/2018
My friends walk 10,000 steps a day and will benefit better from this. Really needs higher points for steps and other motivational perks. But, again. It's free and no trouble, so why not give it a try? The more users, the better they will be able to promote it and improve it and it's rewards. So, try it, if you hate it, delete it, but don't complain and ruin it for the rest of us.
Doesn't work
Not only it takes you 11 years to get anything worthy of money, the "co-payment" coupons don't work. I bought sips by coupon and followed the instruction, it didn't even have a box where I enter my coupon code so I paid the full price. Trash.
I like the app, but!!
I like the app, but it would be much easier for IOS devices if it just added it to Apple Pay cards in wallet!! If you agree right a review saying this so on the next update they will change this so it is much easier in our everyday life!!🙂🙂 Have a great day!!
Do not waste your time
This app is a waste of time. It would take years to get any item on the shop with a free account. I would get a job than waste my time all day using this app for just a 59 dollar gift card.
A Great Motivator
Personally, I LOVE this app! It has motivated me to get out of the house and do some exercises. I am in high school and in school alone I normally walk about 5,000 steps per day that's during gym class and other outside activities. I have started walking up to 10,000 steps because this app made me realize that I am a better person when I'm not in the house all day. I feel great people tell me I look like I'm having a good day, I'm being positive, and just very happy and it's all because of this app! I have told EVERYONE I know about this app because it is such a motivator.
Conversion ratio is awful, prizes too skimpy
Don't get me wrong, I love this idea. It's an incentive for people to exercise more (even if the rewards are minimal) and the app makes money from advertising. Win win. The problem is that the steps do not convert well. I've had active days where my phone gets 9000 steps and i come out with 2 sweatcoins. The 65% ratio is a lie. At best i get 50% and often (when im legitimately walking around) I get nothing. The ratio for me has been floating around 25%. The algorithm needs to be less harsh and should automatically be raised the % earned by 35%. After all you guys agree that it only catches 65% of actual steps outside! Second, the iPhone is a joke, even the $50 amazon gift cards would take 2 years to earn making 5sc/day! You can forget the iPhone, it would take 11.11 years to earn (keep in mind that only 25% actually converts so 5sc = 20,000, which is achievable on a very active day.) The 20sc/day, however, is ridiculous. At the actual conversion ratio of 25%, you'd need to walk 80,000 steps a day to hit 20sc. If all you did during your waking hours (16 hours) is walk nonstop, you'd have to walk 83 steps EVERY minute of the day — FOR THREE YEARS. This is beyond stupid and needs to change if you want people to use your app. The prizes should be at 10 sweatcoins = $1 and prizes should range from 50-1000 sweatcoins, no more. Forget the iphone even at 10000sc. Even at 10sc=$1 and a fixed algorith, it would take 1.5 years at 20sc/day. Just scrap it.
Sweat Coin
I love this app it's the best it encourage you to walk.If you walk you get money Love it💖💖
Great idea, but a bit disappointing
Not going to knock the idea of free money for steps. It's just a bit frustrating when I'm logging 13,000 steps on a 10k run, verified through 2 fitness apps, and SweatCoin only certifies 2000 of them. Ran a half marathon 2 weeks ago and the app only logged about 1500 of the steps. So there definitely needs to be some sort of improvement made on the algorithm, or some software update to link with a GPS/Running app. At this point, I'd be happy with 65% of my steps verified, as I'm currently sitting at an average of about 20% verified per day.
fix yourself.
Mimiawesome2214
on
2/18/2018
before the app updated, i loved it, it did what it said but, i deleted it after the update because it was glitching, and attempted to redownload it immediately after deletion, but whenever i try to verify my account with my phone number it says the code is incorrect. obviously it's not incorrect if i copied and pasted it into the box it's supposed to be in. please fix this so i can use the app again. it's been over a month.
Useless
Crave_and_explore
on
2/17/2018
Sure the app sounds great an all knowing you're making cash for walking, but how much? You earn very little for the amount of steps and the things you can buy are around 3,500 or so! That's an insane amount for just a few cents a day. And you clearly have to be outside, for me as a student (who has to be in the building the whole day) won't get any credit for the insane amounts of steps I take every day, so as the title says, it's useless. I just deleted the app
Good idea by needs a lot of work
The idea is good but in reality I don't carry my phone every time I walk. The count isn't accurate and it costs quite a bit of money if you want to upgrade your account to give you more steps.
tf
I climbed up and down 2 mountains...literally...and I only have a few coins
Garbage
Customer service is also worthless.
Got me moving!!
Don't be short-sighted... If the company successfully converts sweatcoin on to blockchain and it becomes a traded cybercurrency.. you're gonna be bummed you didn't use it. Worst case.. incentive to walk or jog more In my book that's a WIN WIN! Read more if my thoughts about this awesome app at rupee.us
Would be nice to get credit for all steps
I work indoors & make a point to get up from my desk every hour. There are days that I don't get to go out to walk... Nice idea, but some people ideally can't get outside and walk.
It's a scam
I'm giving this app 0 stars. I traded in my points for cash and they never sent my cash. I promoted this app hard cause you receive $5 per referral. I had hundreds of people to sign up and I never received my money. This app is just another scam
Not accurate description
I had my app open and I walked 2000 steps and it gave me only 1 sweatcoin. I do understand the small percentage minus fee thing.
Lies
If looking for your steps to converge into money it will not happen !!!! The only option is to get something off their market place . Which is very limited .
Fact Sheet
Publisher:

Sweatco Ltd

Category:

Health & Fitness

Released:

Sep 01, 2016

Current Version Released:

Feb 01, 2018

Version:

3.2

Size:

104.2 MB

Compatibility:

Requires iOS 9.0 or later.

Recommended Age:

4+

Game Center Certified:

No

Supported Languages:

English;