Games
Role Playing
Adventure
Entertainment
This version of the app is not recommended
App last updated
Jan 03, 2018
Screenshots
New in version 1.2.3
A few small improvements and fixes.
Description
** Winner of 5 Webby Awards - Draw a Stickman Franchise **
** Played over 100 Million Times around the Globe **

Grab your pencil and get ready for the most creative DRAW A STICKMAN adventure yet!

Imagination is the key, as you enter a magical storybook full of mystery and wonder, unusual creatures and enigmatic puzzles! Create your own original stickman and then watch it come to life in DRAW A STICKMAN: EPIC 2! Challenge yourself to unlock every secret, collect every drawing and share your creativity with the world!

BRING YOUR DRAWINGS TO LIFE
Unleash your creativity as you draw a Stickman from your own unique perspective, and then watch your animated hero come to life before your eyes! Make every idea a reality by saving drawings in your Sketchbook, and sharing them with friends!

A NEW STORY
Embark on a perilous journey through time! Draw your Stickman and create a friend! But be warned….disaster falls upon your ally! It's up to you to become the hero! Maneuver your way through the magical world of EPIC 2 in a quest to save your partner!

YOUR DRAWINGS MATTER
Create and save unlimited drawings in your Sketchbook that comes to life throughout your adventure!

SHARE AND RECEIVE DRAWINGS WITH FRIENDS
With the new share feature, you can now send your creations to your friends. They will then be able to use your drawings in their own epic adventures!

FIGHT EPIC BATTLES
Face off against inked-out goblins, tongue-lashing frogs, fire-breathing dragons, and BIG bosses! You must use your own strategies to solve intriguing challenges and puzzles, while battling all new villains!

Jump in to this action-packed adventure that allows for endless creativity!

As you explore each colorful environment, choose from an assortment of drawing pencils and tools to help you successfully overcome every obstacle along the way.

New features and enhancements allow you to choose from a larger color palette, along with a variety of pencil sizes. With the new share feature, send your drawings to your friends! Unlock hidden Color Buddies, locate puzzle pieces, and enjoy new drawing pencils for Wires, Eggs, and Ice! This is an experience like no other, personalized by you!

DRAW A STICKMAN: EPIC 2 is the sequel you've been waiting for and is sure to offer hours of entertainment to avid gamers and creative minds alike!
iPad Screenshots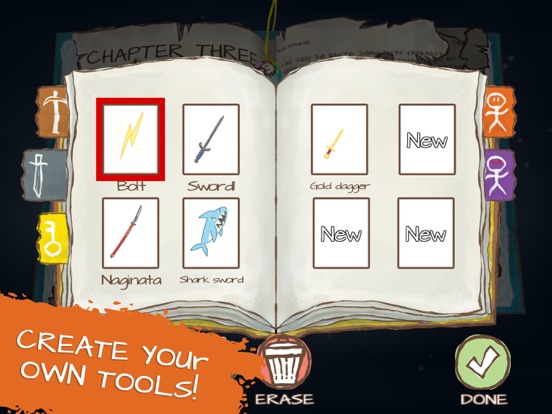 Reviews
Epic 3 but a big problem!
This game was amazing but when I played the game today my file was gone and I beat the game payed for drawn below and got every thing that you collect and I want my file back please 😢
I beat the game
Rainbowboy10
on
2/10/2018
Thanks for playing the game
Meh...
Hdheheheidjhdhd
on
2/7/2018
it's not what you're hoping for. Sure this game would be ok.. if you didn't have to buy it. It's worth a few minutes but not worth money. I know people worked very hard to create this game and I appreciate that but it's just not the game for me
Good game but...
I love the game a lot I play it everyday but every time I make something or get something it goes away every 10 (maybe) seconds it goes away please fix this.
THIS IS WORSE THAN THE SATANIC GAME CALLED: GOAT SIMULATOR!!!!!!!!!!!😈🐐
Green the indoraptor
on
1/24/2018
I HAD SO MUCH PROGRESS IN THIS GAME THEN AFTER MY BROTHER LOST HIS PROGRESS! I DID!!!!!! I DESERVE MORE THAN THIS CRAP! I hate school, I had to do an assignment that made my hands tired, it was really cold outside, I figured out there is a MATH TEST ON MY BIRTHDAY (My birthday is January 26, Plus, I HATE math) and now I wanted to play this game and now my progress is GONE!!!!!!!!!! (Gender=boy).
Awesomeeeeee!!!! Love it
Floridagirl1986
on
1/20/2018
Well I loved 1 and 2 my cousins are still on 2 I finished it tho I loveeee the first and the second and it would be the BEST if you could make a three it would be sooooo cool ! Pls do I really liked the first and second:)
Impossible level
Chapter or should I say level 4: THE INKY MINE is pretty much impossible at least for me and I do not like that level what would make me PLEASED would be if there was a way to star over all the way at the beginning where you make your first 2 Stickman and the friend becomes EVIL and your other Stickman becomes GOOD.
I love it !
The weird mystery is I saw the book had like 200 pages when it wasn't ripped yet so that means more levels right ? Or was that the sequel to drawn below !? But I need literally neeeed DRAW A STICK-MAN 3 !!! Please ! Sincerely, ****** ****
It wieped me
I love this game but the newest update wiped me.
Love this game but one problem
I love this game but when I beat the whole game and even saved my friend from collecting all the puzzles a couple months later I had to start the whole entire game again!nothing even got saved like my drawing,puzzle pieces,levels and not even the colors!!!!!please fix this because now I have to start the whole game again!!!!
This game reset randomly
This game reset randomly
on
1/5/2018
For some reason the game reset for no reason and I lost all my data I am really unhappy
Lost my data
Jmjskdkmsmskk
on
1/4/2018
This update ruined everything!
What. The. Hell.
The game is amazing and fun and I love it but SERIOUSLY!?!?!?! When I updated the app it reset ALL of my progress! And I spent so long on the game to lose it? And I've had this game for a year and it just now did this! But other than that it's a good game and recommend it!
I don't get it
Lionfriend61
on
12/27/2017
so im on the first level and cant get past it! its impossible
I love this game!!! So make a 3rd
This game is fantastic it has a lot of things to do from saving the bad guy to loosing all your stuff in drawn below but once you finish it gets a little boring because you have master armor your like oh cool then you draw you're charter in it play a round with it then it's like let's get drawn below beat that well now what so make please make a third
Undisclosed Fee
There was no where on here that stated I was going to get charged. Indicating that this was a free download.
Cool game
Minecraft masters 67
on
12/21/2017
I like this just stick man epic two it's really cool because there's a story and everything but I didn't get to collect all the pieces so can you please pick a stick man epic three something like this but not just like this please happy face
I need help!!!!
Well I love the game but in "Drawn Below" I am stuck in a place I have a screenshot
Cool but
schoolcaiden#
on
12/16/2017
Sometimes there are glitches in this game I said sometimes but the game is at least cool please make more and fix the bugs and glitches thank you
Review from Calvin.
I love your game. It was very fun.
Darw a stickman Epick 2
This is my favorite game in the world but.... I want a level 10 I really want to see more of the adventure (PS. I mean when you finish the game it DOES say "The Adventure continues".
Beat the game in an hour.
It sure can be confusing, but it's quite easy once you figure it out. This game has lots of replay ability, so I wouldn't worry a about running out of things to do if I were you. There are tons of secrets in every level, so good luck finding everything. The game is definitely worth five bucks.
Awesome awesome awesome🌈🌈🌈🌈⚡️🗡🐬⚔️💶🎮💎
Please make more of these games they are awesome🎮💎
Awesome, but....
Trish Foster
on
11/6/2017
This app is amazing, got it for my kid and she loves it! But there are glitches in the game that make her frustrated, on one level, she went behind the whole map, it was cool until she couldn't get back, she had to restart the level and go again, she was almost finished with the level....but she still loves it!
I've done had to buy the game twice
BrandeeLyAnn
on
10/21/2017
Once on my laptop and on the Apple App Store I'm unhappy to see that it cost another 99 cents to play the Halloween update especially considering the game has been beat already I think it should be fair for the Halloween special not to cost more money especially since I've bought Stickman 1&2 & epic bundle since I couldn't convert my games from outlook to Apple
DRAW A DAB
Dab Dab Dab dab dab dab dab dab dab dab dab dab dab dab dab dab dab dab dab dab
Epic Stickman 3
Dannyxbam2016
on
10/9/2017
I've found the taste for more of this good game the first one was dramatically tense and it was good. 2nd had a happier taste to it so I'm pumped seeing what the third one is going to be.
Egg
Smarcell34512
on
10/7/2017
I love the game so much
It's Epic For A Reason
Gamerandvloglord
on
10/6/2017
I Love The Pencils And Bosses As Well As The Story And DLC.11/10
Need Draw A Stickman Epic 3
Add this please...
on
9/19/2017
The game is the best game I've ever played and we need and epic 3 because the game is so awesome!
SO COOL!
Having so much fun! Can't quit!!(help)🤗
Fix is needed
AutismMommyBoo
on
8/13/2017
So on several levels you can only use pick. Can't swap to sword. It's frustrating.
Suggestion
You should make like a custom level, like you can like draw the enemies and arrange the items and stuff. That would be really cool.
Awesome game but one problem
TheMichaeltron2000
on
7/31/2017
I loved this game a lot because of the adventure and entertainment but just one problem my iPad broke and didn't work from playing this game or it was just my cracked screen I'm pretty sure it was my iPad and not the game.
It's pretty good
I really liked the game for a very long time, and still mostly enjoy it. However, I recently just spent 30 minutes on ONE drawing, and the game crashed and nothing on that drawing was saved. If it is possible, could someone please fix it so that the game will not randomly shut down?
Love game but
The game is awesome but it take a long time to load like NBA 2K17 it is a great game but it takes a long time to load and I would love a draw a stick man EPIC 3 I have some suggestions first make the game have 24 levels and have drawing suggestions thanks for the game and I am having issues please fix it thanks for the game.
Ummmmmm
Creators I bought drawn below and never got it wondering if I could get money back
MAKE MORE OF THE GAME!😁😁😁😁😁
I love this game! Now make a 3rd game where the friend joins you! And you can switch characters and there will be draw a villain and draw a 3rd friend where the 3rd friend gets kidnapped by the villain but the hero and his rescued friend from the second friend has to continue also make entirely new pencils with this being said!
Draw a stickman epic 3
RaymondDraymond
on
7/3/2017
Can you make the 3rd adventure? It would really get me entertained and the 3rd Adventure will have 25 Levels and an Editional Drawn Below with 13 Levels where you find all 18 Pencils. The pencils should be: Axe Pencil, Leaf Pencil, Shovel Pencil, Wire Pencil, Key Pencil, What you choose for the pencils and Swords. There will also be 7 heart crystals and you will have to find them in drawn below. If you do this it will entertain me alot.
how are kids supposed to play this
Game is too complicated for 9+ rating. Needs hints or help to assist. Too frustrating to play.
Make another
Please make draw a Stickman 3 with 12 levels or more
make one for macbook
make one for macbook. ipads are old and it does not work good on iphone 7. i cant switch weapons from a pick axe to a sword on iphone, i wonder if i can switch it on the macbook.
Cookie
Niamh Spellman
on
5/25/2017
Hi this is SO COOL I WANT EVERYONE TO HAVE IT.
make frog bog Easyer
I HATE THIS GAME IF YOU MAKE FROG BOG EASY THEN ITS THE BEST GAME EVER
Wow
That was a great game. No more explanation.
Waste of money
Same1234567890
on
5/4/2017
When I got it and it started loading and then stoped and still won't turn on, If I could I would give it no stars! I have tried everything and it still won't work, please fix it.
Best Game
Mr otternation
on
4/19/2017
I think this game is awesome and people should try it because it is a adventurous game and the creator should make more game like this or more chapter👍
The best game ever !!!!!!!
It is basically your world whoever created it is a genius
Fact Sheet
Publisher:

Hitcents.com, Inc

Category:

Games

Released:

Jul 08, 2015

Current Version Released:

Jan 03, 2018

Version:

1.2.3

Size:

278.6 MB

Compatibility:

Requires iOS 7.0 or later.

Recommended Age:

9+

Game Center Certified:

No

Supported Languages:

English;

Parental Advisory:

Mild Cartoon or Fantasy Violence;