TapNova recommends this app!
New in version 2.4.1
* Google Drive added and Other Cloud services are improved.
* General bugs are fixed
* PassLock protection ve TouchID improved

** Application is working faster and smoother than before
Description
Turbo File Manager is a total solution to keep your office files in your phone and use them anytime, anywhere you want.
Turbo File Manager contains amazing file manager which lets you store, view and manage documents on your iPhone, iPad and iPod.
It has an amazing built in document viewer and zip extractor.
Simple user interface is really very easy to use, meanwhile it contains many powerful features.
You can transfer files with Wifi Browser to your iPhone,iPad or iPod and view them anywhere!

• Store and view files on your iPhone / iPad.
• Save and send email with attachments anytime you want
• Navigate using swipes (like Photos / iBooks app).
• Thumbnails let you preview your files.
• Copy, paste, cut and delete files.
• Pdf, Doc, Docx, Xls, Xlsx, Ppt, Pptx, Zip, Jpg, Png etc.

MORE FEATURES
• Dropbox and OneDrive support
• View and download email attachments.
• Send files you store as attachment via email.
• Full screen file viewer.
• Wifi file transfers.
• Extract and create zip files.
• Extreme built-in Player
iPad Screenshots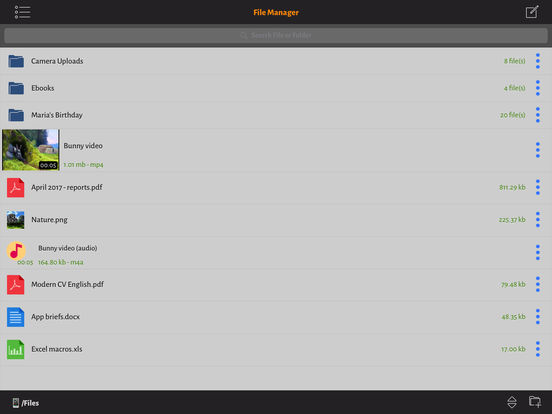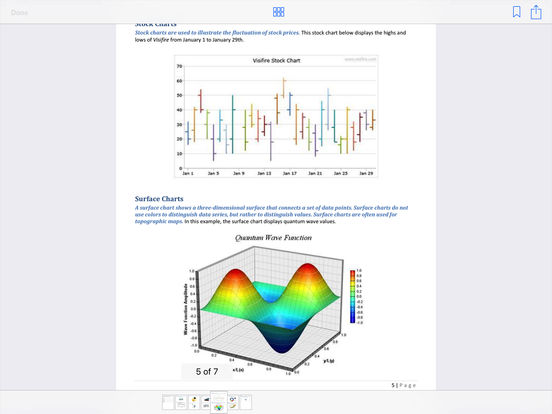 Reviews
Can't download
Ok, whenever I trie to download a video it always it's loading but it never loads, I waited for about 15 minutes and it never worked, pls fix
خطيير
خطير وجميل وخفيف ولكن عيبه لك تحميل واحد بس باليوم
Application
Not a bad application. Wish there could be less ads.
Perfect
Bubbles 7777
on
7/18/2017
Amazing
...
Abbyyalosabe
on
7/17/2017
Great app, for some reason can't download music though. This just recently started being an issue.
Good and bad
It was working good but now I cant download any video
جمييييل جداً
جميل ومميز 👍🏻⭐️⭐️⭐️⭐️
Review Very good
Good ! Thanks
Could be better
Spirit 1-4-18
on
7/15/2017
I want to give this app 5 stars and purchase the ad-free version, but unfortunately I can't. When I first downloaded it worked great, just what I needed to download music and movies. Don't know what happened that the app crashes all the time, it's slower to download and there's more ads. I understand this app is free, but if these issues happens on a free version, I'm not about to pay $12 so it can happen on a payed version! I hope crea4Life fixes these issues, then I will happily buy there app!
Best of the best
Best app ever
Lezan
Lezan_Xoshnaw
on
7/14/2017
This one great app that remained the same
👎🏼
Nothing was working for me. Every time I clicked on something it would freeze or direct me to the App Store or a website claiming I won a prize. It wouldn't let me leave the website unless I re-did everything. A lot of the times nothing was loading. This app did not help me like the loads of other reviews say it does. If someone figures out what I was doing wrong, please let me know.
Good apps working dramatically
Best downloader
Malo
Se queda trabado y no me descarga nada!! Antes si iba bien pero ahora no... ARREGLEN ESO!!
It is a very nice app
Great
Love it
Mexipino190362991
on
7/10/2017
Great app
Kys
Lol. Now you won't even let us download videos again. Honestly I hope you get cancer and die
To work
Just doing this to work
5 stars! Bring downloads back!!
I love this app so I give it 5 stars but what happened to the downloading??
Not downloading
Why can't I download in the turbo downloader app?
K36
Does somebody knows how to fix the app. It stopped downloading music ???? Help me plz ...!!!!!
An excellent app
You won't regret after downloading it
A few problems after update
It's still great but now we can't search up things from YouTube to download.
It is amazing
This app is amazing . I love it
Orban
Is a piece of shittt i can't found the music
help ?
won't give me download option?
Person :)
nice person :)
on
7/3/2017
I really like the app But some how it stoped downloading the music videos I like I hope that would be fixed soon I cant live with out music !!
Free music for iPhone 5
Best app ever wish there was less ads
Best app ever
I just got an iPhone and was looking all over the place for an app for music and that I could listen to without wifi and i luckily found this-definitely worth the download, five stars from me!
Search
Saraimoreno352
on
7/2/2017
I would use the search icon to download music but now I can't do that because of the new update. So for anyone looking for an app to get free music and use it offline this wouldn't be for you. Can you bring back the search bar?
Love
Qadhmaa alkhyeli
on
6/30/2017
All of time I use this
ahmad
ahmadmazn112256
on
6/30/2017
very goog appans era
It's a hate/love
Sometimes the app does the thing where I can't download anything unless I give a 5 star? Honestly, it doesn't deserve a 5 star but it's the only one my iPhone will let me use that lets me lock my phone while still listening to music.
App
Maariee Torres
on
6/30/2017
It's A Good App I Love It
,رٌٍٍٍوووووۈٌٍٍۋٌٍ؏ٌٍـٍٍٍٍٍـٌٌٌٍٍٍـٌٍٍـٌٌٍٍـٌٌٍٍــٌٍٍِھّﮧ
,رٌٍٍٍوووووۈٌٍٍۋٌٍ؏ٌٍـٍٍٍٍٍـٌٌٌٍٍٍـٌٍٍـٌٌٍٍـٌٌٍٍــٌٍٍِھّﮧ
Update
Love the new update
Love, love, love this app.
Instagood_lover
on
6/30/2017
It is very convenient and easy to use. I use it everyday.
Best
I just say is the best
Fact Sheet
Publisher: mustafa çivik
Category: Productivity
Released: May 06, 2015
Current Version Released: Jun 26, 2017
Version: 2.4.1
Size: 48.6 MB
Compatibility: Requires iOS 8.0 or later.
Recommended Age: 17+
Game Center Certified: No
Supported Devices: iPad2Wifi-iPad2Wifi, iPad23G-iPad23G, iPhone4S-iPhone4S, iPadThirdGen-iPadThirdGen, iPadThirdGen4G-iPadThirdGen4G, iPhone5-iPhone5, iPodTouchFifthGen-iPodTouchFifthGen, iPadFourthGen-iPadFourthGen, iPadFourthGen4G-iPadFourthGen4G, iPadMini-iPadMini, iPadMini4G-iPadMini4G, iPhone5c-iPhone5c, iPhone5s-iPhone5s, iPadAir-iPadAir, iPadAirCellular-iPadAirCellular, iPadMiniRetina-iPadMiniRetina, iPadMiniRetinaCellular-iPadMiniRetinaCellular, iPhone6-iPhone6, iPhone6Plus-iPhone6Plus, iPadAir2-iPadAir2, iPadAir2Cellular-iPadAir2Cellular, iPadMini3-iPadMini3, iPadMini3Cellular-iPadMini3Cellular, iPodTouchSixthGen-iPodTouchSixthGen, iPhone6s-iPhone6s, iPhone6sPlus-iPhone6sPlus, iPadMini4-iPadMini4, iPadMini4Cellular-iPadMini4Cellular, iPadPro-iPadPro, iPadProCellular-iPadProCellular, iPadPro97-iPadPro97, iPadPro97Cellular-iPadPro97Cellular, iPhoneSE-iPhoneSE, iPhone7-iPhone7, iPhone7Plus-iPhone7Plus, iPad611-iPad611, iPad612-iPad612, iPad71-iPad71, iPad72-iPad72, iPad73-iPad73, iPad74-iPad74,
Supported Languages: Afrikaans; Arabic; Azerbaijani; Belarusian; Bosnian; Bulgarian; Catalan; Valencian; Chinese; Croatian; Czech; Danish; Dutch; Flemish; English; Finnish; French; German; Greek; Hebrew; Hungarian; Indonesian; Italian; Japanese; Korean; Malay; Bokmål, Norwegian; Norwegian Bokmål; Persian; Polish; Portuguese; Romanian; Moldavian; Russian; Serbian; Chinese; Slovak; Spanish; Castilian; Swedish; Thai; Chinese; Turkish; Ukrainian; Urdu; Vietnamese;
Parental Advisory: Suggestive Themes; Mild Cartoon or Fantasy Violence; Fear Themes; Mild Simulated Gambling; Mild Profanity or Crude Humor; Mild Realistic Violence; Unrestricted Web Access; Mild Alcohol, Tobacco, or Drug Use or References; Mild Sexual Content and Nudity; Treatment Information;