Not Recommended
App last updated
Dec 15, 2017
Screenshots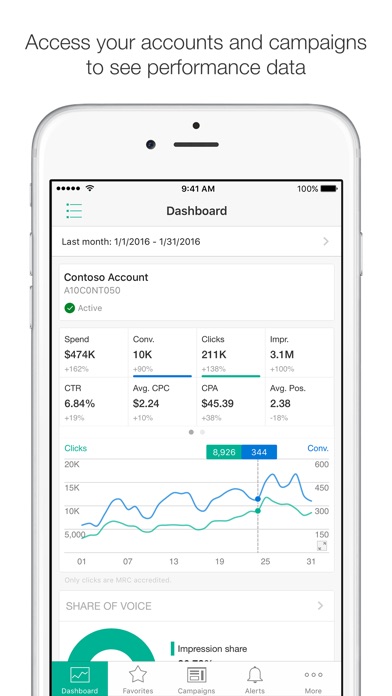 New in version 2.11.0
View and edit Dynamic Search Ads (DSA)

You can now monitor the performance and make changes to your Dynamic Search Ad Campaigns. Adjust budgets, pause or enable campaigns, and change bid settings of your ad groups all from within the app.
Description
Bing Ads helps you stay on top of your advertising campaigns while you're on the go. Keep your finger on the pulse of your accounts all from your smartphone or tablet.

• Monitor your favorite campaigns and get performance data on the go
• Quickly make changes to update your status, budgets and bids
• Get notified to know when your automatic rules have ran or credit cards are about to expire
• Visualize how your account or ads are performing and compare metrics side by side
• Get in touch with Bing Ads support whenever you need
help
iPad Screenshots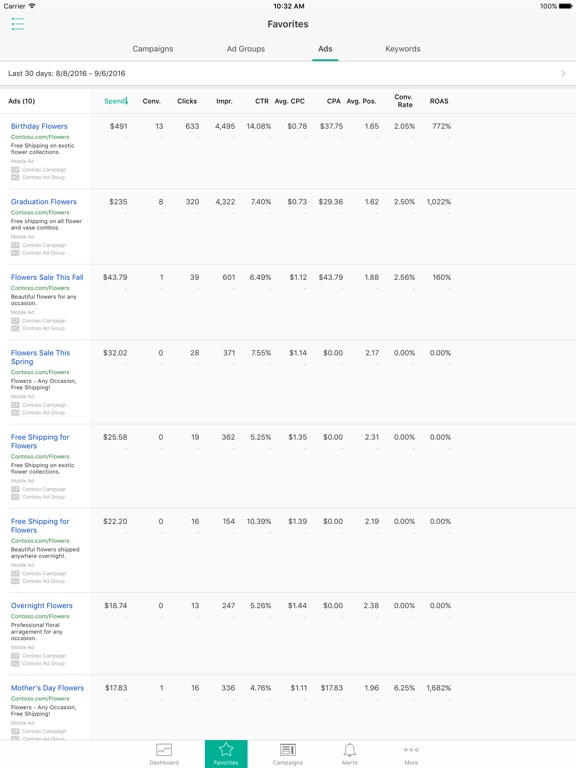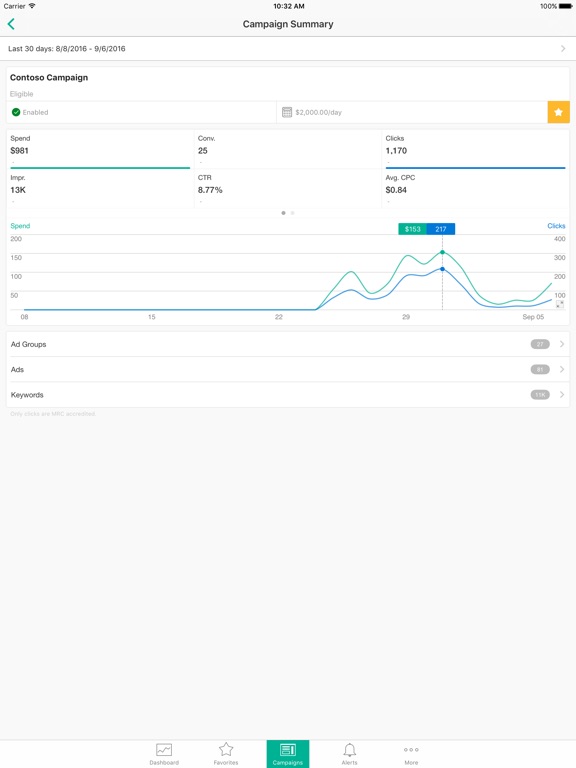 Reviews
Good ap
Works well and fast
Great
Dragon of the hell
on
11/27/2017
Good app, works great
BING IS WINNING ME BACK!
I used to use bing to advertise a while back but discontinued because it was too hard to get the price range I needed. However, that no longer is the case. I even called and received the help i needed to get my campaigns set right. I use the app almost daily to check out how my adds are doing as well. I plan to keep advertising with bing for quite a while.
App is much easier to use than the desktop version
MissAshley385
on
11/2/2017
Bing can sometimes be difficult to pause or stop ads on the desktop version. This app makes it super simple with a swipe.
I freakin love the app.
Bingads, you are amazing. I love that your constantly creating and adding new features to the app. You have made my job so much easier, especially when I'm on the go and want fast mobile access or just want to quickly check in throughout the day. I Couldn't live without it.
Helpful and easy to use
Great app
Pathetic
Worthless... Like Microsoft always behind. Seems all they want is an increase in bid amounts. Never do they partner with you and lower a bid... Obviously MS is in it for themselves always wants increase in bid with poor or lackluster results. This is not a team effort this a profit for MS only.
Cha Ching
Vsp.Enterprise
on
9/4/2017
They keep updating your account for clicks but no sales and I know I have a product that sells
Badgered into downloading app
Alldamnnamestaken
on
8/18/2017
Clicking to log into my Bing account kept opening the app. The app has few of the desktop features, doesn't navigate like the desktop version, and doesn't allow access to the desktop features! Why did you keep redirecting me to the App Store? I just wanted to log into my account! Very poor experience.
App has bugs
Avg soccer fan
on
8/6/2017
I wasted hours trying to solve why my ads were not delivering...seems you have to prepay or they go to pause status...yet there is no alert nor prompt to add new funds nor to inform you what has happened and what needs to be done to rectify the situation. Nor is there an option to fund new money. Really? Wow!
Can't add funds
TopperNashville
on
7/5/2017
Spent 20 minutes trying to find it... never did. (Sigh)
Wow
Megaman x is cool
on
6/3/2017
Good
Well Done.
Works very well. Only minor negative is a lack of ability to manage your billing.
Well done
Nicky Beaird
on
5/14/2017
Beautifully appealing and easy to navigate
Bing just needs to stop!
Offered me $100 in free ads after I spend $25. I agreed, and they charged me $25, $25, and $25! WTH? I messaged them about their error, and nothing! My business won't show up on Bing, and this app is just as useless as Bing itself! I'm s done with Microsoft crap!!
Can't make an app that functions
The app is so messed up it isn't even funny! It doesn't pull up all the data right so you are looking for a specific ad campaign but it doesn't sort right and half the time doesn't even show all the campaigns. Is it really that difficult to make an app that actually works? AdWords has no problem making one!
This app is very confusing
I would like to be able to make my advertising for only my area not international advertising. It seems like they have changed their advertising from just a few years ago. So I will probably not be advertising with them anymore since they have complicated things and am going back to google AdWords. Also noticed an increase in their bid. When a company gets greedy I'm out.
Good to use
I love bing ads but the only thing is my campaign can't seems to get any sale. Idk maybe it's just me the views and likes are there but idk. Love bing tho
Gets the job done
What you would expect from a mobile app. I obviously don't expect to do everything from my phone, and you're crazy if you do. So this is good for a quick checkup on stats or bid adjustments.
Bing Ads
Poorly designed app. Limited functions.
Request Timed Out...
BrianRowland
on
12/10/2016
I've tried reinstalling several times. Data never loads and I get the "Request Timed Out" message. Lame
Multiple Account Login
iphoneguides
on
9/28/2016
Love the app, works great. Only missing feature that is needed is the ability to be logged into multiple accounts at the same time. This would allow for much easier account management and be a big time saver.
Great! Way better than Google AdWords app
anthropocentric9
on
9/23/2016
Nice job Microsoft team!
Love this app.
The Ad Buyer
on
7/17/2016
It goes a great job of providing you with your campaigns KPIs. Easy to use.
Dependable App
Pastor Courtney
on
6/30/2016
Enjoyed managing my bing ads via the app. Worked as good as I would have hoped it would.
Annoyed
Thrivesndevolve.com
on
6/2/2016
App doesn't stay accurate even after you refresh it, still off from what it shows through the web version. Can't manage your account through it either (coupons adding etc). Pretty much just takes up space and data with no benefit when it comes to managing your advertising.
Administrator
This app is terrible! The old one was much better with more information!
Works good, keep up the good work
The latest update is good. Keep it up!
Great when it works
When the app actually loads and doesn't crash, it does what it's supposed to do, but the application exits more often than stays on. About as reliable as Windows 10. I was hoping to use this to track my stats one on the go, but that might be a while.
Great App with thought out features!
Field runners
on
2/2/2016
I have very active campaigns that I am always managing and checking. This app makes it easy to make quick bid adjustments and check how different ad groups and individual keywords are doing. Only feature I wish this had is the ability to adjust the max bid for more than one keyword at a time. Other than that amazing beautiful app!
Great tool
Charles Kirkland
on
12/7/2015
This will save me a lot of time!
Decent
Certainly better than the lack of AdWords app. Would like more drill down capabilities on future versions
Digital marketing specialist
Love the app. It's great to be able to monitor your campaigns from anywhere.
Like it
Italian slot girl
on
11/27/2015
Very useful
Great for checking stats!
I love this app. It packages up all the data you need in an intuitive little dashboard. It's nice to see something original from Bing Ads.
Forced me to write a review
Blackmambaninja
on
11/18/2015
I could not use the app till I wrote a review
Most important option not accessible
The most important option to me is to pause or turn off the advertising and of course Bing doesn't make that easy for you they want the money to keep flowing their way
Great app
Find A House
on
11/2/2015
Once you start advertising, many of us get obsessed with how our ads are doing. I get instant results on all my devises so I can check.
Great tool on the go
ShopMyHats.com
on
10/26/2015
Great tool in keeping up to date on our marketing campaigns. ShopMyHats.com Team
Not bad
DivasEgo Boutique
on
10/11/2015
Would be awesome IF you could edit ads and keywords within the app.. It's still a good app. Always room for improvements
Very Helpful
DWNewEnglandYankee
on
10/9/2015
Thanks again To the Bing Ad Team at Microsoft
Functions limits
Very easy to navigate thru. Makes it simple to use.
It works for me.
Hopkinsbailbonds
on
9/21/2015
I haven't had any problems with the Bing app yet.
Cool
Themanwhoknewtoolittle
on
9/18/2015
This app is perfect. It allows me to manage my campaigns right from my iPod. Can you believe that?! Cool.
Good experience as well
Simple, powerful and user friendly. A+
Good Experience
I find the Bing Ad experience better than that of Google AdWords with a more intuitive interface.
Good app
Comfortable and smooth UI, easy learning curve for new users. Awesome work from Bing team.
Good app
The app is awesome!
Fact Sheet
Publisher:

Microsoft Corporation

Category:

Business

Released:

Apr 13, 2015

Current Version Released:

Dec 15, 2017

Version:

2.11.0

Size:

53.6 MB

Compatibility:

Requires iOS 9.3 or later.

Recommended Age:

4+

Game Center Certified:

No

Supported Languages:

English; French; German; Italian; Portuguese; Spanish; Castilian; Chinese;