Screenshots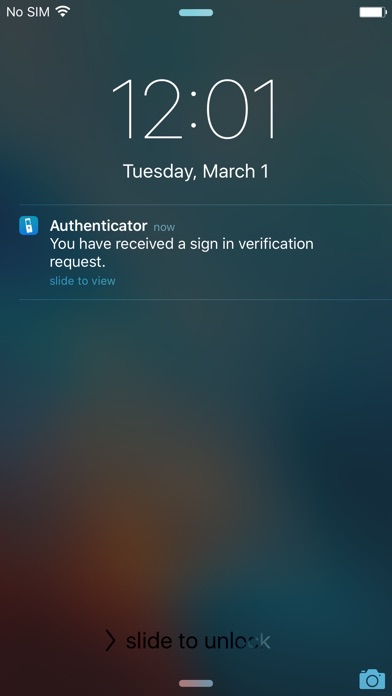 New in version 5.4.10
We're always working on new features, bug fixes and performance improvements. Make sure that you stay updated with the latest version for the best authentication experience.
Description
The Microsoft Authenticator lets you quickly and securely verify your identity online, for all your accounts. A variety of features are available depending on the type of accounts.

Two-step verification:
Two-step verification helps protect your account by providing an extra layer of security beyond simply your password. Here's how it works – add your account – either from Microsoft, or any other account that has two-step verification. When signing in, after entering your password, you'll be asked for an additional way to prove it's really you. Either approve the notification sent to the Microsoft Authenticator, or enter the verification code generated by the app.

Phone sign-in:
Use your phone instead of your password for personal Microsoft accounts! After enrolling your account through the app, you can sign in to your account with only your phone. Just approve the notification sent to the Microsoft Authenticator after entering your username, and provide your passcode or TouchID.

Broker Accounts:
Did your work or school organization ask you to install the Microsoft Authenticator when logging in to a Microsoft app or service? The account you created at that time helps you seamlessly and securely access many additional apps and services on this device without needing to log in to each. If you need to set up two-step verification for the same account, you will still need to "add a new account" from this app, and follow instructions provided by your IT Department.
iPad Screenshots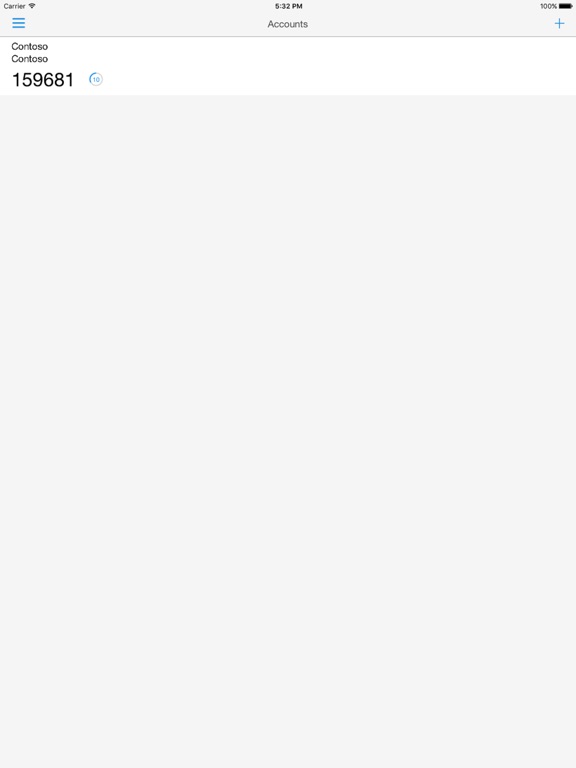 Reviews
An Apple Watch app would be nice to have.
Birdsong Man
on
12/13/2017
Wouldn't have to fish my phone out of mypocket!
Useless
I'm not able to set it up.
Crap
cgthomas1961
on
12/9/2017
This app doesn't work very well. I can't use it for getting to my Microsoft account!
Cannot select username to get code
Like the title says. This new update has made it to where I cannot select my username in order to generate a key code...isn't that the purpose of this app?
Won't even install
I've tried several times to install this app and it will not.
Add passcode option
Add a layer a of security like a passcode option if someone click on the app they can see ur code and the account it's linked too
Suggestion
HiroshiTatsu
on
12/1/2017
Need Cloud Sync
What did you do?????
Whatever you have recently done, has broken this app. And because of that, O365 Admin App no longer works either. Please get it fixed!!
Unintuitive
Forgetful8765309
on
11/21/2017
Like most software nowadays, it is half baked. Does nothing. Uninstalled.
Excellent app, but…
Abraham Isaac Duran
on
11/16/2017
It's a great app, I like it a lot, but could you make it more secure? The login codes generated by the app could be used to sign in a critical site (like a banking account), so if you could add an option to provide an extra layer of security, that would be great. Also… what about being able te backing up to iCloud, so if you restart your device you won't lose access to your codes?
Battery vampire
PunkRockPidgeotto
on
11/14/2017
After I installed it I would be lucky to make it home from work before my battery died, after uninstalling it my battery life has returned to normal. Oddest thing is when I checked my battery usage it didn't even show up, I never left it open or anything.
Apple Watch App
Should really have an Apple Watch app so that I can just quickly accept login requests
Pointless
George Capote
on
11/10/2017
I tried to sign in to my MS account on the authenticator app, but it requires the authenticator app to approve it. That's hilarious. No, the other methods (email, phone number) do not work.
Worthless
Any app that says they're constantly improving the software but don't summarize changes are usually bull shitting.
Works well
However it need a companion app for the Apple Watch. PLEASE
Great update
Before this update, when using 2 step verification and having to approve a sign in you would have to manually open the app to click approval, now the approval notification pops up instantly. Great app that keeps getting better
Microsoft Authenticator app keeps popping up authentication requests
Microsoft Authenticator app keeps popping up authentication requests after request has already been approved. I am on the latest V5.4.5.
Nice move from Microsoft.
Mesha Bin Bander
on
10/27/2017
But I'm wondering, why they can't make the log in same Bank accounts.! Each u will enter the Email u will receive a a code in ur mobile phone. The email is the top of everything. If someone take it.!!!!!!! He can take everything from you. Snap, Twitter, instagram, FB, and ur phone data in the iCloud. Pls think of it. Even there is a payment for that. No problem. To be safe is more important. Meshal
Almost a five
While the Authenticator doesn't currently support Apple Watch, it's still pretty good at what it does. I haven't experienced crashing after updates like others have. Pretty solid with that one glaring omission.
Work made me do it
Prodigy3023
on
10/20/2017
Notifications don't work, so always have to find and launch the app to approve. Every second needing to use this app is unnecessarily frustrating. 30 second code changes... increase it to match our exceed RSA (it's all connected, so you can detect malicious or brute force attacks and stop them). Concept is too verbose. Overall dislike of this authentication concept, as it's an extremely poor experience.
This is totally Cheap Rated App Poor
I tried to sign in to ms store to buy some stuff using browser, it required me to authenticate using ms authenticator app, so I downloaded the app, I open the, I logged in to the app and IT IS ASKING ME TO AUTHENTICATE USING MS AUTHENTICATOR. Totally bad app! Bad bad!
3D Touch Concern
The authenticator app has two options during 365 multi-factor enrollment, either Notify or Enter Code. If you have your Authenticator set to Notify (push notification) you can 3D Touch on the lock screen to approve authentication without unlocking your iPhone. It should only allow approval after you unlock your phone. Although this problem can be solved by turning off lock screen notifications for this app. Also it doesn't touch your contacts. Rolled this out to 100 users and had zero problems with contacts being deleted. Update: Adding a star for Apple Watch push notifications.
App Crashes on Every Update
I don't know what's exactly the cause of this but every time there's a new app update for this, it always crashes upon opening whenever I open it up after rebooting my iPhone (previously it would go black for couple of seconds and freezes before crashing). It's been going on for 3-4 months now and it's very annoying. Reinstalling it doesn't help either. However, it is a pretty convenient authenticator app that does what it supposed do. Just wished it doesn't crash every single time these days.
Apple Watch Support Please!!
Please update to include support for Apple Watch!!
Wth
Angelino 562
on
9/16/2017
I notice some of my contacts where erase how can I get them back?? Pls help..
Has made my authentication to work so much easier
My company requires multi factor authentication to many of their services. Previously with smart cards or fobs it was really hard. Now, it takes me 3 seconds to authenticate with Touch ID. Thanks Microsoft!
Need code to get code
Confirmed that the app needs a code to confirm before it can fetch the code to confirm.
You need to code to get into the account to generate a code
So I need a code to get into the account within the app that needs a code. So basically I can't sign in ti get the code because I need the code.
Nice!
I'm really happy with the changes they've added.
Insecure
Selena Heskett
on
8/25/2017
This app seems insecure for TFA given the fact that it does not ask for passcode/fingerprint to accept a request . Apps like Duo have a better "security first" approach.
No backup
Reset my iPhone and it lost all of my logins. Spent hours calling banks to recover my info. Just plain wrong.
Time saver
Works great, i like being able to use Touch ID to authenticate. Please incorporate a Apple Watch app.
I prefer Authy
This app is not bringing anything to the table. Blizzard has an app and it lets you tap to log in and alerts you if someone is trying to get into your account. If this is just an authenticator app we should be allowed to use the one we want instead of being forced to download this.
These people writing bad reviews do not know what they're talking about
This app is great it does exactly what it says it doesn't erase anything from your account doesn't erase contacts. It saves me so much time just being able to press a button and authenticate my two step verification!
Apple Watch support gone!
Used to work fine with my Apple Watch. Now, it looks like support for the Apple Watch has been removed. PUT IT BACK!
Great App, some minor bugs
Tictocwishbone
on
7/10/2017
This App is great, i use it for personal use and recently my Job required us to use it as well. The only thing it is missing is Fingerprint authentication. I use the LastPass Authenticator for some of my accounts that i want to be more secure.
OOPS!!! Not fast enough
Maybe I don't understand this app. But it's impossible for me to enter the code fast enough.
Crap
I hate how all I need is a stupid multiplayer update and I can't play unless I update... I don't even want to play multiplayer but I'm being forced to download this update.... ugh
Very user friendly, no back-up
This app works very well with what is intended. I have over 12 active accounts and it manages them all with ease. Only improvements that I would suggest is to be able to log in to my Microsoft account to back up accounts in case I switch phones, because I have lost all accounts when getting a new phone! It's too much of a burden, so I will have to try to find a better app unless this is fixed!
Waste of time
I only got app because I can't use my Xbox and the only "help" I've gotten is either completely unrelated or is unhelpful. I used the correct email but my xbox says I didn't. I even changed the info to my phone number but it even after I was told my security info has changed my Xbox still uses the incorrect email. I tried everything, but it just refuses to work and it's INFURIATING! Next time, I think I'll get a playstation.
Nice
Keeps my Microsoft account secure
Very responsive and fast for the latest version.
The Microsoft authenticator is working very well for Dropbox, OneDrive, and university accounts. Thanks for providing such an awesome service!
Kiss your contacts goodbye!
This app is terrible! My company forced us to install this app on our personal phones to access our company's Outlook email and calendar. Outlook on iOS is great WITHOUT the Authenticator app! After installing the Authenticator app many of my contacts in the iOS contacts app disappeared. Some of my colleagues lost all of their contacts! Also, it seems to be causing the Outlook calendar to malfunction. If I try to add any "people" to a calendar placeholder, the Outlook app crashes. Do not install this piece of garbage! Save your contacts!
Codes are not backed up
By design Microsoft does NOT allow iTunes to backup your codes and there is no way to transfer them to another phone. This is a HUGE problem!
Good but missing some features
The push authentication and easy setup work well but this app loses / star each for the two major features it lacks. • AnApple Watch App •iCloud Backup
Nice, but didn't sync to cloud
You won't have access to your codes when changing devices for whatever reason
If only it actually worked correctly …
Jaywalker.Extraordinaire
on
5/11/2017
The app might be okay if it allowed users to easily port their app settings to a new device. I purchased a new phone, and can no longer sign into MSFT's internal network because Authenticator lacks the ability to force request a QR code for setup, and the instructions in the help documentation require clicking non-existent "Additional Security verification" link to reach next steps. Embarrassingly poorly engineered app. One star is too many.
Only shows 6-1/2 of 8 digits?
The app cuts off the 7th digit and doesn't show the 8th digit. No way to turn the display horizontal either. Do not have large text turned on. Only way to use is copy and paste I to notepad. Stupid.
Fact Sheet
Publisher:

Microsoft Corporation

Category:

Productivity

Released:

May 30, 2015

Current Version Released:

Dec 06, 2017

Version:

5.4.10

Size:

32.7 MB

Compatibility:

Requires iOS 9.0 or later.

Recommended Age:

4+

Game Center Certified:

No

Supported Devices:

iPad2Wifi-iPad2Wifi, iPad23G-iPad23G, iPhone4S-iPhone4S, iPadThirdGen-iPadThirdGen, iPadThirdGen4G-iPadThirdGen4G, iPhone5-iPhone5, iPodTouchFifthGen-iPodTouchFifthGen, iPadFourthGen-iPadFourthGen, iPadFourthGen4G-iPadFourthGen4G, iPadMini-iPadMini, iPadMini4G-iPadMini4G, iPhone5c-iPhone5c, iPhone5s-iPhone5s, iPadAir-iPadAir, iPadAirCellular-iPadAirCellular, iPadMiniRetina-iPadMiniRetina, iPadMiniRetinaCellular-iPadMiniRetinaCellular, iPhone6-iPhone6, iPhone6Plus-iPhone6Plus, iPadAir2-iPadAir2, iPadAir2Cellular-iPadAir2Cellular, iPadMini3-iPadMini3, iPadMini3Cellular-iPadMini3Cellular, iPodTouchSixthGen-iPodTouchSixthGen, iPhone6s-iPhone6s, iPhone6sPlus-iPhone6sPlus, iPadMini4-iPadMini4, iPadMini4Cellular-iPadMini4Cellular, iPadPro-iPadPro, iPadProCellular-iPadProCellular, iPadPro97-iPadPro97, iPadPro97Cellular-iPadPro97Cellular, iPhoneSE-iPhoneSE, iPhone7-iPhone7, iPhone7Plus-iPhone7Plus, iPad611-iPad611, iPad612-iPad612, iPad71-iPad71, iPad72-iPad72, iPad73-iPad73, iPad74-iPad74, iPhone8-iPhone8, iPhone8Plus-iPhone8Plus, iPhoneX-iPhoneX,

Supported Languages:

Arabic; Basque; Bulgarian; Catalan; Valencian; Croatian; Czech; Danish; Dutch; Flemish; English; Estonian; Finnish; French; Galician; German; Greek; Hebrew; Hindi; Hungarian; Indonesian; Italian; Japanese; Kazakh; Korean; Latvian; Lithuanian; Malay; Bokmål, Norwegian; Norwegian Bokmål; Polish; Portuguese; Romanian; Moldavian; Russian; Serbian; Chinese; Slovak; Slovenian; Spanish; Castilian; Swedish; Thai; Chinese; Turkish; Ukrainian; Vietnamese;