TapNova recommends this app!
New in version 1.18.2
Keep the feedback coming, we love hearing from you!

What's new:

- We've added a few new features to help you buy & sell cars!
- We've also fixed a few bugs to make buying & selling even easier. Enjoy!

Like it, love it? Leave feedback and a rating to let us know! And make sure to give us a shout at support@letgo.com if you have any suggestions or need help!

Happy Buying and Selling on letgo,

letgo Team
Description
Quickly sell things you list on letgo and find great deals nearby.

Electronics, games, clothes, automobiles, furniture, décor and much more. Featured by TechCrunch, Wired, New York Times, Wall Street Journal, USA Today, Apartment Therapy and others.


letgo's not just a different way to buy and sell, it's the amazingly simple way. Tens of millions have already downloaded letgo. Here's why:


• FAST AND CUTTING-EDGE: Post an item for sale in just a few seconds. letgo's the only app of its kind with cutting-edge image recognition and artificial intelligence to title and tag your items so you don't have to.


• EASY, SLEEK AND INTUITIVE: letgo shows you great deals nearby on a huge variety of items. Browse your area or search for something specific. Chat instantly with other buyers and sellers right in the app.


• BIG AND GETTING BIGGER: Join the tens of millions already using letgo worldwide to post and buy hundreds of thousands of items every day.

the letgo Team
iPad Screenshots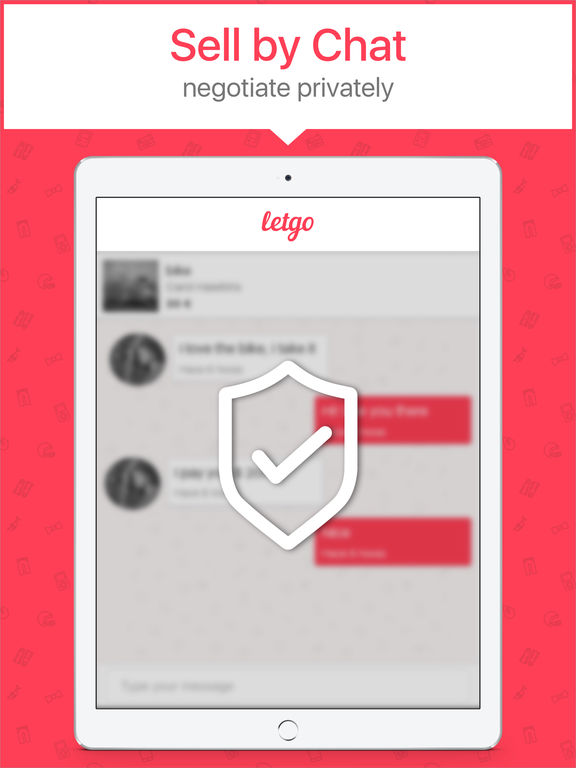 Reviews
Works
They make selling easy. Thank you.
Nice
Nice and easy to use
So far it's pretty good
Unlike other reviews I haven't experienced sketchy people yet (pretty sure that's the area you live in, not so much the app). Successfully purchased an item and the transaction went smoothly! My reason for giving 4* is because you can't look at the photos by themselves without all the description details blocking half the photo, and you can't zoom in on photos, which is slightly frustrating. Otherwise, good experience so far.
Easy to use
Hassle free way to sell your stuff!
Need more food traffic
Jailer saddy
on
6/26/2017
Right now, it just takes a long time to sell anything. Feel like not enough people are on letgo
Needs improvements
MightyMouse_714
on
6/26/2017
You type something your looking for and gives so much stuff that your not looking for and can't narrow down your search
This App made my LIFE BETTER
Azn Aston Driver
on
6/25/2017
It's awesome simple and fast selling my over collect items. Help me pay off lots of bills
Excellent
Very good and convenient app
Let it go
I like the app. Post it. Hopefully sell it
Let it sit on a app that what they should have called it
Everest wilkey
on
6/25/2017
A bunch of people who just want to sell things not buy it also to get things sold you have to pay basically to get it on the top of the list it's stupid why would you make something like that when you could just go to Craigslist and get it sold in two hours great concept didn't work out very well
Letgo
Letgo is a fun app & I have managed to sell my old car...sometimes it might take longer to sell something, but patience is key to anything...give it a try, you might like it, I do!
Log on
I like the app but I can only login using wifi and I hate that bc I use my phone and just use my data on my phone and I can't can't get one I should really change that!!!
Just like the commercials!
Gyufevukyger
on
6/25/2017
Super quick and easy to list items!
Be aware of scammers
I don't like to used this app, because it's full of scammers and thieves.
Great App !
Perfectly user friendly !!
Love!
I really love this app. Every seller and buyer I've dealt with is honest and trustworthy. It's a great way to get your items out there.
App and concept is great; service teeming with scammers
App and concept is great; service teeming with scammers. I did successfully sell my bike through this but inquiries re electronics were all from clearly non-legit sources. Has potential.
Deleting app (SCAMMER HEAVEN)
upeopleneedtogetajob
on
6/25/2017
Worst experience I've had nothing but a waste of time people text to ask if available and that's the end. Did not get one legit person but I was called names by some of the scum bags pretending to be interested DO NOT WASTE YOUR TIME would not even give it one star not worthy
It is Ok
The picture part have to be improved... you cannot click on the picture, otherwise it skip to the next ad...
Buy&cell for cheap
MaribendeyCompra
on
6/25/2017
I like this app very much,I use it every day,I find it better than any other place to buy or cell..or get free from people that are willing to give..there's one mini little thing that I can't find this app on windows phone..
Awful
Musicizlife23ify
on
6/25/2017
All of the people on this app are some of the worst people that I have ever met. They ditch out on deals don't show up and don't answer.
Amazing app does what is suppose to
Homero vela killer
on
6/25/2017
Works great I have sold 10 things thanks to this already
Awesome app!
Hai_imlily is my username
on
6/25/2017
Is a great place to sell your stuff!
Great
Bossnessguy18
on
6/25/2017
Good app
No place to write description
The user interface is not good. You take a picture and it says posted after you enter a price. I have no control on the zone or area for view. People contact me from an hour away for a free item then do not show up. They took down my first item when it said I had posted twice but could not find it listed.
I like the app but...
The interface is a little annoying. It's always asking you to message multiple people for things that you're not looking for.
Great App ignore the negative comments
I have sold dozens of items with this app. Easy to communicate through the app so you can keep your identity safe. I would highly recommend this to anyone who is trying to sell items.
It works.
Reuse is better than recycling. Get rid of your junk and make it someone else's gold.
Nice serious people on the app
Frog!(I TRUS ME!)
on
6/25/2017
Good nice!!!
Awesome
Great app very easy to use
Seller
This is an easy app for beginners. My 1st sold in 37 minutes. I have sold something 4 days in a row. This is great when you don't have the time to sell by other means.
Easy sales great options!
Takes the pain out of pawn shops and spending unnecessarily!!
Messaging on my behalf
Compared to Craigslist the people are not serious buyers and waist your time. I just deleted the app after a message saying leave me alone. Someone had messaged the lady with my identity repeatedly. She gave me a bad review claiming that I am rude. I'm done with this app.
Great way to sell things
Easy to use, and great way to sell things
Outstanding App
Easy to Use!
Won't send messages
I like the app but this thing is not letting me send messages and if it does it stops after like 5 minutes. People are trying to buy my stuff and I there's but it's not letting me respond!!! Please fix
Solid and easy to use
Has room to grow, but it's good.
Safer Alternative to Craiglist
Fred Cuellar, LMT
on
6/25/2017
Nice free "for sale classifieds" app. Even the $2 "bump up" in app purchase is pretty reasonable and very effective.
Love letgo
Free advertising!! Common!!! This is great ! Use discretion, try not to meet at their house , choose a super market parking lot ! I've had tremendous success with letgo ! Be willing to lower your price to make the sale !!!
Love!
Fast easy and very useful
Do ppl read??
So I posted something for sale, I'm not sure if ppl actually look at the description... I think the display portion could be better, so that ppl know or realize there's more pictures and description portion can reveal more about the item.
Awesome
Zerocool2325
on
6/25/2017
Grate app
Easy to navigate
CayceCollins
on
6/25/2017
Super easy to post pictures and navigate. Have bought and sold with relative ease.
Letgo
I love this site everything I wanted was found in seconds and they get you every you want on Time it's a great site you should try it out you would really like it
Great
TheShelbinator
on
6/25/2017
I really like this app, come here to find some pretty good deals. One man's trash is another man's treasure! I've sold a few things as well and always had the person show up.
Go to a garage sale
Sagdiejzhspznrjaodk
on
6/25/2017
Flags every i team I try and sell don't waste your time on this app way better off going to a flea market or even a garage sale.
Fact Sheet
Publisher: Ambatana Holdings B.V.
Category: Shopping
Released: May 10, 2015
Current Version Released: Jun 19, 2017
Version: 1.18.2
Size: 110.1 MB
Compatibility: Requires iOS 8.0 or later.
Recommended Age: 12+
Game Center Certified: No
Supported Devices: iPad2Wifi-iPad2Wifi, iPad23G-iPad23G, iPhone4S-iPhone4S, iPadThirdGen-iPadThirdGen, iPadThirdGen4G-iPadThirdGen4G, iPhone5-iPhone5, iPodTouchFifthGen-iPodTouchFifthGen, iPadFourthGen-iPadFourthGen, iPadFourthGen4G-iPadFourthGen4G, iPadMini-iPadMini, iPadMini4G-iPadMini4G, iPhone5c-iPhone5c, iPhone5s-iPhone5s, iPadAir-iPadAir, iPadAirCellular-iPadAirCellular, iPadMiniRetina-iPadMiniRetina, iPadMiniRetinaCellular-iPadMiniRetinaCellular, iPhone6-iPhone6, iPhone6Plus-iPhone6Plus, iPadAir2-iPadAir2, iPadAir2Cellular-iPadAir2Cellular, iPadMini3-iPadMini3, iPadMini3Cellular-iPadMini3Cellular, iPodTouchSixthGen-iPodTouchSixthGen, iPhone6s-iPhone6s, iPhone6sPlus-iPhone6sPlus, iPadMini4-iPadMini4, iPadMini4Cellular-iPadMini4Cellular, iPadPro-iPadPro, iPadProCellular-iPadProCellular, iPadPro97-iPadPro97, iPadPro97Cellular-iPadPro97Cellular, iPhoneSE-iPhoneSE, iPhone7-iPhone7, iPhone7Plus-iPhone7Plus, iPad611-iPad611, iPad612-iPad612, iPad71-iPad71, iPad72-iPad72, iPad73-iPad73, iPad74-iPad74,
Supported Languages: Dutch; Flemish; English; Finnish; French; German; Greek; Hungarian; Italian; Korean; Bokmål, Norwegian; Norwegian Bokmål; Portuguese; Russian; Spanish; Castilian; Swedish; Turkish; Vietnamese;
Parental Advisory: Fear Themes; Mild Alcohol, Tobacco, or Drug Use or References; Mild Profanity or Crude Humor; Suggestive Themes; Mild Sexual Content and Nudity;