TapNova doesn't recommend this app.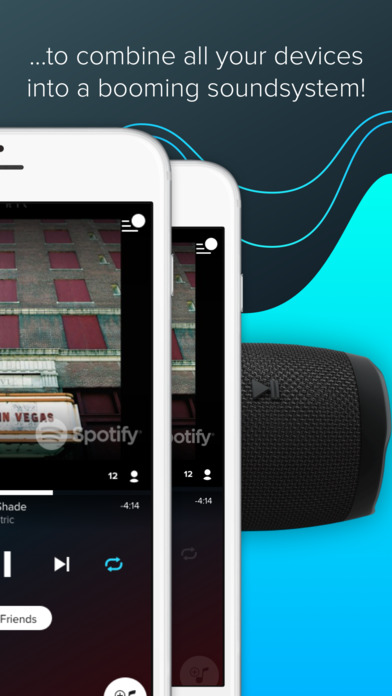 New in version 5.7.1
Time to turn up and set off an epic party! The more the merrier
Follow your followers -> Everybody put your hands up in the air, follow the leader leader leader
Only nearby users can be Dj's -> We get it, remote trolls are not your thing
Drumroll please… -> Bug Fixes
Description
Are you looking for the perfect social music party app? AmpMe brings music and friends together! Surround yourself with sound and take your party to the next level with AmpMe's giant multi-speaker setup using nothing but your phone. Play your music (as loud as you want) by simply syncing your devices to create one powerful sound system. Party with your friends anywhere, anytime, and any way. AmpMe: Be the speakers.

Are you ready to party hard? Here's how:

1.Download AmpMe to your phone and tell your friends to add the app to their devices as well.

2.Host your own party or join one.

3.If you're the host you basically get to control EVERYTHING! (Well, not really. But, you will get to control the music. So, add your favorite songs, albums, or even create your own playlists. )

4.Hit "PLAY" and get ready to parrtyyy!! (This is the part where you invite your friends. Unless you don't have any or want to party alone; but that would be boring.)

5.Sync your device to your friends' devices and, in seconds you and your friends will become the speakers.

AmpMe is compatible with smartphone, tablets, and bluetooth speakers
AmpMe is currently available anywhere, except outer spacer; but we're working on that. Stay tuned for our new features. Who knows, we may be taking moonwalking to the next level.

(Please note that AmpMe is not responsible for any public disturbance complaints. We also ask that you not mention our name when your neighbour warns you for making too much noise; we wouldn't want to get a bad rep.)

Music Library (local music on your device) isn't supported on :
iPad1,1 , iPad2,1 , iPad2,2 , iPad2,3 , iPad2,4 , iPad3,1 , iPad3,2 , iPad3,3 , iPad3,4, iPad3,5, iPad3,6, iPad2,5, iPad2,6, iPad2,7, iPhone1,1, iPhone1,2, Phone2,1, iPhone3,1, iPhone3,2 , iPhone3,3 , iPhone4,1, iPod1,1, iPod2,1, iPod3,1, iPod4,1, iPod5,1

Note :
Continued use of GPS running in the background can dramatically decrease battery life.

AmpMe is now 12+ and YouTube Search is now in strict mode
iPad Screenshots
Reviews
Great
Great app, very creative idea. Would be also great to enable a chat box for all the participants in the party.
Suggestion
arielle eden
on
6/18/2017
Great app, but try to make improvement by being able to pump the music. It isn't loud enough. I was expecting a speaker app. Cool concept tho.
Awesome app
You can connect many phones together, which makes it awesome to play the same song throughout the entire house. One thing I recommend is that they add more music sources. My parents own lots of music on Amazon Music, but they can't play it on this app. Other than that I highly recommend this app to people who want to play music on multiple speakers.
Only works for files physically on your device
Great concept, but unfortunately it only works with music files you "own" that are physically on your device. My wife and I run together on Saturdays, and would like to be able to listen to the same music. However most of our running playlist comes from Apple Music rather than being songs we have directly purchased. Even though I have the entire playlist "downloaded" to my device the only songs AmpMe recognizes are the ones that I directly own and have synced to my phone.
I need a shuffle option
I love the entire concept of the app but I'd love it if I could shuffle my playlists instead of having to listen to them in order, you know? Just seems like an important feature
Awesome, but needs spotify support!!
daniel123432123
on
6/13/2017
Such a great idea. Everyone I know only uses spotify. Was disappointed to find they don't support it. Hopefully they add it soon!
2 things and it would be a lot better
Needs an individual equalizer for each person connected so some speakers connected dont sound too staticky and the app also needs to make the radius of locating parties smaller so not just anyone can know where you are no bigger than a 200 feet radius
Good
Mr. Sam Muraski
on
6/12/2017
Good
Amazon Prime?
This isn't actually a good review, I have all my music in amazon prime music and so this app is useless to me. If you added the option to play from that app, I might actually use the app.
Nice
Timmehthetoolmantaylor
on
6/9/2017
👌
great app
you should turn on notifications when your friend starts a party
5 star
detestedbike941
on
6/4/2017
It works I just used it
Requires location services or it won't work.
Vinnie The Mole
on
6/4/2017
It wants you to join in with other people in other locations and have a party. No thank you. I just want to boost the sound in my own house.
ADD SPINRILLA
Xavier W. Boy
on
6/4/2017
I think the idea is really cool and the app works well. But a lot of teens have Spinrilla, not Spotify or Apple Music.
Spotify
I have a really good playlist on my Spotify account but you need Spotify premium in order to listen to please fix.
Privacy
I really like the idea of the app, however, I feel like there should be a privacy setting as I feel it is unsafe that stranger can view my location.
Just What I Was Looking For!
Best stream app! Now my brother and I can listen to the same music when traveling.
AMP ME IS THE BEST!!!!!!
This honestly the best music app ever whoever came up with this idea, props to you you are amazing 👍🏽👍🏽👍🏽
Please make a private option!!!
Bzhdhdhdhdhdhdhh
on
6/3/2017
I like the idea of this app! It's really cool! Can you add a private option? I don't think it's safe that random strangers can see your party and how far away you are... Bad people can track you down. Please fix this!!!! My idea for the private option is that under settings: 1. You can go to settings in the app and click on enable private. 2. Once you have enabled private no one else can see how far away you are-you give those you want to permission to see your location- such as people you know. 3. The app is much more safe to use and I really hope you change this!!! Many more people would use the app!
App is the best!!!
Awesome app that lets me and my friends choose all the music they want and never listen to music they don't like!
Amazing
Good game but soooooo hard
on
6/3/2017
This app is 👌👌
Hosting
Skater_riceboy
on
6/2/2017
Can connect to other people streaming music regardless of music source but whenever I stream it can only be SoundCloud, nothing else. Tried to uninstall and reinstall but didn't work. Tried on my android and also didn't work for that either
Amazing
This app is the best
Doesn't sinc up well
Someone is always delayed.
Lame.
This app would be slot better if you could actually play the songs directly from your phone instead of using YouTube. You have to choose each individual song to play. Not the best at thinking things through.
Best ad ever
I only downloaded the app to write a review, and tbh haven't opened the app and do not intend to but just needed to say this app has by FAR the best ad ever bravo
WOW
AMAZING wow love this app works when you connect to Bluetooth too!!!
Function
Zach5278833652
on
5/16/2017
Your last update made the app not work at all. I play it on my iPhone and try to connect to my iPad but there is no sound. That is the whole point of the app and it isn't working so if I could give zero stars I would! Put this up in February and yet again the app does not work...
Can get better
It's simple. Making it so u an take away rights to Dj in your own party would make it might better than taking it away from everyone
Great but slow
Really really slow
Add more music options
No pandora that's what I mainly use add pandora and it would be 5 stars it's good but just add pandora
Great app
Greg Martakos
on
5/14/2017
Great app
It's a no go
App won't even open on my iPhone 6. The app itself just turns dark for a second or two and then does nothing
App works great, but ANNOYING orientation for the app.
I love this app, but on iPads and larger devices, you can't use landscape view on the iPad. It's annoying to hold an iPad in portrait mode. PLEASE fix this, and I will rate the app 5 stars. Thanks
No pandora
Get other applications like pandora and apple play on here and it'd be a 5 star app. Personally I don't use Spotify or YouTube soo I don't use this app often. Works wonderfully when I do use it though!
Missing a CRUCIAL feature
themanskepta
on
5/11/2017
Love the idea of the app and in general it works well. It's just missing the simple thing that is a password for parties! How do you not have this yet? I love that it uses Spotify now, studied with my friends using this app and it was a great time and Spotify made it great. The party lags and pauses a fair bit which can be tiresome, and it needs passwords on parties and it will be ideal. Download this app as there's nothing this integrated.
Interesting
Throat Yogurt
on
5/11/2017
Interesting idea, and it kinda works, but one good Bluetooth speaker is enough so I don't see the point of this app other than connecting to playlists from long distances.
Improve
They should let you play with other apps like YouTube and pandora
Good App
Needs better syncing between devices. And I have YouTube Red I'd kinda like to keep it that way. ❤️ Thanks.
STAY LIT 🔥🔥🔥
BroderickTurnerFacebook
on
5/4/2017
This app is absolutely great. It's so cool to pair up with friends and essentially have a silent disco. Only "complaint" is that I can't just simply shuffle a playlist I've already made. It's somewhat painstaking to have to queue and move individual songs in order to keep the same songs from playing in the same order. Other than that, you can def find me on this app.
Fantástico!
Que más puedo decir? Fantástico... 1000 puntos
Spotify
This app seems super good but please make it so you don't have to have premium on Spotify but if they change that 5 stars
Great
It is great for party's because u can link tons of speakers together and have like surround sound!! Totally recommend it
Bloototh
Fgggnffsggbg
on
4/28/2017
Bloooittooooth is back and better than ever
Great app but
This is a wonderful product u can't get much better used it with my friends to turn up on the way to a competition best decision ever, but it drains battery extremely fast and u can't make a party without location services
Fact Sheet
Publisher: Amp Me inc
Category: Music
Released: Sep 24, 2015
Current Version Released: Jun 15, 2017
Version: 5.7.1
Size: 69.9 MB
Compatibility: Requires iOS 9.0 or later.
Recommended Age: 12+
Game Center Certified: No
Supported Devices: iPad2Wifi-iPad2Wifi, iPad23G-iPad23G, iPhone4S-iPhone4S, iPadThirdGen-iPadThirdGen, iPadThirdGen4G-iPadThirdGen4G, iPhone5-iPhone5, iPodTouchFifthGen-iPodTouchFifthGen, iPadFourthGen-iPadFourthGen, iPadFourthGen4G-iPadFourthGen4G, iPadMini-iPadMini, iPadMini4G-iPadMini4G, iPhone5c-iPhone5c, iPhone5s-iPhone5s, iPadAir-iPadAir, iPadAirCellular-iPadAirCellular, iPadMiniRetina-iPadMiniRetina, iPadMiniRetinaCellular-iPadMiniRetinaCellular, iPhone6-iPhone6, iPhone6Plus-iPhone6Plus, iPadAir2-iPadAir2, iPadAir2Cellular-iPadAir2Cellular, iPadMini3-iPadMini3, iPadMini3Cellular-iPadMini3Cellular, iPodTouchSixthGen-iPodTouchSixthGen, iPhone6s-iPhone6s, iPhone6sPlus-iPhone6sPlus, iPadMini4-iPadMini4, iPadMini4Cellular-iPadMini4Cellular, iPadPro-iPadPro, iPadProCellular-iPadProCellular, iPadPro97-iPadPro97, iPadPro97Cellular-iPadPro97Cellular, iPhoneSE-iPhoneSE, iPhone7-iPhone7, iPhone7Plus-iPhone7Plus, iPad611-iPad611, iPad612-iPad612, iPad71-iPad71, iPad72-iPad72, iPad73-iPad73, iPad74-iPad74,
Supported Languages: Arabic; Chinese; English; French; Hindi; Japanese; Portuguese; Russian; Spanish; Castilian;
Parental Advisory: Mild Cartoon or Fantasy Violence; Fear Themes; Mild Alcohol, Tobacco, or Drug Use or References; Mild Profanity or Crude Humor; Mild Sexual Content and Nudity; Treatment Information; Mild Realistic Violence; Suggestive Themes; Mild Simulated Gambling;