This version of the app is not recommended
App last updated
Jan 12, 2018
Screenshots
New in version 6.7.1
Introducing our brand new Discovery Screen!! We've done some major updates and improvements to make it easier to party more than ever. Here is what you can expect to find on our new home screen:

- Global Live Parties: these are 24/7 ongoing parties with some dope playlists, that will let you party with other users all over the globe!
- Friend's Parties: see what your friends are listening to so you can share the love in the party with our reactions button… or roast their song choice ;)
- Nearby Parties: Check out what other users around you are listening to and chat with them in their parties
- Recommended Profiles: Follow other users and discover new music!!

We've also done some housekeeping and squashed a few bugs to that the sync works better than ever.

Love the app? Show us some love and write us a review in the app store! If you run into an issue, please let us know at support@ampme.com
Description
AmpMe is the #1 iPhone, iPod and iPad app that allows you to turn your friends into a portable sound system! Simply connect mobile devices with friends, strangers or even aliens and start a party. Join the community of millions who are using AmpMe around the world!

The best part? Our app is FREE!

We've got all the music sources you could possibly need; YouTube, Spotify & your own Music Library.

AmpMe can take any situation and turn it into a party. Play your music as loud as you want by syncing devices to create one loud portable sound system. Not digging what the DJ is playing? Let them know with our new chat feature or just add a song to the queue! Don't forget to invite and follow your Facebook friends to get notified when they throw a party!

How to:

1 - Download AmpMe on your iOS device.
2 - Start your own party via Youtube, Spotify or your music library or join a party if you don't feel like being the DJ.
3 - Everyone in the party will be able to listen to the same music and watch the same video at the same time.
4 - If you started the party, you're the DJ and can control what everyone else is listening to. Guests can also add songs in a party - that's if you want them to.
5 - Chat with friends in the party to get the lowdown on what everyone is up to.
6 - Don't forget to Invite and follow your Facebook friends to get notified when they throw a party!

AmpMe is compatible with smartphones, tablets and bluetooth speakers

Music Library (local music on your device) isn't supported on :
iPad1,1 , iPad2,1 , iPad2,2 , iPad2,3 , iPad2,4 , iPad3,1 , iPad3,2 , iPad3,3 , iPad3,4, iPad3,5, iPad3,6, iPad2,5, iPad2,6, iPad2,7, iPhone1,1, iPhone1,2, Phone2,1, iPhone3,1, iPhone3,2 , iPhone3,3 , iPhone4,1, iPod1,1, iPod2,1, iPod3,1, iPod4,1, iPod5,1

Note :
Continued use of GPS running in the background can dramatically decrease battery life.
iPad Screenshots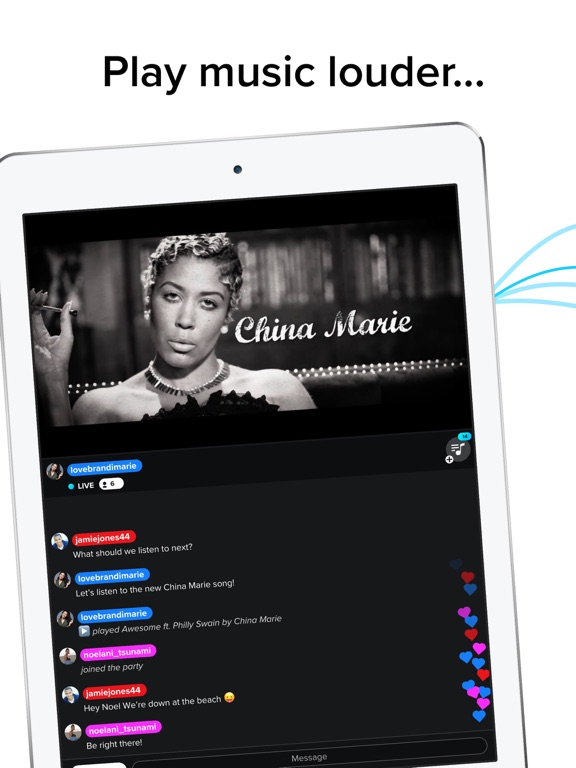 Reviews
Good idea
Zman the orig
on
1/21/2018
A great app so far! Had itcrash and wasn't able to open it again that day but other then that the syncing is pretty fast and use ful! While I'm working my wife controls my music and it really brightens my day! 👍😃
Addition#00001
Kahdbsjdbzjslsmandjdnc aksksm
on
1/21/2018
I think you should add sound cloud to the music options but other than that this is an awesome app Thanks!!!
Awesome
Love the concept, however if I could have one request it would be a cross fader option so there is no dead space in between songs!
Really... you removed SoundCloud links??
duy duzie nguyen
on
1/8/2018
Not everyone uses Spotify or YouTube. Bring SoundCloud back guys.
عالی
برای جمع های مهمانی خیلی خوبه
Freezing
The app is a cool idea but it's not working with my phone(iPhone 7+) at all, it freezes every time I choose a song to play and forces me to restart the app Edit: using Apple Music through Home wireless internet
Great app
Music rocker9000
on
1/6/2018
Honestly it does exactly what it's supposed to. Sometimes I just use it to listen to music with my friends from far. Never have any problems with using it. QA
Great app BUT add Apple Music
It works perfectly and at parties it is incredible. I always have to look the music up on YouTube or SoundCloud because all my music is on Apple Music. Still gets five stars because it's that good....
What happened to Soundcloud?
I've had this app since release and I loved playing SoundCloud on it when you added it but now it's gone and I hardly ever use it. Will we ever see the return of SoundCloud on this app?
Problem with my music library
I love the app and it works great with YouTube. But it will not let me use my music library (Apple Music). Every time i try and play a song from my Apple Music it says error and skips songs and cannot play anything. I would love if this could be fixed. Thank you
Awesome app!!!
I only have one concern, why is it 17+? Other than that its an amazing idea that works very well.
It doesn't work for me
Whenever I try to play music from YouTube it won't work, please fix this, thank you
Needs work
Blah awesome behind
on
12/30/2017
The app is great and all but where did SoundCloud go?
Cannot do multiple Bluetooth speakers
Eddiethreat
on
12/28/2017
I downloaded this ap because their campaign talks about streaming to multiple Bluetooth speakers, and "whole house audio" - that's a lie. You cannot at this current time connect to multiple Bluetooth speakers. This can only be sober if you have guests also connected and then those cysts individually connect to different Bluetooth sisters. This is more of a social networking app for people to connect and share music to each other to hear ( not download) .
Amp me
A very cool app, being able to listen to music with your friends without being in the same room is awesome.
Great if you don't have a speaker
I've loved using this app. I recently got an iPhone X and I haven't been able to use this app since then.
Spotify problems
Swerve cookie
on
12/26/2017
I tried to get it to work and it does but just not with Spotify at the moment
Nice😎😎😎 but..
Gray star 98
on
12/24/2017
You should be able to leave the app and play music
Great App
Guys, Great job on this app. The sync has been solid for most sessions (parties). Works as advertised. Wish List: - Add an edit capability to the followers / following lists. - I don't want people I don't know following me
Awesome
This app is really awesome it really helps if you don't have speakers or if you can't afford them thank you really much to whoever made this🙏🙏
Good App Just A Few Things To Mention
Herobrine4263
on
12/19/2017
The app is sick but my buddies are trying to open messages and play the app at the same time. Maybe you can make it an out of app experience too.
Great app
Ezeo227903304
on
12/18/2017
I love this app but it would be a lot better if you could play from whatever source you want rather than just three sources, I'd love to be able to use iheart on this
Doesn't work at all
Project xyz
on
12/16/2017
Doesn't work on my iPhone X, shame In response, when I tried to play a song from syncing my phone music library it would say switched to next song, unable to play continuously, it never played my music on my phone. I haven't tried pairing it to a friends phone tho
Soundcloud
I don't see the SoundCloud app in the ampme is there a way I can use it?
No SoundCloud?
It's a cool app but I can't find SoundCloud. I was able to use it a while ago so I don't know why it's gone.
Cool
Genial app simplemente interesante
ily
callmeAchmar
on
12/5/2017
That is the best version update description I've read. Whoever made this app is pure genius.
Woooooooow
It's really excellent For long time I searching for App like this...thanks bro
Review
Dear AmpMe :Your app is wonderful I love it and it sounds amazing and you can play anything thank you whoever made this app it's my life 😊😊😊😊
not work for me offline
Amir Hossein
on
12/2/2017
not work for me iphne 7plus 11.1.1 not working with other iphone or android as offline on music library
No Apple Music
I was really excited about this app but Apple Music won't play on it.
Amp me is lit‼️‼️
I didn't think it would work. But after I started a party and my friends joined and I was LOUD. We all had a party using our phones.
SoundCloud
Mad user_101
on
11/29/2017
Being SoundCloud back!
Okay
Hello8382919837382
on
11/28/2017
It was nice to have when we forgot a speaker but it wasn't loud enough at all... we had 5 phones going and it just didn't work. Definitely not using this again.
Fantastic app!
I really enjoy being with my friends in a loud place, and being able to actually hear music 😂. I don't know if this is just a bug or something, but Apple Music doesn't seem to be working on this app. The song will appear to be loading, but then it goes to the next song on the que, not even playing anything.
This app is great!!! But-
This app is so great!! It helps me and my friends make our music loud let just off of our iphones. One problem with this is that it really drains your battery. It also doesn't help that you can't use the app while having your phone turned off. Also- The app also needs better design and directions because it's kind of difficult to use. Other then all of this I find it a HUUUUGE help! Thanks a lot! Thanks for the response. What's difficult is that we can't use the app with our phones off. It also glitches sometimes. Like the music will stop and start a lot. There's a lot of pop ups that are kinda annoying as well. Once you get used to the app it gets a little easier to use.
WHY U TAKE SOUNDCLOUD OFF!?
Ggogcxsruygcgg
on
11/27/2017
Why did u guys take SoundCloud off? That's was the main use for it????
Real deal
This app fills a confounding void - why hasn't this been done yet? Kudos to you guys, McGuyvering accessible and intelligent multi-room sound. It's only gonna get better.
Amp me
It is a awsome app it really dose make music louder its Soo oo cool
It's doesn't work
It takes to long to load I guess but nobody has time to be waiting so
Fantastic
009613948355
on
11/19/2017
Its soo reallyy amazing and useful especially with my friends
No Apple Music
iamwirking2
on
11/18/2017
It won't let me play music downloaded through Apple Music, even though it shows up as an option (not trying to stream, trying to play downloaded music). It tries to play it and fails. Literally any music I would want to listen to is through Apple Music. Music that I added to my iTunes library from CDs like a decade ago and is on my devices does play, and to multiple devices. So the app works, I just wish I could play any of my good music. When that bug is fixed- 5 stars.
Awesome
Play all meh fav music loud😝😝😝
❤️❤️❤️
Beaniegirl1216
on
11/13/2017
This app is a miracle for all those at a party trying to listen to the same music
Great App! What they don't tell you...
The app is fantastic. It's a huge step in the right direction and syncing speakers is great but they mislead you a bit. You CAN'T stream music from one device to multiple Bluetooth enabled speakers. Technically, you can control the music to multiple Bluetooth speakers from one device but each Bluetooth speaker needs its own host app or device to enable multiple speaker playback. Example - 1 Bluetooth speaker needs an iPhone or app to enable playback on 1 speaker. 2 Bluetooth speakers require 2 iPhones or devices running the app to have multiple speakers play music through them. They don't do a good job explaining that and the app doesn't either. Knowing that information - the app is pretty awesome.
Nice app, kinda
Can't play my Spotify through my stereo, which is a deal breaker. But this app has potential. Maybe.
Fact Sheet
Publisher:

Amp Me inc

Category:

Music

Released:

Sep 24, 2015

Current Version Released:

Jan 12, 2018

Version:

6.7.1

Size:

88 MB

Compatibility:

Requires iOS 9.0 or later.

Recommended Age:

17+

Game Center Certified:

No

Supported Languages:

Arabic; Chinese; English; French; Hindi; Japanese; Portuguese; Russian; Spanish; Castilian;

Parental Advisory:

Suggestive Themes; Mild Profanity or Crude Humor; Mild Cartoon or Fantasy Violence; Mild Simulated Gambling; Mild Alcohol, Tobacco, or Drug Use or References; Mild Realistic Violence; Treatment Information; Mild Sexual Content and Nudity; Fear Themes; Unrestricted Web Access;