Screenshots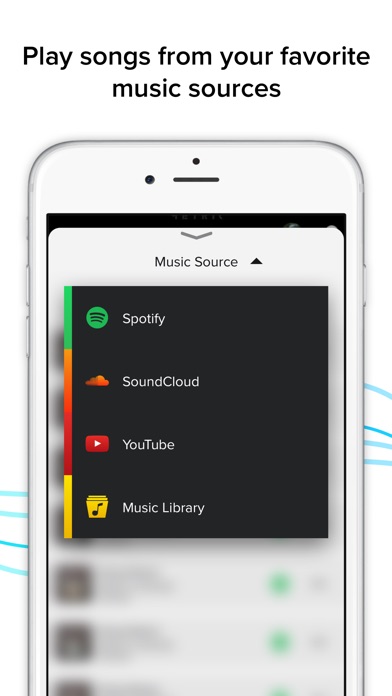 New in version 6.2.2
UI/UX improvements -> AmpMe experience reloaded and fresh looking pop ups to let you know what's up
Offline Mode -> Shut down your mobile data and still turn up!
Private Party -> You no longer have to share your location to get the party started. Keep things VIP when necessary.
Auto-Follow -> Auto follow all your FB friends on AmpMe and keep growing your social networks.
Push notifications -> We want you to know what's the latest scoop
Description
AmpMe is the #1 iPhone, iPod & iPad app that lets you and your friends listen to music louder & watch videos at the same time via YouTube, Spotify, SoundCloud & your Music Library for FREE!

Now available in a totally redesigned iOS 10 experience.

So go on and surround yourself with sound and take your party to the next level with AmpMe's giant multi-speaker setup using your iPhone, iPad & Bluetooth speakers. Play your music (as loud as you want) by simply syncing your devices to create one powerful sound system using YouTube, Spotify, SoundCloud & your Music Library.

Here's how:

1. Download AmpMe on your iOS device and tell your friends to add the app to their devices as well.

2. Start your own party via YouTube, Spotify, SoundCloud, your Music Library or join an existing party.

3 .If you started the party, you're the DJ and can add songs to the playlist! You can also add songs as a guest in a party.

4. Now that you've got the party started - invite some friends over!

5. Once your friends join the party they will be able to listen to the same music or watch the same video at the same time.

Remember that AmpMe is compatible with smartphones, tablets, and Bluetooth speakers!

(Please note that AmpMe is not responsible for any public disturbance complaints. We also ask that you not mention our name when your neighbour warns you for making too much noise; we wouldn't want to get a bad rep.)

Music Library (local music on your device) isn't supported on :
iPad1,1 , iPad2,1 , iPad2,2 , iPad2,3 , iPad2,4 , iPad3,1 , iPad3,2 , iPad3,3 , iPad3,4, iPad3,5, iPad3,6, iPad2,5, iPad2,6, iPad2,7, iPhone1,1, iPhone1,2, Phone2,1, iPhone3,1, iPhone3,2 , iPhone3,3 , iPhone4,1, iPod1,1, iPod2,1, iPod3,1, iPod4,1, iPod5,1

Note :
Continued use of GPS running in the background can dramatically decrease battery life.
iPad Screenshots
Reviews
Good app
Wish is the best app ever
on
9/24/2017
would be better if you could connect multiple speakers through bluetooth
Apple Music
drippy.ryan24
on
9/23/2017
Its ok but i dont like the app because it doesnt connect to your apple music account, it has to be dowloaded music on your phone. Can you please connect to the Apple Music app too besides Spotify?
Great app
The app really does work and boost the sound and quality
Brooooooo
This is so useful for almost everyone and everything 🙌🏼
This app is everything!!
Miriam Gutierrez
on
9/20/2017
Love it!!
review
Meyotohgfrthjgggh
on
9/18/2017
i can play music and everything, but when i sync up with friends the music is off.
"Parties" not syncing
patrickjanelle
on
9/16/2017
I'm able to play music through my device and connect to a speaker, but I can connect to any other device or "parties" as AmpMe calls them. The app countinues to appear like its syncing but never does. And there's no support email to get this resolved. Would be a great app... if the primary reason it exists actually worked!
Great!
Music lover! 04
on
9/16/2017
Such a cool app!
Finally
I've waited to long for an app like this, thank god!!!!
Love it but can you...
Yazzayazzayazzay
on
9/15/2017
Absolutely love the app, but I can't connect to my own speaker when we are going. Only downfall I see. Will it get fixed?
The app I've been dreaming about!
Bmartin24726
on
9/13/2017
I've always wanted an app for road trips with multiple vehicles to be able to sync up our music and now we can!!! I absolutely love this app!! I have all my friends using it now and it's the best! You guys rock!!!!! Don't ever stop
Meh
A prime problem
on
9/13/2017
You have to use local music or an Integrated partner. So you can't use your Google play music or other music apps
Wanna chill with some friends?
I love playing some mellow music as loud as my speaker will go, and this just helps me do it better. I love it, and would absolutely recommend this to all of my friends, and even people I don't know, just because that could make us friends. No I wasn't paid to rate this app. I was given a prompt, "would you like to rate us?" And was like... heck yeah!
How to be annoying
MrGuyPersonHD
on
9/8/2017
Ya know that time when you wanna annoy all your friends but your phone isn't loud enough? Well now you can use all their phones as well. It's perfect. I got fired at work for this app. Best decision ever.
Yes
AssassinDolphin
on
9/8/2017
Yes
Awesome
Sick app I would recommend adding a chat though for far distance stuff.
Trash
If I could give no stars I would. It says "song isn't available" when it's in my iPod library. Won't connect to Spotify. Good reviews must be bots or paid. Tried on 2 different devices
IT'S LIT!🔥
she'saunicorn
on
9/3/2017
Awesome app!!
AMAZING!!!!! 1000000000%
THIS IS A MUST GET! ITS PERFECT FOR ANYTHING!
such a great app
THIS APP IS AMAZING GET IT NOW
Crap
Stephanie Virella
on
8/30/2017
Won't let me listen to Spotify songs 😒I've typed my user and pass 8 times and it freezes I even made a new account and still nt works
Really Great!!!
One day I was walking with my friend to school and he was like, "Yo get this app and we can sync our phones to listen to music even louder!" And I thought oh man this is going to be some trash app that makes you pay to listen to the music you want. But when I got it and we played some music, it was lit! When we got to school we got 4 other people to get the app and we played the music so loud and I was great! I really suggest this app, its an app like no other!
Great fun
With this app I really did feel like I had enough money to get surround sound.But I don't,so this made it feel so I had been at the place where it had been filmed.It=music.Great app and it's worth your time.Really.
Great app
Good app to listen to music
Syncs my YouTube music
Does what it claims, but there was a half beat delay delay between my Apple iPhone and my Android Z2. Well worth the download!
Amazing
Bballvillian03
on
8/19/2017
This app is sooo awsome. I love using it and the music is always in complete sync🔥👏🏼👏🏼
So far so good
HassanNasser
on
8/19/2017
Just got this app recently but it's really great it makes it easier to listen to my music with friends around cause we all are in sync with songs, but I never got to try it with people other then the host using Bluetooth does that work can other people uses Bluetooth while in the party?
Nice app
Nice app, but don't acept deezer.
I like it but...
Ihatemakingnamesforthis
on
8/14/2017
I REALLY LIKE THE APP. Don't get me wrong. I just wish there were some type of dj settings that were on the app. The ability to merge seamlessly in between songs would make amp the ultimate party tool. Or if it worked with other dj apps on the AppStore for a premium price that would be nice. I really love the app and what you guys are doing but the pause between songs as they load is tragic. Adding dj tools to the app or partnering with a dj app to bring dj tools to the app would make this app 100x better.
Ideas for next steps
Awesome app. Next step would be to control the volume of all the connected devices at once. I would also be very impressed if you can end up playing music on both the phone and it's bluetooth-connected speakers (as well as the other phones) with AmpMe. Keep up the great work
Stumbled upon ampme at a wedding
And I love it. Very fun for parties.
Disconnections
I couldn't even listen to a full song without it cutting out and disconnecting.
Love it
Absolutely love this App!!! Great job guys I've been waiting for something like this to come out !!
This is the best app I've downloaded recently
Love the idea. Love the design. Love everything.
Stupid app
I downloaded the app because it says you can connect multiple Bluetooth speakers and it does not do as advertised
review
Braeleighpaiz0523
on
8/7/2017
i don't usually give reviews but this is a really good app!!
Great app!!
I love this app so much. It works really good with only two people. The thing I don't like is that for some reason, it distorts the sound quality of my music. It makes my songs slightly slower and deeper sounding. That I don't enjoy because I can't sing to them how I normally would. I just hope that problem can be fixed, other than that, this app is great.
Muito bom.
Muito bom mesmo. Tô impressionada. Rápido, não trava e realmente funciona. 👏🏻
Amp my vibe up
Stupidly easy, worked better than official iOS apps
Good app in the music sync world
Have several apps on my phone dealing with sync listening. This one is really well done and works most of the times. Would be nice to have option for private party, invites or passwords. Also, when adding a song to queue, not to have all the playlist added automatically, but just the song I want. A big plus for the good automatic synching when more people listen to same song.
Great
Amazing I use this at work with others and it makes a party.
Makes what it says
Amazing app, definitely makes what it has to make, sync a lot of devices and make a giant speaker! Good sound and fast syncing, add more soures as soon as possible please 🙏🏼 recomended 100%.
THIS APP IS AWESOME
I've been looking for something like this for forever and now that it really exists, its so great. Its perfect when your hanging with a few friends and wanna listen to some music.
Fact Sheet
Publisher:

Amp Me inc

Category:

Music

Released:

Sep 24, 2015

Current Version Released:

Sep 25, 2017

Version:

6.2.2

Size:

81.5 MB

Compatibility:

Requires iOS 9.0 or later.

Recommended Age:

17+

Game Center Certified:

No

Supported Devices:

iPad2Wifi-iPad2Wifi, iPad23G-iPad23G, iPhone4S-iPhone4S, iPadThirdGen-iPadThirdGen, iPadThirdGen4G-iPadThirdGen4G, iPhone5-iPhone5, iPodTouchFifthGen-iPodTouchFifthGen, iPadFourthGen-iPadFourthGen, iPadFourthGen4G-iPadFourthGen4G, iPadMini-iPadMini, iPadMini4G-iPadMini4G, iPhone5c-iPhone5c, iPhone5s-iPhone5s, iPadAir-iPadAir, iPadAirCellular-iPadAirCellular, iPadMiniRetina-iPadMiniRetina, iPadMiniRetinaCellular-iPadMiniRetinaCellular, iPhone6-iPhone6, iPhone6Plus-iPhone6Plus, iPadAir2-iPadAir2, iPadAir2Cellular-iPadAir2Cellular, iPadMini3-iPadMini3, iPadMini3Cellular-iPadMini3Cellular, iPodTouchSixthGen-iPodTouchSixthGen, iPhone6s-iPhone6s, iPhone6sPlus-iPhone6sPlus, iPadMini4-iPadMini4, iPadMini4Cellular-iPadMini4Cellular, iPadPro-iPadPro, iPadProCellular-iPadProCellular, iPadPro97-iPadPro97, iPadPro97Cellular-iPadPro97Cellular, iPhoneSE-iPhoneSE, iPhone7-iPhone7, iPhone7Plus-iPhone7Plus, iPad611-iPad611, iPad612-iPad612, iPad71-iPad71, iPad72-iPad72, iPad73-iPad73, iPad74-iPad74,

Supported Languages:

Arabic; Chinese; English; French; Hindi; Japanese; Portuguese; Russian; Spanish; Castilian;

Parental Advisory:

Mild Profanity or Crude Humor; Unrestricted Web Access; Mild Alcohol, Tobacco, or Drug Use or References; Mild Simulated Gambling; Mild Realistic Violence; Treatment Information; Mild Sexual Content and Nudity; Mild Cartoon or Fantasy Violence; Fear Themes; Suggestive Themes;