This version of the app is not recommended
App last updated
Nov 10, 2017
Screenshots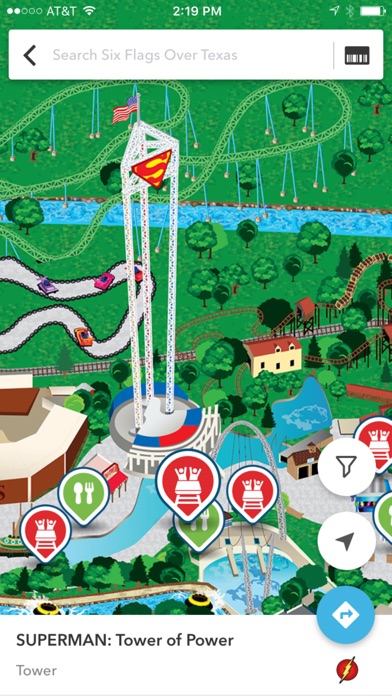 New in version 2.7.1
This version contains more bug fixes.
Description
The official Six Flags app allows you to make the most of your next visit to any of the Six Flags parks in North America. Whether you're visiting us for the day, or planning for season-long thrills, we have something for everyone!

• View and share your ride and park photos*
• Navigate the park with our interactive maps**
• Access ride wait times***
• View Show and Character Meet-and-Greet Schedules!
• Purchase tickets, parking, meal deals and more
• Plan your meals with restaurant menus
• Check park operating hours
• Find upcoming special events
• Learn about all of our rides, restaurants and shops
• Connect with your company or group outing

Exclusive Passholder Perks!

• Store up to 15 passes for family and friends on your phone for easy entry****
• View and redeem your pass holder benefits


Use this app for all Six Flags parks in North America, including:

• Six Flags Discovery Kingdom
• Six Flags Magic Mountain
• Six Flags Hurricane Harbor
• Six Flags Over Georgia
• Six Flags White Water
• Six Flags Great America
• Six Flags New England
• Six Flags America
• Six Flags St Louis
• Six Flags Great Adventure & Safari
• Six Flags Hurricane Harbor New Jersey
• Great Escape & Splashwater Kingdom
• Six Flags Fiesta Texas
• Six Flags Over Texas
• Six Flags Hurricane Harbor Arlington
• Six Flags Mexico
• La Ronde


*My Photos available for U.S. theme parks and water parks only.

**Maps available for theme parks only.

***Ride Wait Times are available when you're in the park after 12 pm. Enable Location Services to view wait times in the Rides section.

****Only biometric (finger scan) passes can be used for gate entry. Pass holders with non-biometric (photo) passes, including young children, must continue to bring their plastic card with them to the park.


We're continuously improving our app! If you have any feedback, please contact us through the Settings section of the app.
Reviews
Help?
How do you see how long the wait will be for a rollercoaster? That's honestly the only reason why I got this app... Any help will do👽
Can't use Order Lookup?!
I have apps in place to protect my iPhone, but once they block a crucial part of accesso.com, it gets stuck with a "Something's Wrong" error. Sigh…! I wish there was a way to hard reset the app! Normally, I'd give only one star for this, but when the app is headed in the right direction, I give one extra.
Eh
dbemf fnfjfj
on
11/26/2017
Helpful app just wish they had wait times
App is useless for events
Finally had a new enough OS to finally be able to use the app in the park. Went to Holiday in the Park at SFoTX, for the first time in 20 years. Map claimed that all the special holiday stuff was in the "Merry Marketplace," which is located in front of the Majestic Theater. This was where the snow hill was in the 90s, so I believed it. Took my family all the way to the opposite side of the park, only to have to ask three different employees where it was. When the third person actually knew, it was on the opposite side of the park again... ...where I already was before trying to go where the map told me. Also, things that are Flash Pass don't always have an icon. My family had a free one, that we would've used for the snow hill, but didn't ever know. My husband told me at the end of the line that half down the line there was a sign. Like that would've helped by that point. Instead I stood there seeing what I assumed was a bunch of line cutters, since that seemed to happened a lot today, even at the ticket booth. So I was getting worked up over people who honestly did nothing wrong.
Wildly inaccurate wait times
potatoheadbobby
on
11/18/2017
App is not good for much except ride wait times, and those are wildly inaccurate. Most rides show a 5 min wait time even though they're closer to an hour.
OMG
Awesome! 3875
on
11/14/2017
OMG I LOVE SIX FLAGS I CAN EVEN LOAD MY PASS OMG AMAZING SF.STL YEAH THANK YOU SOOOOOOOO MUCH IVE BEEN 31 TIMES 2017-18 SEASON SO FAR YAAAAA
Should have Apple Watch app & iPhone X
An Apple Watch app with the season pass loaded on and able to be scanned would be great, I wouldn't need my phone then. Also iPhone X compatibility please
Weak. Confusing for family memberships
TheGreatUnknown
on
10/10/2017
I see no way to switch passes for scanning. I have four members on my account. I also don't see member benefits and promotions. Sigh.
Wait times are a joke.
I got this app to assist in planning our day with regard to waits times for rides. Waited 90 minutes for a ride that kept saying 30 minute wait. What a joke.
App
The app is ok and easy to use. The park is fun to enjoy the rides. But as far as emplyment the park needs to improve from childish policys and make it fair for everyone.
Info only as good as it's input
Just started using the app in hopes of avoiding long(er) lines. Unfortunately ride info was last updated 2 1/2 hours ago. Not exactly useful! Good map and dining info. Will try loading card info as well.
I love the app
I don't care about ride times I just use it to get around the park
Update please fix
This latest update won't let the app work keeps crashing right when I open it.
Very useful app
Subash Patel
on
9/16/2017
We have season pass and this app provides all information about our pass, its benefits, park details etc in one place. Very beautifully done and moreover very useful to have in the device.
Fraudulent company with no customer service
Got the season pass and within 2 hours due to ride closures requested refund and left Park. I was given a number, for 9 months I've asked for a cancellation and they've charged my cc every month. I've cancelled the cc now they're spamming me for nonpayment, ridicules. Last cs person said too bad u signed a contract. Never setting foot in this place. Don't give them ur cc info, don't sign anything. Their desperation for money is far more than concern for a customer.
Needs photo card
It needs to be able to have my photo season pass just as it does with my season passes. I hate having to carry the little paper card to get all my photos Everything else is good
Pretty worthless
Livinginthecloud
on
9/3/2017
Ride time updates were 5 hours behind today. Might as well not post ride times if you're not going to update them.
Wait times for DFW Six Flags
Where are the wait times? Not showing in app.
Wow!
pebblesdapanda
on
8/23/2017
I got this app with low expectations due to all the low ratings, but was genuinely surprised. the app works great, and i am basing this with my home park, which is six flags over georgia. six flags white water has a really nice animation when you go on the menu. the season passes are super handy to have on your phone. i am impressed!
Not well thought out
This app was pretty much useless when we visited six flags. Only small pieces of the map downloaded, and the rides we cared about weren't showing up on the list. The map was also fairly useless due to the huge icons for map items blocking the background graphic. As a developer myself, I don't think it's unrealistic to expect the map to download decently on highly saturated cellular networks (that should be expected at theme park). The map should also be able to display lower res rasters until high res versions can download (like any other map app).
Six Flags Fiesta a Texas...wait times not updated all day
This could be such a great app, but for our needs it was basically useless. Wait times said that they were updated at 2:20 pm when we checked for the first time at 3:15. Ok, it wasn't current but it was close, and the wait time was actually less than the app said. But all day after that, no matter how many times I'd refresh or close and reopen the app, the ride wait time would still say that it had last been updated at 2:20pm. At 9:30pm, it STILL had the 2:20 update time. It finally moved past that...after the park closed for the day. SO helpful...not.
Waste of time
Shows no time app is definition of trash if you need assistance in finding a ride or want to see a picture then sure. Of course it works if you want to see the manufacturer of the ride, exhilarating 😁
Wait times not even close
Not accurate at all
Very Impressed, Simple
Ancient Alien the game LOVER
on
8/7/2017
I recently lost my card, but with this app it was surprisingly easily to set up my account! Usually apps like these take forever with confusion but with less then 3 minutes of your time you can easily log in to your season pass and even have it scanned to get in.
Horrible
The wait time feature is way off on almost every ride. Some said there was a 15 min wait when the line came all the way out to the regular walking area. While others rides claimed a 90+ min wait only took 30 mins. This app just about ruined our trip yesterday because it was impossible to trust which wait times were accurate
Wait times need work!
Nevershoutholly- rock it
on
8/3/2017
It showed 5 min wait time for rides that were 30-45 min waits and a 10 min wait for a ride that was a walk on. Apps for Disney and universal studios who have wait time apps have customers who just got off the ride send in about the amount of time they waited and then the app averages that out for a wait time. Those wait times were much more accurate than this app. I was trying to figure out how to send in our wait times to make it more accurate and there wasn't a way to do it.
App Needs Work
Attach chewbacca
on
7/31/2017
This review is based on my experience at Six Flags Great Adventure in NJ. First and foremost, the wait times for rides were off and usually way off. This is probably due to the ride times being updated only one to two times an hour. We waited sometimes twice the time the app listed. It worked once in our favor when the app listed a 70 min wait time for Bizarro, but actually landed up being 20 minutes. The map feature and getting directions to a ride worked great and we found it to be the most useful feature. However, for some reason when I would sort the rides by distance (those closest to me) it was drastically off. We could be waiting in line for El Toro and when I wanted to see what other rides were close to us, it would list El Toro 8 rides down on the list, therefore that feature was unreliable. Lastly, because the last feature was unreliable, it would've helped if you could have grouped or sorted the attractions into their perspective Lands (Frontier Adventures, Fantasy Forest, Adventure Seaport, etc.) The Six Flags app desigers should look at apps for Disney World.
E tickets are only reason it gets 2 stars
The E Tickets are the only useful function in this app. The wait times are horribly inaccurate, even when updated - which is infrequent at best. Six Flags has a long, long way to go if they are trying to compete with Universal and Disney on the technology front.
Looks good but not useful enough
Used this app last fall. The interface was ugly but had the info I needed, especially ride status and wait times. This update looks gorgeous but is almost useless. Doesn't show when a ride is closed or any wait times at all. At Six Flags America the Batwing is at the end of a long walk - if it closes, it is a huge pain to go over to Gotham City for nothing! The app needs to tell you when a ride is temporarily closed, and it needs a big refresh button with a "status as of hh:mm:ss" time stamp so we know how recent the info is. Add this functionality in a future update and I'll give it five stars!
Three months after no updates - wait time off
At Six Flags Great Adventure having someone to take it is still hit or miss... They go as far as saying that have been instructed not to accept it. Yet some employees do take it no issues. Not sure it is an app issue as much as training or a profound desire to aggravate people. I have given up, after I have never heard Six Flags and good customer care on the same sentence. Now wait times, are never accurate. I am currently 45 minutes in a supposedly 5 minute wait. That is typical.
No shows
Map feature okay...at first it went bad. After a couple hours it quit working!! Could not find Raging Bull ride, Winners go karts, Big Drop ("no search redults"). It had them a minute ago, then found nothing! Very frustrating. Then saw that it had switched over to a Six Flags in California!! It's also missing list of shows. That's what some parents want while kids go on rides. No list of shows and show times for the day. Had to go to shows and look at marquees. Time waste. Good I didn't pay for this app...
Good but
This app is good but the wait times are horribly inaccurate was at Magic Mountain the other day and it showed a 15 minute wait for Super Man Escape from Krypton and ended up waiting 45 minutes and later in the day it said twisted collossus was a 70 minute wait and it ended up being a 20 minute wait witch was nice but still
Awesome App
Six flags spent their money well with this app. Holds your seasons passes, wait times, current promotions, and even locates your current location in the park, and helps you get to your next ride
Absolutely useless
Ride times are wayy off. Do not trust. I've been waiting on green lantern for 30+ mins when it's been saying 5mins even with refreshing. Stuck waiting though since superman is not working and nothing else on this side of the park =p
ServerAlwaysDown
SeasonPassHolder
on
6/28/2017
Server down again today...trying to make app purchases for season meal pass, and it has been down for FOUR hours already. So irritating.
Confusing
Very confusing couldn't find the waiting time . And there are no information for each game for example what is the height is required to ride the game I have two kids and one of them is 47" while some of the rides require 48" so we had to walk to the game to see what is the requirements. Waste a lot of time to figure which game we need to go too.
Useless
Nurseratcheted
on
6/27/2017
There's really nothing more to say before I delete it
Six flags great America
I love this app I use it when I go to six flags great America it's easy to show it by the parking lot and by the ticket booth faster I have my season pass scan on here my phone hope to keep this app I love it :)
It's crap
The ride times are rarely updated. They never give you times until you are at the park and even then they aren't updated. It's 7:20pm and the last time the ride times were updated was 4:00pm. Several rides were closed after we arrived at them despite the app showing they were open. Frustrating when you are toting around four kids.
Complete Trash
Nein, I went to Six Flags and saw a.... a robot. His name was Mr. Krabs and he killed almost everyone with his claws, batteries and red eyes.
Six Flags Great America!
Charly Dat Duc Lai
on
6/12/2017
A wonderful Amusement Park and the best Theme Park in Gurnee, Illinois. I will always use this app to help me make plans every single time I go to Six Flags Great America, which is outside of my hometown, Chicago, Illinois. I've been to Six Flags Great America before and the thrills were fun and terrifying.
Missing scan bar
Kittycat245581
on
6/11/2017
Apparently on the app the scan code won't come up.
Rice wait times NOT updated
I'm at Six Flags right now. It's 11:11 pm and the app says that the waiting times were last updated at 12:19 pm. That's almost an hour ago! What good is this feature if it's not accurate? Otherwise, it's been ok. I bought my one day passes online a couple of days ago and I was able to pull them up in the app and get them scanned without any problems.
No wait times
Handy app but there are no wait times!
Amazing
Everything I need to get in a park. The mobile app takes advantage of the good food and thrilling rides! Highly recommended!!!!
Location services!
I love this app! The only thing that could make it PERFECT, is if the location services/routining system was working 😭
App freezes up
This was a decent app, but after the last update I was looking at my available coupons it locked up won't reload or reopen. Tried restarting my phone, still same issue. Froze won't load.
Meh... don't count on wait times
I downloaded the app to see wait times. It's 4:56 and the last update of wait times says it was 1:59... that's not very useful!!!
Easy to use and Helpful
My family has season passes and we love Six Flags. The app stores your passes and coupons that come with it. Ride times are sometimes off a bit. Ride closures and reopenings are updated quickly, saving you time. But the interactive map and filters for types of rides or activities make it a great addition for anyone visiting the park. It's really helped us to plan and enjoy the park even more.
Very handy!
Use this app freaquently because I recently got a season pass and when I get to the park all my pass info is right on my phone, I can see wait times for each ride and which ones are closed! Many, many different things! I would definately recommend this app to anyone who goes to magic mountain!
Fact Sheet
Publisher:

Six Flags Entertainment Corporation

Category:

Travel

Released:

May 29, 2015

Current Version Released:

Nov 10, 2017

Version:

2.7.1

Size:

86.8 MB

Compatibility:

Requires iOS 9.0 or later.

Recommended Age:

4+

Game Center Certified:

No

Supported Languages:

English; French; Spanish; Castilian;