Games
Adventure
Role Playing
Education
This version of the app is not recommended
App last updated
Sep 04, 2015
Screenshots
New in version 1.0.3
Bug fixes and performance improvements
Description
** Winner of 5 Webby Awards - Draw a Stickman Franchise **
** Played over 100 Million Times around the Globe **

Draw a Stickman: Sketchbook is the essential companion for Draw a Stickman: EPIC 2, the sequel to the award-winning original!

Dive into a colorful new world where you are given complete creative freedom to let your imagination soar! You will be given access to the same unique tools from Draw a Stickman: EPIC 2, so that you may enjoy hand-crafted interactions within this magical environment!

CREATE!
Experiment with the enhanced drawing tools, along with a medley of vibrant colors, and turn the blank canvas into your own creative masterpiece!

DISCOVER!
Use your tools to reveal new surprises in this Sketchbook adventure! Different patches unlock different secrets!

SHARE!
Download EPIC 2 to use the drawings you have created in your sketchbook! Share those drawings with your friends, and they can also share their drawings with you!

Unlimited ideas make for endless amounts of fun! DRAW A STICKMAN: SKETCHBOOK is just one chapter in the greater stickman universe. Experience the entire adventure and keep expanding your creative mind!
iPad Screenshots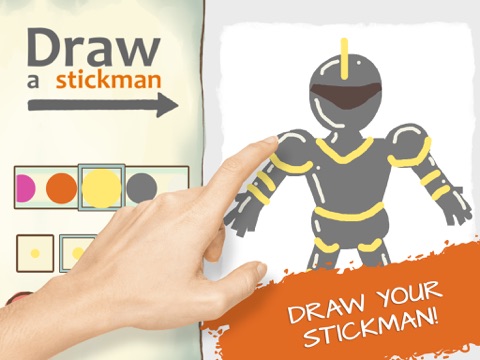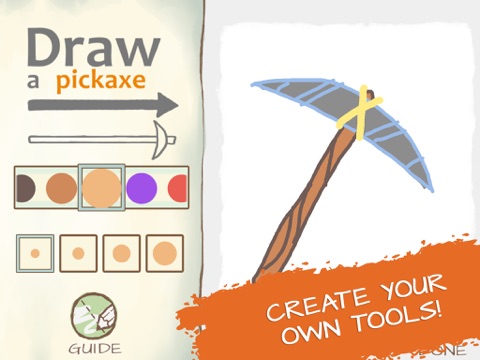 Reviews
Why three pencils?
Why just 3 pencils? I was thinking about what it would be like if you added the other pencils. Like the leaf pencil, the wire pencil, the cloud pencil, the egg pencil, and the ice pencil. Also, when you start the game, everyone gets a few colors when they start. So why not add them all?
Good but it was so glitchey
tristan sans
on
10/29/2017
Why people why
Draw a stick man 2
I like
GOOD Game
I try finishing it a lot it's a challenging game to play a lot of courses you die a lot You draw a person that might look bad you do anything to fix that person unless your just lazy and get it off the web. If I build the game I would probaly make some differences to it.
Maddy Hart
JUNK. Got stuck at the 3rd one. Don't recommend this app 🙁
Sketch book
AhmedAlobaidi
on
9/3/2017
I love it but too much hard work
How could you think its bad
It's just a game to draw, it's not a waste of money though Because there's no ads and it's fun. I'd say it's good
BOOOOOOOOOOOO!!!!!!!!! 👎 👎 👎
I saw a YouTuber do a vid of this game. Looked great! I got it. IT'S A CHEAT!!!!!!!!! It's just the tutorial! Turns out u need the full version! I'm sorry, creators. Please make this say "tutorial." From what I saw, the full version looks cool. Just make sure everyone here knows that this game is not the real thing. 😐
I love it
cokeymonster333221
on
7/1/2017
I love the app but it is too short and I think the 2 version should be free and have more chapters.I also have not downloaded the 2 version.
Too Short
The only reason I rated 3Stars is because it's fun to make your own character and play as it, BUUUUUUUT! It's too short... - Plz Fix That😒😝😊
Can't restart
You can't reset your progress which is annoying, plus this is not in the full version.
It's pretty good
Phantom1foxy
on
12/8/2016
This is a pretty good app to play and mess around with
Unfair!
VIBESSSS1234097
on
11/30/2016
Not everyone wants to pay for the full version it's really uncool that you have to pay and then what are you gonna do after the tutorial NOTHING! Unless you wanna pay its unfair and the game was short don't waste your time and money on this game.
Too short
Minecraft Pe is well
on
11/25/2016
What's the point if you can do all this on draw a stickman epic 2? It's also way too short and you literally do nothing
Great but...
It's so cool and awesome. But a little short. I hope I don't need to pay money for the full vision.
Mama has enough debit
She has enough to buy it the first one is easy just get the leave pencil but the second is the title starts like ??? I don't no why but really called the wasteland then is the ink mine you go y'zin your wire and kill that blob then finish and then comes your evil friend and it's so so so so so so hard for me cause I can't do it on the ink mine😔😔😤😫😩🙁😣😕🙁😐👎👎👎👎👎
Love it
Because you get to draw items You get to explore
Best game ever
I love it a lot &LoL
Cool
datlucksnipr4
on
4/20/2016
It's cool to just mess around, but the full version has a story, characters, and other cool cosmetics. It make this game cool but not amazing. If you want to make random things, Donload this game. But you would want to get the full version as well. Over all a good game.
short but cool
it's cool but it's short.... that's why I rate it 4 stars
Nice game😊😊
fantasticfox777
on
4/1/2016
It is a good game aspessy for people who can't buy the real version it's short but good😊😊
Short but good
Abbsgshoajsys
on
3/8/2016
Its pretty short and pretty boring can you please add more to it or make a free full version but its still pretty good
Boring!!😐
Master at Drawing
on
2/26/2016
It's kinda boring and short. I really wish that you didn't have to buy the full version.😐😒
Draw A Stickman
Jana fabulous
on
1/31/2016
I don't like that you have to buy the full version you should be able to get the full version without buying the full version I don't like it
Short
Yoisthisnottakenyet?
on
9/12/2015
Cool concept, but ultimately short and kind of boring
It's awesome
It's so awesome I can't wait to get the Full version
So good
So good I don't want to delete this app😀😀😀😀😀😍😍😍😍😍😍😍😍😍😍😍😍😍😍😍😍😍😍😍
Great And New To Me
Love This Game But I Can't Buy Epic 2😢💔
Fact Sheet
Publisher:

Hitcents.com, Inc

Category:

Games

Released:

Jul 08, 2015

Current Version Released:

Sep 04, 2015

Version:

1.0.3

Size:

119.4 MB

Compatibility:

Requires iOS 7.0 or later.

Recommended Age:

9+

Game Center Certified:

No

Supported Languages:

English;

Parental Advisory:

Mild Cartoon or Fantasy Violence;