This version of the app is not recommended
App last updated
Feb 08, 2018
Screenshots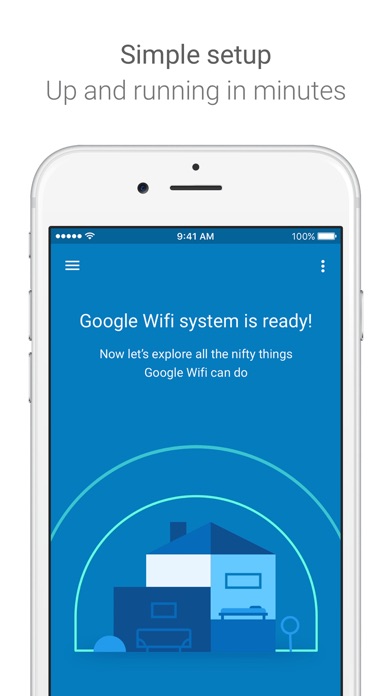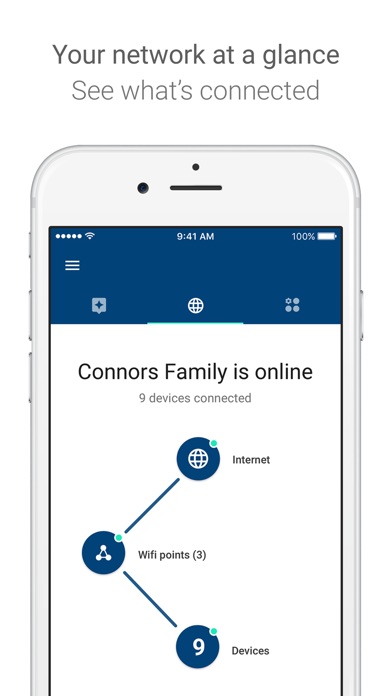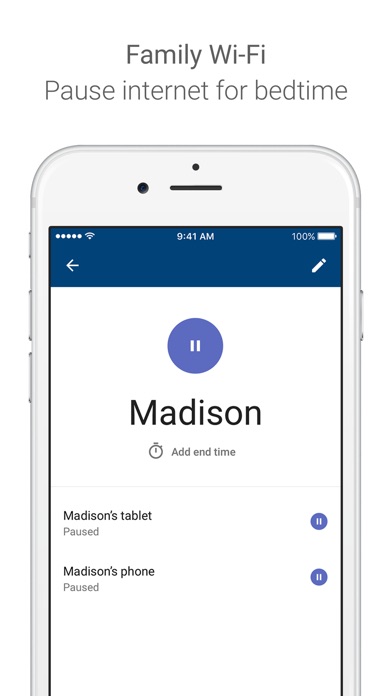 New in version 2.8.1
App shortcuts: Quick access to Network Check and Family Wi-Fi from your phone's homescreen
General stability and performance improvements
Description
The Google Wifi app lets you set up and control your Google Wifi points or OnHub right from your mobile device. It puts you in control of your network -- easily share your Wi-Fi password, see what devices are online, prioritize them for better performance, or pause the Wi-Fi on kids' devices. The app also provides insights to help you get the most out of your Wi-Fi.

Here's what you can do with the Google Wifi app:
• Set up your Google Wifi system or OnHub in just a few minutes
• Prioritize a device for faster speeds when it matters most
• Pause the Wi-Fi on kids' devices
• See what's connected to your network and how much bandwidth you're using
• Create a separate network for your guests
• Run a network check to test your connection speed
• Make changes to your settings, such as your Wi-Fi network name and password
• Add a network manager who can help you monitor your Wi-Fi
Reviews
Lack of VPN is saddening
Ticklemedaly
on
3/17/2018
In general, great app and excellent system. However, the lack of VPN client support is very saddening and makes me miss my ASUS routers. In order to bring it back, I would have to install a router that supports VPN and use this strictly for WiFi - but then I'd lose a lot of functionality...
Quirky simplicity<robust controls
It could be great, but it's not yet. Had to create a new Wifi point because my onhub router/app connection was freaking out. Long story short, so much potential but far from Apple-esque sophistication. And PLEASE, give real-time numbers during the speed test. You know, like every other internet speed test.
Out of Date
Please update this app to support the iPhone X display; updating it will help increase usability.
Please update
Please add support for iPhone X. I have to use your application multiple times a day, at this point I'm very sad every time I open it and have to look at wasted real estate. It took more than Ten years to get rid of Two, One centimeter tall bars. It shouldn't take more than a week to fill all these beautiful new pixels that we have worked so long to achieve. I completely understand that making iPhones look better is low on the priority list here, but I'm begging. If that's too much to ask, it's ok, but I at least need a few more administrative controls over my network. I'm taking dev tools, I'm taking more informative diagnostics, I'm talking automated task control. If you'd like help, I'd be happy to send in my résumé. I could get a nice summer internship, and pay for more WiFi points. Thanks in advance! - Paul
Good app needs an update
App works great just needs an update to work nicely with iPhone X
iPad app?
***Please Google, make an iPad version!!!!!!***
Garbage
Even though I'm connected to my WiFi network and everything seems to be working, this app indicates that my network is offline. As such, I can no longer interface with my network so this app is useless. According to the forums, this has been an issue for some time and google isn't doing anything about it.
Not trusting the app as much
Initially easy to set up. Download speeds were much better. Started having very slow speeds and drops (couldn't tell if it was xfinity or the routers). Finally started getting better speeds again. For the past two months, the app reports download speeds of 78 as "blazing fast". Seriously?! Today I checked speeds using other options (had great numbers), waited a bit, and then checked with the app—same BS "blazing fast" 78 download. I've sent feedback through the app repeatedly.
iPhone X
When are you updating to iPhone X ?!!
UPDATE YOUR APP FOR THE iPHONE X!!!
This app seems to not get updates anymore. Such a shame for a $300.00 router!
iPhone X Support
Please add iPhone X support. Also, UI could be tweaked to make the app easier to navigate around.
Never works
The Wifi pod works fine. Every time I click on the app, it says my pod is offline at the exact minute I click. Cannot use any features. Worthless.
Needs iPhone X support
Great app and user friendly. However it really needs iPhone X support. Please continue to innovate.
Expected a lot more from Google
User interface is terrible. Not intuitive at all. Limited functionality based upon other options available in the market. Very limited parental controls.
Gitcchy
Terrible app, too glitchy.
Google nailed it with this product!
The app is great and is simple to use and set up your home WiFi network. Fantastic.
Could use iPad support. But it's still pretty good
iPad support would make experience with google WiFi EVEN BETTER. heck add Apple TV too it's been a wonderful experience.
Love it
Love the app. Very usefull for parents. One suggestion is to allow same device to be added to multiple groups
Can we get a little IPhone X support please?
Most all google apps have iPhone X support. Can we get a little love here?
Poor Programming
Jhdydxrujgfser
on
2/21/2018
Not a seamless system as represented by Google. App is slow and uninformative. Wi-Fi mesh points do not seamlessly connect and frequently give error message that units are too far apart when sitting next too each other. Pretty dissatisfied with product at set up point. We expect better at this price and from this company.
Long overdue for iPhone X optimization
Needs more configuration options.
Missing one thing...
I would give this 5 stars but the fact that it's missing the ability to choose which band to use is a missed opportunity. Devs, please allow us to chooses between 2.4 and 5 as we please per device!!
Solid App & Great, Well Maintained Hardware
This is a decent app and, together with the routers themselves, appears to be regularly maintained and updated with new features. I do wish they had an iPad specific mode (landscape, especially).
Love your application but...
KyleRichards
on
2/16/2018
I really like your application. But can you please get your developers to upgrade it to support the iPhone X? I hate the black bars on the top & bottom.
Great but needs iPhone X support
Google WiFi works great and it has allowed me to set schedules for different devices in my home and enjoy high speeds. The only thing it needs to receive 5 stars would be to add support for the iPhone X screen.
Typical Google Ignorance for the Wrong Product
Just to name a few: 1) force you to wait 3 minutes between restarted . Of course google knows this is ridiculous. Restart time depends on your device (modem) and would it take 1 min to fully start up? No. Google just want to make sure you hit the highest possible threshold for restarts so if you had further issues , it must not be a restart problem (to help their customer services) But come on, P99 of users should finish their restarts in 10 seconds . It is wasting everyone's time if I need to re-setup the device due to other settings issues (not related to restarts) Basically, google it thinking that we are all idiots who can not even properly restart their devices. 2) can not activate Xfinity through the WiFi router. In the worst case , a typical WiFi router allows you to connect to it with your laptop via its default SSID and password . There you can change settings and even activate services like Xfinity. Google WiFi, on the other hand, can not. It assumes you somehow setup the internet connection without it and just use it to expand your WiFi coverage . So, even if I got google WiFi, I can not connect to it. You can only interact it with the app. And if Xfinty asks first time users to activate its service , google WiFi would simply fail to setup. I need to get back my old Ethernet desktop to set the entire thing up, even if WiFi and modem are properly connected. What a useless toy it is ??
Needs iPhone X support
wirelessnet2
on
2/10/2018
The app works fine, but I'm so tired of looking at an unoptimized app. I can't believe that it hasn't been updated yet.
Web Service Off bug still there
Still cannot turn on web services. No access to family settings or network activity. It's been a year since this horrible bug surfaced. Forced to return pucks to factory settings and rebuild the mesh anytime I need to change anything and then the web services turn themselves off again within a few hours. We get one update every 3 months or so and this doesn't get fixed. Can google please put some effort into solving this???
Disappointed not updated for iPhone x
Disappointed that Google has yet updated this app to support the full screen on the iPhone X .
Easy (Just add iPhone X Support Plz)
Mlg Swag reviews
on
2/8/2018
Really easy and quick to use, when you need to port-forward especially. And when you need to change anything it comes in handy.
Where's the iPhone X compatibility
This app works fine but it's not taking up the entire screen of phone. Super unattractive.
No iPhone X support?
An update almost 30 days after the release of the iPhone X yet the app still does not support its screen size. Update: now almost 100 days after the release of the iPhone X yet the app still does not offer support for its screen size.
IPhone X
sleepy-head93
on
2/8/2018
App isn't updated for iPhone X screen size
Fantastic App. Optimize for iPhone X!!
I love the app. I have so much control over my entire WiFi network. The Google WiFi system is fantastic as well. With three routers I have clear signal all over my house. It would be great if the app was optimized for an iPhone X user.
Unreliable
applecustomer1234xyz
on
2/5/2018
I wish I had kept my old routers. I was sold on the idea of seamless transfer of signal as I walked through the house. But what good is seamless if there is no signal? Intermittent signal failure. It isn't my broadband provider. It's the routers. Inexplicably the routers stop sending a signal. I've had them over 30 days so I'm stuck with them. What a waste of $300.
Not able to update mesh
This app has been unable to solve multiple network issues like updating networking software, restoring/resetting mesh hubs, or to fix problem of one hub crashing - disconnecting from network. I do not recommend this product!
iPhone X support
Been waiting months for that iPhone X support.... where is it??!?
WiFi points need constant attention
The app is not intuitive and you end up digging around for the functions that you want. But the system is worse than the app. I am constantly having to reconnect my WiFi points as they fall off daily. I have the OnHub and 3 Google WiFi points in a ~3500 sq ft rambler and can't seem to provide reliable internet throughout the house. Don't purchase this system.
TERRIBLE DESIGN
There is a timer on the setup steps!!! I had to sit and wait for 3 min during troubleshooting watching the clock
Works like a Charm - Excellent Features
Literally plug-n-play. Was up and running within 10 minutes (includes removing packaging) using two pucks. Speed: Getting hard wire speeds (110Mbps) on WiFi!!! Features: Create groups for example my kids. Set time range to pause all their devices. Works flawlessly. Prioritize a device in case I'm watching a 4K vid and want to ensure speed. Guest WiFi. Best of all: Can manage my settings while away from home from my iPhone 👏👍🏽 All in all, super stoked!
Amazing Wifi with a few app issues
Drewfromthelou
on
1/23/2018
Let me start by saying it's the best router I have ever purchased but two issues cause it to be less than ideal. One is the app is not updated for the iPhone X and second there is no way to force a device to be on the 5ghz band. My TV constantly gets dropped to 2.4 and then video lags so I have to reboot to get back on the 5ghz channel. Fix those two issues and this goes straight to a 5 star review.
WiFi setup
Toastmasterman
on
1/18/2018
I had to do it to two times.I hate it One Star
not there yet
Bought Google WiFi as it supports MU-MIMO and is simple to setup. It was simple to setup and use and offers several statistical insights into your network. However it's key flaw is that in an area like city downtown, which has 10s of networks around, the network barely works. It doesn't have the smarts to choose a less congested or empty channel so it ends up being very frustrating experience. I had to run a WiFi Analyzer on Android to see the network congestion. It offers no way to change the Channel unlike Amplifi so it's going back.
iPhone X Support?
The app works fine for the most part (not that I run it much or need it often), but when will it be updated for the new iPhone? It's been out for several months, and even shopping apps have support. How is it that a tech company doesn't? Would love that and new features.
Horrible App experience!
Google should really work out the bugs of their mesh access points and connectivity issues. The access points need factory reset if the primary point is even power cycled???
Missing content
When setting up the Wi-Fi point the app says to unplug the modem then to unplug the Wi-Fi hotspot point. You never tell the customer to plug them back in. You assume they will but the steps are incomplete as you leave it unsaid and skip to checking the connection.
First Time User
When I first tried to set up the Google Wi-Fi I downloaded inadvertently the wrong app. I thought it was the right one since the search brought it up first not realizing I needed to go through the rest of the apps to find the correct one. I'm pretty much a novice when it comes to something like this. The support person that I was able to get a hold of had no idea what I was trying to do since it was not the app for Google Wi-Fi. He was patient but was not able to help because I could not get the Google Wifi app to install. I reconnected my old router downloaded the correct app and installed it very easily. It was a breeze. The only problem I have is trying to watch Live stream which our church broadcasts their services through. I'm not sure what's happening. It just keeps refreshing the first 15 to 20 seconds of the feed over and over again. I am able to watch it without any problem using the iPad. So far that is the only issue I've had. There are three Wi-Fi points with 11 devices connected. Cary was the support person and he did a great job and was very patient with me.
IOS App does not work
I am able to connect to the WiFi, but cannot set up the network. I keep getting an error message. No idea what's wrong. Extremely disappointed.
Try something else.
Third WiFi point did not connect. Update has been hamg9ng for 20 min
Simple and elegant
Jason1Jenkins
on
12/30/2017
So easy to setup that I trust my grandma to do it in her own. It just works!
Fact Sheet
Publisher:

Google, Inc.

Category:

Utilities

Released:

Aug 30, 2015

Current Version Released:

Feb 08, 2018

Version:

2.8.1

Size:

68.9 MB

Compatibility:

Requires iOS 8.0 or later.

Recommended Age:

4+

Game Center Certified:

No

Supported Languages:

Chinese; Danish; Dutch; Flemish; English; Finnish; French; German; Japanese; Norwegian; Swedish;