Not Recommended
App last updated
Oct 20, 2017
Screenshots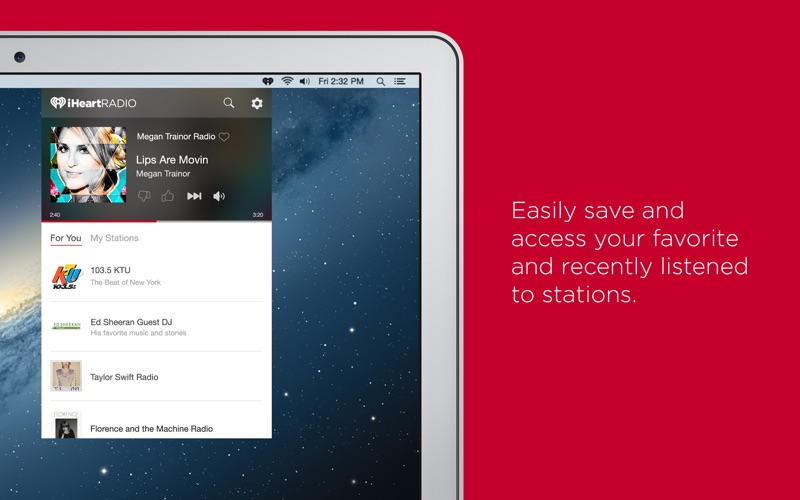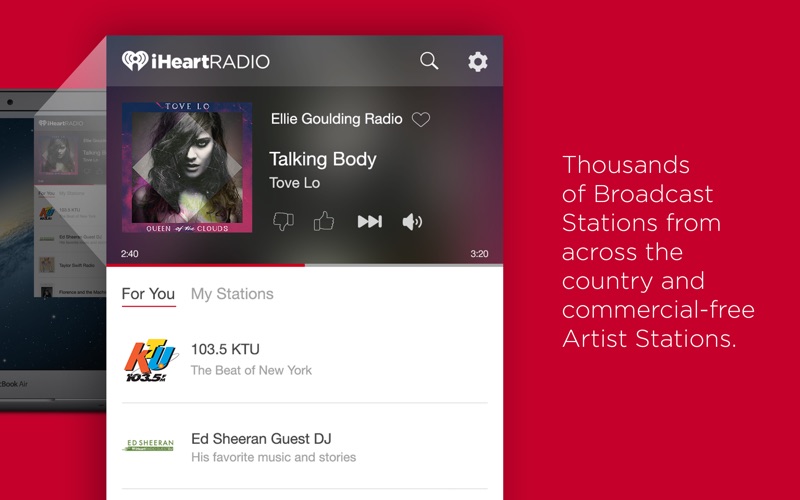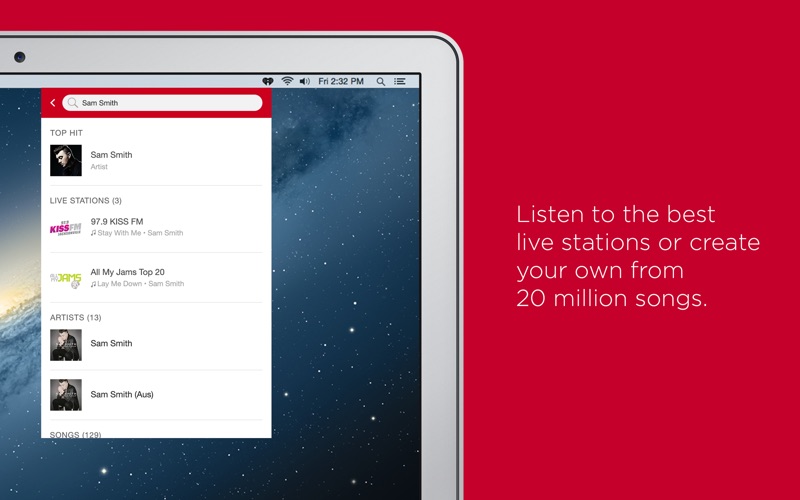 New in version 1.1.1
- iHeartRadio for Mac is now available in Australia and New Zealand
- Fixed minor bugs
Description
Our brand new app is the easiest way to listen to the music you love on your computer:

1. Easy access to your favorite music and stations.
2. Sits in your status bar for easy use.
3. Runs in the background so you can quickly change stations, thumb, or skip with fewer clicks.

iHeartRadio is the only free music app that features thousands of the best Live Radio stations AND interruption-free Custom Artist Radio. Choose your favorite station or artist from our library of 20 million songs and 800,000 artists and iHeartRadio creates a station just for you. Thumb up a song and we'll play more like that, or skip a song you don't want to hear.

iHeartRadio is easy to use, always free, and CNET's pick for "the best streaming radio app." Download iHeartRadio today.
Reviews
Live Radio Static
I use the iPad and iPhone app often. They are great. I installed the Mac app today. While listening to my favorite talk radio stations on the Mac App, the audio goes to static. It does not matter which station. They all do it. It's like old fashioned FM static. I pause and then play the stream and all is well for a while. It goes to static 1 to 2 times an hour. Frustrating. Not what I expect form iHeart.
What happen?
Allen Richard Yeager
on
1/6/2018
I'm a fan of iHeart Radio and use it every day. I don't know what happen. After updated when I click play my Mac freezes and I need to hard power off-on every time. iHeart 1.1.1 Mac mini Late 2014 HiSierra 10.13.2 (17C88)
Unable to view my playlist?
Unhappy77777777777777
on
12/10/2017
I spend money every month on this app, reason being, i like having unlimited access to any music i would like, save to a playlist and play later in what ever order i see fit. After downloading this app there is no way for me to view any of my saved music, any of my saved playlist. Absolutely obsurd, why would i pay money to build my own playlist and then not even be able to use them on all platforms. poorly thought out. Not many user options.
One of the best radio app for macOS High Sierra, but
Captain C128
on
12/6/2017
This is a great radio app for macOS High Sierra. It has lots of internet radio stations and it is easy to use and is accessable from the menubar. It is also very elegant and well designed and a work of art. It is a very well crafted and beauiful program. My only issue with iHeart RAdio is: When wifi is off the program makes my Mac spike up in temperature and the fans kick in really hard. Please fix this and I will give it 5 stars.
NOPE
NOBODY MATTERS
on
11/23/2017
great for as an anytime music app, plus you can at least turn off your device and have it still play, a lot don't do that…
does not work at all
==[HemiCuda]==
on
10/20/2017
stopped launching on my Macbook Pro 2010 in os x sierra; app does not open, and was a waste of time to download, i would give zero stars if possible
i can't open
someone who need music
on
10/16/2017
I am now unable to open this app at all on my desktop and I have macOS Sierra 10.12.6
Great app works like a gem
frank_the_snake_master@01
on
10/16/2017
Works great on my new update on my iMac with High Sierra and the team there is awesome they helped me out since day one and they fixed it within a few days because apple had the new update so they had to update the app too. I was in complete contact with them and they were awesome to first email to last email with them. If you want to make yours work all you have to do is unistall old one and download it from the store now. But the people involved with this issue was awesome. They are #1 in customer service and very polite to me. If I ever had a problem tjey took care of it right away or if was going to take longer they let me know and app works awesome the way it is suppose to work. Wish more companies were like them in cusotmer service they bring customer service back and love them. So enjoy the new app works great and people behind the scenes that you do not talk to are awesome #1. I dropped my Pandora foe them cause they are #1 in customer service.
Nice App
I listent to iHeart radio pretty regularly. Just found this app while looking for something else and thought I would try it out. Apps works fine. I enjoy the streaming and can listent to my stations I had setup on the webpage. The one place I really find it lacking is not having any keyboard interaction for play/pause/skip and for rating songs. I always have to click back up to the icon. Keyboard integration would get this to a 5 for me.
please link the previous version thanks
VaNeSsA MaNtiLLa F.
on
10/15/2017
Where can i download the previous version? Ty
App Closes with High Sierra - FIXED!!
Bsmith120276
on
10/11/2017
So the app had been working great until upgrading to High Sierra. Now as soon as I start playing a station it immediately closes. Please fix this as this makes the app unusable for me. Thanks for the quick turn around guys. This is great.
iHeartRadio
frustrated_in_austin
on
10/8/2017
What's to say. I have a Mac Laptop running 10.12.6. I have downloaded the application three times. I have tried to create an account at least a dozen times. Nothing works. Wasted 30 minutes — and I won't hear a game I wanted to follow.
Doesn't seem to like High Sierra
I've been using this app under earlier Mac OS X versions with no problems and really appreciate it. However, after updating to High Sierra, the app crashes every time I try to stream a station, or change stations if I'm lucky enough to get one going. Guessing something in the guts of High Sierra is sufficiently different from Sierra that makes iHeartRadio allergic to Mac OS X. Looking forward to an update! UPDATE: The 1.1.0 update fixes the issue with crashing in High Sierra. I've been able to listen for the past 30 minutes and changed stations as expected. Thanks!
Works great!
BlackScorpionX
on
10/4/2017
Seems to work great now that the bug fixes were made and it work sgreat on the MacOS Beta version! keep up the great work.
Great, but not on macOS High Sierra
This app was great under Sierra and El Capitan, possibly Yosemite (forgot how long I've used it). But after upgrading to High Sierra 10.13, it now crashes immediately. Please fix, this app is a huge part of my day and am lost without it. Update 2017-10-04: The crash problem for MacOS 10.13 has been fixed and the app now works flawlessly once more. Thank you!
Great App…now works with High Sierra
As the description says, they fixed the High Sierra crash issue…works great!
Update now works with OS High Sierra
Updated the app Oct 2 and now it works with OS High Sierra.
Used to be great, until iOS 11. Now it just doesn't work.
Functionally, this used to be a great app. But it is incompatible with iOS 11. This is inexcusable for a company like iHeart Radio. iOS 11 has been coming for months — it isn't a surprise. For iHeart Radio to completely ignore this and not update their app in nine months is lazy and shows they are completely unconcerned about their users. Until it works on iOS 11, it is less than one star for me. Fix it iHeart Radio!
High Sierra
one consumer
on
10/2/2017
Simply does not work with mac OS High Sierra 10.13.1
Works well, but currently crashes when trying to listen to a stattion on High Sierra
I tried looking for a bug report link, and looked on the iheart radio support page. Got a 404 there. SO my only recourse here is to leave a review which I'd rather not, but someone needs to know somehow. After upgrading to High Sierra and loading a station and then clicking play, I hear ½ second of audio, then the app crashes. Hope they can fix it.
Just OK …
jvinthehizzhouse
on
9/29/2017
As of the MacOS High Sierra update the app no longer works on 2014 Mac mini. It fires up then crashes. Please fix it, not sure how an app for a service this popular can pass testing and not be ready for a major MacOS update. It worked fine and was stable in Sierra. I love iHeartRadio but the app is just OK … needs a better UI too and better search functionality by region when trying to find local radio stations.
MacOS High Sierra Incompatibility
App crashes everytime you press the play button on MacOS High Sierra on a brand new 2017 MacBook Pro with Touchbar. I realize that High Sierra just came out, but seriously guys, don't you test your apps during the beta versions? The last update for this app was Jan. 9th!
The service is good, but app(s) is/are so-so.
Pros: • Few commercial interruptions • Easy set-up • Good mix of music Cons • Does't seem to "talk" to other installations consistently – iPhone / iPad / iMac / TV / Amazon Tap seem to have different playlists; liking a song in one installation doesn't carry over to others (even though I am logged into the same account on all) • Can't review play history (like Pandora allows) • Menu icon should be red (like logo) for consitency and to make it easier to id on my menu bar • Not easy to add playlists (it used to be) • Can't find artist bios any more - they might be there, but where? • Can't fine-tune playlists (like adding similar artists)
Crashes on Mac OS High Sierra
thoughtcontrol
on
9/28/2017
Worked fine on prior versions of Mac OS. Crashes on High Sierra. Don't they do any testing?
NOT WORKING ON HIGH SIERRA
HAVE ALREADY CONTACTED THE DEVELOPER TEAM SINCE THE BETA VERSION. STILL NO UPDATE TO FIX IT. NOT WORKING AT ALL IN MACOS HIGH SIERRA
Crashes on High Sierra
Title says all
Lost my iHeart radio with new updates
TraceyChristy1009
on
9/27/2017
I can no longer get my iheart radio on my Mac ever since the new updates came our from Apple. Very Frustrated !!!
Does not work with High Sierra
Been using this app for a while and it's been good but it no longer runs on High Sierra. Contacted support and no reply after a few days.
High Sierra Broke It
It was working quite well, but upgrading to the newest OS X version 10.13 broke it. Now it crashes consistently.
Crashing on High Sierra
Crashes every time it's started on High Sierra
Doesn't Work Anymore
Doesn't work for a couple months now.
No High Sierra
topthecharts
on
9/26/2017
Not working with High Sierra OSD.
No go High Sierra
Crashes on open with High Sierra installed. When I was on the previous OS though, it worked perfectly!
Crashes instantly with High Sierra
As soon as I launch iHeartRadio, it crashes. Considering the fact that the last time the app was updated was January 9th, 2017, I would say it is due for a tune up.
Doesn't work
The app doesn't work on my 2016 Macbook Pro with non touch bar. When I click my station, the app starts to glitch out and I have to Force Quit. Just have to use my phone I guess. fix this app!
crappy app
I have had more issues with this app than all other apps combined. Many times it will not open, or just stops at any given time. Just yeaterday it started up out of the blue. I think it needs some serious repairs or give us the Apple Podcast back. At least they worked. If I-Heart media wants me to sign up for their service, they need to put out a product that actually works.
Does not work
Penguinmiester
on
8/5/2017
Opens and promptly closes Nothing more, nothing less Please update because I am really don't want to use Pandora anymore.
Crashes upon loading - Using Sierra
This app crashes upon loading… it's useless. Very disappointing. Needs to be seriously examined as I am not the only person having this problem.
Smooth and Sexy
this is my go to audio app, i love the favorites station, where the app recommends and plays my favorite tracks.
Horrible
This application is not at all usable to me as a blind user of Mac OS. Unlabeled buttons with no VoiceOver hints, bad layout, confusing GUI...need I say more? I also get an error that says I am not eligible to register for this service. Not cool, guys. Please fix these issues. Apple has some support documents on making applications accessible.
Pretty Sharp App!!
Iheart radio is a very sharp app…I never had given much thought to downloading a radio app on my imac. I not only have this app on my imac but also on my iPhone and Ipad.Very easy user interface and radio statations I am actually interested in listening to…. Nice work keep it up :) *UPDATE** When i first downloaded this app is was cool… but now it's just straight garbage…. They play the same songs over and over again. and usually its songs I DON'T like. If I give it the thumbs down the first time why in the hell are you playing it a second and third time on my stations??? Get it together Ihate radio.
Frustrating to use
Difficult to use. I use on an ipad and a mac. Sometimes it may work, mostly not. Tried to open my account but forgot password. Clicked on the "forgot password" and promptly received info to set new password, which I did. Then when I tried to login with the new password a message said used name already in use and wouldn't allow me to login.
Mac Version Has Problems
I use iHeart Radio on my Samsung Galaxy and it is great, but the version for the Mac Desktop is hard to use. I can't find episodes of the programs I watch, so if I want to listen to something specific I just have to click next and hope it comes up next.
Why a 1-star rating???
Simple answer. The app doesn't work. Claims to be for a Mac.. WRONG! Won't even install, let alone run.
Annoyed
ItsMermaidAriel
on
3/24/2017
I was using it just fine and I went to use it this morning and it just stopped working. Now every time I try to open the app it automatically crashes…. can someone just tell me why? I have a macbook air.
Poor stability
Greg Horsley
on
2/21/2017
This app just stops working for no apparant reason. Great idea, poor stability.
My Paid Subscription
DJ Crazy J Rodriguez 2012
on
2/5/2017
I Still Cant use my paid subscription on my macbook or iMac no unlimited skips and my playlist dont show up when will this issue be fixed i want what i pay for if not im going to cancel my subscription
Great app, when it works
This app was working fine everytime i would launch but today when i did i lost all my saved stations and the show more button does not work. I have full internet connection and everything. Tried uninstalling and reinstalling but nothing is working. Really frustrating.
I really like it
I love that it is out of the way of the computer. I kinda wish there were a sleep timer and it would start playing the last station played like Pandora but oh well that's not really that big a deal. So far I haven't rub into it whining about listening too long and cutting it off until I prove I am still listening like Pandora does. I also like it's free. Free is my favorite price. I see myself cancelling my Pandora account soon. Yup cancelled my Pandora account. I made my own sleep timer with automator so I am really lovong this app.
NY stations
MikeyFresh922
on
12/13/2016
no complaints about the music. This app just doesn't have certain stations in NY. Like 660AM or 101.9FM.
Fact Sheet
Publisher:

iHeartMedia Management Services, Inc.

Category:

Music

Released:

Jun 27, 2015

Current Version Released:

Oct 20, 2017

Version:

1.1.1

Size:

9.2 MB

Compatibility:

Requires iOS 10.12 or later.

Recommended Age:

12+

Game Center Certified:

No

Supported Languages:

English;